June 27, 2019, 6:00am - class 801 with Cate Reese - I made it through the entire class with no issues. I'm bending deeper in Half Moon. I'm better on my right side than my left. I still can't go all the way down in Standing Separate Leg Stretching. I feel I can do the Esak Garcia version of Toe Stand again soon. I did more head to knee sit-ups today than in previous classes. I almost have my right leg extended in Head to Knee with Deep Stretching. I may be able to do Spine Twist Interlocked Hands again soon.
June 29, 2019, 9:00am - class 802 with Joel Pier - 135.9 today. It was so hot in class today. My insistence on not drinking water after Eagle got the best of me and I started feeling anxious after Balancing Stick. I felt the onset of body tingling again, so I sat down, rested, and did alternate versions of Standing Separate Leg Stretching and Triangle. The top band of my yoga shorts keeps digging into my scar, so I have to lower it a bit. Later in the day, I took a walk along the Wilmington Riverfront and scored 19,663 steps for the day.
June 30, 2019, 9:00am - class 803 with Thayne Dibble - I completed Thayne's class without the need to skip a posture. The yoga room wasn't the humid inferno that it was yesterday. I sipped water a couple of times in class. Yesterday, the lack of water made me feel anxious and I found myself overcompensating by splashing water on my face throughout class. Today I sipped water whenever I felt I needed it. I know that if I need water during class, I probably didn't make the best food choices the previous day. I'm proud of my Half Moon today, but my Triangle felt crooked. I'm approaching Toe Stand with the same quiet dignity and grace I exhibited prior to my surgery. I'm starting to see the back wall again in Camel. I got my hands interlocked in Spine Twist.
July 2, 2019, 6:00am - class 804 with Chris Fluck - Class lasted 84 minutes. I remember Chris said that Bikram was able to teach an 84 minute class with the same intensity as everyone else's 90 minute class. Chris can do it, too. I kicked my leg out and dropped my elbows in Standing Head to Knee. I did a bit more than usual in Standing Bow.
July 4, 2019, 10:00am - class 805 with Lauren Semmel - It was hellish hot in the fourth floor studio today, so I'm actually glad the windows were open. The postures felt like they were held much longer than normal because of Lauren's slow-paced, introspective style of teaching. It is as if she teaches the 26+2 from the perspective of how a more traditional yoga teacher from Kripalu would teach it. Many of you know that I'm getting my 300-hour certificate from Pranakriya, which has its roots from Kripalu. I caught a glimpse of the only body in the room that I felt was superb: Katelynn's. Her shoulders and scapulae are more chiseled than mine and I'm usually known for being "buff as hell." The spot next to me was strangely empty. Usually, I'd love it when another teacher practices next to me because that elevates my practice. I finally grabbed my heels in Camel today, the first time since April 1. I did a very majestic Spine Twist with Interlocked Hands. I liked that Lauren emphasized that our toes should be pointed on our bent leg. That's how I always teach it.
July 6, 2019, 8:00am - class 806 with Suzanne Musetto - 136.8 today. One word to describe this class: invigorating. I was able to work on improving my postures without having to worry about enduring the crazy heat of a typical Bikram studio. I still believe that 95>105 in terms of the temperature of a room in hot yoga, but many devout Bikram practictioners will not agree because that's what they're used to. I was overjoyed to discover that I received a scholarship to attend a teacher training on the Hatha Yoga Pradipika.
July 9, 2019, 6:00am - class 807 with Cate Reese - Since I've returned from surgery, I've only fallen out of Standing Bow once. I felt my legs were strong enough to do Esak's version of Toe Stand. I did it with a bit of wobbling, but I did it! I did a crappy Full Locust; my right arm wasn't cooperating. I also managed to do two grab-my-heel Camels today.
July 10, 2019, 6:00am - class 808 with Maria Spano - 136.3 today. We did the entire class without having to do any "supersets." We definitely need time to rest in between each posture, so the pacing of today's class was great.
July 11, 2019, 6:00am - class 809 with Justin Riley - 135.3 today. Justin complimented my Standing Bow, which felt strong today. I started seeing the mat behind me again in Camel.
July 12, 2019, 6:00am - class 810 with Justin Riley - 134.9 today. Today felt like the most humid day of the week, but I pushed myself through every posture. I felt a little more stable in Triangle and I did a good Esak Toe Stand on the way down, but met with a little wobble in the end. It was all good preparation for my teaching duties starting next week. Justin said something amazing today, about how, over the years, we can take a step back in our practice to go forward. I think my time off from yoga after my surgery was probably a blessing in disguise because it forced me to look at my recovering body in a whole new way.
July 13, 2019, 9:00am - class 811 with Joel Pier - 132.3 today. Today was even more humid than yesterday. I had to sit out of a couple of postures and make them up after class. The good news is I did an Esak Toe Stand without touching my fingers to the ground and I'm getting more and more comfortable doing Spine Twist with Interlocked Hands. Class was huge today with 51 students jammed into the room, so it was easy to miss someone. "Were you in class today? I didn't see you," Tina said to me. "How could you miss me? I always wear the loudest outfits in class!" I joked. After class, I stopped by Goldie to try a falafel sandwich. My work friends were always raving about it and it turns out they were right. They make a really good falafel sandwich, especially with harissa sauce.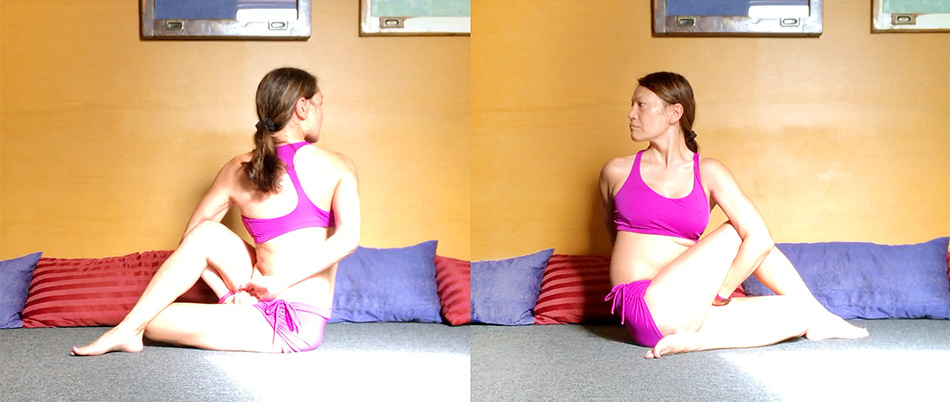 July 14, 2019, 10:00am - Core 26 - Everyone was happy and surprised to see me return to teaching today. Several students really liked my preparation for Fixed Firm. I taught all the different grips for Eagle, Standing Separate Leg Stretching, and Spine Twist.
July 17, 2019, 6:30pm - Core 26 - I saw more of my students whom I hadn't seen in months. Everyone welcomed me back and told me how much they missed my class.
July 24, 2019, 6:30pm - Core 26 - Today we worked on the nuances of Triangle, achieving better alignment from both the front and side angles.
My recovery from my surgery in April is still not over yet. Complications from bleeding led to a series of biweekly chemical cauterizations that helped somewhat, but did not completely fix the problem. Last Monday, I met with my surgeon for an in-office procedure where she used "the big gun" on me - a Bovie Cautery device - that basically resembled a soldering gun. Burning your insides with a soldering gun is no fun and I'm sure there must be some horror film out there featuring it as a torture device. Can you imagine seeing smoke coming out of your privates and smelling burning flesh all the while? I sure did. It's not a nice smell. There was significant bleeding after the procedure and, like many surgical procedures, the outcome is usually worse before it gets better. I temporarily stopped my yoga practice so that my insides could heal. Hot yoga is very intense and demands a well-conditioned body, not one that bleeds during recovery from a Bovie Cautery. I'm still able to teach yoga, but I try to demonstrate postures sparingly. Today was a good day as I was able to demonstrate Triangle with great strength and form.
Since January, I've been tracking my movements with a Fitbit Alta HR, a cheap, discontinued device that works amazingly well. I also own a Withings Body+ that I consider to be a lovely weight and body composition scale. Intrigued with the idea of using one iPhone app to manage all of my health monitoring devices, I bought a Withings Pulse HR to replace my Fitbit. What a sad piece of junk! The first thing I noticed about the Pulse HR is its "one size fits all" wristband. The Alta HR gives you options for small or large wristbands and newer models even include both sizes in the package. The Alta HR fits like a glove and has a stylish, well-designed look. The Pulse HR looks like a 12 year old kid's experiment. The rubber loop used to adjust the Pulse HR's wristband fit keeps creeping to the other rubber loop making the wristband stick out awkwardly. I suppose you could trim the end of the wristband, but there has to be a better, more elegant solution. The fitness tracking abilities of the Pulse HR also leave a lot to be desired as its stats and corresponding iPhone app do not sync as quickly as Fitbit products. We're talking minutes versus seconds. Perhaps the most attractive feature of the Pulse HR is its promise of longer battery life. During my tests, one-third of the Pulse HR's battery was depleted in a week, so recharging once every three weeks is certainly better than recharging once a week on my Alta HR. Newer models of Fitbit, such as the Inspire HR, have even worse recharge cycles. Of course, nothing is as silly as Apple Watch's daily recharge shenanigans. I am in awe of the Pulse HR's battery life, but I am equally in awe of just how bad of a fitness tracker it is. Avoid the Withings Pulse HR and get yourself either a used Fitbit Alta HR on ebay or wait for the next generation of the Fitbit Inspire HR when it has a recharge cycle of seven days or more.
July 31, 2019, 6:30pm - Core 26
August 4, 2019, 10:00am - Core 26 - Class was packed today. "What an awesome class," a new student commented of my class. "You have an awesome voice. I wish I could record it, so I can practice yoga at home."
August 7, 2019, 6:30pm - Core 26
August 11, 2019, 10:00am - Core 26
August 14, 2019, 6:30pm - Core 26
August 18, 2019, 10:00am - Core 26 - I had a good practice with my class today. I felt pretty strong doing Triangle.
August 24, 2019, 9:00am - class 812 with Joel Pier - 137.0 today. I was 141.7 last night, so I'm fine with 137.0 for now. This entire week I've been waking up with tingly arms and legs. Perhaps this is a wakeup call to stop consuming so much Pepsi. After a short bout with depression, I went back to the one thing that brought my spirits back up: yoga. This past year has been especially jarring for me. Starting a new job, ups and downs with money, starting all over again in the dating game, and balancing any free time I have with friends have all took their toll on me. I even went back to my roots with what I like, but it just ended up feeling awkward and my partner ended up breaking up with me before anything good could develop. It's a shame, too, because she's a great person. In fact, she is an extraordinary person, being a top jeweller in Philadelphia and a singer-songwriter in a band. The previous man I dated was a world-renowned journalism professor who authored over 20 books and has appeared on television shows by Larry Kane and Anderson Cooper as well as The O'Reilly Factor. He was another extraordinary person, but, sadly, he just couldn't deal with one of my medical issues. Today's class was a return to my roots as well. More people know about me or remember me than I realized because when someone you've only met once or has seen you in a Bikram class remembers you and starts talking to you, that means you left an indelible impression upon them. I should hope they remembered me in a good moment, in a posture where I pushed myself hard and gave it my all, inspiring others to do the same. Today I was only a shell of my former self, starting all over again, sitting out on three sets of postures from fatigue. In a private moment with me after class, Joel reiterated one of Bikram's sayings: "It's never too late to start again." He encouraged me to sit up straight and chant "Hare Krishna" to myself again and again. "It can't hurt," he said. I did so and, true enough, I did feel better afterwards.
My friend Sarah recently opened a yoga studio in Coatesville, PA. When I first met Sarah in 2017, I was immediately drawn to her kindness and a true inner light that shone from within. You can see it in her eyes and the way she composes herself. Every Pranakriya course we've taken together since then, she has never once made me feel differently about her as a person. I hope Sarah does well in her new endeavor.
August 25, 2019, 10:00am - Core 26
August 26, 2019, 6:30pm - Core 26
August 27, 2019, 7:30pm - Core 30
August 28, 2019, 6:30pm - Core 26
August 31, 2019, 8:00am - Core 26
September 1, 2019, 10:00am - Core 26

I had a full schedule of classes to teach this week in addition to my usual 9-to-5 job. Somehow I managed to get through it all and tutor a few students in math on top of all of that. Saving up for a cruise my oldest son kept wishing for this year has really drained me, but somehow I found a way to pay for it. My hope is my kids will play a little less Fortnite and spend a lot more time with me while we're away.
August 31, 2019, 11:30am - class 813 - My friend Thomas and I found a spot along the Schyulkill River Trail to do some yoga. The sun was bright and warm, but we managed to find a cool, shady spot under some trees. "The last time I did any yoga was last year with you," he said. Thomas was an avid skater and BMXer when he was younger and admitted he didn't have as much flexibility as he would've liked. "That yoga class you taught me was the hardest thing I've ever done," he said. We did many basic postures and culminated in the very challenging Eight Angle pose, which he was able to do with my assistance. Make no mistake. Thomas is a gifted athlete who is in better shape than 95% of the people I know, so I felt honored to be teaching him. We did all of this after I taught a yoga class in the morning.
September 3, 2019, 6:00am - class 814 with Cate Reese - "Good, Clare!" Cate said as I extended my toes back in Balancing Stick. I had worked on this posture in the classes I taught all last week, saying the words and practicing my pose with the rest of the class. I did not feel I was ready to do an Esak Toe Stand, since I had not practiced it in over seven weeks.
September 4, 2019, 6:00am - class 815 with Marie Murphy - 135.7 today. Marie did a good job teaching her first Bikram class. I would've liked a bit more breathing room in between postures, since class ended at 65 minutes, a record time for a 75 minute class. The dialog was sparse. She didn't continuously chatter like some Bikram teachers, myself included. We held our pose a bit too long in Balancing Stick, but that was also one of my criticisms when I first taught class. I'm close to doing an Esak Toe Stand. Perhaps next week.
September 4, 2019, 6:30pm - Core 26 - "This is the best class I've ever had. Thank you all for being here," I said to my class today. My Fixed Firm Prep has become a regular part of class. "The prep makes a lot of sense," one of my students said. "I'm the only one who teaches it," I said.
September 5, 2019, 6:00am - class 816 with Margaret Welsh - 135.3 today. "Too long," I kept saying to myself throughout class as we held each standing series pose for far too long. I know the new teacher was trying to impress the senior teacher with her knowledge of the dialog, but there is a timing aspect that still needs to be adhered to and if you want to say all of the words, you have to whip them out a bit faster. I felt her delivery of the dialog was more like, "well, yeah... uhm... you do this..." rather than direct commands. The timing problems made her Savasanas very short in the floor series and we also skipped a set of Head to Knee with Stretching as a result. I did Standing Head to Knee off the mat as I had done before. I did Esak Toe Stand on my left side wobbling and losing my balancing only at the very end. The college guys practicing around me did a great job.
September 6, 2019, 6:00am - class 817 with Justin Riley - Standing Head to Knee off the mat... good. Esak Toe Stand... I lost balance in the end. Rabbit... really good. No walking the knees up needed. Head to Knee... very good. My leg was almost straight. Spine Twist with interlocked hands... really good. I could see beyond 180.
I have a group of friends who are not in shape and always seem to boast about their past greatness rather than talk about their present drabness. I have another group of friends who all look good and are constantly working on being the best they can be. The second group have all committed themselves, in various degrees, to yoga. If you are over 40 and not built like a professional tennis player, please don't fuck up your body by running and weigh training. Use your own natural strength to improve the muscle tone of your body with low-impact physical activities like yoga and cycling.
September 10, 2019, 6:00am - class 818 with Cate Reese - Balancing Stick was strong. Esak Toe Stand... both sides good, no touching the floor, and I kept balance by commanding myself to "balance"! Now I have to improve my steadiness and reduce my wobbling and then I can look in the mirror again. Two ladies left the room early.
September 11, 2019, 6:00am - class 819 with Maria Spano - I wobbled and fell out of Esak Toe Stand, but I did manage to get all the way down on the left side without touching the floor. I'm not a fan of the Half-Tortoise/Camel/Rabbit combo.
September 11, 2019, 6:30pm - Core 26 - Today I emphasized aligning with the coronal plane in the standing series and the sagittal plane in the floor series.
September 12, 2019, 6:00am - class 820 with Colleen Hoplamazian - 135.4 today. I wobbled and fell out of Esak Toe Stand again. Rabbit was good. One lady left early.
September 13, 2019, 6:00am - class 821 with Justin Riley - Standing Head to Knee off the mat... good. Esak Toe Stand... I lost balance in the end. Rabbit... really good. No walking the knees up needed. Head to Knee... very good. My leg was almost straight. Spine Twist with interlocked hands... really good. I could see beyond 180. Hey, this is just like last week! Two people left early.
September 16, 2019, 6:00am - class 822 with Justin Riley - Justin improved my Eagle pose today by directing me to place more bodyweight in my heel and to keep my knee above my toes. "Your knee is too far forward," he advised. I was able to go down on both sides in Esak Toe Stand, but lost my balance at the end on the right side.