June 27, 2019, 6:00am - class 801 with Cate Reese - I made it through the entire class with no issues. I'm bending deeper in Half Moon. I'm better on my right side than my left. I still can't go all the way down in Standing Separate Leg Stretching. I feel I can do the Esak Garcia version of Toe Stand again soon. I did more head to knee sit-ups today than in previous classes. I almost have my right leg extended in Head to Knee with Deep Stretching. I may be able to do Spine Twist Interlocked Hands again soon.
June 29, 2019, 9:00am - class 802 with Joel Pier - 135.9 today. It was so hot in class today. My insistence on not drinking water after Eagle got the best of me and I started feeling anxious after Balancing Stick. I felt the onset of body tingling again, so I sat down, rested, and did alternate versions of Standing Separate Leg Stretching and Triangle. The top band of my yoga shorts keeps digging into my scar, so I have to lower it a bit. Later in the day, I took a walk along the Wilmington Riverfront and scored 19,663 steps for the day.
June 30, 2019, 9:00am - class 803 with Thayne Dibble - I completed Thayne's class without the need to skip a posture. The yoga room wasn't the humid inferno that it was yesterday. I sipped water a couple of times in class. Yesterday, the lack of water made me feel anxious and I found myself overcompensating by splashing water on my face throughout class. Today I sipped water whenever I felt I needed it. I know that if I need water during class, I probably didn't make the best food choices the previous day. I'm proud of my Half Moon today, but my Triangle felt crooked. I'm approaching Toe Stand with the same quiet dignity and grace I exhibited prior to my surgery. I'm starting to see the back wall again in Camel. I got my hands interlocked in Spine Twist.
July 2, 2019, 6:00am - class 804 with Chris Fluck - Class lasted 84 minutes. I remember Chris said that Bikram was able to teach an 84 minute class with the same intensity as everyone else's 90 minute class. Chris can do it, too. I kicked my leg out and dropped my elbows in Standing Head to Knee. I did a bit more than usual in Standing Bow.
July 4, 2019, 10:00am - class 805 with Lauren Semmel - It was hellish hot in the fourth floor studio today, so I'm actually glad the windows were open. The postures felt like they were held much longer than normal because of Lauren's slow-paced, introspective style of teaching. It is as if she teaches the 26+2 from the perspective of how a more traditional yoga teacher from Kripalu would teach it. Many of you know that I'm getting my 300-hour certificate from Pranakriya, which has its roots from Kripalu. I caught a glimpse of the only body in the room that I felt was superb: Katelynn's. Her shoulders and scapulae are more chiseled than mine and I'm usually known for being "buff as hell." The spot next to me was strangely empty. Usually, I'd love it when another teacher practices next to me because that elevates my practice. I finally grabbed my heels in Camel today, the first time since April 1. I did a very majestic Spine Twist with Interlocked Hands. I liked that Lauren emphasized that our toes should be pointed on our bent leg. That's how I always teach it.
July 6, 2019, 8:00am - class 806 with Suzanne Musetto - 136.8 today. One word to describe this class: invigorating. I was able to work on improving my postures without having to worry about enduring the crazy heat of a typical Bikram studio. I still believe that 95>105 in terms of the temperature of a room in hot yoga, but many devout Bikram practictioners will not agree because that's what they're used to. I was overjoyed to discover that I received a scholarship to attend a teacher training on the Hatha Yoga Pradipika.
July 9, 2019, 6:00am - class 807 with Cate Reese - Since I've returned from surgery, I've only fallen out of Standing Bow once. I felt my legs were strong enough to do Esak's version of Toe Stand. I did it with a bit of wobbling, but I did it! I did a crappy Full Locust; my right arm wasn't cooperating. I also managed to do two grab-my-heel Camels today.
July 10, 2019, 6:00am - class 808 with Maria Spano - 136.3 today. We did the entire class without having to do any "supersets." We definitely need time to rest in between each posture, so the pacing of today's class was great.
July 11, 2019, 6:00am - class 809 with Justin Riley - 135.3 today. Justin complimented my Standing Bow, which felt strong today. I started seeing the mat behind me again in Camel.
July 12, 2019, 6:00am - class 810 with Justin Riley - 134.9 today. Today felt like the most humid day of the week, but I pushed myself through every posture. I felt a little more stable in Triangle and I did a good Esak Toe Stand on the way down, but met with a little wobble in the end. It was all good preparation for my teaching duties starting next week. Justin said something amazing today, about how, over the years, we can take a step back in our practice to go forward. I think my time off from yoga after my surgery was probably a blessing in disguise because it forced me to look at my recovering body in a whole new way.
July 13, 2019, 9:00am - class 811 with Joel Pier - 132.3 today. Today was even more humid than yesterday. I had to sit out of a couple of postures and make them up after class. The good news is I did an Esak Toe Stand without touching my fingers to the ground and I'm getting more and more comfortable doing Spine Twist with Interlocked Hands. Class was huge today with 51 students jammed into the room, so it was easy to miss someone. "Were you in class today? I didn't see you," Tina said to me. "How could you miss me? I always wear the loudest outfits in class!" I joked. After class, I stopped by Goldie to try a falafel sandwich. My work friends were always raving about it and it turns out they were right. They make a really good falafel sandwich, especially with harissa sauce.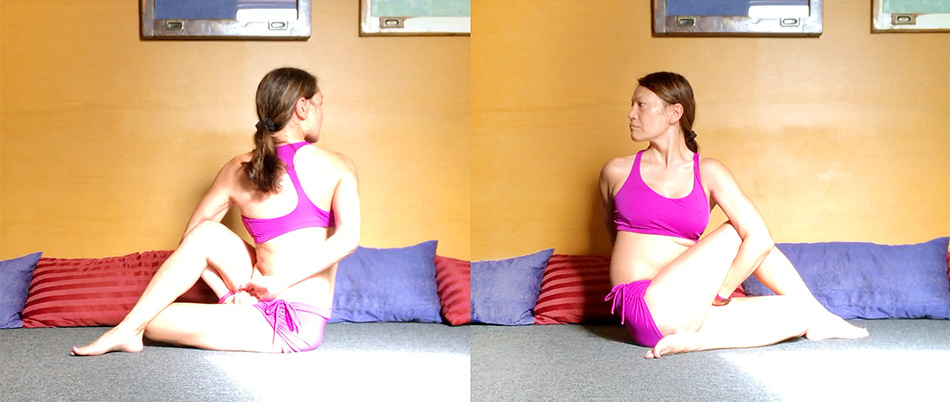 July 14, 2019, 10:00am - Core 26 - Everyone was happy and surprised to see me return to teaching today. Several students really liked my preparation for Fixed Firm. I taught all the different grips for Eagle, Standing Separate Leg Stretching, and Spine Twist.
July 17, 2019, 6:30pm - Core 26 - I saw more of my students whom I hadn't seen in months. Everyone welcomed me back and told me how much they missed my class.