Cruise to the Bahamas 2015
In November 2015, Robyn and I went on a seven-day cruise to Port Canaveral, Florida and Nassau, Bahamas on the Norwegian Breakaway.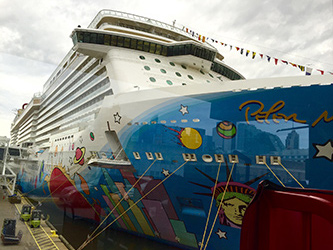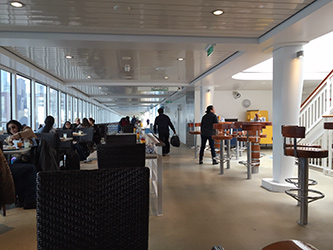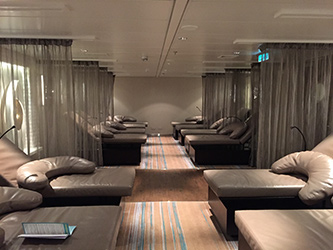 On Sunday embarkation day, I signed up for a spa facial. I chose the Tri-Enzyme Resurfacing Facial. It was expensive for what it was, but my pores were cleaned and the facial claims to resurface your skin leaving it smoother and more wrinkle-free. The esthetician applied a gel on my face that hardened and peeled off, lifting all of the junk inside my pores. It was a lot like the Biore strips for your nose, but it covered my entire face. Cool! Robyn signed up for a one-week pass to the Hydrotherapy Courtyard, a private spa that includes a sauna, a dry heat room, a salt bath room, a hydrotherapy pool, and jacuzzis. I was able to go to Hydrotherapy Courtyard for one day and it was really awesome. For six of the seven days, I made use of the Pulse Fitness Center by participating in the 7am Stretch classes (Yin Yoga!) and 7:30am Fab Abs classes and using the various Technogym equipment in the awesome fitness facilities. For a small fee, you could also try classes in TRX Suspension Training, Flywheel Indoor Cycling, Fight Club, Body Sculpt Boot Camp, and more. For dinner, we dined at Moderno, a Brazilian chirrascuria. Like Chima and Fogo de Chao, we were given a red/green flipcard to signify how much meat we wanted. It didn't matter if the card were flipped red or green, the meat continuously came. Some of the meats were very good. Others were so-so. I've always said that if you can find three meats that you like at a chirrascuria, you've won. For me, they were the lamb chops, beef ribs, and filet mignon. Surprisingly, the picanha, usually the best steak on the list of meats, was terrible. It was dry and tough. Later in the night, I visited the ship's theater where the audience was treated to a "Welcome Aboard" show with previews of the many shows on board the ship.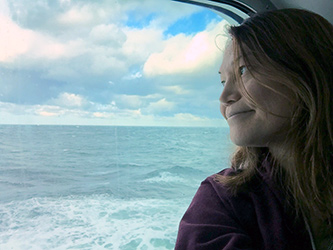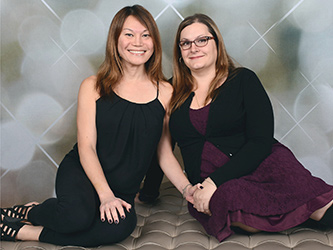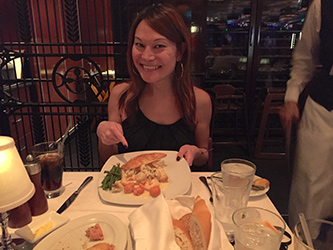 On Monday, we spent the day at sea. Breakfasts and lunches at The Garden Café were filled with plenty of choices. This was a definite upgrade when compared to my time on the Norwegian Dawn ten years ago. Multiple stations highlighted various entrées from various parts of the world. How awesome it is to have oatmeal as well as rice congee available simultaneously! The noodle dishes and Indian curries were decent. The oxtail stew was, as a fellow passenger informed me, "the best dish he's had on the ship so far." After lunch, we wandered around the ship to get familiar with my new surroundings. Robyn went to the spa. I watched Guardians of the Galaxy in 3D in the ship's theater. 3D glasses were supplied to all guests. It was pretty awesome. For dinner, we dined at the ship's French restaurant, Le Bistro. Robyn ordered the scallops and the pork tenderloin. I ordered the escargots and seafood puffed pastry. We enjoyed our selections very much, so much so that we were happy we made a second reservation at Le Bistro for later in the week. After dinner, we saw Burn the Floor, a Broadway-style ballroom dance performance in the ship's theater. It was great!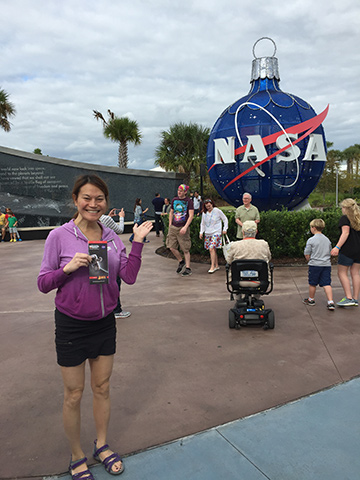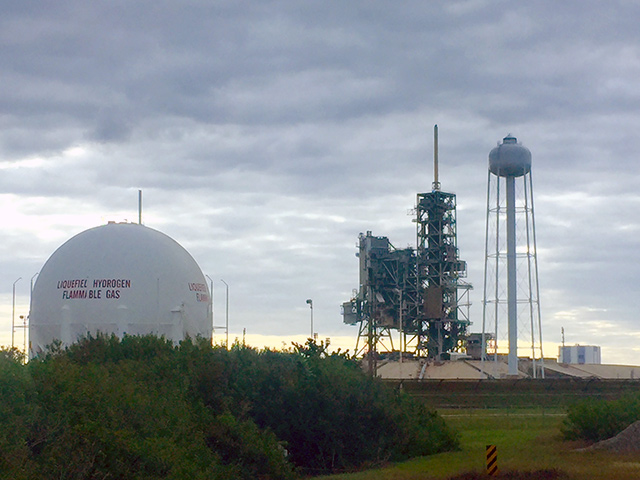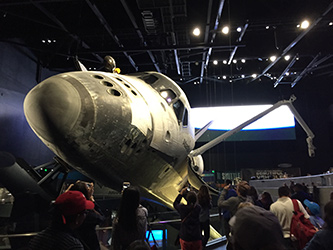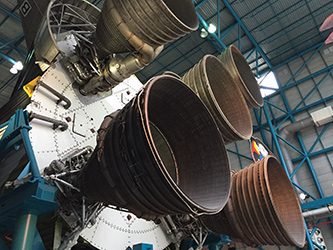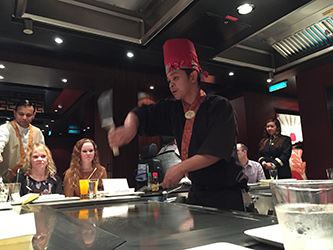 On Tuesday, we docked at Port Canaveral and took a bus to the Kennedy Space Center. We were told by the bus tour guide that we should do the Kennedy Space Center bus tour first followed by the Space Shuttle Atlantis Exhibit and then followed by a special aftrehours screening of a film at the IMAX theater. We followed her advice and, as luck would have it, our tour bus broke down in the middle of the tour, so we didn't have enough time to see the IMAX film. The tour bus took us around the various sites, including Launch Pad 39A. Our tour ended with a visit to the Apollo-Saturn V Center where we saw and experienced a simulated launch and got to see an actual Saturn V rocket. The Atlantis exhibit was equally educational and entertaining. Unfortunately, we didn't have enough time to experience the Space Shuttle flight simulator. Robyn noticed that I was suffering from an extreme allergic reaction to something I possibly ate. We had to use the ship's Medical Center and acquire another treatment of methylprednisone for me. For dinner, we dined at Teppanayaki. While the food at hibachi-style restaurants is usually good, you usually pay for the theatrics. I've been to several hibachi places where the chef was lethargic and looked like he didn't want to be there. Our chef tonight was bright and funny, singing popular songs with us and joking that all of the ingredients were purchased at Walmart. The ingredients he used were top-notch, but he salted the lobster and scallops in my Seafood combination a bit too much. The calamari, however, was prepared perfectly. It was one of the best preparations of hibachi calamari I've ever had. The garlic veggie fried rice needed chicken or shrimp in it. I suppose I'm spoiled by Benihana's fried rice. Ditto for the veggie appetizer. Benihana has this place beat by including a shrimp appetizer instead of veggies. Robyn's Land and Sea combination (filet mignon and jumbo shrimp) was delicious. Our desserts were mixed. Robyn loved her fresh fruit sashimi, which were thin slices of melons, pineapple, and kiwi, however, my green tea cake with cashew brittle left a lot to be desired. Supposedly, the cashew brittle was cooked into the cake, but I didn't taste it. Why would anyone bake cashew brittle into a cake? Overall, the food wasn't bad. It just wasn't worthy of being priced as a top-end restaurant.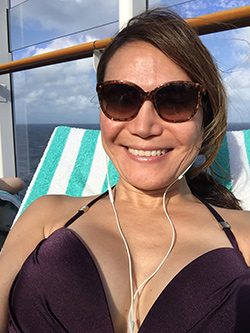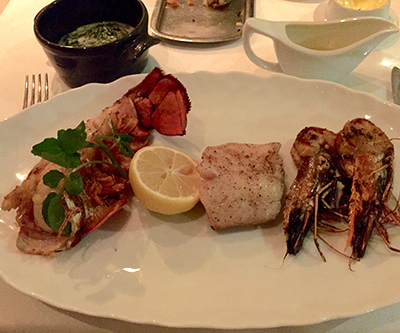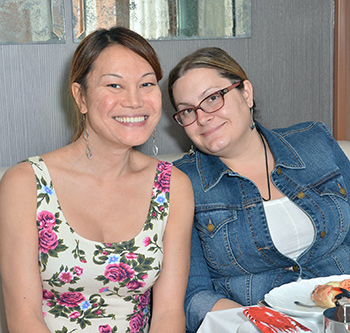 On Wednesday, we were bummed to find out that, due to inclement weather, we couldn't stop at our destination of Great Stirrup Cay, the private island that Norwegian owns. The rain and winds were harsh and the waves were thrashing about so fiercely that everyone stayed safely inside. Many of us sat in front of the theater entrance patiently waiting for it to open. Some idiot activated the sliding glass doors near us and a huge gust of wind blew a telephone receiver clear off its hook and into my temple. Ouch!!! The shore excursions were all cancelled and we were all told to stay on the ship. We wandered around the ship looking for things to do. Robyn went to the spa. I tried to do something physical, but all of the outdoor activities were closed due to the weather. The weather cleared up as we approached Nassau. Everyone rushed to get a spot on the top deck. I did some reading. For dinner, we dined at Iron Chef Geoffrey Zakarian's Ocean Blue seafood restaurant. This was the Norwegian Breakaway's top restauant, so there were selections here that did not appear on any other restaurant menu aboard the ship. The steam-cooked King crab legs and Florida stone crab claws were good choices, but the Maryland-style crabcakes were subpar because the "lump crab" they used was the mealy, canned "Product of Vietnam" variety. Our Seafood Trio entrées were interesting as they highlighted three different preparations of seafood on our plates: boiled lobster tail, red snapper filet, and cajun head-on shrimp. Our desserts of pana cotta and petit fours were good, but nothing noteworthy. The restaurant looked like something pulled right out of Manhattan with its posh leather seating and wonderful atmosphere. This was probably the best meal we've had so far, but I was expecting a whole lot more from an Iron Chef.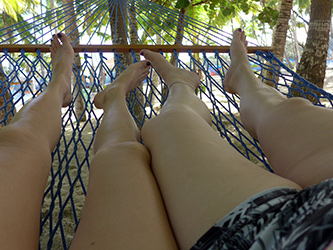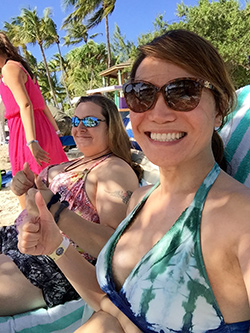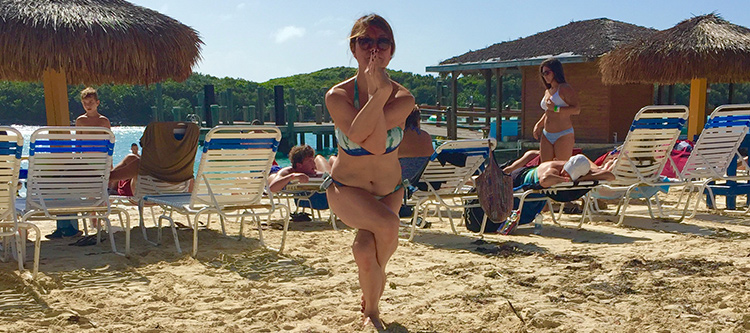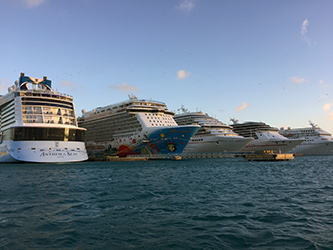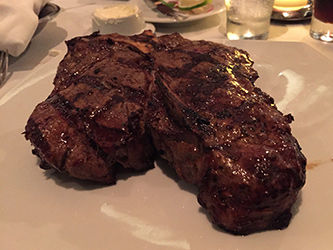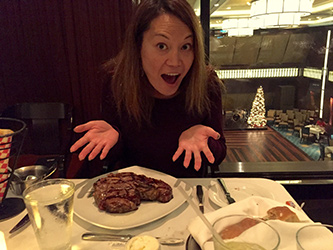 On Thursday, we spent the day in Nassau, Bahamas lying on the beach, sipping Bahama Mamas, and eating fresh conch. We were also treated to a nice BBQ chicken lunch on the island. When we returned to the ship, our bags were scanned and I was bummed to find out that I couldn't keep the sea shells and coral I collected on the beach. For dinner, we dined at Cagney's, the ship's steakhouse. I ordered one of the specials, a 32 ounce Porterhouse Steak. I proceeded to decimate as much of it as I could. The filet portion was delicious and prepared to my liking. The strip steak was cooked a little too much. I ordered my steak medium-rare. The filet was perfect. The strip steak wasn't. It was medium. Our server called the head chef out to speak to us. He apologized and said that it's always a challenge to cook a Porterhouse perfectly on both sides. In truth, most people probably would've enjoyed this steak, but I expected a lot better because this is supposed to be Norwegian's flagship restaurant. We also complained about the Lump Crab Salad. It was terrible. The crab meat had the texture of the mealy-tasting crab that comes in a can that says "Product of Vietnam." Our chef insisted it was lump crab and that it was, in his words, "expensive," but we said that just because it's expensive doesn't mean it's good.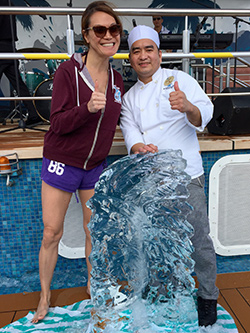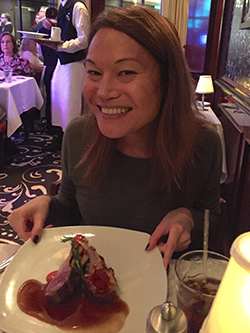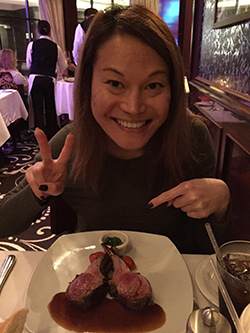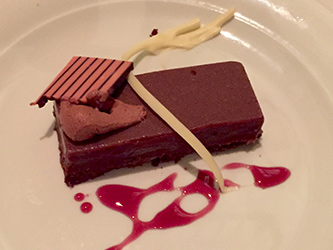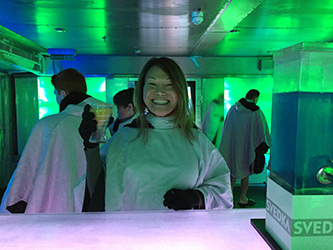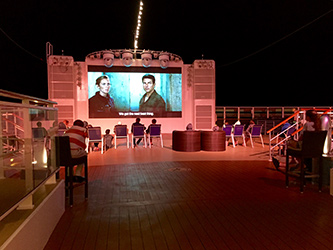 On Friday, we did some relaxing on our return trip to New York. Robyn went to the spa. I did some more reading in front of the ship's pool. I also saw an ice carving demonstration performed by one of the ship's top chefs. On a whim, I entered the Miss Norwegian Babe contest. Unfortunately, it was more of a dancing contest than a beauty contest, so the winner knew how to twerk to hip hop music. For dinner, Robyn and I ate at Le Bistro, but the second time wasn't as magical as the first. The amuse bouche of salmon paté with crostini bread was just okay. The bread basket of three breads was nothing thrilling. Robyn ordered the French onion soup and pork tenderloin. My appetizer of four cones, two filled with veggie salads, one filled with chicken salad, and one filled with duck confit was unimpressive. Perhaps the only one that had any soul was the duck confit. My entrée of Roasted Rack of Lamb was a different story. What a marvelous pair of lamb chops! It was so good, juicy, and succulent, I wanted another. They were about to charge me for the second entrée until our server talked to the manager. My second pair of lamb chops was bigger and juicier than the first. I was in lamb chop heaven! Robyn ordered the seafood fondue for dessert, so she was in dessert heaven. I skipped dessert at Le Bistro and later went to The Manhattan Room for two desserts on the ship's "Chocolate night": the Hazelnut Milk Chocolate Bar and the White Chocolate Raspberry Mousse. I loved the chocolate bar; I hated the mousse. After dinner, I reserved my spot at the SVEDKA and Inniskillin Ice Bar, but was quite disappointed by this "attraction." For a cover charge of $20, you get access to basically a walk-in freezer with a bar inside. The bar looked nothing like the pictures and description made it seem. The parka and gloves they supplied didn't keep you comfortably warm in the bar. You get two drink tickets for the price, but you're limited to the premixed concoctions they had on hand. Later in the night, I visited the outdoor Spice H2O dance club where they played Tom Cruise's Edge of Tomorrow on the outdoor big screen.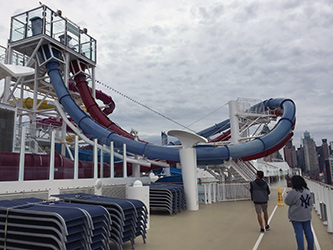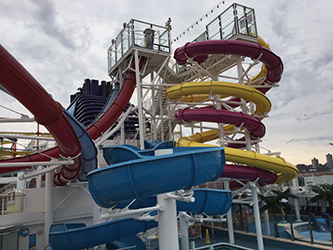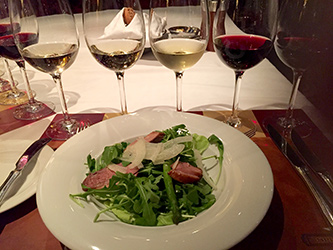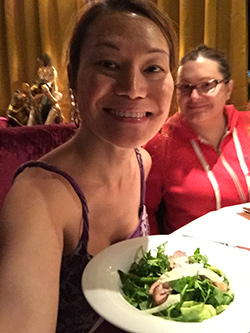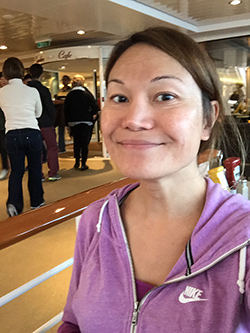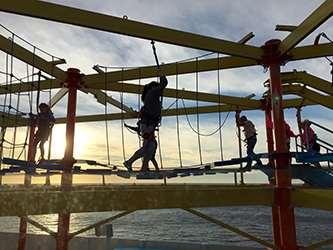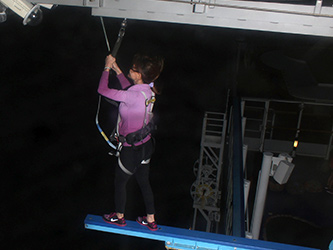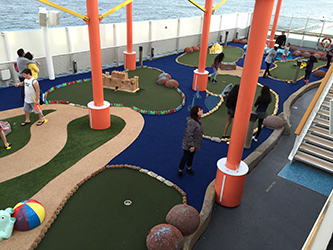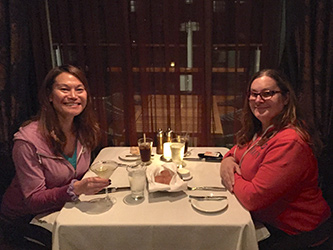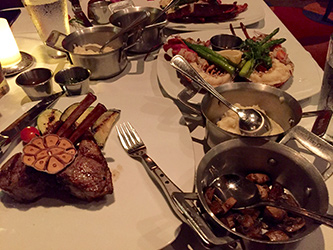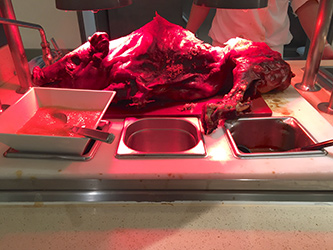 On Saturday, Robyn and I attended the Wine Lovers Musical. We were treated to a fun-filled hour-long musical that was an educational lesson of sorts in wine tasting. None of the wines were really showstoppers, but we got to try a pinot grigio, a sauvignon blanc, a chardonnay, a pinot noir, a merlot, and a prosecco. A meal was included. My Peking Duck Salad was absolutely delicious. The Sirloin Steak and Breaded Cajun Shrimp with garlic and leek mash, broccoli, and mushroom sauce was very good. The Mochaccino Cheesecake with candied bananas and dulce de leche sauce was really good. I spent the rest of the day doing ship activities. I conquered my fear of water slides by going down The Freefall, an insanely fast waterslide with a three-story drop. I screamed all the way down! There were other waterslides for kids and adults. I did them all. The kids waterslide had plenty of left and right turns and made me giggle like a little kid. It was cold outside, but in between slides, I quickly patted myself down with a beach towel. I conquered my fear of heights by traversing the ropes course. The course featured multiple obstacles including tightrope walking, ladder walking, a walk on the plank 18 decks above the sea (I tugged on a rope that took my picture) and a zipline with a two-story drop! At no point did I find myself feeling like I was in danger. In fact, I found myself giggling during a few of the obstacles. For dinner, we ate at Cagney's where we each ordered a surf and turf for a small upcharge. She got a filet mignon and whole Maine lobster. I got lamb chops and whole Maine lobster. We each enjoyed sides of garlic mashed potatoes and roasted mushrooms. Robyn wasn't feeling well, so she left dinner before the dessert course. I got the raspberry créme brulée since it was so yummy last time. It was equally yummy this time. I had the server send a raspberry créme brulée to the room so Robyn could enjoy dessert, too.
Overall, I caught up on my sleep during this vacation. I caught up on my reading by finishing Wonder by R.J. Palacio and The Spirit of Aikido by Kisshomaru Ueshiba. I caught up on my movies by watching several films, including The Angriest Man in Brooklyn, Paul Blart Mall Cop 2, and Paddington. I also watched a couple of movies on board the ship. I noticed that with the number of included dining options and specials every night, you really didn't need to upgrade to the Ultimate Dining Package (a specialty restaurant every night) like we did. There were prime rib nights, seafood nights, and roast suckling pig nights in the main dining room! I'm confident that my kids would love this cruise. There are so many activities to do on board the ship for both adults and kids. Everyone is sure to have a great time.