Cruise to the Bahamas 2016
In November 2016, my oldest son and I went on a seven-day cruise to Port Canaveral, Nassau, and Freeport on the Carnival Pride.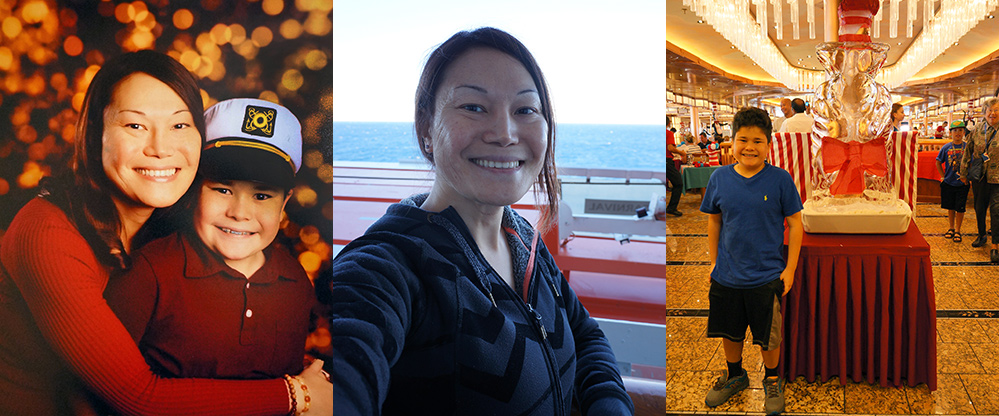 Our room was awesome. It was a room with a balcony and if you peeked over the life boat, you could see a glorious view of the ocean with its sunrises and sunsets. This was my son's first cruise, so I wanted to make it memorable by choosing the right room. I had several surprises in store for him, including Dr. Seuss gifts and fun excursions.


At Port Canaveral, we went on a 30-minute airboat ride that was followed by a meet-and-greet wildlife show with three animals: a yellow python, a bonnet macaque, and a baby alligator. The airboat ride was spectacular, fun, and LOUD. Everyone wore headsets to block the noise coming from the huge fan behind us. We spotted alligators, horses, exotic birds, and other wildlife. The show afterwards was entertaining. We got to see each of the animals up close. Ironically, the show included "gator bites" to eat, pieces of fried alligator that tasted like fish. My son was hesitant at first, as were most of the people at the show, but everyone tried a piece and ended up eating seconds, thirds, and even fourths! We bought a little souvenir gator head at the gift shop.


Our next two days in Nassau and Freeport were beach days. It was in Nassau that I had my first taste of snorkling. My son let me borrow his underwater gear and I could see the beautiful fish swimming about. It was a sight to behold. The Freeport beach wasn't as nice. The island had just recovered from a hurricane, so many of the buildings on the island were in ruins. We originally wanted to go on the glass boat ride, but the glass boat wasn't available because it was part of the hurricane's destruction.

My son and I had a wonderful brunch filled with Dr. Seuss characters. He had the pancakes that were stacked and colored to look like The Cat in the Hat's hat. I had a delicious steak and eggs breakfast that surpassed all of my expectations.

Part of what makes Carnival cruises fun is all of the stuff that's included in every cruise, such as unlimited soft serve ice cream, gourmet hamburgers, delicious Tex-Mex, and buffet meals that always impressed. We didn't need to have the extravagant dining option my partner and I had on Norwegian cruiseline because every night had really good food. We had assigned seating in the main dining room and were seated with friendly people. One of the nights we had unlimited prime rib, shrimp, and lobster. I had extra servings that night! We made a reservation with the ship's fancy steakhouse. My son absolutely loved his experience there. He had a mini filet mignon. He never had filet mignon before and thought it was the best steak he'd ever eaten. My escargot and steak were excellent, easily rivalling what I could get at Morton's or Capital Grille.

There's always something to do at all times on the ship. We went to a restaurant tasting one day. We saw a chef carve an Indian head out of a block of ice on another day. We saw comedy shows and theater productions on other days. We ate sushi on another night. Overall, we enjoyed our time on the Carnival Pride. We would definitely like to do another cruise on that ship again in the future.
Follow our entire cruise adventure on YouTube and subscribe to my channel!