Wednesday, March 15, 2017 - The day before my journey, I experience self-doubts. Am I strong enough? Am I dedicated enough? Many of my peers know me for my strength and my resilience. They know that even though I had experienced many setbacks along my journey, I came back stronger and more focused each time. My students describe me as an amazing teacher and I hope I will become even more amazing after this next teacher training. The next two weeks will be fast and furious. I just have to make sure I don't fall off the chariot I'm riding! I thanked Suzanne for giving me the opportunity to teach in her studio and allowing me to grow as a teacher. I close my eyes and smile every day because I am living my dream.
Thursday, March 16, 2017 - The seven-hour flight from Philadelphia to Madrid was filled with lots of turbulence, more than I've ever felt on any domestic flight or my flight to India. Something made our huge Airbus A300-220 plane dip high and low many, many times throughout the trip. I filled my mind with lots of distractions to lessen my fear. I listened to music, watched two films, and ate food. My flight included both dinner and breakfast, unlike my domestic flights from recent memory. "The chicken and mushroom with orzo dish is actually quite good," our flight attendant said and she was right. The little salad of lettuce, tomato, and shaved parmesan was bland and so was the cheese and crackers. The Love & Quiches Gourmet Caramel Brownie for dessert was quite good. Breakfast was a little "snack pack" that included mixed fruit yogurt, granola, a purposely flattened blueberry muffin that looked more like a cake cookie, and a NatureBox apple berry medley. Overall, the food was really good considering it's airline food. American Airlines gets a thumbs up!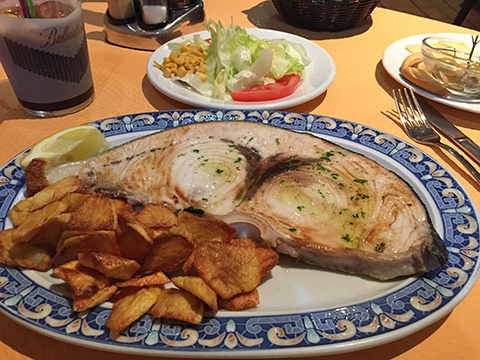 Friday, March 17, 2017 - My plane landed 15 minutes late so I had just 45 minutes until boarding for my next flight. I wasn't familiar with how Madrid's airport was. I had thought that since my planes were landing at and taking off from Terminal 4, I'd be safe from missing my flight, however, my plane actually landed at Terminal 4S. When I got off the plane, I had to scurry quick because the signs all gave estimated times of arrival to my gate, which was 30 minutes! Across the length of Terminal 4 I ran, through the little shops, and down to the underground rail. I was lucky there was a train that just arrived. When I got off the train, up the stairs I went and into security check. There were only a few people ahead of me in line and it moved pretty quickly, just like security check in Philadelphia. Quite honestly, I don't know why some people are so afraid of airport security. I've been asked to step aside so they could scan me and it never took long. After security check, I went through another bunch of shops and onward to the gates. I made it with plenty of time to spare. When I got off the plane, it took a while for me to get my luggage. Almost everyone got their luggage but me and a few others. We asked the baggage check guy nearby and he said we should go to the special customs baggage check area. Damn, am I looking at a fine for something? No, there was nothing tagged on my bag. It may have been a bag that was randomly checked. I left the terminal, bought a bus ticket, and waited for my Facebook friend Linda to show up at the bus stop we agreed to meet at since her flight was close to mine. We checked into our hotel, the Hotel Las Vegas, where the training is held, and went out for lunch at Chiringuito El Cachalote (The Sperm Whale Snack Bar). I had a delicious, succulent plate of grilled languistinos, big head-on prawns. We took a stroll around the neighborhood and took note of iJuice, a juice bar, and Mercadona, a supermarket, nearby. For dinner, I went to Restaurante De Sancha where I ate the best swordfish steak I've ever eaten in my entire life! The entrée came complete with crisped potatoes, a corn salad, an appetizer of cheese, crackers, and olives with Flor de Malaga olive oil, and Manzana apple schnapps and two ice cream bon bons. With a soda, the cost was only $16. I went to Mercadona to buy Pepsi and cookies and iJuice for fresh orange, melon, and banana juice. I wasn't too impressed with iJuice as their main ingredient in the juice was water.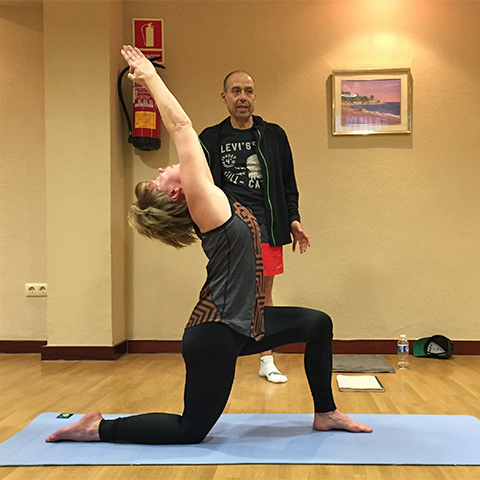 Saturday, March 18, 2017 - Day 1 - Tony Sanchez greeted each of his seven students as we walked into the conference room. "I'm so glad to finally meet you," I said to him, as I shook the hand of arguably the greatest and most loved yogi of our generation. Tony trained with Bikram Choudhury from 1976 to 1980, was director of the Bikram San Francisco studio, founded the United States Yoga Association, and created his very own Yoga Challenge system based on the system of 84 asanas of the Ghosh lineage. He and his wife Sandy have taught yoga to students and teachers from elementary to high school. Tony produced a series of four videos from 1995 to 2005 called the Yoga Challenge I to IV that many Hatha Yoga students still use as a study aid to this day. Featured in books, textbooks, and journals, Tony launched the Yogic Physical Culture Academy in 2005 where he continues to develop and evolve his asana systems today. At his peak, he practiced yoga for eight hours a day. Currently, he strongly believes in cross-training by adding weight training to his daily yoga regimen. Morning class began with a 90-minute lecture describing the various planes of his system and how the postures rely on a knowledge of alignment based on the planes. After the lecture, we did a Chi Gong breathing exercise, practiced the Core 40 sequence, and discussed our practice afterwards. Afternoon class began with a posture mechanics discussion focusing on the Anatomical position, Standing Deep Breathing, and Birabhadrasana (Warrior). During Anatomical position demonstration, everyone noticed I had pronated feet; my knees turn inward. One classmate noticed one of my shoulders was more forward than the other. After the discussion, we had a short practice with just the standing series afterwards. We had to be alert and ready to answer questions during review since there were just seven of us and Tony randomly called on us to respond. "For the rest of the training, I figure we can talk about my two advanced systems because you all know the basic 26+2," Tony said. The day was jam packed with useful information and Tony was keeping us on our toes every single minute by randomly choosing one of us to answer a question. I walked back to my hotel room feeling like this was my second day in class rather than my first. If every day will be like this, it's going to be an intense ride. I'm glad our training group is small because that means Tony can give us more one-on-one attention. Also, the conference room that was reserved for us comfortably holds about eight people, so any more would've made the room feel cramped. For lunch, we went to Chiringuito El Cachalote where I ordered a beautiful, fresh grilled whole dorada fish with stewed potatoes. It was delicious! For dinner, I went to Restaurante San Juan where I enjoyed a wonderful Paella a Banda, a Spanish rice dish with fish, calamari, clams, oysters, shrimp, and red peppers in a fish stock. It was so good! I went to Mercadona to buy fresh squeezed orange juice.

Sunday, March 19, 2017 - Day 2 - Tony gave us his philosophy on how to approach each posture, to break down each one into steps so we can better understand them. He talked about the five psychological powers we need in order to develop our strength, balance, and flexibility. Tony also gave us some philosophy. He revealed that Bikram's eight-year old daughter was the one who transcribed the dialog and lots of people looked upon that as the Holy Grail, even though it's filled with errors and potentially dangerous alignment cues. "Yoga is physical and therapeutic and is great for chronic problems, but not for cancer. You can't do only yoga. Align yoga with a healthy diet, proper rest, physics, and other sciences in order for it to be effective," he said. "My training program is two weeks, but you already started with a yoga training program, so what I am giving you adds to what you already know. We practiced a Core 40 class next. In the afternoon, I volunteered to demonstrate Birabhadrasana because I wanted to understand the posture better. Three of us (Sarah, me, Thor) each took turns teaching Standing Deep Breathing, Birabhadrasana, and Sun Salutation postures in front of class. We then practiced a Core 45 class that made me feel like I was in way over my head. There were a number of poses towards the end, new ones I had seldom or never done before, that I just could not do, such as Crow, Side Crow, Full Cobra, Full Camel, Wheel, Headstand. Tony told the class not to worry about postures we can't do today. "You'll be able to do them in a couple of days," he said. I took a stroll along the same long road that started as Paseo de Sancha and turned into Avie Pries and turned into Paseo Reding. Sadly, many restaurants were closed today for Father's Day in Spain. For lunch, I had homemade croquettes with fries from Cafeteria Flor. Rather than the shredded chicken I was used to in several versions in the States, these croquettes were filled with stewed chicken and cheese. They don't look like anything special, but they were quite good. My classmates and I enjoyed a nice view of the bullfighting stadium a block away. For dinner, I had the Seafood Mixta (shrimp, calamari, and scallops in mixed vegetables) at Kaeda. It was mediocre compared to the wonderful food I've had so far. For dessert, I got sugar and honey torrijas from Confiteria Aparicio, a little cake shop right next to Cafeteria Flor. These delightful pastries, popular around Easter, look and taste like the lovechild of French toast and bread pudding. They were absolutely delicious!

Monday, March 20, 2017 - Day 3 - Today we learned that the biggest problems with the Bikram 26+2 series is it doesn't develop the abs or upper body. Tony created the Core 40 (Master's Core) system to solve that problem by adding such postures as Crow and Crane. We analyzed the way we walk, had a teaching practice of Standing Deep Breathing, Birabhadrasana, and Sun Salutation (Atlantis, Elizabeth, and Eric). We practiced the Core 40 sequence afterwards. In the afternoon session, we started with a review of naming the entire standing series sequence in Core 40 forwards and backwards. "Who wants to volunteer first?" Tony asked. "What are we volunteering for?" I asked. "I'll tell you when you say yes," he mused. I volunteered first. He told us we were each going to teach the Sun Salutations sequence. I did a good job of it! Tony asked Thor to demonstrate Awkward, Eagle, Standing Head to Knee, and Standing Bow while he discussed the mechanics of the postures. We practiced Core 45 at the end where we did Shoulderstand, Headstand, Tiger, and Handstand. I couldn't do any of these. At some point during this training, I'm going to have to buckle down and just do them. Tony advised that we stand in the back of the room for Kapalbhati to safeguard against anyone who might have a pulmonary infection. For lunch, I had a filet of veal at Restaurante De Sancha. It was good, but not as good as the swordfish I had two nights ago. For dinner, I took a bus into town (Malaga Centro) and took a stroll around this huge open-air mall. There was a red carpet that ran down the length of the main street. Some of the more interesting places, such as tapas restaurants, were found in murky-looking alleyways. They weren't open yet. I had churros con chocolate at Casa Aranda, a place that has been making churros for over 80 years. The churros were really good! I bought a half kilo of Ukranian chocolates from Apertivos Zali, a candy store. Some of them had cake and jelly inside. Somehow I wandered into Constitution Square and ate dinner at the world-famous Cafe Central Malaga. I enjoyed a fried mixed seafood platter with prawns, calamari, kingklip fish, anchovies, whitebait, and eggplant and a delicious glass of Malaga Trasanejo, a sweet red wine with notes of cocoa. I also had pistachio helado (ice cream) at the famous Casa Mira, which I felt had more of a texture of paste rather than ice cream. I love that the buses make change for passengers. I noticed that the women in Malaga all seem to wear really noticeable lipstick colors, a stark contrast to their fair skin tones.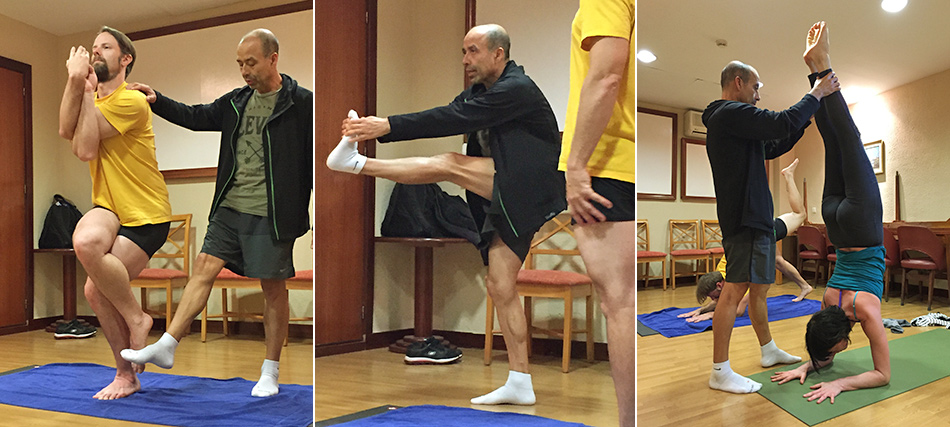 Tuesday, March 21, 2017 - Day 4 - Today we revealed to Tony what we felt our "a-ha!" moments were in yesterday's class. We also learned some sequence modifications for pregnant women. "Fall in love with your practice. Embrace the exercises. Love them and they will love you back," Tony advised. Sarah and Linda taught Standing Deep Breathing to Standing Bow. Tony asked Linda to demonstrate Balancing Stick, Separate Arms Balancing Stick, and Separate Leg Stretching while he discussed the mechanics of the postures.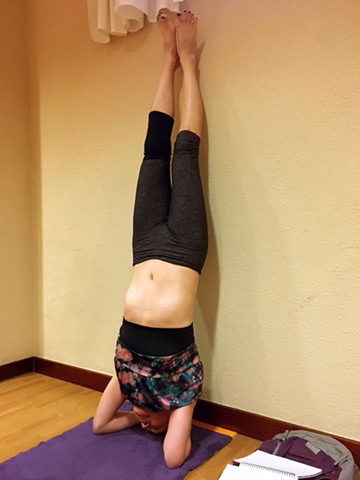 "Stretch the muscle to improve flexibility, not the tendons and ligaments," Tony said. We practiced a yoga class with just the floor series: Wind Removing, Cobra, Locust, Full Locust, Floor Bow, Fixed Firm, Half Tortoise, Camel, Rabbit, Head to Knee with Stretching, Separate Leg Stretching (Itsy Bitsy Spider), Frog, Upward Stretching (separate and both), Splits on the Floor, Pigeon, Standing Splits (Splits in the Air), Savasana, Archer, Four-Angle, Happy Cow Face, Spinal Twist, Revolving Spinal Twist (separate and both), Abdominal Twist (separate and both), Abdominal arms next to your head, hands clasped behind head, grabbing elbows behind head, Savasana, and Kapalbhati Breathing. In the afternoon class, Tony quizzed us on our knowledge of the full sequence of postures in Core 40. After our quiz, we spoke about Tony's life and his experience with Bikram. We also spoke about his studies on the Ghosh lineage, Chi Gong, and the differences and similarities between various martial arts. With regard to meditation, he commented, "I think it's a waste of time." We practiced the floor series of Core 45 that included two poses I could do: Shoulderstand, Shoulderstand with Lotus. Also, I overcame my recent wrist and knee issues and performed a Headstead with Tony's assistance. My first attempt was a fail. I fell over to the side, perhaps the worst place to fall. My second attempt Tony instructed me to move my knees to my chest and lift my legs up one by one. Once I had my feet on the wall, I extended my legs upwards, found my balance, and moved my legs away from the wall. With my forearms in a tripod position, there was only the tiniest bit of pressure on my head. Tony said in his blog: "Right now I am working with an incredibly talented group of yogis and yoginis from the U.S.A. and Europe. They are strong, flexible, enthusiastic, and with tremendous potential to learn, practice, and teach my Core 40 and Core 45 systems based on Ghosh's unique system of Hatha yoga. I have complete trust that they will be a very important part and contributors in the yoga movement the world is experiencing now." Technically, I completed my 60-Day Challenge today. For lunch, we went to a little tapas place that had a limited selection of items in sandwich form. The waiter acted very rude towards us, probably because we didn't speak much Spanish. Whatever we wanted to order, he didn't seem to have. We ended up ordering an assortment of whatever he had, which was basically lunchmeat fare. For dinner, I craved pizza and walking by a closed Mamma Mia the past couple of days didn't help. It was open tonight, so I popped in and ordered something somewhat familiar, the Frutti Di Mare pizza. Back home, such a pizza would usually include shrimp, scallops, and calamari. Here, the seafood was tuna, langostinos, and mussels. I've never tried such a combination before. A generous amount of tomato sauce and mozzarella balanced out the strong flavors. The first couple of bites tasted weird, but I found myself slowly liking this weird pizza. Apparently, it's something much more popular in Spain, Italy, and Germany than in the States. No, I didn't eat all of the pizza. I finished about half of it.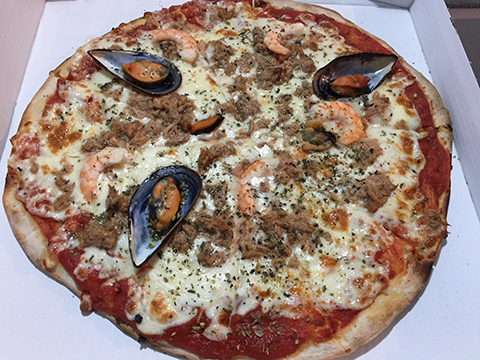 Wednesday, March 22, 2017 - Day 5 - Today we spoke about how we have to position ourselves as yoga therapists rather than yoga teachers in order to expand our teaching opportunities. We talked about the six specific movements of the spine that each posture works on: lateral extension right and left, extension, flexion, and twisting right and left. We practiced some more Chi Gong exercises. Atlantis was asked to teach Standing Deep Breathing to Standing Separate Leg Stretching in the morning. Elizabeth was asked to teach Standing Deep Breathing to Short Man in the afternoon. Tony asked Linda to demonstrate Guillotine, Tree, Toe, Short Man, Eric to demonstrate Crow and Side Crow, Thor to demonstrate Crane and Side Crane, and Atlantis to demonstrate Firefly. Tony said that the 26+2 sequence was developed for Bikram by Ghosh for his individual needs. It was never meant to be a complete series for everyone. We practiced the entire Core 45 sequence at the end of the day. I did Headstand once again with Tony's assistance. For lunch, a small group of us went to Kaeda. Their lunch special for $10 included seaweed salad and two kinds of fried spring rolls, miso soup, an entrée of your choice (I had sashimi with rice), dessert, and a drink. Everything was very good, much better than dinner a few nights ago. For dinner, the class had dinner at Canadu, a vegan restaurant to celebrate our classmate Linda's birthday. We enjoyed appetizers of red beet hummus with endive "chips," two kinds of croquettes - mushroom and apple chutney, and a salad of tofu, corn, pine nuts, alfalfa sprouts, walnuts, and a variant of Goddess dressing. I had the eggplant stuffed with mushrooms, walnuts, almonds, raisins, cheese, and bechamel sauce for my entrée and the tiramisu for dessert. Overall, the food was very good.

Thursday, March 23, 2017 - Day 6 - Today we discussed Ghosh's Yogic Physical Culture Guidelines. We learned eye exercises, healthy diet guidelines. and the truth about Bikram's use of heat in his yoga classes. Tony asked Sarah to demonstrate Savasana, the Sit-Up, Cobra, Locust, Full Locus, and Bow. I was asked to teach the entire Standing Series from Standing Deep Breathing to Palm Stand in the morning. Eric was asked to teach Standing Deep Breathing to Bow in th afternoon. Every day, whoever is asked to teach gets to teach the class with a few more postures added. Eventually, all of us will teach the entire Core 40 class. "Before you teach Core 40, practice the system for two months, so you can really understand it," Tony advised. I was able to lift myself up a quarter of an inch in Side Crane! For lunch, our group ate at another little tapas place right next to the terrible tapas place we ate at two days ago. It was marginally better than the first tapas place. For dinner, I dined at Kaeda again, this time getting king prawn tempura, grilled duck teppanayaki, and vegetable fried rice. It was a pricey meal, but worth it.

Friday, March 24, 2017 - Day 7 - Today we reviewed the Yamas and Niyamas in Raja Yoga, the Classical Yoga system. Tony mentioned that the basic fundamentals for a strong, athletic, or therapeutic yoga practice include self-confidence, discipline, determination, concentration, patience, breath management, good alignment, and mindful movements. Sarah was asked to teach Standing Deep Breathing to Floor Bow in the morning. Linda was asked to teach Standing Deep Breathing to Rabbit in the afternoon. Tony asked me to demonstrate Fixed Firm, Half Tortoise, Camel, and Rabbit. We learned about the various systems in the body and how each posture affects specific systems. We learned that a posture such as Half Tortoise is more about stimulating the internal organs rather than worrying about keeping your heels together and thighs tight. I was able to do Side Crane again! We practiced Core 45 in the afternoon. I was able to do a Headstand again with Tony's assistance and this time I gained a little more confidence doing it. I tried doing Tiger, but the pressure on my arms wa too much. I tried to do Handstand and had an "Oh shit!" moment as I couldn't believe I was doing it. My arms felt like they were going to collapse so I got out of it quickly. Tony quizzed us on our knowledge of the full sequence of postures in Core 45. For lunch, we went to Chiringuito El Cachalote where I had fresh grilled sardines. They were really good, but spiney boney. I don't think I'll ever get used to eating bones conscientiously or accidentally. For dinner, we went to Ba Japones where we dined on an exceptional multi-course tasting menu with sake and wine for a mere $54. The menu included mackerel sunomono, red tuna and avocado ceviché, a selection of three nigiri (kingfish, fatty salmon, and red snapper), grilled octopus with potatoes and asparagus, a piglet pibil (slow roasted baby suckling pig) taco with purple onion, avocado, and jalapeño, Iberian prey marinated with tentsuyu (think of the most delicious pork you've ever tasted) and bok choy, and chocolate truffle cake.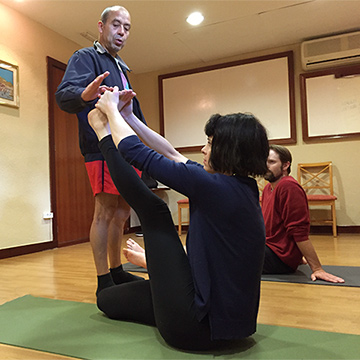 Saturday, March 25, 2017 - Day 8 - Today we talked about chakras, five elements in Chi Gong, how Indian and Chinese methods are related, and the most important thing in all postures is alignment. We learned that the body produces sinovial fluid until you are 30 and then you have to generate your own sinovial fluid through movement. Through yoga and exercise, including facial exercises, you can slow down the aging process. "Encourage your students to be better than you," Tony advised. Thor was asked to teach Standing Deep Breathing to Upward Stretching in the afternoon. Tony asked Atlantis to demonstrate Head to Knee with Stretching, Separate Leg Stretching, Frog, and Upward Stretching and Linda to demonstrate Splits on the Florr, Splits, Pigeon, Splits in the Air and me to demonstrate Archer, Four-Angle, Happy Cow Face, Spinal Twist (along with the advanced version), Revolving Spinal Twist, and Abdominal Twist. Next week, we will be asked to teach a full Core 40 class. Tony will choose which one of us will teach each day. For lunch, we dined at Restaurante De Sancha where I had a grilled lamb chop entrée that was delicious. Sarah's entrecote looked even better. I will get that next time. For dinner, we had tapas at a little place near the Teatro Cervantes as well as Puro Pescaito. My classmates joked that we had dinner twice! At the first tapas place, we had six tapas, including Russian salad, bull meat croquettes, and eggplant ceviché. At Puro Pescaito, we had giant prawns, langostinos, octopus, seafood paella, and coconut flan. The prawns and langostinos tasted like lobster and were absolutely delicious. I pierced my finger with a sharp antenna from the king prawn, but it was worth it. It was crazy busy out with the Festival de Malaga happening. The streets were crowded and we considered going out dancing after we ate, but we all felt tired at 1:30am, so we headed home. Eight days of training at a Tony Sanchez workshop can really wear you out!

Sunday, March 26, 2017 - My classmates and I visited the world-renowned Museo Picasso Malaga, had lunch at Cafe Central Malaga in Constitution Square, and enjoyed a relaxing Turkish bath and massage at Hammam Al Andulus Malaga. I splurged and got the Bath and Nazari Ritual (a kessa bath, scrub, and double relaxing massage), since I wanted my first hammam experience to be a good one. The big negatives about this place are the lack of time you receive to enjoy the three pool areas and the deep massage treatment isn't really very deep. We received 90 minutes to enjoy the entire experience and 45 of those minutes are the massage itself. Still, the massage around my spine was a welcome relief to a sore back over the past few days. We walked around Malaga Centro, including the flea market and the hills surrounding the old ruins, and had tapas and dessert at Cafeteria Flor and Confiteria Aparicio where I had a Spanish omelet, Iberian pig plate, octopus, potatoes, churros con chocolate, and a croissant filled with dulce de leche.

Monday, March 27, 2017 - Day 9 - Today we reviewed what we learned in the past week. We learned that the sympathetic system is for your "fight or flight" response and your parasympathetic system is for a relax and calm response. We learned that the world frequency was measured to be 8Hz and that, through yoga, we try to lower our frequency in ourselves (which starts from 12 to 20Hz). Tony asked Thor to demonstrate the three sets of Abdominal exercises and added an additional leg raising exercise from the side.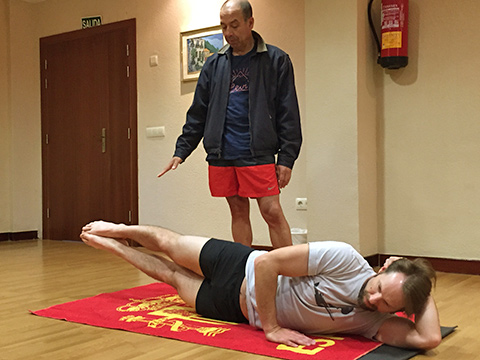 We completed all of the major postures in the Core 40 sequence. Atlantis was chosen to teach a full Core 40 class in the morning. In the afternoon, Tony asked Thor to demonstrate the Core 45 Wind Removing exercise. Tony asked me to demonstrate the Core 45 Cobra, Full Locust, Child's Pose, Camel, Separate Leg Head to Knee (Makhamuktasana), and Spinal Twist. Tony taught a Core 45 class in the afternoon that combined the Core 40 with the Core 45 Cobra (Core 40, then Core 45), Locust, Full Locust (Core 40, then Core 45), and Camel (Core 40). My body finally woke up after feeling stiff for the past two weeks. I was able to do a Headstand four times without Tony's assistance! We learned a new breathing exercise after Kapalbhati. For lunch, we went to Sabor a Fuego, a wonderful little Argentinian steakhouse where patrons get to see their good cooking on the grill in the open kitchen. Some claim that it has the best steak they've ever tasted. I ordered the Ojo de Bife, a premium cut that is supposed to look like a small ribeye. What I received must've been some house special because it was easily twice the weight that was listed. It was loaded with flavor. Where else can you get a steak of this high quality for a measly $24? My grilled vegetables (eggplant, squash, red peppers, and onions) were equally amazing. The waiter gave us a free appetizer of cherry tomato and cheese flatbread. For dinner, a took a stroll down the street to the La Malagueta Plaza de Toros (the Spanish bullring) and accidentally discovered Malaga's Muelle Uno, a shopping and dining area at the port. There I walked by a few familiar fast food restaurants as well as more local establishments. I entered one called Gorki Seleccion, a little tapas spot with a nice view for peoplewatching. I'm not sure why the reviewed are so mixed on this place. I thought the variety, quality, and prices were fantastic. Where else could I get two thick pieces of grilled foie gras with glace figs for a measly $16? Something like this would be over $30 back home. My only criticism was it could've been warmer. I also had two tapas, the crab (surimi) crepes, which were okay, and the pork sirloin with aged mustard sauce, which was absolutely delicious. I also wanted to get the sea urchin, but the waiter actually stopped me from ordering too much, which was greatly appreciated.

Tuesday, March 28, 2017 - Day 10 - Today we talked about what yoga means to us. Is it a lifestyle, a religion, or something else? For many of us, it's a lifestyle that we are devoted to, but not necessarily a religion. We reviewed Linda Sparrowes' Yoga book and noted all the famous yogis we recognized. We reviewed Kapalbhati Breathing and Tony recommended that we breathe in deeply before beginning Kapalbhati rather than start with an exhale.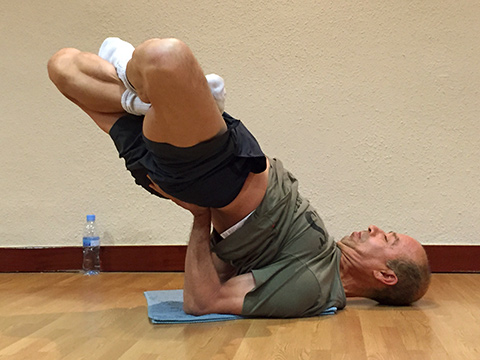 I was chosen to teach a full Core 40 class in the morning. I taught it the way I would've taught it at my yoga studio. I added Phoenix posture and Aikido wrist exercises to the sequence. I removed Guillotine, Short Man, the Splits, and the Double-Sided series from the sequence. I was careful not to use my "triple breath" technique too much, although I could've said more "inhale breathing" instead of just "inhale" so the timing of the inhales could've felt better with the timing of the exhales. I plan to add more abdominal exercises to my future classes. After class, we practiced a Chi Gong meditation exercise that put me in a very relaxed state when we rested in Savasana. In the afternoon, we reviewed the Core 45 sequence, performed eye exercises, and did a Core 45 class. I wanted to reproduce the entire Core 40 and Core 45 sequences here, but Tony brought up a good point about people continually trying to copycat his ideas. What good is a sequence if you don't have all the details that go along with it? If a student or teacher is truly interested in the sequences, he or she will take his training and learn about them. "What is available online is only one-third of what I actually teach in my training. By not including everything, I force you to take notes," Tony commented. I was able to do Headstand unassisted on three attempts. On the fourth attempt, Tony assisted me in trying to find my balance without relying on the wall. Tony demonstrated a new variant of Lotus in Shoulderstand. For lunch, I went to Kaeda where I had two kinds of fried spring rolls, cucumber salad, steamed shrimp dumplings, a small corn and avocado salad, an entrée of six nigiri and six maki sushi, and green tea. Of course, I couldn't eat all of that. I managed to finish half the sushi. For dinner, a small group of us went to Lounge Bar Plaza at the Malaga Muelle Uno. I had a delicious shellfish and cuttlefish arroz negro paella (squid ink paella). We shared a mixed tapas platter that included Russian salad, croquettes, anchovies, octopus salad, and roasted red peppers. For dessert, I had a slice of tarta whiskey pie.
Wednesday, March 29, 2017 - Day 11 - Today we learned hands-on adjustments for Standing Deep Breathing to Tree posture. Linda was asked to demonstrate the postures while Tony showed us the adjustments. We watched Tony demonstrate an abdominal control exercise, the first part of Nauli breathing. We learned Cock posture, a part of the Lotus series. We also learned some recommendations for a Core 40 class, such as more Savasanas during the floor series and using an alternating Cobra series sequence where there are two postures followed by a Savasana and so on. We were quizzed on the entire Core 40 sequence as Tony asked us to name the postures in a particular series. Elizabeth was chosen to teach a full Core 40 class in the morning. Tony taught a Core 45 class in the afternoon that included the Lotus series. I practiced on the floor rather than on my mat. That really helped my stability. For lunch, I took a stroll along the street that outlines the beach, the Playa de la Malaga, which I discovered only today is a major highway (N-340). That must be why everyone seems to drive at 90 miles an hour here. I walked all the way to Ba Japones, the sushi restaurant I dined at last Friday. The restaurants I wanted to try, Indio Taj Palace or Pizza Pino, were not open until 1:00pm. Argh! I walked back and decided to try Chingerito Tropicana where I had delicious razor clams in olive oil and garlic and good fried baby squids. Fried baby squids are really an interesting taste sensation. The crispy legs are attached to a very lightly crispy body that is filled with a big milky squish as soon as you bite into it. I can't say I love them, but they weren't bad. The only problem with the dish was aside from the lemon juice you could squeeze onto them, they really had no flavor on their own. To give them a fair review, I'd like to try their grilled fresh fish sometime. Chingerito Tropicana is the only restaurant I've been to in Malaga that charges a separate "service charge" on the bill. I suppose they must attract lots of tourists since they are the chingerito (beach snack bar) closest to Malaga Centro. I purchased a watermelon ice pop (Nestle Pirulo Watermelon) from a little ice cream stand. It was surprisingly good, a refreshing blend of watermelon and green apple water ice with cocoa pieces to simulate the seeds. I'm not sure if I can buy this back home. For dinner, I had a craving for something bad, so I went to Burger King. Strangely, the experience wasn't bad at all. I ordered the King Huevo, a quarter pound burger with tomatoes, an overeasy egg, bacon pieces, and fried onions. The bun tasted quite fresh, comparable to any bread I've had so far. Someone hasn't told Spain about "supersizing" yet, because a "large" size fries and drink here is like a "medium" back home.
Thursday, March 30, 2017 - Day 12 - Today we discussed the logistics of teaching a 60 minute versus a 90 minute yoga class. We learned hands-on adjustments for Toe Stand to Boat. We practiced hands-on corrections on a partner with Tony assisting us. I felt fortunate to have chosen Elizabeth because I felt she best represents the type of person whom I would most likely meet in my classes. She, like I, is a seasoned fitness instructor who has battled through injuries, which has resulted in stiffness and loss of flexibility. Linda was chosen to teach a full Core 40 class in the morning. Tony taught a Core 45 class in the afternoon. I was able to lift myself up a quarter of an inch in One-Legged Peacock! For some reason, I burst out in laughter after I did it. Tony asked me to do it again and I did. Strangely, I can't do the basic Peacock. For lunch, we went to Restaurante De Sancha where I had a delicious entrecôte (ribeye) steak. For dinner, we went to Ba Japones where I had salmon belly, scallop, and steamed turbot nigiri, a kobe beef and quail egg bun, and cold and hot sake. I also sampled a classmate's salmon carpaccio and a spicy scallop maki and thought both were both delicious.

Friday, March 31, 2017 - Day 13 - Today we practiced eye exercises and Chi Gong exercises before Sarah's Core 40 class. I was able to do Side Crane. In the afternoon, we practiced hands-on assists for the floor series. Tony showed us various methods for assisting students in getting deeper into their postures. Tony asked us if we'd like to change practice partners. "No way!" I said. My other choices were young and agile and atypical of the types of people I would see in my classes. Elizabeth assisted me by extending my leg as I did One-Legged Peacock. After our hands-on assists practice, we practiced our headstands. I was able to balance myself briefly without using the wall. For lunch, I had a delicious Bife de Chorizo, a tender, succulently sirloin steak, from Sabor a Fuego. It was a meat lover's dream. For dinner, the entire class went to Samarkanda where we dined on such delicious Lebanese delicacies as hummus, baba ghannouj, muhammara (a red pepper and walnut dip), falafel, kebbe, and beef shishkabob. Perhaps the only disappointment of the entire meal was the "house specialty cheesecake," which was basically a lightly toasted slice of mozzarella with apples and cinnamon on top. After dinner, we walked around the very festive Malaga Centro where we saw young and old dining at the various restaurants and taverns, some adorning on the main streets while others were tucked away in dimly lit alleyways. Young twenty-something Andulusians waited in line to get into the beautiful nightclubs while beautiful male and female models tried to lure potential guests into their venues. As we passed by the massive and divine Cathedral of Malaga on our last leg of the walk, I couldn't help but feel impressed by this architectural masterpiece.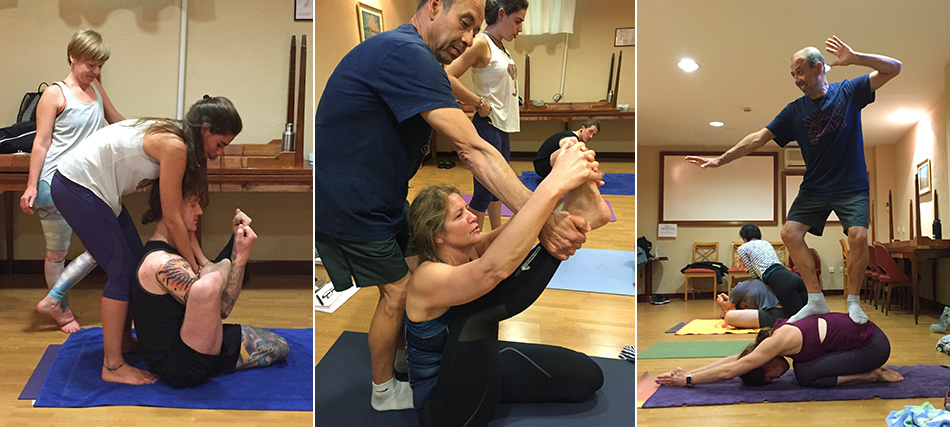 Saturday, April 1, 2017 - Day 14 - Today Tony gave us a summary of what Core 40 is. At its most basic level, the system is a set of postures that can be tailored to your students' needs. We discussed safe and efficient ways of adjusting students, such as putting pressure on muscles rather than bones. We learned that Core 45 is "your secret weapon for your personal practice, but you can add some of thes postures to Core 40." We reviewed everything we learned about alignment. Eric was chosen to teach a full Core 40 class in the morning. In the afternoon, we practiced eye exercises, Chi Gong, and discussed the use of weight training with yoga. Tony let me teach a mini-Aikido class. We did some basic breathing, stretching, and energy redistribution exercises followed by Tai No Henko and Tsuki Kotegaeshi. I talked about the different types of strikes, how yoga and Aikido are related, and how every Aikido technique is presented as a colloboratice exercise. One of my classmates wanted to try using her kickboxing skills to punch me to see how effective she would be against Aikido. As she punched, I stepped to her outside and grabbed her wrist for Kotegaeshi. She tried to punch me again and I grabbed her wrist again for Kotegaeshi. Another student tried and I was able to grab her wrist as well. "The whole point of these collaborative exercises is we practice having the opponent physically grab our wrist first and, as we accumulate experience, we get to a point where we no longer need to be grabbed. We read the intention of the opponent by studying the face or shoulder movements," I said. I explained that Aikido was based on principles, not techniques. The techniques are just used to illustrate the principles. Tony taught an abbreviated 90-minute Core 45 class afterwards. Our Core 45 classes usually take about two and a half hours to complete. I was also able to do crude versions of Crow and Crane. "Wow! Look at Clare!" Tony exclaimed when I was able to do the One-Legged Peacock to full extension, hovering for far longer than in my attempts at Side Crow. I burst out in laughter again. I was able to balance myself without the use of the wall in Headstand. We received our diplomas from Tony and had our pictures taken with him. For lunch, I had one more incredible meal from Restaurante De Sancha. It was so hard to choose between there and Sabor a Fuego. I ordered a plate of seven grilled prawns and loved every delicious bite. I seldom get full from prawns or shrimp, so this meal was simply awesome. For dinner, the entire class went to Circus Spaghetteria, a pasta restaurant with a circus theme. If you fear clowns, this is not the place for you. The food was good, but didn't compare to all of the wonderful meals I've eaten throughout this trip. Tony's final words to us assured us that we were part of something special and that it was now up to us to spread our knowledge of the right way to practice yoga.

Sunday, April 2, 2017 - On my way back home, I felt blessed to have had the opportunity to attend Tony Sanchez's teacher training. The training really opened my eyes to the 26+2 series and I'm proud to say that I worked through this particularly intense training program while recovering from wrist and knee injuries. I now have three new systems that I can teach (Ghosh Flow, Core 40, Core 45), which will certainly expand my opportunities as a yoga teacher. I enjoyed my time in Malaga and I like the fact that Tony is a real person and not someone hiding behind a fake personality. I would like to attend Tony's teacher training again some day. His constantly evolving curriculum ensures that each visit will be new and unique. Over the past three weeks, I went from 132 pounds at 10.1% bodyfat to 138 pounds at 7.7% bodyfat for a gain of over nine pounds of muscle!