Welcome to my food page! I'm a Yelp! Black Elite reviewer who has been to so many nice restaurants with my friends and family that I consider myself blessed in many ways. A new culinary experience is like discovering a hidden treasure. I don't have a favorite cuisine because there are fantastic things to eat in all of them. Food is an aphrodisiac to me and those who are as adventurous as I am will ultimately win my heart. My greatest culinary adventure is my trip to India in 2011 where I got to explore and enjoy authentic Indian cuisine.
Television Appearances
"Braz BQ" on Eat Street, Episode 516, The Cooking Channel
"Undrgrnd Donuts" on FYI Philly, ABC Channel 6
2013 Amateur Sushi Contest Winner
In April 2013, I entered Madame Saito's Nine Annual Amateur Sushi Making Contest and was one of eight contestants. Although my sushi making experience might seem limited by some (I took Madame Saito's courses, The Art of Sushi Making and The Art of Sushi Making Level 2, and prepared maki rolls at home), I used my creativity, resourcefulness, and time management skills to deliver the winning sushi plate!
| | |
| --- | --- |
| Me with my knives | My Fruits and Flowers theme that won First Place |
My Favorites...
Steak Place: Morton's, Butcher & Singer, Barclay Prime, Capital Grille, The Palm, Ruth's Chris, Davio's ... there's no shortage of fine steak restaurants in Philadelphia. For best food, I like Morton's. Even with the changes in ownership, decor, and location over the years, Morton's in Philly and King of Prussia consistently knock out great food prepared to your exact specifications. The filet mignon is excellent, but the ribeye is my favorite. For ambience, oh my God, I love love love Butcher & Singer. The high ceilings are fantastic and it's a Stephen Starr restaurant, so you know everything will be great. I recommend the Porterhouse.
Special Place: For dinner, Bibou, Vetri Cucina, or Lacroix. Some of my most memorable meals were at these three places. For brunch, Lacroix and the former Four Seasons were the best brunch spots in Philadelphia.
Last Meal on Earth: Zama's $150 omakase. This was a difficult decision for me because I love Morimoto so much, but Chef Zama has truly impressed me with some very adventurous dishes. If we were to include chefs who are presently not in Philadelphia, then an omakase prepared by Chef Todd Dae Kulper would be my last meal on earth.
Looking for reviews from 2010 to 2013? They're here.
Friday Saturday Sunday (2022)
The Tasting Menu will delight the senses of any foodie in your life. With eight courses of everything from caviar to pasta to meat and seafood, it's also magnificent enough to give nearby LaCroix a run for its money. The first course Royal Ossetra Caviar with hazlenut créme fraîche, benne, and yuca reminded me of a miniature charcuterie plate, only this one had a dollop of fancy caviar on it! Our server encouraged us to assemble our tiny arepas with the caviar and the puréed spreads. "That's frickin' yummy," I said to myself. Speaking of miniature, every plate of this tasting menu was small and designed to give you basically a taste of the culinary diversity that Chef Chad Williams offers his guests. Fred Flintstone appetites can stay home! The next plate was Crudo with yuzu, sunchoke, and bone marrow gelée. It was a little tuna pie that was delicious! The next dish was Chestnut Caramelle with hazlenut and marjoram. Caramelle is a stuffed pasta. Inside each of the four little candy wrapper shapes was a burst of intense flavor that made my eyes widen. This was as good as anything I've had at the six times I've been to Vetri! Maybe even more so as Vetri tends to sometimes undercook their pasta a few seconds short. The next course was Sweetbreads with mushroom, plantains, and poached egg. The dish didn't look like much, but it tasted sooo goood!!! The sweetbreads were crisped nicely on the outside and butter soft on the inside. The next course was Fish with lobster butter and citrus. The fish of the day was halibut and it was so delicious, I wish I had a big slab of it. If you haven't figured out the theme by now, it's SO DELICIOUS! The next dish was New York Strip with caraflex cabbage and sweet onion. All of you meat eaters will be delighted to taste this excellently prepared steak. This was another dish that I wish I had more of... until the next dish, which was Veal Cheek with chermoula and yam. Just think of the best beef short rib you've ever had and imagine it's better than that! Sadly, I didn't get a picture of this fantastic dish because I was so distracted by its presentation. The cheek was wrapped in a leaf! No meal would be complete without dessert, which was Carrot and Squash Cake with marscapone, a yummy version of the perfect little carrot cake with frosting.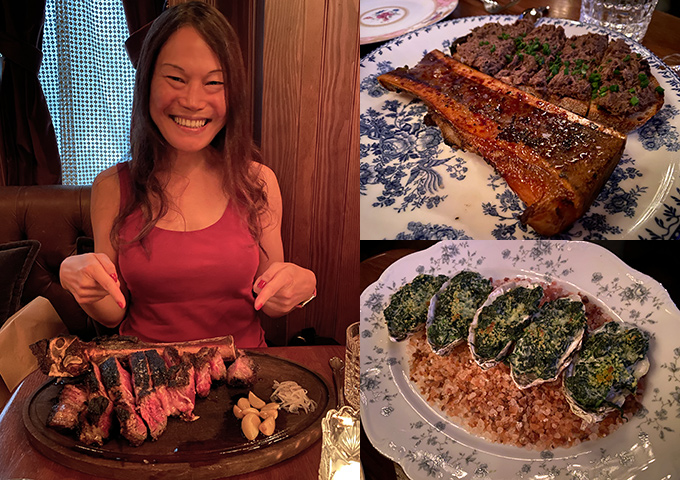 Alpen Rose (2021)
The Tomahawk Ribeye is one serious steak. 38 ounces of dry-aged steak served with roasted garlic and pickled shallots. Aged for 45 days, the intense flavor from the perfect char on the outside and the super-juicy inside was outstanding. A Tomahawk is one of the more challenging steaks to prepare, so if they prepared it this well, you can expect the smaller steaks to be grilled to perfection. The steak was presented whole and slice tableside. My friend Tom and I were talking about how the place reminded him of Peter Luger's in Brooklyn. "Oh, we'll pit any of our steaks against Peter Luger's," our waiter challenged. I've had many ribeyes from the big chain places (Morton's, Smith & Wollensky, The Palm), but they weren't like this! We also had the Bone Marrow Toast and Oysters Rockefeller. The sliced bread in the Bone Marrow Toast was topped with a generous helping of beef cheeks braised in red wine. The bone marrow was glazed with something carmelized and sweet. Cracking it with a fork made a beautiful sound. I absolutely loved this dish and would've ordered two plates, one as an appetizer and the other as an entrée. The Oysters Rockefeller was good, but not as impressive as the bone marrow. The green herbs usually in a dish like this were replaced with what appeared to be creamed spinach. We were so creamed spinached out that we changed our creamed spinach side to mashed potatoes instead. The restaurant is small, but they made good use of the space. It feels bigger than it is and looks like a classic steakhouse. A small whiskey bar is in the rear. The kitchen is open air, but not open air enough where you could see the grilling.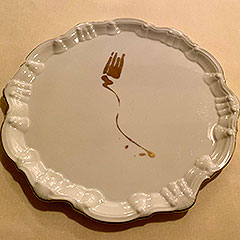 Vetri Cucina (2020)
If you are celebrating a birthday or special event, Vetri deserves serious consideration for that rare memorable meal. "Oh, my God, don't you remember the /fill-in-the-dish/ you had at Vetri? Wasn't it orgasmic?" That's the type of place Vetri is. For those of you who've never had food that was so good it was orgasmic, I cannot describe that feeling to you. You have to experience it for yourself. The meal started with a wine spritzer, a plate of assaggi, and a crudité. The highlight was the foie gras torchon on toast. Sandwiched in between the layers was a fruit marmalade. It was heavenly. Our next courses were bison tartare with black caviar and potato dumplings and hamachi crudo. I thought the foie gras was great. The tartare was orgasmic! Crazy good. I had to control my emotions. Our next courses were a prosciutto cotto and a vidalia onion tart. I had hunted a hog last year and had my fill of pork products for a long while. The prosciutto reignited my love for pork products. Such exquisite flavor with the nuts and peppers! We had five pasta dishes next and they were all very good to incredible. I felt like I was eating at Babbo! The spinach gnocchi has always been my favorite. Best gnocchi in Philly. The almond tortellini was outstanding. I'm allergic to almonds and I still ate it, because - fuck it - it was that good! By the way, if you are a true foodie, you'll work through your allergies... just like the time my throat was closing when I ate macadamia-encrusted opa and thoroughly enjoying it as if it were my last meal on earth! Our main courses of capretto (baby goat) with soft polenta and duck with chicories and 'nduja were especially satisfying. "I encourage you to pick up the chop with your fingers," our server recommended. It was finger-licking good! Since it was my dinner companion's first time at Vetri, his meal was comprised of classics, such as the spinach gnocchi and the onion tart. A palate cleanser of grapefruit sorbet was refreshing. Our desserts were chocolate polenta cake and cheesecake. At the end of the meal, I was presented with a goodie bag with a package of petit fours, biscotti, and an autographed copy of the month's menu. As always, Vetri never fails to impress and remains one of my favorite restaurants. It's expensive, but totally worth it for the food, ambiance, and service. It's a complete restaurant experience. When we left the restaurant, there was already a long line of people waiting for the next seating.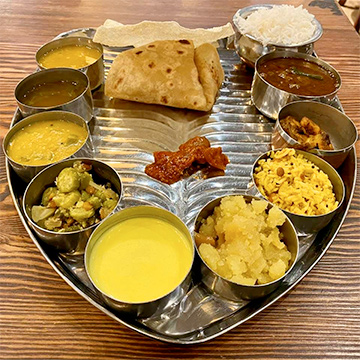 Amma's South Indian Cuisine (2020)
Amma's deserves a special mention for its lunchtime thali platter. For the low price of $11.95 (all-vegetable) or $13.95 (vegetables and meats), you get 10 small portions of food in little tins along with two breads and a garnish. Please note that this is a very filling portion of food! The meal shown includes rice, goat curry, shrimp thokku, veggie biryani, dessert, ghee cream, pickled veggies, veggie curry, and two veggie stews. The two breads are naan and papadum. On a second visit, the goat curry and shrimp thokku were replaced with chicken curry and lamb skewers. Everything was so delicious. This is quite possibly the best thali platter I've had since my visit to India. If you like spicy foods, you will love this, because Amma's cooks food with a kick.
Thanal (2019)
The location for Thanal will always have a special place in my heart because many years ago it was home to the Arch Street Diner and the little bar attached to it where I got my first bartending job. Several restaurant changes later, almost all Indian cuisine, and we have Thanal, which is by far the best incarnation yet. It is ironic that the cycle of death and rebirth has led to progressively better restaurants over the years. On its way to Moksha (liberation from the cycle of death and rebirth), we have a modern Indian bistro with classic, authentic dishes paired with modern, progressive libations. Start your meal with a Maharani Toast (Cruzan Mango Rum, mango nectar, raspberry, and Brut) and an order of Gobi Manchirian (spicy crisped cauliflower) and Prawn Milagu Varuval (prawns with black pepper and curry leaves) to experience the range of flavors the chef can prepare. Order a fresh baked Peshwari Walnut Naan with your curry (or two). My boyfriend Joey and I ordered two good curries, Chicken Tikka Masala and Lamb Korma.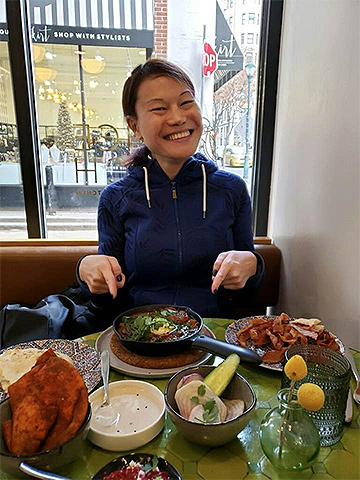 Spice levels range from 1 to 10. Since it was his first time at an Indian restaurant, we ordered 5 out of 10 for spiciness. It was pretty spicy, but hella good! Joey and I thoroughly enjoyed our curries. We ended our meal with Mango Kulfi, a rosewater based ice cream that was heavenly. This is my third visit to Thanal and every time has been filled with fond memories of delicious food for reasonable prices. Give this place a try. You won't be disappointed!
Spice Finch (2019)
If you think you might enjoy a variation of American brunch with a Mediterranean flair, try Spice Finch, Top Chef Jen Carroll's newest restaurant experience in Rittenhouse Square. The Berbere Crisps have a nice spicy kick to them and will leave a dusting of heat on your lips as you try to temper them with any of six different spreads. My friend Ken and I tried the Tahina (with sesame, lemon, and olive oil) and Beet Borani (with feta cheese and za'atar), a nice pairing of salty and sweet with the spiciness. For my entrée, I ordered the Shakshuka, a skillet dish with spiced tomato, peppers, nigella seeds, and an egg cooking from the heat still in the skillet. My dish was accompanied by a thick, warm, pillowy soft sourdough pita. Sooooo delicious was my dish, I could not help but gobble it up spoonful after glorious spoonful. It reminded me of an exotic ratatouille! For dessert, I ordered the Burnt Cream, a large disk of toasted cream that sat in a pool of heavenly sweet rose syrup and topped with fresh berries. Basically a Turkish-style variation of créme brulée, this was a marvelous sweet treat to end a gloriously spiced meal.
Cry Baby Pasta (2019)
After reading Craig Laban's rave reviews about this restaurant, I had to try it for myself. My friend, Ken, and I ordered a veritable smorgasbord of dishes. I had fresh grilled sardines atop homemade bruschetta bread and fritto misto with head-on shrimp, calamari, and smelts. He had the meatballs and garlic bread. When people think of sardines, they often think of the canned variety soaked in an oily tomato paste. Don't think like this! Fresh grilled sardines are a culinary delight and not to be missed, especially when they are expertly deboned, char-grilled, and lightly dabbed with olive oil. The fritto misto reminded me of a dish I had in Malaga. The fried smelts were wonderful and perfect to snack on. I seldom order meatballs of any kind because nobody beats my four-hour slow cooked meatballs that are so soft they literally fall apart in your mouth. Cry Baby's meatballs were close, but only because of the ingenious cheat of adding gelatin in the mix. The special of the day, "Trophy Pasta," hand rolled pasta (like spaetzle) covered with a savory sauce made with chanterelle mushrooms, duck, and chicken liver and topped with shaved Parmesan, was excellent as was everything else. It reminded me of a cross-country collaboration of Germany and Southern-style home cooking. Our server did a good job of selling us on certain dishes without overselling them. I did want to try the squid ink pasta with clams and chilis, but will save that for another day.
Urban Farmer (2019)
I finally got to try the "new" steakhouse in my neighborhood, Urban Farmer. I ordered a Piedmontese filet mignon, medium rare, and it was every bit as good as I had imagined. Bite after delicious bite, Urban Farmer's preparation reminded me of seared ahi tuna. Piedmontese beef is truly more tender, juicy, and lean than many USDA Prime meats. So is this ungraded steak comparable to or better than USDA Prime? Yes, it's every bit as tender. Leaner, too. The decor was a bit eclectic with its oddly matched tables and seats. The dress was cwasual and the vibe was unpretentious. It was a place where businessmen and hipsters alike would find comfort. Our Caesar salad included a single fresh anchovy. The bread basket included a hot, sfresh cornbread muffin and pretzel buns. Perhaps the only strike was the heirloom carrots, flame-grilled with olive oil but a bit too firm.
Sakana (2019)
Sakana bills itself as "the first affordable omakase restaurant in Philadelphia." Among the omakase options are the 12-piece Signature Omakase for $58, the 10-piece Sashimi Omakase for $58, and the 21-item Sakana Omakase that includes sushi as well as cooked dishes for $108. Each of these omakase meals include premium cuts of fish not found in many sushi restaurants. My dinner companion, Chris W, and I were fortunate enough to have Chef Sam Lin, owner of Sakana, prepare our meals. Chef Lin has worked at Masa, Momoya, and Sushi by Bou in New York City. We arrived early and were promptly seated. Chef Lin began by asking us if we had any food allergies or dislikes he needed to be aware of, so he can avoid using those ingredients. Our first course was a raw oyster topped with uzu foam, a refreshing way to prepare our palates for the courses ahead. Our second was the most perfectly delectable piece of sea bream I've ever had and this is coming from someone who has experienced Morimoto's $150 omakase 23 times. Our third and fourth courses were two kinds of mackerel. You haven't lived until you try mackerel this good. Usually, I am least impressed with mackerel on any sushi plate. These were very different. They actually tasted like fish and not fish jerky. We then moved on to our fifth course, baby squid, something you would normally not see at most restaurants that are not named Zama. At this point, with all of the intricate preparation involving gently torching the fish, brushing the surface of the fish with a light coat of soy, and decorating it with anything from caviar to gold flakes, I could not help but compare Chef Lin's masterful techniques to the famed sushi master, Jiro Ono, in the documentary film, Jiro Dreams of Sushi. "How the hell is he doing all of this for the price he's charging?" I wondered. Chef Lin's gentle, knowing smile leads me to believe that he enjoys what he does and that, my friends, makes for a chef's best meals! The familiar fish arrived next - Albacore, yellowfin, salmon, bluefin, toro, and a two-tuna combo - but each fish tasted quite different from what we were used to. "I age the fish from 7 to 30 days," Chef Lin said. "I'm the only one in Philadelphia who does this." I am a fish snob, having eaten fish in home-cooked multi-course Chinese dinners almost every day of my youth. In other words, every day was an omakase meal in my parents' home. Chef Lin is onto something with the aging process and I wish more sushi restaurants would learn his methods. Each fish was a melt-in-your-mouth experience and even something as simple as bluefin tuna had a complex flavor that tasted like it was well-seasoned, but without any sauces to mask the flavor of the fish. The grand finalé was the wagyu beef and sea urchin sushi, Chef Lin's play on surf and turf. The lightly seared wagyu danced on my tongue while the sea urchin covered it in a rich, buttery texture. It was sublime. Every omakase meal is a little different. Since it's the chef's choice, expect to experience a random assortment of any of the following items: wagyu beef, sea urchin, scallops, baby squid, live shrimp, fresh fishes of the day, and more. Chris W was a bit skeptical of Sakana at first, but I told him to trust me. Chef Lin's omakase was course after course of bite-size deliciousness. His sushi is small, warm, and truly wonderful to behold and taste. I love the warm, perfectly seasoned rice, just the way sushi was meant to be eaten. If you are truly hungry after eating 12 pieces of Sakana sushi, you can always purchase additional pieces for reasonable prices. This is, after all, your omakase meal. Add on and customize as you wish. Our additional courses were extraordinary. The live shrimp sushi is not to be missed. "Sometimes you can see the muscles moving," Chef Lin said of our shrimp sushi. The Hokkaido salmon is buttery soft and very different in taste and texture from the American salmon we were served in an earlier course. Give Sakana a try. You will be blown away!

DK Sushi (2019)
Looking for a great budget omakase in Philadelphia? Look no further than DK Sushi in the Franklin's Table Food Hall on the Penn campus! For just $35, the meal changes slightly every day and allows the different chefs assigned to particular days to express their vision and creativity. My dinner companion, Ken, was hesitant at first on trying all the different fishes, but was open-minded enough to dive right in. Our chef, Zion, started our meals with two tried and true omakase courses - tuna tartare and hamachi ceviché - along with a special miso soup with shrimp tempura. From there, our chef churned out plates of traditional sushi, two or three pieces at a time. The sea urchin and scallops were delightful, light, and refreshing. The toro, really a chu-toro, and yellowtail toro had good flavors. I prefer fatty cuts of fish over lean cuts. The Kobe and ikura were the chef's play on "surf and turf" and were melt in your mouth good and squishy bubbles of salty delight! The toro scallion roll almost served as a palate cleanser for the intense flavors of the final dish, a miso foi gras mini hand roll and eel sushi. I could eat ten of the foie gras sushi! The incredible thing about all of the sushi is the sushi rice was warm and perfectly seasoned. Warm rice is the only way to eat sushi! Big kudos to Chef Zion for using the available ingredients to craft a very nice omakase meal.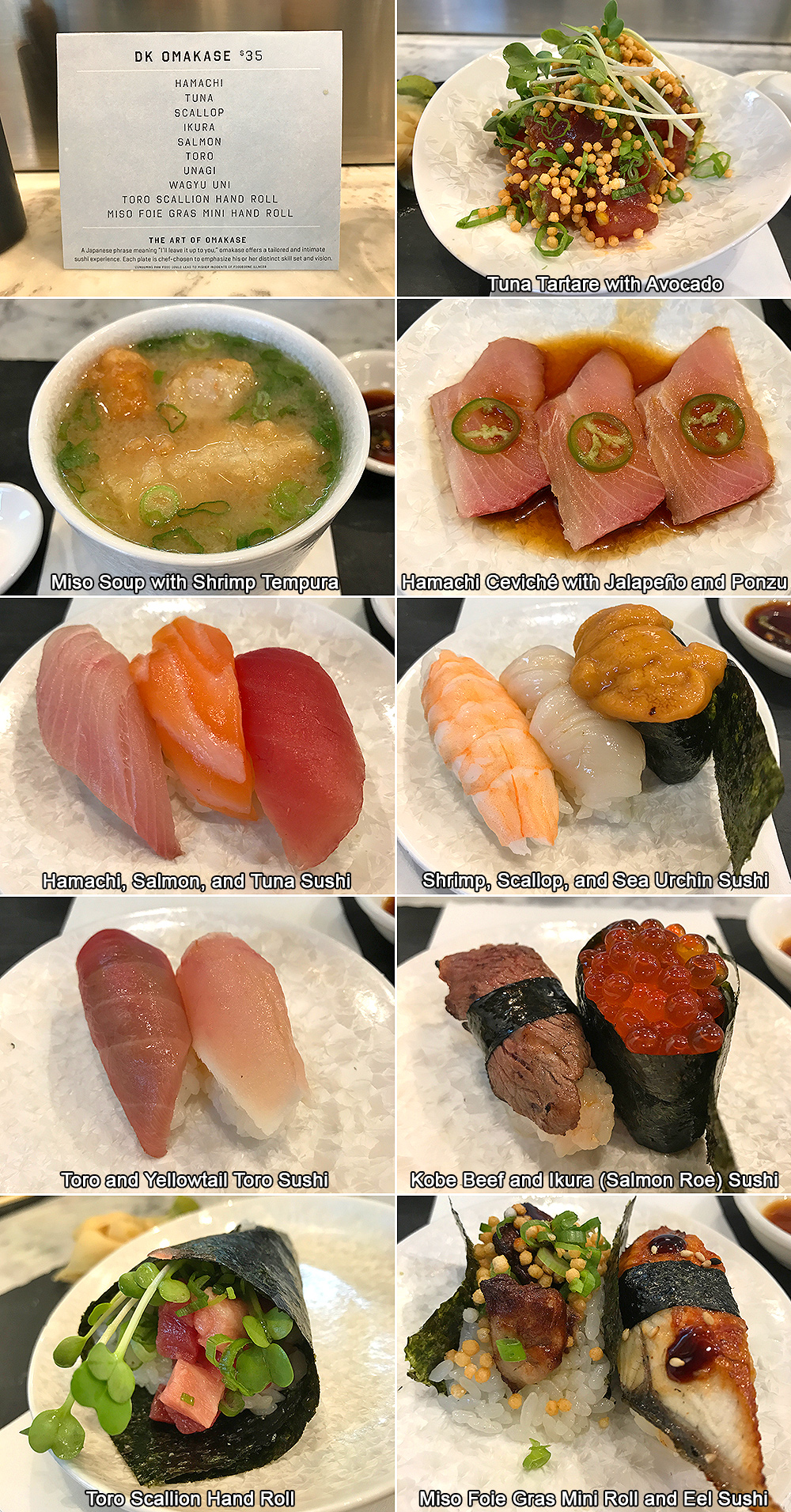 My second omakase was with Chef Mindy. Her focus was on the garnishings atop each piece of nigiri, everything from fruits to spices to caviar. The initial soup and salad were basic staples, nowhere near as impressive as Chef Zion's appetizers, but I could tell Chef Mindy had something in the works. The nigiri started with Hamachi topped with Yuzu (not pictured) followed by bigeye tuna, hotate scallop topped with chili paste and sea salt, salmon belly topped with caviar and shiso leaf, ikura mixed with eel sauce, eel topped with sesame seeds, sea urchin topped with caviar, and wagyu beef topped with sea salt. Each piece up until the sea urchin had a more impressive flavor profile than the last. Unlike my previous omakase meal, there were long waits between each plate as new orders came in. Chef Mindy presented me with edamame as an in-between palate cleanser. Sadly, my wagyu nigiri was cooked a little too long and the toro scallion roll didn't have the oomph of Chef Zion's double tuna version, but the next two courses were standouts. In place of the usual Miso Foie Mini Roll, Chef Mindy substituted a gorgeous Soft Shell Crab Mini Hand Roll. The Miso Foie Gras Mini Roll is typically one bite of food; the Soft Shell Crab Mini Hand Roll was three and it was meaty, juicy, and superb! So full of umami. As a special bonus for being a repeat omakase customer, Chef Mindy prepared a delicious inside-out shrimp tempura roll topped with bigeye tuna and avocado paste. That, too, was excellent. My dessert was a plate of two macarons - green tea and yuzu - and DK Sushi's special buttercake.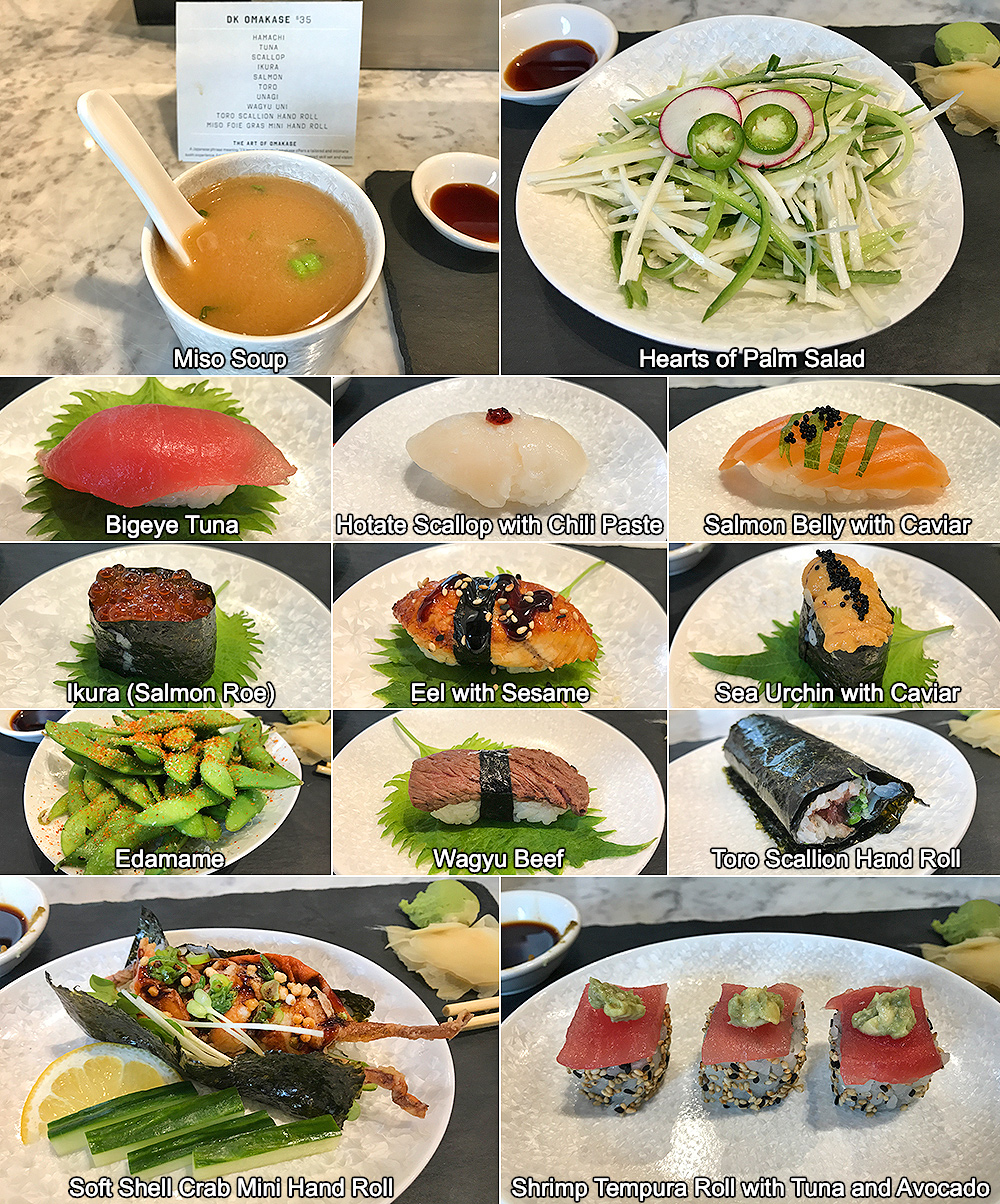 Lacroix (2019)
French resturants in Philadelphia come and ago, from the classic Le Bec Fin to the recently closed Le Cheri, but the one powerhouse fine French eatery that has endured the test of time is Lacroix in the gorgeous Rittenhouse Hotel. With a beautiful view that overlooks the park, this is the perfect place for an intimate evening with a good friend or loved one. Now, let me preface this by saying that Lacroix is not for everyone. Guys who have a "value for the money" mentality will never understand this type of cuisine. For those of you, like me, who are satisfied with just a taste of something extraordinary before moving on to the next dish, you are going to love Lacroix. It is a perfect birthday dinner restaurant. I went there for my 51st birthday. Executive Chef Jon Cichon continues to craft outstanding dishes that are a sight to behold.

The Saloon
The Saloon is one of those Philly restaurants you must go to. It's got that rare combination of style, ambiance, great food, and good service. It's the kind of place for people who love food. Do not invite your friends or family who eat to sustain. We all know people like that. They are not the audience here. The portions are all about decadence and plenty of it. You will be treated to magnificent portions of steak, veal, seafood, and more and you won't want to bring any of it home because it's so good, you'll want to finish it all there. The beauty of The Saloon, like most good places, is you can customize everything. If jumbo lump crabmeat is your thing, you can have it as a topping on any entrée. I added it to my Veal Piccante and it was soooo good. It made a good thing great. I also love the Grilled Langoustines. I ate all four. So good! I had them last time I was there, too, when I ordered the incredible Lobster Francaise, a South African lobster tail lightly battered and fried... and crabmeat on top! Don't forget the crabmeat! The martinis are also fabulous. Given a choice between this place and the chain steak places, The Saloon would win every time. Pray and hope that you get a table upstairs for a dynamite experience.

Zama Chef's Tasting Menu
I have had some wonderful meals at Zama. I usually order the Chef's Tasting Menus at the $75 or $100 price points. Each 7-course meal is a step above the omakases at Morimoto in terms of quality of ingredients, consistency of taste, and imagination.
Here is the $100 Chef's Tasting Menu I ordered in February 2018 during my dinner with my friend Bill W:
Here is the $75 Chef's Tasting Menu I ordered in August 2017 during my dinner with my friend Bill F: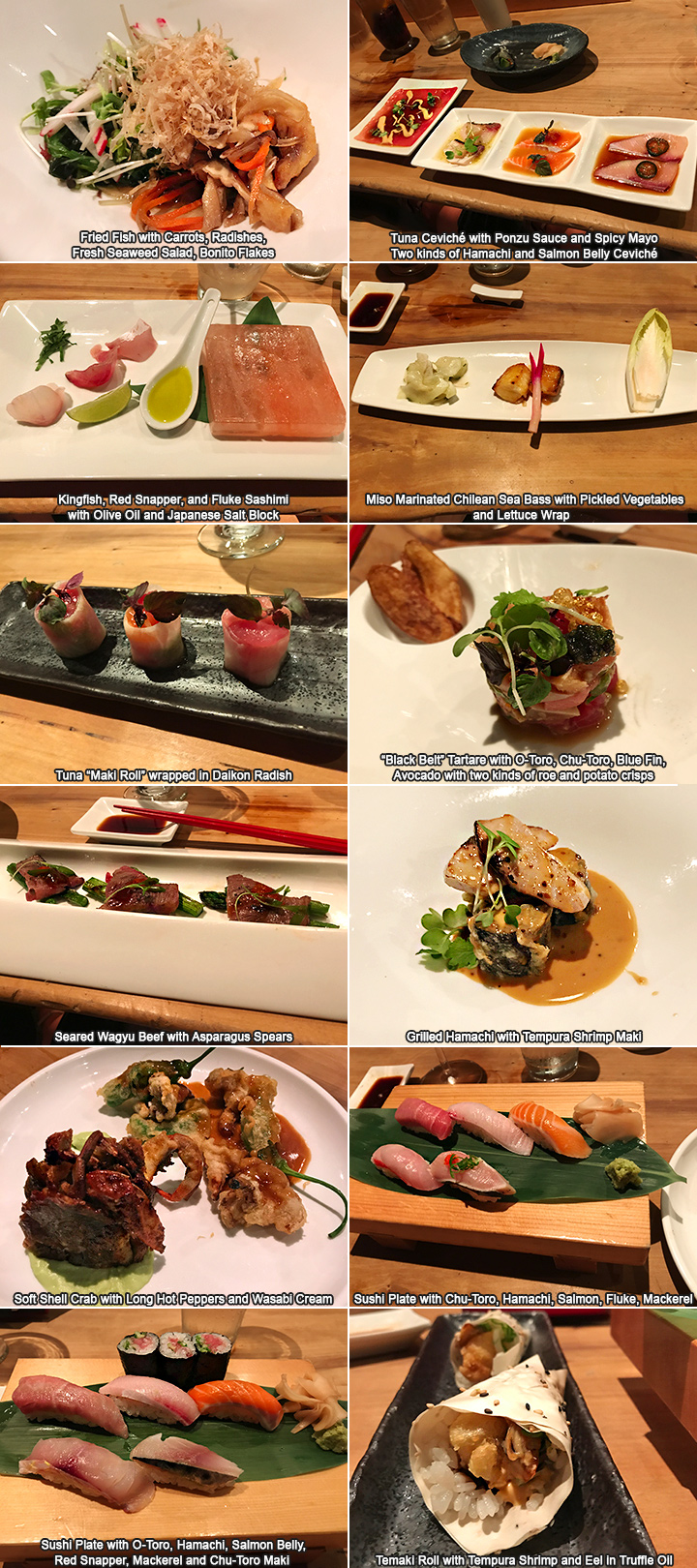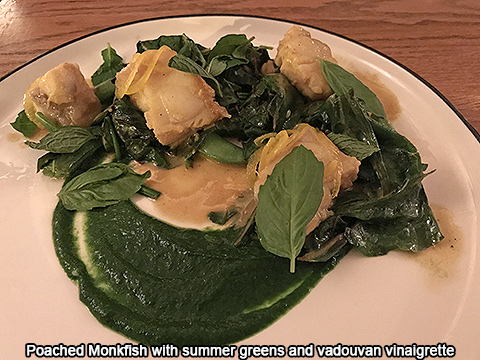 a.kitchen
Six years ago in July 2011, I enjoyed my first dining experience at a.kitchen and I've returned several times after that enjoying such entrées as leg of lamb, fried chicken, razor clams, fish stew, and more. On my most recent visit, I tempered my expectations a little not knowing what to expect. Little did I know that this was Chef Eli Collins' new haunt! Yes, the famed Pub & Kitchen chef - the one who created the amazing chorizo-filled roasted calamari - is now the new executive chef at a.kitchen. Chef Collins describes his new menu at a.kitchen as vegetable-centric with a French spin. Vegetable-lovers have a plethora of options here, including broccolini and the delicious tempura-battered Zucchini Blossoms with skordalia purée and shaved fennel. For my entrée, I had the wonderful Poached Monkfish. Each piece of this North Atlantic sea creature was delicately prepared, mild, mouth-watering, and if I were to describe in one word... beautiful... which is funny because a monkfish is actually an extremely ugly fish. Some people have referred to monkfish as tasting like "poor man's lobster," but I have never had monkfish that tasted like lobster in all of the places I've tried monkfish until now. The greens were snappy sugar peas and fresh garden spinach. I felt the sauces were a little bold, but not overpowering. Overall, I enjoyed the dish immensely. I remember the wonderful dishes the previous chef, Bryan Sikora, crafted at here and I think Chef Collins' continues the wonderful traditions that Chef Sikora, started.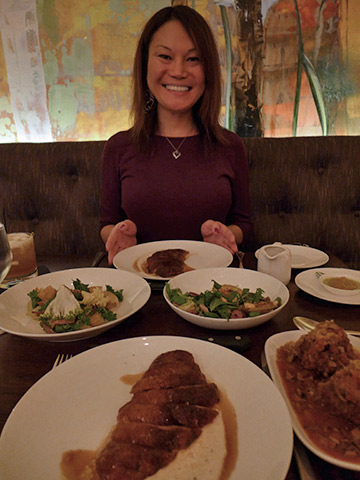 Fork
You haven't lived until you try a "feast meal" from Chef Eli Kulp at Fork. This season's big feast is the Peking Style Whole Muscovy Duck Feast, a tantalizing tummy tickling culinary adventure that is sure to please every foodie out there. "It will take over an hour to prepare," our hostess warns. My friend Chris W and I shrugged. The best thngs come to those who wait! We started our evening with the Vitello Tonnato, a variation of a veal carpaccio dish that has surfaced on other menus throughout the city. This version had raw Ahi tuna and marinated cucumbers. Chris and I agreed that the dish should focus solely on the veal and omit the tuna. "The veal should stand out on its own," Chris commented. Criticism aside, it was a beautiful presentation and our server mentioned that it was one of Fork's most popular dishes. After a scant half hour, a server presented us with a giant whole roasted duck on a rustic wood serving board and described how every part of the duck will be used to create our four dishes. "Are we getting the liver? I want the liver," I said to him. "Oh, yes, the liver will be used in the meatballs," he replied. Sweet. And so we waited another half an hour or so for our meal to be prepared as we dicussed the merits of eating whole animals and not wasting anything. Our expectations of this much-lauded meal were increasing by the minute. When the dishes finally arrived, we were in awe at the four totally different preparations. Chris and I were each presented with a plate of the most beautifully sliced pieces of breast meat. The meat was unbelievably tender and the crispy skin was so delicious it was a joy to eat. The honey glaze, cream, candied garlic, and duck jus accompaniments made our tastebuds dance. "Oh, my God... a non-Chinese person made this!!!" I screamed silently to myself as my eyes widened and I couldn't stop chewing each succulent, juicy morsel of meat. As a Chinese person, it somewhat pains me to say that this is simply the best Peking duck I've ever eaten and that includes my many New York and Philadelphia Chinatown duck house experiences. Chinese roast duck is comfort food, much like duck confit is to a Parisian. The meatballs were the best I've ever eaten at a restaurant and many of you know I know my meatballs! The spicy tomato sauce contained hearty chunks of mushrooms and red peppers. So good! The duck confit salad contained delicate, melt-in-your-mouth meat pulled right off the bone. Even the duck heart salad, something I know many of you would cringe at, was prepared in a completely accessible way. Duck hearts, when prepared this well, are tasty little morsels of meat just like tongues, livers, and sweetbreads. The pears were a delight to eat and I can't stop thinking about the candied almonds. Chef Kulp took the concept of roast duck to a whole new level with this feast. It's so good I'm left speechless. Kudos goes to the chef and the impeccable service at Fork. We had no less than four servers working our table and all were polished professionals.

Simply Shabu [ CLOSED ]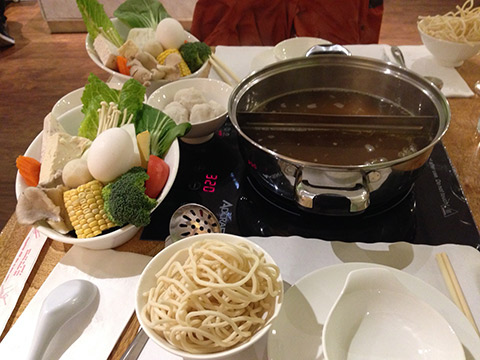 If you've ever tried fondue or Korean BBQ, you're already familiar with the "make your own meal" concept. Rather than a pot of hot sauce or an in-table grill, you get to prepare your meal in a Japanese hot pot. The idea can be simple, fun, and, with the right ingredients, potentially an excellent meal. I cannot find fault with Simply Shabu. You get a lot for your money and the ingredients are top notch. Whether you're a vegetarian or a meat lover, you can enjoy a sumptuous meal that includes a huge bowl of fresh vegetables, steaming hot broth that is warmed at your table, and your choice of rice or udon noodles. Meat options include USDA Choice rib eye, pork, chicken, lamb, beef meatballs, pork meatballs, shrimp, Dungeness crab, scallops, cod, clams, crab meat, fish tofu, fish meatballs, and cuttlefish meatballs. You can order a preconfigured combo meal or a la carte. There is one inherent danger to the concept - undercooking your food - but really the onus is on you to use your better judgement in deciding which ingredients look "cooked enough" for you. The seafood appears to be mostly frozen and I found myself biting into a cold cuttlefish ball at one point, so you have to be careful with timing and knowing where your finished stuff versus your transitional stuff is. In general, my fellow foodie companion, Chris W, and I had fun making our own meals. We each ordered the Surf & Turf combo shabus. I had the lamb and Chris had the pork. We each received a plate with five to six slices of meat and an assortment of seafood. After all of the ingredients are added to the broth, the result is a very complex, flavorful stew. Perhaps the only misstep is one of our servers asked us if we needed more bowls, presumably for the assortment of spices available at the spice counter, when we were about halfway done with our meal. Depending on the person, this is a place that will live and die by its sauces. I created a wonderful blend of soy, scallion, and garlic that I used to season most of my ingredients. The sesame sauce and BBQ sauce, which is not like any BBQ sauce we've ever tasted, are also recommended. The ingredients actually stand up well on their own, but the sauces just add that extra oomph.
Branzino
This was the second time I've dined at Branzino with my friend Chris W. I almost always go for the veal dishes, so this time I tried something new. The Garganelli pasta is perfectly al dente. The duck confit was extraordinary. I love the contrasts. The rich, soft duck paired with simple, firm pasta. The fresh shallots and kale give a crisp crunch. When I finished my last bite, I wanted more. That's the sign of a great appetizer. The Branzino was an extraordinary piece of seared fish with crispy skin, juicy chunks of fish that flaked off easily with a fork, and tomato "salsa" and pasta accompaniments that really paired well with the fish. It was a delight to eat. The Panna Cotta was a delicious ending to a great meal. The raspberry compote is not to be missed.

Le Cheri [ CLOSED ]
Bibou is one of my favorite restaurants in Philly because of Chef Pierre Calmels, former executive chef at Le Bec-Fin. When I heard he had opened Le Cheri in Rittenhouse Square, I was dying to try it, but alas my foodie friend Chris W and I only dine on Monday nights, a night that unfortunately Le Cheri is closed. The wait was well worth it because my friend Ben took me there. Through the hallway of the Philadelphia Art Alliance building, hostess Charlotte Calmels greeted us with a warm smile and remembered me. One of the servers did, too, and I greeted the two of them as if they were old friends. Through the doorway, we were seated in a beautiful dining room with lovely decor that just makes you say "Wow....." Le Cheri is the perfect setting for a romantic dinner. The food, like Bibou, is some of the best in the city. I couldn't get a picture with Chef Calmels this time because, as Charlotte pointed out, "Pierre hasn't hired a sous chef yet and is cooking all by himself, so he's quite busy right now." I advise all of my fellow foodie friends out there to go to Le Cheri now because until the sous chef arrives, you are getting the real deal food preparation from a world-class chef. The food is priced like Bibou, a BYOB, with the added bonus of Swiss and French wines, liquors, and beer! The food at Le Cheri is magnificent, as expected. The chilled foie gras is delicious. Soaked in red wine and garnished with a light dusting of sea salt, the flavors complement the sweetness of the pears and the richness of the buttered toast point. Every preparation of foie gras that comes out of Chef Calmels' kitchen rocks my world. I remember at Bibou, he would tell us, "I make a different version of my dishes every week." Amen to that. On a whim, I decided to try the Rabbit Ballotine. Who would've guessed that this would turn out to be one of my favorite Chef Calmels dishes? My cutting knife sliced through the ballotine, a deboned leg of rabbit stuffed with a mousse of rabbit meat and chunks of tender morsels of rabbit and foie gras, like a hot knife through butter. My first taste of this heavenly sausage ignited my tastebuds and sparked the following thoughts, "Whoa-a-a-a-a..... yeah... mmmmm... oh, hell yeah!!!" The mousse melted in my mouth and the morsels of meat and foie gras were so flavorful. I could eat this dish again and again, prepared the same way. It is quite simply the best preparation of rabbit I have ever eaten. Kudos to Chef Calmels! Normally, I don't find desserts that exceptional in most restaurants, but Bibou and Le Cheri are exceptions. My pear and vanilla Charlotte, ladyfinger cakes soaked in pear and vanilla cream cheese, was a very nice, sweet ending to a fantastic meal. There is a better French restaurant in Philadelphia because Le Cheri takes Bibou to the next level. I will boldly say that Le Cheri is going to be the next Le Bec-Fin for years to come. Welcome to Rittenhouse Square, Chef Calmels!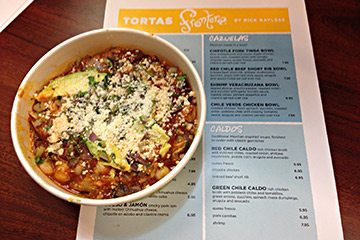 Tortas Frontera by Rick Bayless
The big question is... does a rice bowl here beat a rice bowl from Qdoba or Chipolte? You would hope so because Bayless' name is attached to it. For basically a dollar more than its competitors, Bayless offers a slightly smaller portioned, zestier blend of higher quality ingredients that certainly tastes better than its competitors. The Shrimp Veracruzana Bowl contains five seared shrimp, piquillo pepper, roasted onions, zucchini, garlic tomato sauce, capers, olives, pickled jalapenos, and cilantro served over rice. The Chipotle Pork Tinga Bowl contains slow-braised pork, homemade chorizo sausage, posole corn, queso fresco, fresh avocado, and cilantro served over rice. You don't get a lot of meat for your money. If you want lots of meat, go to Qdoba. If you want something cooked a whole lot better, come here. There are many different varieties of tortas (Mexican sandwiches), rice bowls, soups, flatbread pizzas, and more on the menu.
Dominic's Tavern
This is just a mini-review of a single menu item that my friend Deborah clued me into recently: the mussels in red sauce. Wow, are they good! You get a sizeable portion of mussels that's shareable between two people. The sauce contained lots of fresh tomatoes, onions, and garlic and was so delicious! I had read some scathing reviews by locals who claimed that there was sand in the mussels, but I couldn't find any sand in any mussel I ate. For a measly $6.95, you've got to try them!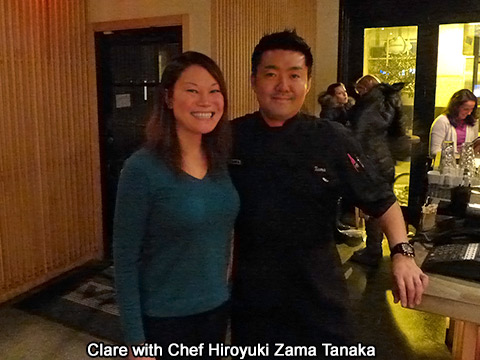 Zama Omakase
The omakase at Zama is clearly the best multi-course meal in Philadelphia at the moment and Chef Hiroyuki "Zama" Tanaka is easily our city's best sushi chef. I sat and watched the passion in Chef Zama's eyes as he prepared everyone's meal. It is a passion to be the best - the top dog - and that requires supreme command of all of his skills and knowledge of what looks good, smells good, and tastes good. I'm a foodie and good food is the fuel that drives me, excites me, and satisfies me. A few of my friends, such as Chris W, share my enthusiasm for food. He and I sat at Zama's sushi bar and watched a master at work. In order to get an omakase, you have to make a reservation in advance so the chef can have all of the ingredients needed on hand. You also need to sit at the sushi bar so that Chef Zama has an opportunity to gauge what you like and don't like during the course of your meal. "Give me everything. I love all it all," I told Chef Zama with a big, bright smile. He nodded and smiled back with his signature grin. Our first course was a dish with two appetizers, a small bowl of delicately fried fish with slivers of carrots, mushrooms, and onions in a delicious ponzu sauce and a juicy softshell shrimp that was completely edible, shell and all. Totally yummy. The next course was a sashimi platter with a variety of tasty selections. The scallops and clams are always my favorite. I like the contrast of soft and jello-like to firm and crunchy. The marinated baby squid packed a sweet, salty, pungent punch. It was almost too salty for its own good, but there was no denying the incredible, explosive flavor in each squid. I love eating whole animals! The oyster shooters were another winner. "It tastes like different parts of the ocean," Chris commented of the oyster topped with sea urchin and roe. Indeed, it did. The hamachi collar was a familiar favorite from our last omakase. There were several flaky, buttery pieces of goodness in each collar. Surprisingly, the fin was edible, too. It was almost like eating a fried shrimp chip. The sushi course began with the familiar and moved to more exotic cuts of fish with each course. Chef Zama presented our sushi in pairs. "On your right is striped bass. On your left is sea bream," he said. Ahh, nice! I love how the warmth of the sushi rice paired with the cooled fish. As the pairs of sushi followed, I simply scarfed them as soon as they came so apologies for not having pictures of everything I ate. Not pictured are the fluke, hamachi, salmon belly, and fluke fin sushi. The final pieces of sushi - salmon belly and fluke fin - were especially notable. Both had a firm jelly-like consistency and were spiced with a lot of flavor. As if that weren't enough, the subsequent maki course was incredible. Three kinds of tuna in one maki! Salmon belly, sweet shrimp, and roe in the other. Now I've gone to Heaven! "May I have something with egg omelet?" I asked Chef Zama. He nodded reassuringly. According to the seminal film, Jiro Dreams of Sushi, every great sushi chef is known for his egg omelet. Chef Zama's is a sweet treat. For the final course, we received a handroll with two pieces of eel, egg omelet, and cucumber. What an excellent "dessert" ending to a fantastic meal!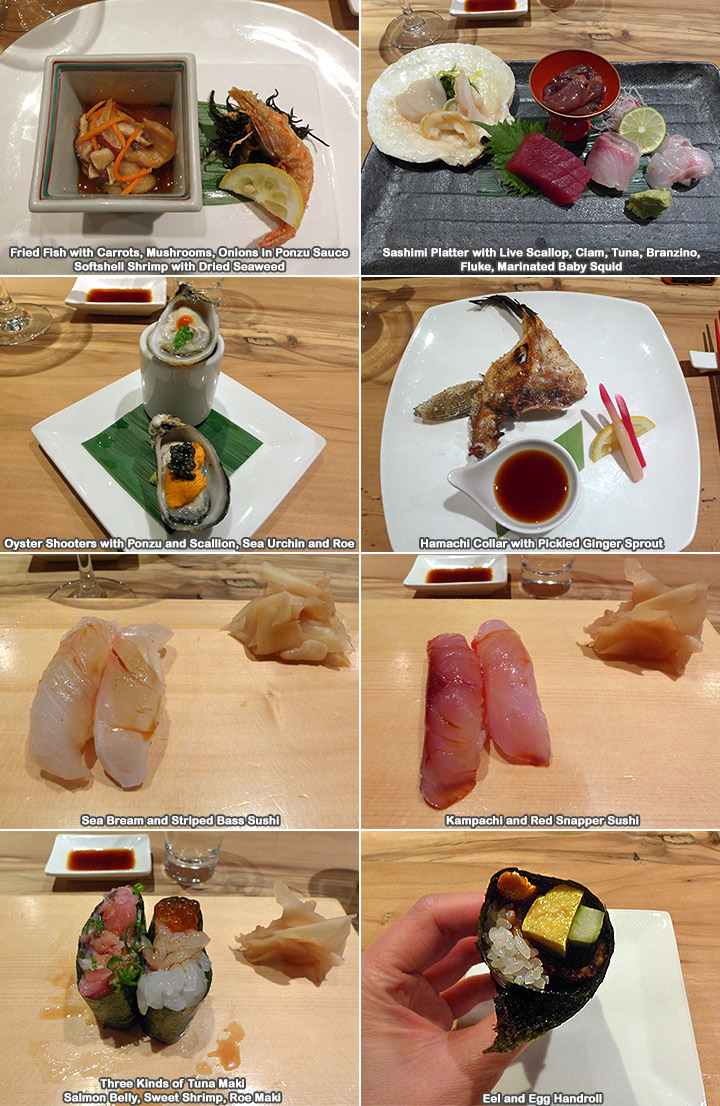 Sazon
Chef Judy Suzarra-Campbell makes homemade yummy-in-your-tummy arepas filled with tender, hearty, slow-roasted meats and veggies. If that weren't enough, Sazon's Robert Campbell, also known as The Chocolate Alchemist, is an artisan chocolatier who has a rich knowledge of Venezuelan cacao beans. The restaurant is run mom-and-pop style so you get to chat with Chef Judy, Chef Robert, and the servers. Robyn and I always have a great meal there. She loves the Pabellon (shredded beef, plaintains, black beans, queso fresco) and I love the Pernil (roast pork, onions). Really, really good. I wasn't too keen on the Tequeños, which tasted like a variation of mozzarella sticks to me, but the arepas are always a winner. The chocolate truffles and cocoa drinks are out of this world. They even have a truffle and a drink called Orgasmo. You will have an orgasm eating or drinking one! Much, much better than Delicias. Give this place a try!
Rosa Blanca [ CLOSED ]
Iron Chef José Garces has another winner in Rosa Blanca, a Cuban diner restaurant serving homestyle meals and sandwiches. Aside from the Disney-like Cuba Libré, this is the only restaurant in the heart of Center City serving authentic Cuban sandwiches. I no longer have to drive 1200 miles away to get a taste of Cuba. My friend Chris W and I loved our meals. He started with a hearty bowl of Guiso de Maiz (sweet corn chowder with smoked ham, tomato, and pumpkin) and a chicken empanada and I had the Pulpo en Escabeche (grilled marinated octopus). The octopus was cooked perfectly and the sliced peppers and onions were spicy and tasty. I love the yuca chips. I would've enjoyed an entire entrée of octopus prepared like that. For our entrées, we each had the Masitas de Puerco (fried pork shoulder with tamal en cazuela) with Fufu (mashed sweet plaintains). I didn't know what tamal en cazuela was until I tried it and researched it. It's Cuban polenta! I loved its creamy consistency, a perfect contrast to the crispiness of the large nuggets of fried pork. And, oh... my... God... the Fufu was amazing! We had something similar called "mofongo" at the Rum Bar some time ago, but this is worlds better! There's more than just plaintains in the fufu. I detected corn and pieces of pork as well. Wow!!! A truly extraordinary entrée for a reasonable price.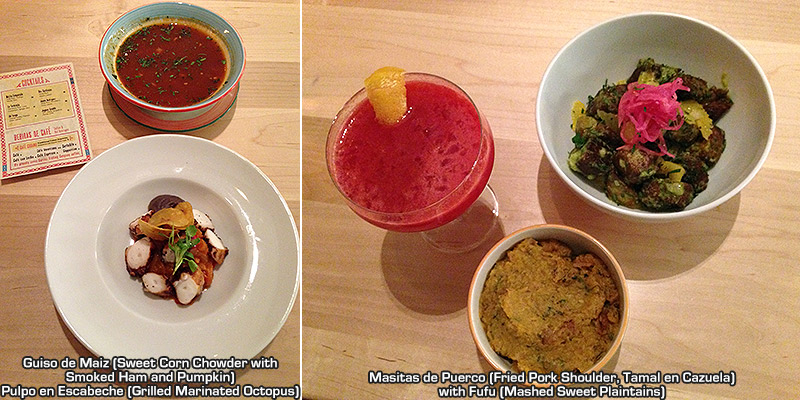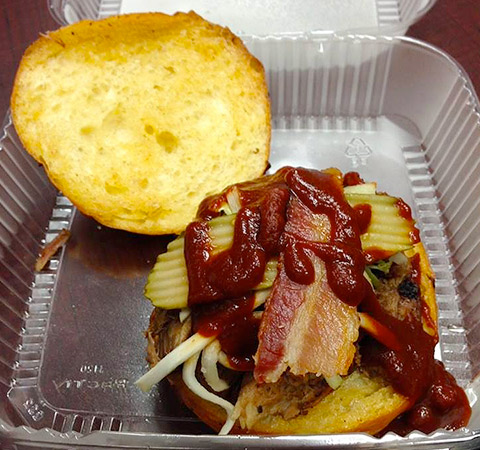 The Whirly Pig
What are the chances of eating pork in three different eateries in the same week and having them all be exceptional? Sazon, Rosa Blanca, and now The Whirly Pig. That's right, The Whirly Pig, artisan porkmongers. There's a cartoon logo of a pig wearing a propeller cap on the side of the truck. The moment I saw the man slice the monstrous slab of pork belly inside the truck, I knew I had to try it. "If the pork belly tastes half as good as it looks, I'll be satisfied," I told my friend Robert. Indeed, the pork belly sandwich exceeded all of my expectations and then some. The honey-topped bun was buttered and toasted. The slaw added a nice tang to the tender roasted pork belly. It reminded me of a high-quality char siu bao (Chinese roast pork bun). On a second visit, I got the Hog Roast Sandwich. Apple slaw and pickles topped six different cuts of meat - pork belly, pork loin, pork butt, pig cheeks, rib meat, and bacon - all inside an onion brioche bun. It was delicious! There are only a handful of sandwiches on the menu and they all look good. Only once on my six visits did my sandwich fall short of being lovingly prepared, but otherwise I give this truck a thumbs up!
The Fat Ham [ CLOSED ]
The first thing you'll notice when you walk into The Fat Ham is how tiny the space is. There are 30 seats in the restaurant and an additional 12 at the bar, but the seating is creatively arranged to allow guests and servers to move through the restaurant with ease. The decor is an odd juxtaposition of rustic meets modern. You notice the variety of whiskey bottles on the shelves behind the bar and immediately acknowledge that you're in a Southern-style restaurant. Service moves at a slow, steady pace. The first of our dishes arrives, a bed of mustard greens tossed with benne seeds and peanuts. The dressing is fiery hot and spicy good! Spicy without being unbearable, the dressing accents the nuts and greens nicely. What a crazy flavor combination! The shrimp and grits were utter perfection. Big, juicy, grilled shrimp sitting on top of a small helping of creamy, buttery grits with diced pieces of country ham strewn for good measure. Who would think grits could be this good? The buttermilk coated fried oyster slider with its burst of flavor in the middle was just sooo good! Move over crabcake and filet sliders, this oyster slider has found a place in my heart! The blackened catfish was one of the best pieces of catfish I've ever eaten. It was firm like rockfish, but didn't have that characteristic catfish taste or odor. The Carolina gold rice is one of the best accompaniments I've ordered in a while. It pairs really well with the hot chicken, which is OH. MY. GOD. everything that the hype says it is. It is indeed fiery hot, as in spicy hot. It is indeed crispy on the outside and juicy in the middle. My friend Chris W and I were ready, willing, and able to dive right into the alleged chicken that saw fit to win the heart of local food critic, Craig Laban. In our two orders, our server stated how fortunate we were to have one dish with white meat and one dish with dark meat. Without hesitation, I went for the dark meat. I tasted a small sample of the breast meat on Chris's plate and it, too, was juicy good. Almost too good. Was there crack in the chicken? The pecan pie was a delicious ending to a fantastic meal. You can't ask for a better meal anywhere. I felt like I was at Morimoto or Vetri. For this reason, I can honestly give The Fat Ham my highest rating.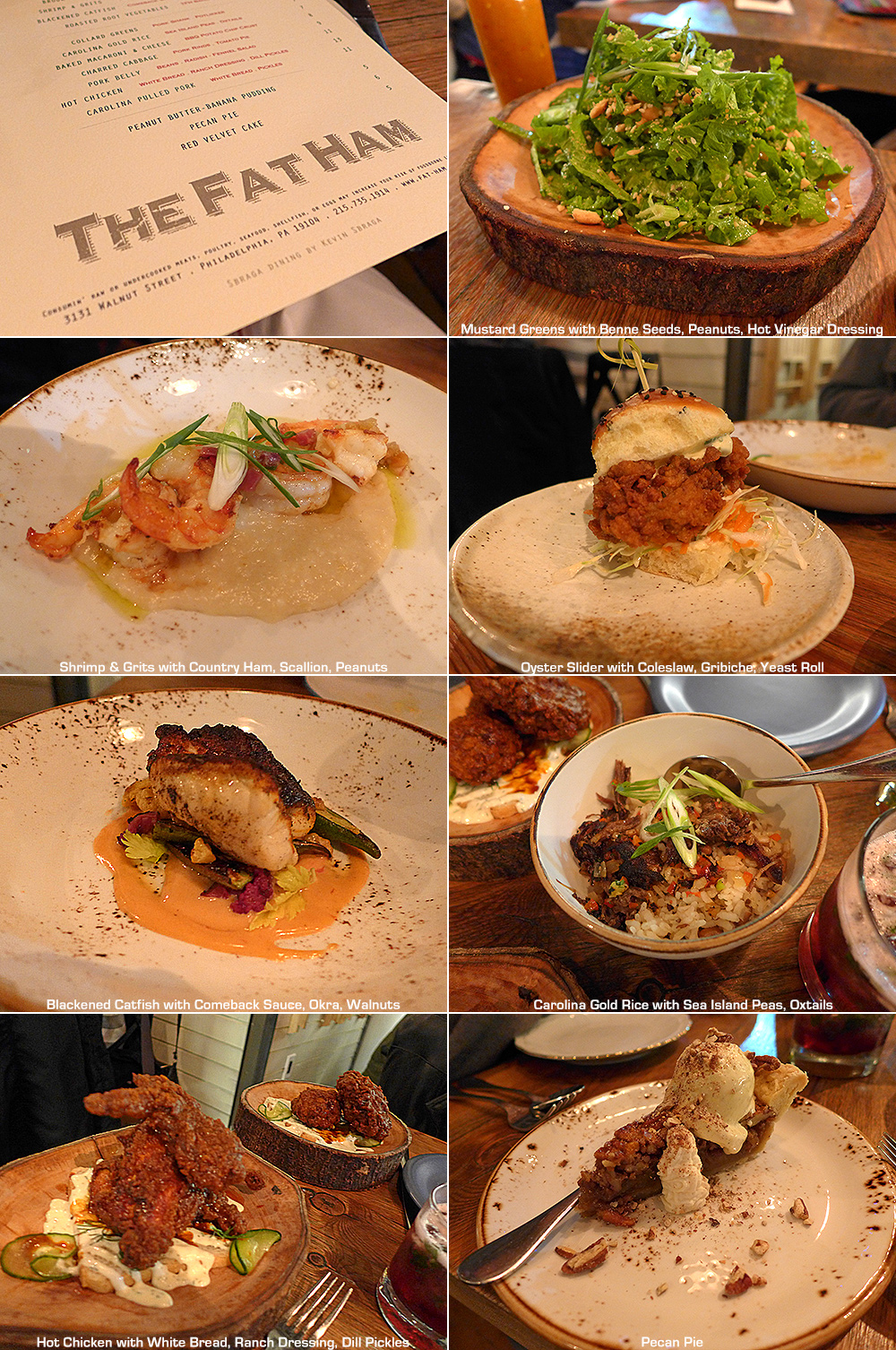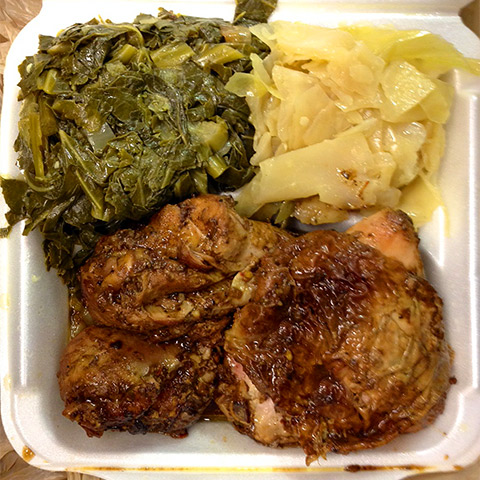 Gigi & Big R
Many of you probably didn't know this, but I grew up on Caribbean food. My high school had a fairly large black population and the cafeteria cooks were black, so my first taste of Caribbean food was the delicious Jamaican beef patty served every Monday. It was the perfect little sandwich-like meal for a growing child. Spiced ground beef encased in bread... what could be better than that? I found myself making deals with my friends to secure their Jamaican beef patties in exchange for my milk or fruit cup. It was a beautiful time. Fast forward to college and my tastes for different cuisines continued to develop. Chinese people whose mothers make several dishes each night develop some of the most sophisticated palates in the world. Their senses are so heightened from their culinary experiences that they often make the best judges in food competitions. I have no way to verify this. Just give me the opportunity and I will show you why so many men want to date me and take me out to dinner. I literally orgasm when I experience great food! While Gigi & Big R is not orgasmic, it is something much more approachable to the average American. There is fried chicken or fried fish, there is curry chicken for the slightly more adventurous, and there is jerk chicken for the much more adventurous. And if you want something very nice and beefy but a little out of the ordinary, try the oxtail stew. The fried chicken or fried fish can be made spicy with "hot sauce" the truck servers dowse over it, but it's not necessary. Why mask the goodness of the preparation? The food here is very comforting and there's a lot of it. A "small" platter, which is now called "medium" on the menu, can feed two people. A "large" can feed three. I've ordered the jerk chicken, curry chicken, oxtail stew, and fried chicken platters many times from their trucks. Each platter has always been consistently good. Service is sometimes slow, but it's worth the wait. I find the sides to be belly-busting goodness. I like the cabbage, the yams, and the mac 'n' cheese. I also find the rice and beans, collard greens, and veggies nice, too. I'm sure you'll find some favorites among these and other choices as well. There's something to be said about a truck that attracts a loyal following. I always see a line of both teens and adults at my workplace waiting patiently for their food. Most of them seem to know good food. Most of them also seem to know a value when they see it. It's all good. My most recent dish was a small jerk chicken platter. You get two drumsticks and a thigh with this combination, although there are other chicken options as well. It's all good. The chicken is very tender and moist. The skin is an absolute delight to eat. You can always judge a well prepared chicken by the edibility of its skin. The spices are fabulous. They dance on your tongue. Damn good. About the only things that can temper the heat are the sides, so you scarf down a mouthful of the sides with your chicken. You close your eyes and enjoy the experience. It's all good.
Indeblue
Indian food in an upscale setting has always been met with a skeptical eye, but throw in some proteins, such as crab meat, swordfish, lamb shank, and pork shoulder, that seldom exist in your typical Indian restaurant and you can have a truly outstanding experience. My friend Chris W and I noted the location of Indeblue with some skepticism. "I bought a custom-made dress in this location years ago," I said to him. When we walked in, my jaw dropped. They completely gutted the place. Tastefully done decor with a chandelier, giant framed pictures, and an ornamental gate adorn the main dining room. No seat was a bad seat. It was truly a beautiful setting for a nice meal. Our appetizers included the scallops, lollipop lamb chops, and crispy spinach chaat. All were delicious. The scallops were giant U/10 beauties pan-seared and immersed in a light coconut milk-based curry. My only criticism is they could've used a little less salt. The lollipop lamb chops were grilled to perfection and coated with ginger, garlic, nutmeg, yogurt, mace, mint, and mojito. They were so good I wanted another order. The crispy spinach chaat was amazing. The spinach leaves were coated with chickpea batter and flash fried. Combine that with chopped tomatoes, shallots, yogurt, crispy noodles, and sweet tamarind date sauce. I couldn't stop eating it. Our main course was the seafood moilee, a coconut curry with jumbo shrimp and crabmeat that was accompanied by a saffron rice with peanuts, mustard seed, curry leaf, and chili peppers. This dish sang and danced in our mouths. We also got a side of tandoor roasted eggplant with tomatoes, carmelized onions, and green peas. It was like a smoky ratatouille. I love this place.

Il Pittore [ CLOSED ]
My friend Chris W and I were in the mood for Italian, so we went to Chef Chris Painter's Il Pittore, a restaurant famous for its mostly northern Italian cuisine. I've been to Il Pittore shortly after it first opened and this visit evoked fond memories of that first visit... until the accident. Chris' porter beer dropped off the server's plate and spilled all over the center of the table. The servers were deeply apologetic and came up with a contingency plan to hide the mess. The manager stopped by to apologize and offered us a complimentary appetizer, drinks, and desserts for our troubles. I laud them for their efforts. Stephen Starr-owned restaurants have always handled issues like this with class. The Brussel Sprouts with kale, poached egg, and carrot purée was a beautiful combination of textures and flavors. I liked how the sweetness of the carrots tempered the bitterness of the greens. The Butter Squash Agrodolce was almost like eating a savory candy. I liked the crunch of the mandolined butternut squash. Alas, I did not love the two pastas. My Chanterelle Agnolotti was better in its duck form on my first visit and the Gramigna left me wanting a little more sausage. The Roasted Venison Loin was exceptionally tender and juicy. I loved it. Chris didn't. He had fond memories of hunting and eating venison in his youth. I told him he shouldn't compare the two venison experiences in quite the same way. My Slow-Cooked Suckling Pig knocked my socks right off... and my shoes, too. OH. MY. GOD... whoa, honey! This is wayyy too orgasmic!!! My words to Chris were, "This is really really really really really really really really good!" Yes, I did say "really" eight times. The crispy skin. The fork tender meat. So soft... moist... juicy... it's better than sex. Seriously. I loved the pear mostarda topping. I loved the baby carrots. This dish is better than the first time I had it. My Chestnut Cheesecake was really good. I loved every bite, especially the cinnamon whipped cream. The Espresso Bonet, or coffee flan, was good. Chris liked the little cookies that came with it. Overall, I'm a fan of the food here. I look forward to my next visit.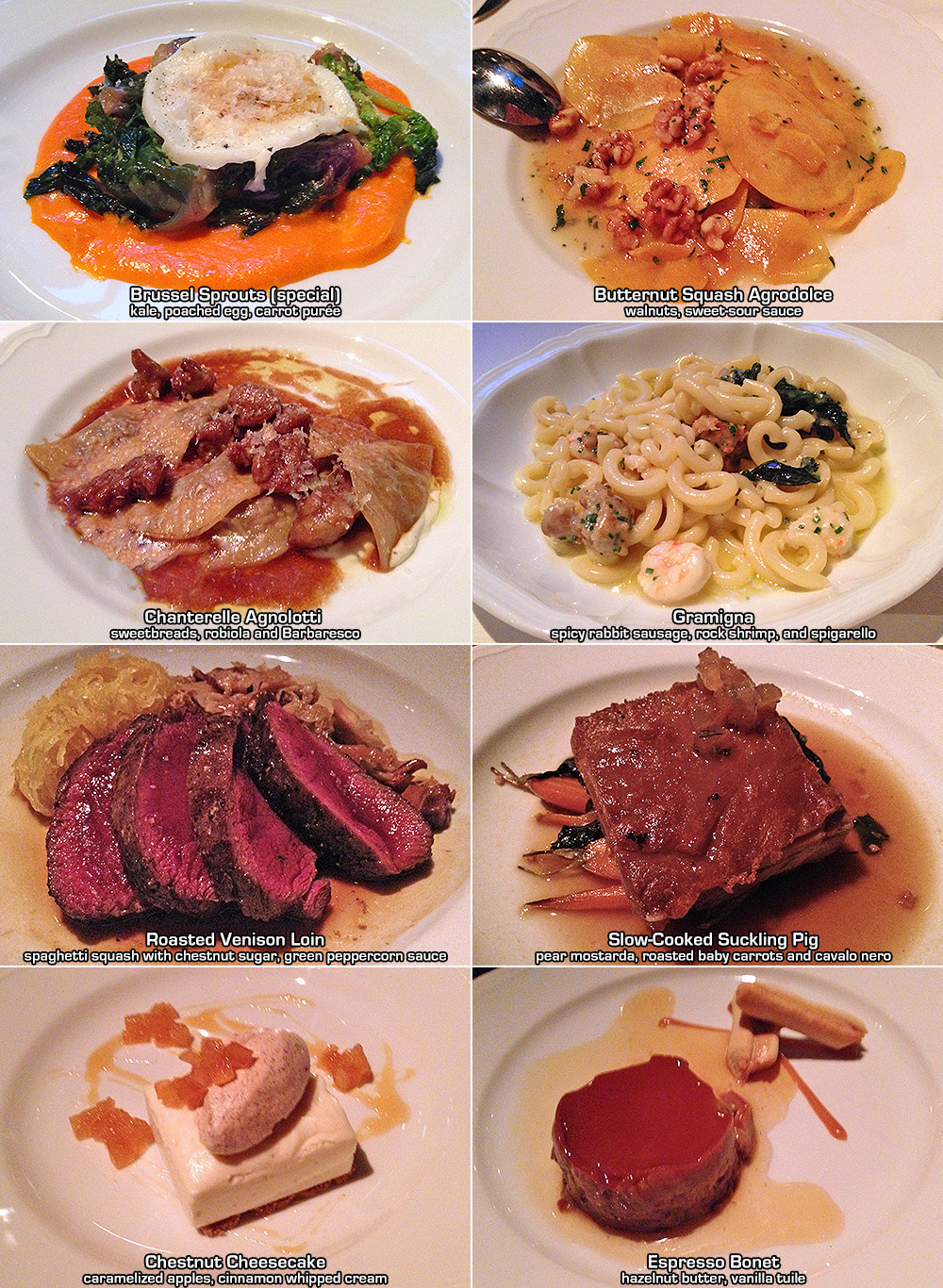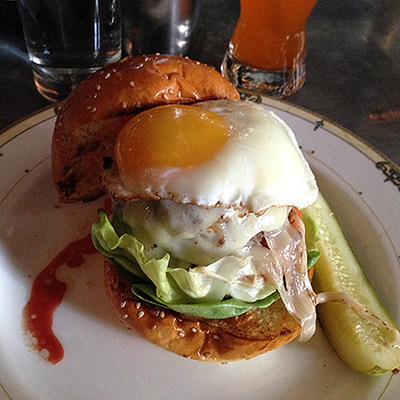 Village Whiskey
My partner Robyn and I love a nicely done burger. I introduced her to 500 Degrees not long ago and it's been our go-to place for our red meat cravings after our grueling Bikram Yoga workouts. We love "The 500" with its simple combination of lettuce, tomato, cheddar cheese, bacon, and house sauce. Sometimes the best things in life are the simplest. Of course, my foodie sensibilities usually influence something in our meal, so I always go for truffle oil on my fries. Village Whiskey, a more recent addition to the Philadelphia burger scene, purports to have "the best burger in Philly." How does it compare to 500 Degrees? "If Village Whiskey is a 9/10, then 500 Degrees is a 9.1/10. Don't get me wrong. Village Whiskey is really good, but 500 Degrees edges it out," Robyn stated. Those of you who know the restaurant scene in Philly know that 500 Degrees is owned by the same people as Rouge restaurant. Rouge was noted as having one of the best burgers in America, so it is no slap in the face to have a cheaper 500 Degrees burger beat its higher priced competitor. Still, Village Whiskey creates a damn good burger. I'd actually reverse the rating. I think Village Whiskey edges out 500 Degrees. I like the bun more. I like the mix of pork in the burger patty. I like the top shelf ingredients that are used in every Village Whiskey sandwich, but be prepared to pay a lot for those ingredients. Burger purists will complain that the Village Whiskey burger has no fries accompanying it. Fries need to be ordered a la carte. The fries are covered with duck fat and come with an optional side of Sly Fox cheddar cheese for an additional charge. They are delicious, perhaps the best fries I've ever eaten. For the same price as one Village Whiskey burger with fries, I can get two 500 Degrees burgers with fries. It's safe to say that 500 Degrees would win more hearts than Village Whiskey on that point alone. Seeing that the two burgers are almost equivalent in enjoyment factor, 500 Degrees would be my recommendation to most people who ask me who makes the best burger in Philly for the money.
Pod
My friend Mike took me out to lunch at Pod where I was pleasantly surprised to find a revamped menu featuring new robata grill items, sandwiches, and a rice dish called Frosty Kobe Beef Fried Rice. Frosty Kobe Beef Fried Rice is something everyone should try. It's basically fried rice with raw kobe beef in it. "We wanted to give customers the flavor of beef tartare. Lots of people told us they love it," our server said. Indeed, how could you go wrong with kobe beef, foie gras, and a fried egg? It was delicious. I was really enamored with it. The corn and diced carrots complete the Americanized feel of the dish, which was Asian fusion to the extreme. Our server also recommended the grilled cauliflower, which was good, but not quite the culinary delight she made it out to be. I like my cauliflower a little less crunchy. Mike's Rockin' Spicy Tuna roll was decent, but wasn't as spicy as Mike had hoped for. I explained that Pod tries to cater to its demographic, which is older professors whose tastebuds might not be used to the spices of a person who grew up eating truly spicy food. "It's University spicy, not 'real' spicy," I commented. Mike was impressed with my culinary knowledge, as well as my knowledge of art and music.

Vedge
If you're a carnivore and you've ever had any doubts as to whether you could eat a vegan meal, you need to try this place because the food is incredible. Chef Rich Landau first introduced the concept of meatless fine dining in his now-defunct Horizons restaurant. I've had the pleasure of dining there when it was in its heydey and was sad when it closed. Several years later, Vedge rocked the city and has won rave reviews from everywhere. The menu is innovative and decadent. Many of you may have shunned eating veggies growing up because your mom simply steamed them. Chef Landau's creative use of Asian, French, Italian, and other various cooking styles injects a sublime flavor to every dish. My friend Chris W and I started our meal with a trio of items from the "For the Table" section: chile roasted almonds, pickled curry cauliflower, and mixed black olives. The Portabella Carpaccio was beautifully seasoned. I found it a bit difficult to peel off an individual slice, but it was so yummy I had no problems eating more than one. The Jambalaya was excellent. Chris couldn't believe it had no meat or essence of meat in it. We both agreed it could've been bigger and more of a satisfying meal unto itself. The Eggplant Braciole was a bit of a mystery to me. Was it trying to be a sausage or a Chinese bean curd roll? A traditional braciole is slices of meat rolled up with veggies stuffed inside. This was more of a veggie in veggie sausage. It was very good, but needs to be renamed. The Mushroom Fazzoletti was everything I hoped it would be. Beautifully thin slices of seasoned mushrooms swimming in basil, olive oil, and tomato. Yummy yummy. The Grilled Seitan was a favorite of mine at Horizons and continues to be at Vedge. The texture is more mushroom than meat, but it is so delicious! You haven't lived until you tried it. Due to the fact that you can't get vegan food like this anywhere else and it all tastes so good, I feel both humbled and honored by the experience.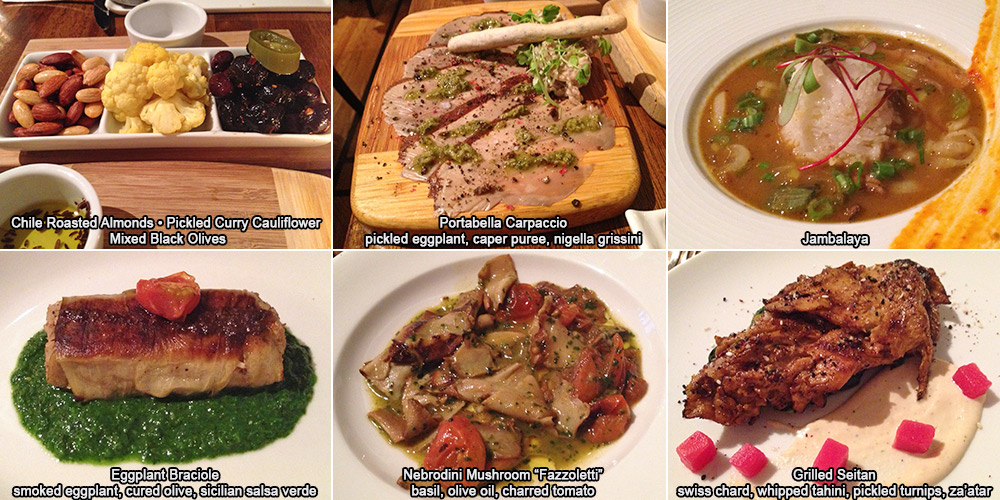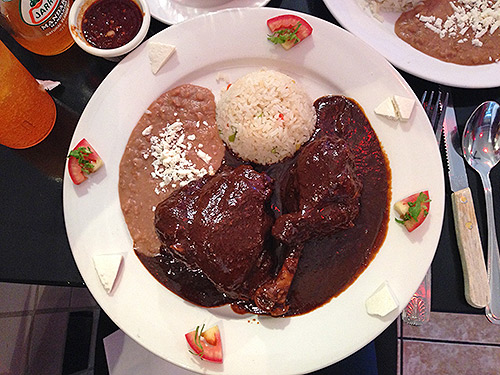 Molé Poblano
If you're looking for huge portions of delicious, authentic Mexican food for low, low prices, look no further than Puebladelphia, the area of Philly just south of the Italian Market and north of the world famous cheesesteak eateries, Geno's and Pat's. There you will find taco shops, grocery stores, music stores, and fashion boutiques with all kinds of stripper clothes. Mole Poblano is a little family owed restaurant with limited seating, lots of local patrons, and incredible smells emanating from its kitchen. Except for the weekend specials, nothing on the menu tops ten dollars, including the restaurant's signature dish, the Mole Poblano, which is not listed on the menu. I highly recommend ordering it on your first visit. You will enjoy a slow-roasted chicken leg and thigh smothered in a totally delicious mole poblano sauce with rice and refried beans. The sauce is dark brown and made of about twenty different ingredients, including chili peppers, spices, day-old bread, nuts, and chocolate. Totally, totally delicious. As I was consuming every tender, succulent morsel of chicken smothered in the delectable, rich, spicy chocolate sauce, I found myself not wanting the experience to end. That is the sign of great food. I could eat this every day of the week and twice on Sundays. With your entrées, you will get free chips and salsa and depending on the day of the week, a free bowl of soup and dessert. All of the food at Mole Poblano has a wonderful, spicy kick to it and my friend Chris W and I became enamored with the place immediately. I was so impressed with my Mole Poblano that I returned the next day for a second helping. Thank you, God, for showing me the way to Mole Poblano.
Pub & Kitchen
Once in a while you come across a combination of food that is so clever and so delicious that you wonder why others aren't following suit. This is how I feel about the Roasted Squid dish at Chef Eli Collins' Pub & Kitchen, which is nothing short of remarkable. A generous portion of chorizo fills the body of the cephalopod that is then roasted to perfection and cut into bite size pieces. Sausage within a sausage. As if that weren't enough, pairing the squid sausage with grilled yet cruncy veggies adds a wonderful combination of textures and a new dimension to the fish. Don't forget the tentacles, which are my favorite part of the squid. These are cooked to perfection as well. My Mulard Duck Breast was good - and I've had better after being spoiled by the Muscovy Duck Feast at Fork - but it was simply not as good as the outstanding Roasted Squid. My friend Chris W had the Warm Hummus and Cape Cod Mussels with soybeans, serrano chili peppers, bok choy, ginger, and green onion broth. These were very good dishes as well. Particularly noteworthy is the unique cocktail menu, which includes the Hecho en Philly made with an amber grape brandy called Macchu Pisco, lime, sugar, egg white (for the foam), and plum bitters and the Hemingway Julep made with Old Overholt Rye, grapefruit, mint, Maraschino liquor, and Demerara (crunchy light brown sugar). My only gripe is the long wait for our appetizers. We were already on our third drink before they finally arrived.

Han Dynasty
My review of this authentic Sichuan crowd pleaser has long been overdue and that's because I've been foolishly ordering the same safe item every time I eat there. What is this savory dish I order, you may ask? None other than Dan Dan Noodles, a spicy noodle dish containing peanut butter, chili oil, Sichuan pepper, minced pork, and scallions. It was my go-to dish. One day, I decided to join some foodie friends for lunch and we each ordered a different dish to be shared. We ordered Dry Pepper Style Fish, Cumin Style Beef, Deep Fry Style Pork, and Cold Sesame Noodles. The noodles were a non-spicy derivative of Dan Dan Noodles. Simple yet delicious. The pork had the texture of crunchy bacon and was hot and flavorful. The beef was a spicy version of pepper steak, one of my favorite Chinese dishes. The fish was my favorite dish. Delectable pieces of triple-flash fried fish sat atop a bed of long hot and dry chili peppers. Everything is flavored with chili peppercorns. The spicier dishes can range from mildly spicy, a tingle on your tongue, to numbing. This food probably won't appeal to the typical greasy spooners, but you can leave them home while you go out and enjoy this place with your culinary adventurous friends.
Wishbone
Craft fried chicken? Sounds kind of gimmicky to me... until I tried it and said to myself, "Wow, this is good stuff!" I tried a sampling of their three craft fried chicken offerings - white meat tenders, dark meat tenders , and wings - as well as their hand-crafted "Red Neck Pecan Pie." The reason why the chicken is so good is because it's buttermilk battered with a pretzel crust. The chicken's not perfect, however. My white meat piece was a superior experience with its big slab of juicy breast meat and wonderful pretzel crust coating. My wing, on the other hand, was a little dry. The dark meat pieces were okay - one of my pieces was a little stringy - and nowhere near as good as the white meat piece. I typically enjoy dark meat over white meat for its richer flavor, but it wasn't happening here. I really like the pretzel coating. It's nice and crunchy and provides a good balance with moist chicken. The chicken is priced at $11 per pound and each little container of dipping sauce is 50 cents. The pie, which resembles a homemade Hostess cherry or apple turnover, was quite good, but priced a bit high at $4. You'll be amazed at how quickly your bill adds up. My four pieces of chicken, pie, and dipping sauce costs about $10 and some change. I would expect these kinds of prices in Center City, but not in a neighborhood full of college students.
Kidari Sushi Yatai
My friend Chris W and I ordered a number of dishes that ranged from just okay to excellent. The Salmon Tataki with Avocado Salad arrived first and it was the best dish of the night. The pieces of seared salmon topped with salmon roe were just a delight to eat. Chris and I felt that the salad could be made into an entrée with just a few more pieces of salmon. The vegetables were all fresh and the ginger dressing was very tasty. Big thumbs up on the salad. The Shrimp Dumplings with Jala Ponzu were the usual dumplings you'd find in every sushi restaurant appetizer menu. My problem with these dumplings is they taste exactly the same no matter where I go, which leads me to believe that they're pre-made and store-bought rather than homemade, but I can't fault Kidari for that since everyone else seems to be doing the same. Our third dish was the Shrimp Tempura with Citrus Chunky Tomato Salsa on Creamy Wasabi Noodles. I like the fra diavolo style angel hair pasta and the shrimp were nicely done. The salsa was okay. It's almost as if this dish has an identity problem. It can't decide whether it's Japanese, Italian, or Tex-Mex. I think the concept is good, but the marriage of the pieces needs a little refinement. Chris had the 1/2 Set Maki Combo with tuna, salmon, eel, and kanpyo fish and I had the Tangerine Roll (Karai sake salmon on top of crunchy spicy salmon and jalapeno with citrus green tea and spicy sauce). The rolls were rather bland. There was very little flavor in my roll. It's almost as if the spiciness of the jalapenos were removed before they were added to the roll. I cannot recommend either one. The positives are the chef makes aesthetically pleasing food and the quality of the fish is very high. I can only imagine that some of the hospital personnel in the area have caused Kidari to tone down their spice levels to a point where they no longer want to take a chance on flavor.

Hai Street Kitchen & Co.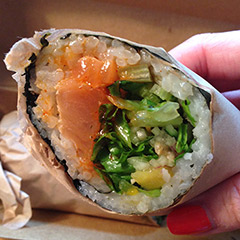 Freshly made food with natural ingredients is certainly not a new concept, but the concept of a "Japanese burrito" sounded interesting. Of course, when I saw what it was, it became quite apparent that Japanese burritos are nothing more than big, uncut maki rolls. Yes, seaweed is the magic ingredient for keeping the calorie count down. Asians have known this for quite some time as Vietnamese restaurants have been wrapping meats in lettuce leaves for ages. Unfortunately, Americans who are obsessed with bread are sacrificing their ability to achieve a trim waistline by adding 150 calories per burrito wrap. I commend Hai Street for promoting the use of a healthier alternative to bread, but can a die-hard Tex Mex eater change? I doubt it. I know people who are slow to change their ways. These people would complain if their créme brulée was anything but vanilla. I do hope this place becomes successful because their idea does seem like a winning formula. People under 30 are likely to embrace the concept more easily than older folks. My Slammin' Salmon was pretty good and tasted like a decent salmon maki roll but with less rice. The salmon was excellent, the veggies were all fresh and crunchy, and the sauce was delightfully spicy. Madame Saito would've been proud to see that these guys didn't mess up their raw salmon with spicy mayo like a bad sushi restaurant would. In fact, spicy mayo can be found on the shrimp tempura roll as it should. I intend to pay return visits to Hai Street to try their less Asian-inspired "burritos." If you're one of those anti-sushi types who despise seaweed, you can get the ingredients in a bowl form. I think it's still too early to reward them with much better than a three-star grade, but if they wow me a little more next time, they'll definitely get a revised four-star review from me.
Moshulu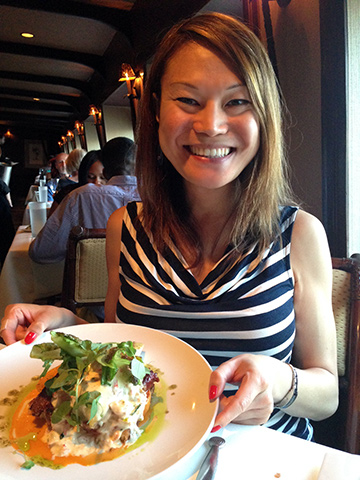 The warm June weather convinced my friend Chris W and I to dine on the beautiful sailing ship-turned-restaurant called Moshulu. The views of the Camden Waterfront and the Delaware River from the dining room's many windows were quite dazzling. We started with a complimentary appetizer of artichoke hummus with crostini. "This is delicious! But I wouldn't eat it normally because it's so strong," I mused, admiring the taste of garlic. Our appetizers of Tropical Style Salmon Ceviche Tostada with salmon, mango, avocado, queso fresco corn tostada, and pineapple cilantro mojo and Pan Seared Baby Spanish Octopus with saffron potatoes, feta cigar, crispy chick peas, watercress, and smoked pepper purée were okay to unimpressive. The salmon and mango was a nice combination. The tostada chip was overkill. The octopus, sous-vided for several hours, was indeed tender as our waitress described, but lacked any flavor whatsoever. The smoked pepper purée sauce was quite bland. Perhaps the saving graces were the potatoes and chick peas. Our entrées were a different story. The Massachusetts Monkfish "BLT" came with smoked bacon, seared vine ripened tomato, grilled head lettuce, toasted brioche, and lobster chive Hollandaisse sauce. Everything on my plate was nicely prepared and tasted amazing. The tomato was mouthwateringly juicy. The bacon was thick and tasted like the best Virginia ham. The lobster chive Hollandaise sauce had a generous helping of chopped claw meat. It was amazing. Oddly, the monkfish didn't taste like lobster as our waitress described. It had more of the firmness of crab meat. Perhaps even stranger is the fact that the chef could've omitted the monkfish and I wouldn't have missed it because the rest of the ingredients were so good. Chris' Grilled Achiote Rubbed Quails deserves special mention. The quails had a delicious gamey, tasty flavor. I wasn't as impressed with its accompaniment of a foie gras and ramp tamale, however, as I found it to be quite bland. Where was the foie gras in it?
Rigatoni's Pasta and Grill
I've been searching for a good crab cake in the Philadelphia area, one that surpasses Phillip's Seafood and matches the goodness of Gunning's in Columbia, Maryland. I think I may have found my crab cake! At the Wawa Welcome America Liberty Block Party on June 28, 2014, a mobile food truck representing Rigatoni's restaurant sold crabcake sandwiches, crab-stuffed onions, and crab pretzels. I've had crab cakes that were supposedly "the best" from food trucks and they were never anything to write home about, but this one was different. In fact, it was stellar. A 50+ year-old recipe that originated from Baltimore. Lots of tasty lump crab meat in every bite. It was a delicious, satisfying experience. I highly recommend this place. There is no longer any reason to journey down to Baltimore for crab cakes.
coZara
coZara is probably not going to appeal to most people. Sure, there are mass-appeal items like the whole chicken yakitori and the steak tataki, but most people will probably skip the more adventurous items, such as the head-on shrimp, marinated raw octopus, fried anchovies, and hamachi collar. Chris W and I love to try the kinds of culinary delights that find their way in more cosmopolitan cities like Philly. coZara takes a chance by presenting itself as a non-sushi Japanese restaurant. Will it succeed? I hope so. There's nothing else like it in Philly. I'm already familiar with Chef Zama's cuisine from his much-heralded Zama restaurant in Rittenhouse Square, home of many memorable meals. coZara has the kinds of things that Zama would prepare for his special omakase meals. The head-on shrimp are not bad. Big and meaty, they don't taste like much even with their fried coating that's a bit too soft for my liking, as if the dish were sitting in a humid place for a while. Better soft shell shrimp can be had at a sushi spot like Fuji Mountain. The two slices of jalapeno provide much needed flavor to the dish, but there are six shrimp to two spice slices. The anchovies are very pungent and tasty. They remind me of small marinated sardines like the kind Morimoto served in one of my 23 omakase meals. The marinade includes sliced mushrooms and carrots. I actually enjoyed this Izakaya menu item. The wasabi flavor in the octopus was too overpowering, although the the quality of the octopus was on point. The kampachi collar reminded me of my first omakase at Zama, which was a very pleasurable experience (a subsequent collar at my second omakase was a bit too salty). I almost wish I could order a giant version of this collar. The homemade gyoza dumplings were pretty good, but nothing to write home about as better dumplings can be had from many non-Japanese establishments. The Ochazuke is a salmon and rice seafood broth that was very flavorful and full of nice little surprise textures, such as the toasted rice pellets, seaweed, and soft rice. The grilled rice ball isn't anything to write home about, either, as it is basically a pan-crisped ball of rice partially dipped in sauce. The sake selection has something for everyone, so give the ones that come in little cans a try. If you dare call yourself an adventurous foodie, you ought to give coZara a try before they start making the menu more mundane for the boring, herd mentality souls that choose to give a place like Shake Shack five stars and call themselves a foodie.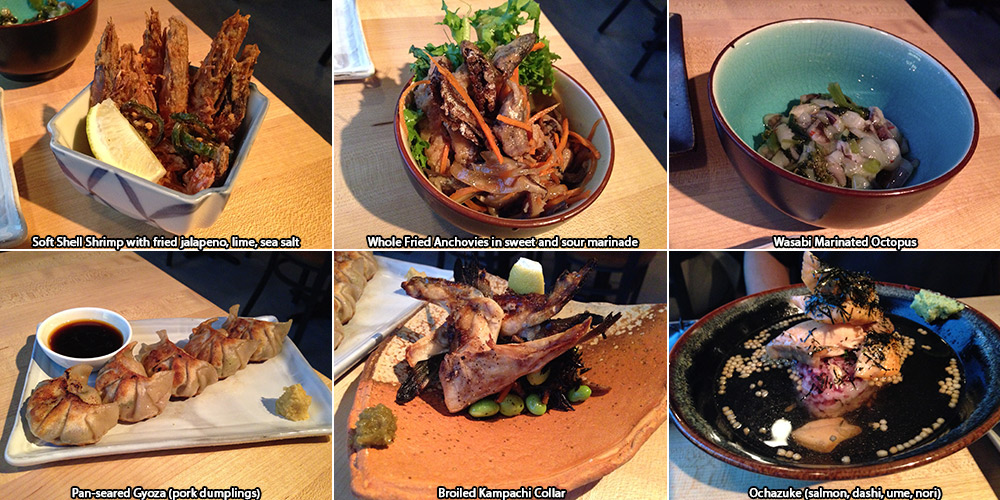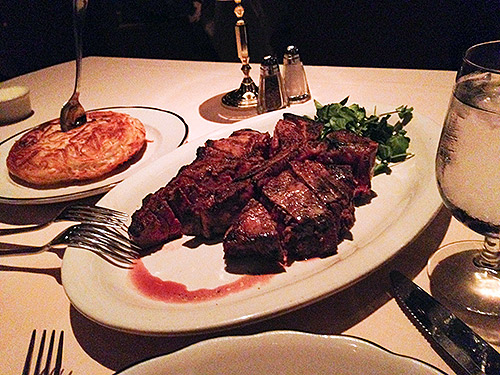 Butcher and Singer
Perhaps the most beautiful steakhouse in Philadelphia, Butcher and Singer transports diners into a 1940's Prohibition-style space with high-ceilings and gorgeous chandeliers. If this were all flash and no substance, the restaurant would not be completely packed. My friend Chris W and I shared the Lump Crab Cocktail, a small portion of delectable jumbo lump crabmeat. We then set our sights on a medium-rare Porterhouse Steak for Two, a beautiful piece of meat dry aged for 21 to 30 days and charred to perfection. Our side was a potato hashbrown cake filled with onions and sour cream. "This is the best steak I've ever eaten," Chris commented. Indeed, this steak surpasses the Porterhouse at Morton's and the filet portions are as juicy and tender as anything you'll find at Smith & Wollensky, Capital Grille, Ruth's Chris, Sullivan's, and The Palm. The strip steak portion was equally delicious. The potato hashbrown cake simply elevates the experience into the ethereal. A steakhouse experience wouldn't be the same without a Manhattan, so I ordered a Butcher Manhattan (Bulleit whiskey, Dolin sweet vermouth, Vermont maple syrup, and Aztec chocolate). "I normally don't like Manhattans, but this is good!" Chris said. The food alone is excellent and the service is equally outstanding, but I'd expect nothing less from a Stephen Starr restaurant. It was three years since my last visit and I am still impressed. I've recommended this restaurant to several friends. Butcher and Singer is a first-class steak experience all the way.
Istanbul Lounge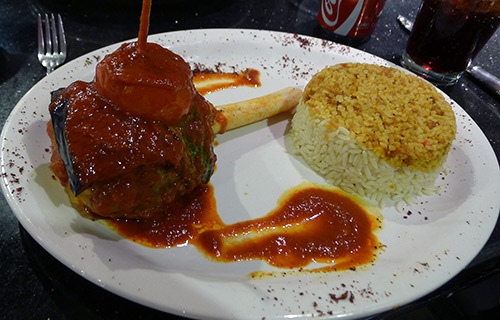 Most people think of Middle Eastern food as vegetable dips like hummus and babagannush as well as shish kabobs of various meats, but there is one item on every menu that epitomizes what a satisfying, home-cooked meal is all about: the lamb shank. Oven roasted for over four hours, Istanbul Lounge's version comes with its vegetables neatly wrapped around it. The tender, succulent pieces of stewed eggplant and tomato pair exquisitely with the melt-in-your-mouth tenderness of the lamb. The sauce that this heavenly leg is cooked in is just sublime. Even the rice pilav deserves mention. A layer of rice mixed with bulgar and tomato sits on top of a traditional layer of chicken stock rice. Turkish rice meets Greek rice. An excellent combination! My friend Chris and I shared an appetizer platter of hummus, babagannush, and stuffed grape leaves. I loved the two vegetable dips. The grape leaves were a bit strong in flavor. The bread was fantastic. Chris had the kofte, five handmade sausage patties of spiced beef and lamb. The texture of the sausage was fantastic. "It's melt-in-your-mouth good," Chris commented. Indeed. The portions at Istanbul Lounge are on the smaller side like Estia. They don't try to stuff you here. Instead, they present the food with an air of refinement in a nice atmosphere. The restaurant looks polished and spacious. The servers and host are all very nice. Perhaps my only gripe is the tables are a little weird. A six-person table has a platform in the middle that hinders the middle two people from sitting comfortably. The tables are beautiful, but the table design doesn't quite work as intended. I also had a little trouble knowing that the place was Istanbul Lounge since the signs were very understated. These minor quibbles aside, the food itself is the reason to come here and I anxiously await my next visit.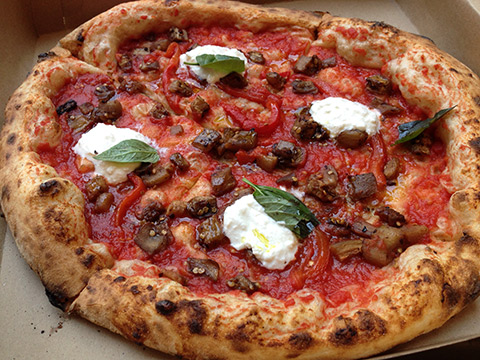 Pitruco
I never would've believed it unless I tasted it for myself. It is possible to have good pizza from a truck. The ingredients are top-notch. The pillowy soft crust is baked to perfection in a fiery hot 800-degree wood burning oven. The truck is actually a large, spacious trailer where its three workers have ample room to move. Every personal size pizza my friends and I ordered was delicious and different. The roasted eggplant with marinated red peppers, ricotta cheese, and basil was classic Italian. The sausage with roasted mushrooms, carmelized onions, pecorino cheese, and bechamel sauce was creamy and savory. The soppressata with pancetta ham, onion, mozzarella, and pecorino was spicy good. Great for pepperoni pizza lovers. A small menu of six pizzas ensures consistent quality. Prior to boxing, a generous splash of oilve oil is added to each pie. Perhaps my only complaint is the crust was soft by the time we sat down to eat the pizza, but that was not the fault of the pizza makers. This pizza is as good as any restaurant pizza around. Think Lombardi's Pizza in New York (or the one that used to be in Philly) or Pietro's Coal Oven Pizza. Try it. It will change the way you think about pizza from a truck.
RAW Sushi & Sake Lounge
The smell of raw fish may be overpowering to some, but, to me, it's a sign of a sushi restaurant with a larger than average selection of fish. For six years, RAW has been both delighting and frustrating diners in the Midtown Village area with its creative sushi in a posh lounge atmosphere. Perhaps its biggest complaints center around the Morimoto-like pricing for non-celebrity chef-endorsed sushi. It is a pricey venue, but is the meal worth it? I think it is. The rock shrimp tempura is nicely crisped on the outside and very tender on the inside. Three dipping sauces provide plenty of variety and the portion of rock shrimp is pretty sizable. The sashimi appetizer was a selection of basically what every other sushi restaurant serves, so there's nothing special there. The Torimy Roll (spicy tuna and eel maki topped with torched squid, sweet soy sauce, creamy sauce, tobiko, and scallions) and my sushi selections of yellowtail, sea scallop, king crab, surf clam, and jumbo sweet shrimp were all expertly handcrafted. The sushi was in between the smaller sushi you get from Morimoto and other authentic Japanese sushi restaurants and the big, jumbo fuckers you get from stupid Americanized sushi places. The phrase "bigger is better" doesn't apply to sushi. So is RAW on par with Morimoto? No, but it has a different atmosphere. Morimoto appeals to the see-and-be-seen crowd. In other words, guys who thought I was the most beautiful woman in the world have taken me to Morimoto and we'd do the omakase together. You will likely end your night at Morimoto because the omakase takes about three hours to complete. RAW appeals to clubgoers who are about to go out and party at a nightclub later in the night. The place is dark and it's difficult to see who your neighbor is in the next booth. There are some really nice cocktail and sake selections. Nigori sake is one of my favorites. Comparing RAW to Morimoto is unfair because Morimoto tries to be super authentic by making simple Edo-style sushi and basic rolls. RAW tries to be the elite of the creative maki restaurants that are all basically the same place but with different names. What RAW does well is understand restraint. Unlike the cheapie places like Jay's Favorite Sushi, they don't kill a dish with excess ingredients. I think of Jay's as the kind of place a five year old could work where he or she just throws huge amounts of whatever on a plate and call it sushi. RAW gives you just enough of each ingredient so you get a taste and even an accent on something else. The wasabi actually tasted real, not like the creamy or powder-based stuff in other sushi places. That's a special touch I truly appreciate.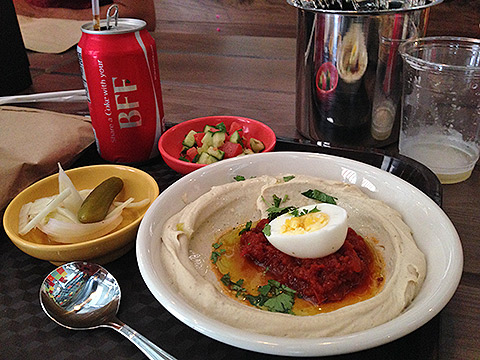 Dizengoff
Can a fast food restaurant survive on selling what most people view as an appetizer? It can if it's really, really good. Fortunately for Dizengoff, it is. Sure, the prices are astronomical for hummus, but it's homemade with the highest quality ingredients. Anyone who has watched Chef Michael Solomonov's videos knows he is the undisputed king of hummus in Philly. He only uses the best and freshest ingredients available. "It tastes like it was made in a blender," critiqued the Israeli man sitting next to my dining companion and I. Indeed, Chef Solomonov is known for using Vitamix blenders to produce his creamy creations. The Israeli man told his friends he was used to eating lumpy hummus. I like lumpy hummus, too, but Chef Solomonov's version is a smooth delight similar in texture to Skippy Creamy Peanut Butter. There's nothing wrong with that. You could taste the quality in every savory bite. The homemade pita by itself should earn five stars for its quality. It is simply the best pita bread you can eat in the city outside of Zahav, Chef Solomonov's flagship restaurant. Your $10 or $11 "appetizer" at Dizengoff includes delicious stuff in the middle, such as roasted tomato and half a soft-boiled egg or lamb and pistachios or eggplant. You also get two small dishes of tomato and cucumber salad and pickles, onions, and cabbage. Did I mention the bread? Yes? It's that good. Don't miss it. The frozen lemonade drink was a little too tart for my liking. It would be incredible if they offered other frozen drink flavors, such as tangerine or mango. Overall, you have to give Dizengoff a try. I would certainly spoil myself every now and again with something this good.
The Taco Shoppe (Government Camp, Oregon)
The quaint little village of Government Camp has some nice shops for ski and snowboarding supplies as well as comfort foods, such as pizza, tacos, and coffee. The Taco Shoppe, as its name implies, is all about Mexican food and it does a lot of things right considering its location. The extensive menu includes tacos, burritos, tamales, quesadillas, nachos, and even margueritas. The five layer dip was especially noteworthy. The salsa had some good heat in it. The guacamole was also very good. The chili con queso was okay. The steak fajita had a lot of good qualities. It had a lot of steak, peppers, and onions and was very juicy. Although the steak was a bit tough and chewy, the peppers and onions saved the day. Everything is smothered in the delicious juice that all of the ingredients are cooked in. It was good comfort food.
Lolita
Once a popular BYOB, Lolita has recently acquired a liquor license and lowered its prices. The menu looks like a more traditional Mexican restaurant, but with higher-end ingredients, such as smoked duck in the Duck Fat Tamale and raw scallops, red snapper, and tuna in the Seafood Tostadas. Gone is the wonderful grilled shrimp dish that I so fondly remember from my first dinner there. In its place are grilled shrimp tacos, which are not quite the same. The tacos are small but amply filled and come three to a plate. Each trio is affordably priced so it's possible to share a taco or two with a friend or two. The Salsa Negra Marinated Pork Tacos were a standout. The pork shoulder and pork cheek meat were moist and succulent. A little more meat than a typical slider, but without the bellybusting bread. Were the tacos better than the tacquerias in South Philly? Yes and no. There are times when the cheaper, more authentic tacos are what we crave, but Lolita's tacos are gourmet. They have ingredients in them that your typical taco place wouldn't use. It almost makes the food Tex-Mex style a la Rick Bayless. Too bad Frontera's food doesn't taste as good as Lolita's. The Carnitas y Panza Tacos with pork shoulder and pork belly were quite tasty and about as close to the South Philly tacquerias as you can get here. The Duck Fat Tamale was really good, almost orgasmic. The tomatoes and corn take it over the top. What a nice, sweet crunch! The duck meat is so tender and juicy, it melts in your mouth. "If you didn't say it was duck, I would've thought it was pork," my foodie friend Chris W said. I think that's why it's so good. This is accessible food for the average joe, because the average joe would never order something like this unless he knew it tasted like pork. The drink list includes a nice selection of margueritas and other cocktails. I like the changes to the restaurant, but I still miss the old Lolita.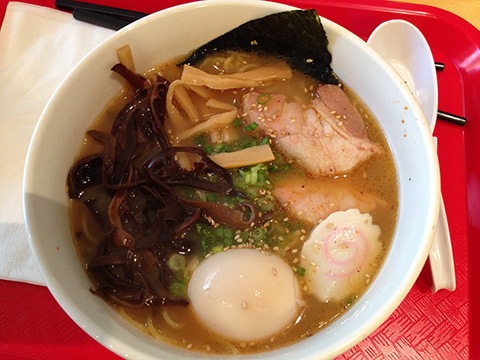 Nom Nom Ramen II [ CLOSED ]
After much anticipation, the second location of Nom Nom Ramen has finally opened and in the Penn food court, of all places! At first, I thought the choice of location was questionable, but it makes sense. Everyone loves ramen, especially college kids, but will the high prices turn off budget-conscious students? Not if the food has quality ingredients! The same broth that Nom Nom-ers know and love from the original outpost is here. It arguably tastes better here, as a matter of fact, as my recent Shoyu Ramen proves. The broth is amazing and has much more flavor than the Shio. The ingredients in this week's bowl included fresh scallions, marinated bamboo shoots, crunchy kikurage mushrooms, juicy chashu pork belly sprinkled with sesame seeds, and an added bonus... nori seaweed! Yes!!! The scallions and mushrooms are fresh and crunchy. The bamboo shoots are juicy and flavorful. The seaweed adds more of a sea component to the soup, something that the fish cake alone had left me wanting more of. The soup is more balanced now. I love adding a soft-boiled egg to my soup for extra protein. I was never a fan of red ginger and am glad it doesn't exist in this soup. Don't be turned off by the fact that Nom Nom Ramen II is in a food court. Places like this can only make food courts better. Is it better than Terakawa? Yes. Is it better than The Ramen Bar? Yes. Is it better than Nom Nom 1? Yes.
Peppers Tavern (Ocean City, MD)
I'm not normally enamored with bar food, but this is not your usual bar. The graffiti-laden walls and ceilings, stickers and flyers adorning the restroom stalls, and narrow booths hint of dive bar - but it looks too clean to be a dive bar - and the drink specials are nothing short of extraordinary. Various flavored crushes with vodka and mojitos are highlights on the drink menu. They also have a drink that comes in a goldfish bowl-sized glass. The food is Tex-Mex. My friends and I ordered the jumbo steamed shrimp, quesadillas, and tacos. The steamed shrimp was excellent. In all my years visiting Ocean City, I have never had jumbo steamed shrimp as large and as equally delicious as this. My jerk shrimp taco also had large shrimp in it (not as large as the jumbo steamed shrimp, but every bit as good) and large grilled pineapple chunks and came with a generous helping of rice and beans, all equally tasty. Good job, guys and girls!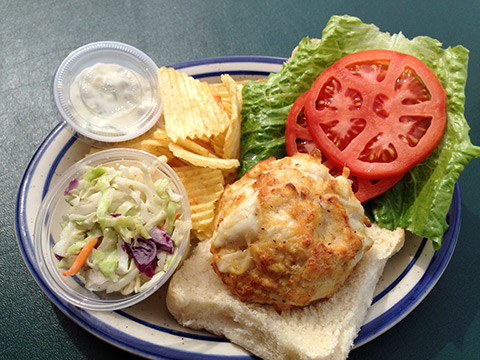 Captain's Galley II (Ocean City, MD)
Captain's Galley has a special place in my heart because after eating a myriad of crappy crabcakes that all claimed to be "the best," this one truly is. The crab is buttery soft jumbo lump held together with the lightest of fillers. Each savory bite delights the senses without the overpowering taste of fishiness of lesser "crapcakes." The crabcake sandwich here comes with lettuce, two slices of beefsteak tomato, and a pillowy soft Kaiser roll. Every bite of this sandwich is delicious because the crabcake actually fills the bread nicely, unlike other places that give you a tiny crabcake in a gigantic bun. Perhaps the only thing I didn't like was the cole slaw, which is on the dry side, but this is a minor issue.
Fractured Prune (Ocean City, MD)
Warm custom-made donuts with your choice of glaze and toppings... what is there not to like about the Fractured Prune? You can't just get one because there are so many different delicious combinations. Six is overkill, even for three people, but we got the half dozen because they're priced nicely that way. The warm cake donut with the crispy outside and moist inside reminded me a lot of my fave donut truck in Philly, Undrgrnd Donuts. The choice of 19 glazes and 13 toppings is simply astounding. Perhaps the only thing missing is a syrupy swirl topping, such as jelly or cream. My Banana Nut Crunch would've tasted better with walnuts instead of peanuts. My Strawberry Shortcake could've tasted more strawberry. But these are minor quibbles. The donuts here are great, much better than Dunkin, and ultimately more satisfying.
Reviewing ZAGAT's "10 Killer Slices of Pizza in Philly"
ZAGAT published an article in February 2014 showcasing ten top pizza picks in Philadelphia. Always looking for a new spot to eat, I had to see for myself if the list was accurate. For this review, I will only review plain slices of pizza. A plain slice of pizza is a very simple food that is comprised of four things: sauce, cheese, bread, and spices. If any of these items is off or missing, the slice can't be considered great. The original article did not rank each pizzeria in any particular order, so I will attempt to do so for my readers. Those pizzerias not yet visited will be excluded from my ranking. Tiebreakers will be determined by the number of 5s in any category.
Not yet visited:
Rosa's Fresh Pizza, 25 South 11th Street
More Pizza Places
I'm not sure why these places didn't make the cut of the original article, but they're very popular and deserve a mention:
pizzeria
sauce
cheese
bread
spices
total
Joe's Pizza
122 S 16th Street
4
5
4
3
16
Beyond 2014
These are a couple of hot, new places that are wowwing me and other Philadelphians:
pizzeria
sauce
cheese
bread
spices
total
Pizzeria Vetri
1615 Chancellor Street
4
5
5
4
18
Rione Pizza
102 S 21st Street
4
5
4
4
17
Snockey's Oyster & Crab House [ CLOSED ]
My friend Chris W and I decided to try a highly-regarded, well-established Philadelphia seafood house, Snockey's Oyster House, in Queen's Village. This is not the usual gourmet fare that we're used to from the see-and-be-seen places we frequent on Walnut and Chestnut Streets. This is down-home shore-style cooking with no pretenses and a lot of comfort food sensibilities. The garlic mashed potatoes were very good as a side. My jumbo shrimp were carefully deveined and wonderfully juicy. My jumbo lump crabmeat had nary a shell in it, seasoned with a light dusting of sea salt. Perhaps the biggest disappointment with my combo platter was the fried oysters that strangely didn't taste like anything. There was not a hint of the wonderful aroma of oysters that I like and there was a little too much breading for my liking. Still, the shrimp and crab cocktails were very good. Chris' broiled combo platter was the winner of the two. The scallops were grilled to perfection. I was not a fan of the crabcake as it used a lot of shredded jumbo lump meat rather than the big lumps of crabmeat I had on my platter. Our starters of crab fries and Manhattan clam chowder were mediocre. I couldn't find a clam in the chowder and the crab fries used an inferior crab meat not like the tasty morsels on my platter.

Charlie Was A Sinner
My friend Chris W wanted to eat something healthy and nutritious, so I suggested a new vegan restaurant, Charlie Was A Sinner. "Now, hold on," Chris said, "I was thinking more along the lines of chicken and fish rather than beef and pork, but if it's anyting like Vedge, I'll give it a try." I told him it was very much like Vedge from all that I've read, so we went and we ordered four dishes and they were fantastic. Our first dish, Spiced Cauliflower with Royal Trumpet Steak was an absolute delight to eat. The steak was plump, tender, and juicy and grilled to pan roasted to perfection. So were the cauliflower heads mixed with raisins, dates, pine nuts, and acini de pepe (little pasta balls). I had read about how fabulous the Maryland Style Crab Cake sliders were, so I ordered them and was not disappointed. Made of zucchini, these crab cakes were delicious replicas of the taste and texture of creamy shredded lump crabcakes. The little slider buns were pillowy soft. The Confit Potato Cup and Mushroom dish was very good. The wild mushrooms were bursting with flavor. The Tofu and Bean Sausages were tasty replicas of breakfast-style pork sausages. I loved the flavors of the carmelized onions and pesto.

The Treemont
The first thing I noticed about The Treemont was its chic interior, like something out of an Upper East Side restaurant in New York. My friend Chris W and I had drinks at the bar in the past, so we felt it was time to dine at this remarkable place. Chef Chip Roman had cut his teeth in such fine dining establishments as Blackfish, Mica, and Ela. His newest residency has dishes displaying elements from all of them. My dorade, two tender filets that reminded me of sea bass, was tender, flaky, and oh so juicy. The combination of veggie crunch, quinoa chew, foam bubbles, and cream with the dorade was a wonderful titillation of the senses. Chris' pork loin was brilliant comfort food made to look elegant. Chef Roman definitely channeled Chef Daniel Stern with that dish. The cavatelli with lamb ragu was another winner with tender slow-cooked lamb enhancing the flavors of a delicious pasta dish.

Abe Fisher
We're all very familiar with Asian Fusion cuisine, that adventurous blend of the best flavors of the East and West. Sometimes the mix works. Other times it's simply disastrous. My otherwise stellar meals at Morimoto were occasionally marred by a bad plate, such as the seafood gazpacho martini or the "fresh sardines in tomato" that tasted no better than the canned variety. Dozens of copycat restaurants have popped up in Philly after Morimoto, most never quite rivaling the Iron Chef giant. Behold... we have a new contender and it's not Asian Fusion!
My tastebuds have been tantalized by what appears to be the most unique gastronomic delightfulness to have graced my plate in years... Jewish Fusion!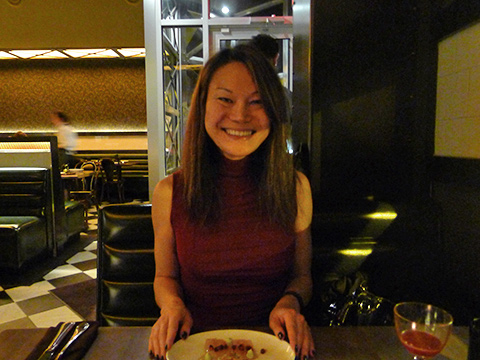 Salami and eggs... gefilte fish... kasha varnishkes... all are familiar dishes in Jewish cuisine but the modernized versions at Abe Fisher are not like anything you've tried before. "We're not cooking here like Jewish grandmothers," owner Michael Solomonov says. Indeed, the first restaurant to speak of Jewish Fusion was Chef Solomonov's flagship, Zahav, and even that was not quite the culinary adventure that Abe Fisher simply is. My foodie companion, Chris W, was a little hesitant at first, not knowing what he was in for. "I simply trust your judgement," he said, "because you've never steered me wrong." Our Raw and Marinated Bass had two preparations of sea bass. The raw preparation hinted of the sublime textures and tastes of fish carpaccio in such places as Morimoto and Buddakan, but the real winner was the small cake of marinated bass with avocado cream cheese. It was an absolutely delicious blend of fish and dairy. I could eat this atop my favorite crackers all day long. The Salami and Eggs was pure nirvana. The dish spoke of an unbridled passion of taking risks and seeing one such risk emerge as a workable, even superior, solution. This is clearly one of the best fusion dishes I've ever eaten and what makes it even more stupendous is... it's comfort food. Good, simple comfort good. Frickin' genius comfort food. I would stop in for Happy Hour or dinner just to eat that. Our entrées of Roumanian Steak and Stuffed Trout "Gefilte Fish" were amazing. At its most basic level, the Roumanian Steak is simply Chinese beef and broccoli with Middle Eastern flavors. At a deeper level, it is simply the juiciest, most tender skirt steak I've eaten in a long time. The broccoli had that crisp, charred outside and juicy goodness inside. An outstanding dish. I didn't quite know what to make of the Gefilte Fish when I got it. It looked like no gefilte fish I had ever seen. In fact, one look and you would think that Daniel Stern made a guest appearance in the kitchen to prepare this! Imagine a cylinder made of a whole piece of boneless trout stuffed with a finely chopped filling made of smoked trout, walnuts, and matzo meal. The tube of deliciousness sat in a small sea of delectable carrot puree. I could do without the carrot and raisin salad, though, because it didn't pair well with the fish. For dessert, I had the Apple Strudel, which was very good, and Chris W had the Bacon and Egg Cream, which I wasn't too fond of. The host gave each of us a complimentary glass of dessert wine with our dessert course. The cocktails were very unusual, but strangely good. One had beet juice in it. Two others had cherry juice. I don't know the significance of red in the drinks, other than that all of the drinks tasted like variations of Sangria-like wine. Kudos to the cool names for the drinks, such as The Bitter End, Nobody Expects the Spanish Inquisition, and Blood and Smoke. Abe Fisher gets my highest recommendation as a restaurant with unique, delicious food that is accessible to the masses. It's easy to see why this is the new "in" spot in Center City. Congratulations, Chef Solomonov, for bringing life to Sansom Street!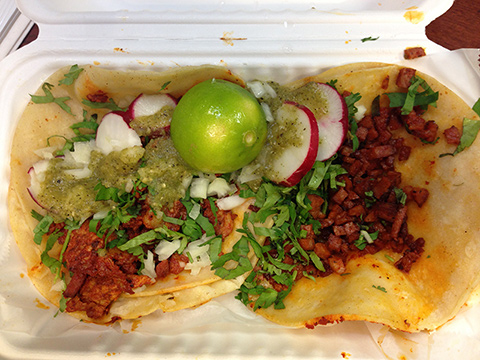 Dos Hermanos
It's very rare that I give a 5 star review to a new food truck or restaurant right off the bat. It has to seriously wow me and that's what these guys did. What made Tacos Don Memo or La Lupe great, Dos Hermanos took it to another level by crisping the outside of their soft shells. It's a simple gesture to fry the bread on the grill for a little bit, baking the juices of the marinated meat prepared on it into the bread. The outer shell of the doubled taco shell is crisp and chewy and wonderful. There are a variety of meat fillings for your tacos... al pastor (pineapple pork), carnitas, tinga (shredded chicken), chorizo, shrimp, asada (steak), and more. I've tried the al pastor, chorizo, and asada tacos. The al pastor meat is insanely great. Fucking awesome. The chorizo was good, but the al pastor is great. The asada is okay. I would avoid this and recommend the al pastor instead. Get the green sauce. Ask for "everything", which includes cilantro, radishes, and a lime. You will love these tacos. I sure did.
Ippolito's Seafood
When your tummy grumbles, nothing feels better than a good seafood sandwich. Crabcake or cod fish burger, Ippolito's in South Philly has it all... a fine selection of fresh seafood, including crab legs, fish, scallops, and more delights of the sea. This is the kind of seafood market that puts all other seafood markets to shame. The people behind the counter actually try to get to know their customers and make recommendations on what to get and how to prepare their products. This place reminds me so much of my neighborhood seafood market in Brooklyn. There are free recipe cards to help you plan out your next seafood meal. There are also pre-prepared seafood salads, jumbo sea scallops wrapped in bacon, and sumptuous side dishes for those of you who want a quick meal. My partner Robyn and I tried their "Best of Philly" crabcake sandwich and "Cod Father" codfish burger sandwich. She loved her crabcake. I loved my codfish burger. Before you think "Codfish burger? How mundane!" let me assure you that this is probably the best codfish burger you'll ever have. It's got carmelized onions in it, brown mustard, and tartar sauce in a toasted brioche bun. Let me repeat... it's got carmelized onions in it! So good! Throw every preconceived notion you have about fried fish sandwiches out the window. The Cod Father will make you a believer. While we were waiting for our sandwiches, one of the guys behind the counter offered us a sample of pulpo (octopus) salad. It was frickin' delicious! Huge chunks of pulpo, chickpeas, olives, and more. We also tried the Deluxe Seafood Salad, which had imitation crabmeat, bay scallops, and shrimp. That, too, was amazing.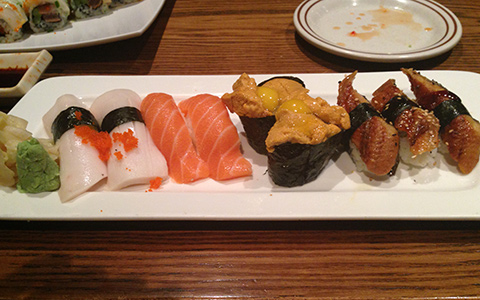 SUMO Sushi
SUMO Sushi is a nice, clean sushi bar with a friendly staff and decent food. On my first visit, I tried the $10.95 lunch sushi set, which included miso soup and six pieces of nigiri (two tuna, two salmon, one white tuna, one whitefish) and an inside-out California roll. The fish tasted very fresh and the presentation was very nice. The three sushi chefs were very quick and efficient. On my second visit, my friend Chris W and I enjoyed the soft shell crab and the sunomono as appetizers. The soft shell crab was very meaty and delicious. The sunomono was unlike other sunomono I've had. Usually, there are pieces of diced fish soaking in ponzu sauce. This was more like a separate order of sashimi with ponzu sauce on the side. Curious, I looked up what sunomono was and discovered it's actually a Japanese cucumber salad that uses a sauce made with rice vinegar. I'm pretty sure that sauce might be ponzu sauce. Scanning the Internet, I noticed that everyone seems to have their version of what sunomono is. It seems to be a type of mystery dish created at the chef's discretion. Whatever we were eating, the sashimi (two tuna, two salmon, two white tuna, three whitefish) was excellent and using the ponzu as a dipping sauce made everything taste better. Chris ordered the Fancy Salmon and Princess rolls, which were good. I ordered a sushi platter with white tuna, salmon, sea urchin with quail egg, and eel. Our server remembered me from my first visit a few days ago and recommended the sea urchin. She said it was very fresh and just arrived that day. Indeed, the sea urchin was amazing. The eel was also quite memorable. We received a complimentary dessert of green tea and strawberry mochi ice cream, a nice finishing touch. I can tell that SUMO Sushi really aims to please.This is my go-to sushi spot when I'm in Midtown Village.
Ting Wong
Recent renovations have made Ting Wong look shiny new, but the focus has never been on atmosphere or service. It's all about the food. The roast duck is incredible. The roast pork is possibly the best you can get in Chinatown. The roast pig - crunchy skin attached to juicy morsels of meat - is excellent. The soy sauce chicken is finger-lickin' good. Forget Sang Kee. While they and others are pricing themselves out of the water with their rice dishes, Ting Wong has kept their single meat on rice dish at a modest $5.50. I don't have to give Ting Wong five stars, because Ting Wong's reputation precedes it. Craig Laban gave it a glowing review back in 2011. Die-hard foodies who want good old-fashioned Chinese soul food go here often. So what's my motive? Why am I reviewing this place now after three years of keeping it as one of my most heavily guarded secrets? Have I found another place I like better? Maybe, but maybe not. I want this place to thrive, to continue to be busy because there are more restaurants in Philly now than ever before. It would be a shame to lose a gem like Ting Wong. From recent visits, that's likely not going to happen. If I had a last meal on earth, it would be difficult to choose between Ting Wong's three meats on rice and Zama's omakase. If I chose Ting Wong, I could feed twelve of my friends for the same price as a single omakase. Long live Ting Wong!
Sweet Wines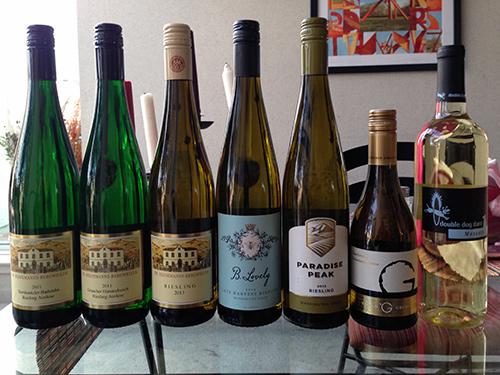 I'm not a wine drinker. I'm not particularly fond of dry wines, especially reds. I never developed a taste for them, because they taste bitter to me. I was about to give up on wines until I got a taste of dessert wines, such as Lillypilly 2008 Noble Blend. My heart opened up to wines at that point. Shortly after, a waiter at Lacroix suggested I try a Riesling and the rest is history. I became a Riesling lover ever since. It's not the spatlese (dry) Riesling I like, but the auslese (sweet) Riesling. I also like sauternes, eisweins, and other dessert wines. I discovered that sweet wines go amazingly well with fish dishes, poultry, foie gras, and, of course, dessert.
Dr Heidemanns Bernkastel Auslese, 2011
Dr Heidemanns Graacher Auslese, 2011
Dr Heidemanns Reisling, 2012
B Lovely Late Harvest Riesling, 2012
Paradise Peak Riesling, 2012
Ewald Gruber Chardonnay Eiswein
Double Dog Dare Moscato
Rustica
If you want a specialty pizzas that's different from your usual neighborhood pizza joint, you need to go here. In my own very stringent taste tests, I've annointed Rustica as the best of the Ten Killer Slices of Pizza in Philly. The addition of unusual specialty pizzas solidifies its outstanding rating. Take, for instance, the spinach and roasted tomato red pie. Each mouthwatering bite of juicy spinach and flavorful tomato is sure to leave your tastebuds tantalized and your tummy craving more. The sausage and broccoli rabe was another winner. Paper thin slices of sweet Italian sausage and juicy chunks of broccoli rabe combine perfectly in this heavenly slice. The brisket, brown gravy, and mashed potato was a sleeper hit. It was like eating a tasty open-faced dinner sandwich. Perhaps my only gripe is the bread is a little thick, but it's cooked nicely and does have a lot of ingredients to support. There's a lot to like about Rustica. Give it a try if you haven't already.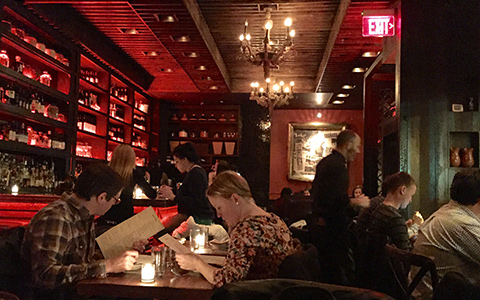 Jamonera
My friend Chris recently recommended a restaurant that totally escaped my radar until now. The food was really good. "I get credit for this one," he tooted. The special Restaurant Week menu featured an assortment of fine dishes that were variations from their regular menu, including the Heirloom Pumpkin Croquetas, Tosta de Setas (seared wild mushrooms, dry olorosso, cadi urgelia cheese, truffle oil, thyme on toasted bread), Pescado a la Placha (seared dorade, smashed smoked olive oil potatoes, romanesco, white wine-caper sauce), Gambas al Ajillo (grilled herb-chile shrimp, white beans, roasted peppers, garlic). The crispy Papa Frita potatoes are not to be missed. My Warm Nocilla Bread Pudding (milk chocolate-hazelnut bread pudding, vanilla ice cream, spiced spanish peanuts, salted caramel sauce) was particularly noteworthy. As far as desserts go, it was one of the best desserts I've had in the past year. The seats are a little cramped, even for my skinny ass, but I love the trendiness of this place. The bar is beautiful and definitely a draw.
Dinner Lab: Chef Michael Kollarik
Chef Michael Kollarik's Superbowl-inspired cuisine for tonight's Dinner Lab meal was bold in some places yet quite conservative in others. Each dish was quite telling of his diverse range of culinary skills. You don't get to work at Edi & The Wolf, Momofuku, and Pêche and win Chopped unless you're someone special.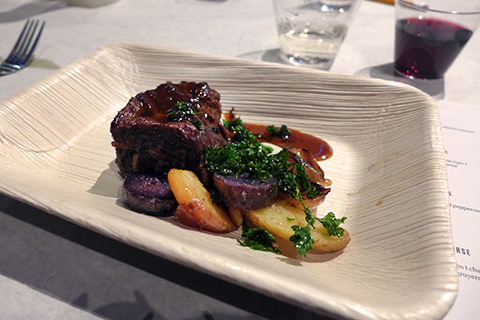 This is why it was a little surprising to see Chef Kollarik hold back a little too conservatively. The first course, Buffalo Sweetbreads with pickled celery and blue cheese espuma, was the chef's take on buffalo wings. The sweetbreads were cooked to perfection, but the outer coating was inconsistent from piece to piece. Some were perfect. Others were too soggy, too chewy, or inedible. I liked the accompanying celery and espuma. The espuma was a whipped mousse made with blue cheese. I felt that two small dots of espuma were not enough for my six sweetbreads. The second course, Celery Root Taco with fluke crudo, leche de tigre, and butternut squash tartar, showed me the chef's creative genius. Chef Kollarik must've been channeling Chef Rich Landau and Chef Hiroyuki "Zama" Tanaka by using a thin sliver of celery root as a taco shell. The second course was accompanied by a beer pairing of Tank 7 Farmhouse Ale. The third course, what Chef Kollarik calls "Gameday Pizza" was actually a pasta dish with ricotta cavatelli, pepperoni ragu, and pickled pepper. The little cavatelli dumplings reminded me more of potato gnocchi than ricotta gnocchi. I wish they were softer. The ragu and pickled pepper were wonderful tastes and while this qualified as good comfort food, it didn't necessarily strike me as something I could find at a gourmet restaurant. The fourth course, what Chef Kollarik calls "Cheese Steak" was actually braised short ribs with charred onions, confit potatoes, and gruyere au poivre sauce. It was paired with a red zinfadel by Forever Vineyards. Pardon me for saying this, but where was the gruyere sauce? It looked like brown gravy to me. This was a decent dish even without the gruyere sauce, but it lacked any originality whatsoever. The fifth course, a Brown Butter Donut with coffee sugar and whiskey cream, was too dry. There wasn't enough cream. I complained to my server and she brought me another with a lot more cream. With the additional cream, it was very good. Our apertif was a cucumber and gin tonic with simple syrup. Out of all of the alcohol offered, I actually enjoyed that drink the most. I cannot say that my first Dinner Lab experience was a magnificent one. It was okay. I hope to see more creative dishes in the future.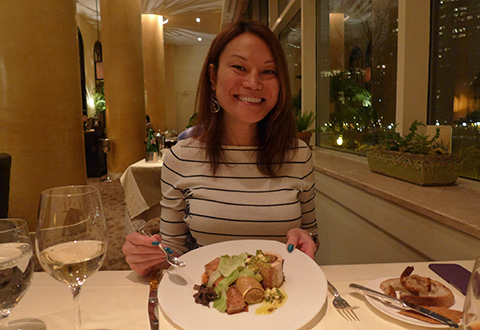 Lacroix
Perhaps one of the nicest meals I've enjoyed in a while is from one of the first places I've dined at more than ten years ago: Lacroix. Back then, Chef Jean-Marie Lacroix was at the helm training a generation of young chefs and helping Philadelphia make a name for itself in the culinary world. His retirement gave way to a rapid succession of executive chefs who ranged from very good to excellent. Now Chef de Cuisine Steve Eckerd, formerly Executive Chef of the short-lived Le Bec Fin 2.0, prepares the meals at this esteemed restaurant under the guidance of Executive Chef Jon Cichon. I've always enjoyed the scenic views of Rittenhouse Square from the restaurant's enormous windows. The restaurant itself is simply beautiful. That and the exquisite greet-by-name service has not changed. You want to go back to a place like Lacroix again and again because each new chef brings new ideas and skills to the table. On the flip side, those of you who want to eat the same meal from ten or twenty years ago will be sorely disappointed. There are restaurants that cater to those types of meals. Lacroix is not one of them. What I enjoy most as a progressive foodie is the change. Change is good. The bread basket included five different kinds of fresh bread, including baguette, rye, sourdough, raisin, and sesame cracker. The amuse bouche was a delicious creme fraiche salad with apples, greens, and salmon roe. My first course, Foie Gras Torchon with raw venison, pineapple, crisped kale, and black radish foam, was exquisite. The warm slice of bread reminded me of an unsweetened buttermilk poundcake, the perfect taste and texture complement to the creamy torchon. In fact, the entire dish was a veritable palette of different tastes and textures and paired nicely with my sauternes dessert wine. My second course, Turbot with sweet potato purée, pickled cucumber, picholine olives, and sumac, was a delightful fish dish. I loved the turbot filet and its associated crisped skin. The palette cleanser of a smidge of raspberry sorbet sandwiched between two vanilla wafers was very nice. My third course, Veal Breast with polenta canelloni, charred cippolini onion, grilled yellowfoot chanterelle mushrooms, and bone marrow, was what I affectionately call "Robin Hood's Feast." Wow, just wow. It was a celebration of earthy flavors from the game meat to the wild mushrooms. The veal breast was juicy and tender like the best meat roasts with a sublime molasses-like skin. It reminded me of the best of Chef Pierre Calmels meat dishes. The bone marrow was prepared like some of the best French restaurants in Philly. The chef removes the bone marrow, mixes it with something else, and stuffs it back into the bone. I heard that egg was one of the ingredients. What a fantastic taste! The polenta-filled canelloni was amazing. It soaked up many of the earthy flavors in the entire dish. Both the fish and meat courses paired well with with my Riesling. Sadly, my fourth course, the Pomelo with coconut, sweet potato, tarragon dessert, was the only failed dish in the entire meal. The bitter taste of the fruit just didn't work for me. I appreciated the cleverness of the liquid nitrogen-enhanced foam. I know the pastry chef was trying to go for a Japanese sunomono feel with the dish, but the flavors were just off and didn't work well together. After the dessert course was a long plate with petit fours pastries, including a madeleine, chocolate nougat, chocolate macaron, etched chocolate candy, and fruit jelly. As if all of that weren't enough, I received a bite-sized marzipan-covered chocolate cake with a candle and "Happy Birthday" nicely written in chocolate on the plate. As if that weren't enough, I also received a small banana walnut loaf filled with chocolate as a gift from the host. The sequencing of each course reminded me so much of a Zama omakase meal. In all, a four-course meal ended up being a nine-course affair. Wow, just wow. "Should we keep our chef de cuisine?" our host joked. I smiled and enthusiastically nodded. Yes, definitely keep him for as long as he wishes to stay!

Zama Tasting Menu
I was majorly disappointed that Chef Zama wasn't present to prepare my birthday omakase, especially since Robyn made our reservation well over a month ago. Still, the chef de cuisine of the night did a fantastic job with the upgrades in the $75 Tasting Menu. My first course, Nambanzuke, a seaweed salad with fried fish marinated in soy, dashi, and vinegar, was a very nice starter and very similar to the first course of my previous Zama omakase. My second course, a Yuzu Lobster roll filled with shrimp, yuzu creme jelly, crispy shallots, and yuzu tobiko was wrapped in thinly sliced Daikon radish and topped with a fresh lobster salad and sliced kumquat. The roll was accompanied with small drops of yuzu miso sauce. I loved the intricate flavors of this roll and it was refreshing to taste something so progressive. My third course, Japanese Crudo, was four kinds of sashimi (bluefin tuna, yellowtail, red snapper, and salmon) with lime, shiso, olive oil, and Himalayan salt. This was an upgrade from the usual three kinds of fish in this course. My fourth course, Mixed Tuna Tartare, was a cylinder of tuna made with blue fin, big eye, and albacore with ponzu and wasabi inside and topped off with paddle fish and golden caviar. Crispy shallot chips served as an accompaniment. Especially noteworthy are the specks of gold flake in the caviar. This was an absolutely delicious dish. Zama took the tuna tartare concept to a whole new level here. My fifth course, Miyazaki Beef Steak Tataki, two prized cubes of Japanese Wagyu beef topped with ponzu jelly, chili pepper, and micro cilantro, was a melt-in-your-mouth delight. The crispy bed of shallots beneath the Wagyu were infused with bamboo charcoal salt. Robyn and I found ourselves wishing for more pieces of this delicious beef. My sixth course, Nigiri, was a five piece Chef's selection of nigiri sushi. Our host made sure the chef included sea urchin in the course. As luck would have it, fresh sea urchin, shucked that day, was included in two of the five pieces. One of the pieces also had tobiko (black fish eggs). Wow! All five selections were delicious. My seventh course, Truffled SST, a handroll filled with spicy shrimp tempura, eel, scallions, and truffled eel sauce, was a fantastic end note to the savory part of our meal. I've had this wonderful "sushi dessert" in the past and it was absolutely delish back then as it is now. My eighth course, a dessert trio of yuzu créme brûlée, tofu beignets with caramel sauce, and banana and chocolate spring roll was a very nice ending to a fantastic meal. Robyn was enamored with the spring roll. I enjoyed the créme brûlée. A carafe of Ozeki Junmai Nigori, a California sake, was a nice wine pairing to our meal.


The Olde Bar
One of my previous nights with my fellow foodie friend Chris W included what we thought were excellent drinks at José Garces' The Olde Bar. We were enchanted by the ambience of this "contemporary oyster saloon" so much so that we decided to dine there someday. Unfortunately, the food didn't live up to the hype of a Garces-owned restaurant. Our server did a wonderful job selling us on various items on the menu. "The Sex on the Bay oysters are delicious!" she exclaimed, and she was correct. They were, indeed, one of the best East Coast oysters I've ever had. The turtle soup was hearty and flavorful. The sliced hard-boiled quail egg and sherry cream were nice touches. The fried belly clams were very good, more lightly battered but more strongly seasoned than Oyster House. If we stopped our meal there, it would've been a very nice little pre-dinner meal, easily four-star quality. "I'm from Maryland and the crab cake is one of the best I've ever had!" our server explained. Unfortunately, the crab cake was not excellent or even good. The thin cake was coated with too many breadcrumbs. The "fresh crab" tasted like the oily, mealy crab meat I didn't like. I could've made a better crab cake at home using jumbo lump. Chris' steamed clams in garlic and white wine were too salty and overpowering. They were possibly the worst steamed clams I've ever eaten. I overheard a woman at the table behind me tell our server about how bad the fish and chips were. I almost ordered that. I'm glad I didn't. How could the appetizers be so decent and the entrées be so poor? Inconsistent food like this boggles my mind. Perhaps it was a little presumptuous to think that this place might be great for dinner. At this point, it might be a nice pitstop for snacks and drinks and nothing more.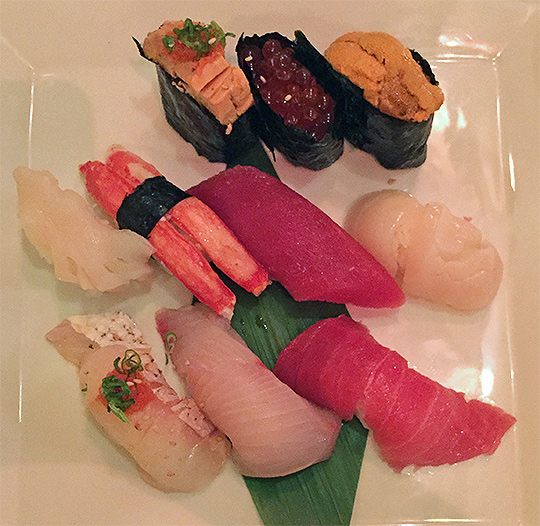 Arigato Sushi (Santa Barbara, CA)
During my yoga teacher training in March 2015, my yoga family and I dined at Arigato, one of the best sushi restaurants in Santa Barbara. I got the Ultimate 10, which included O-toro, kampachi (yellowtail), tai (sea bream), aji (horse mackerel), hototegai (live scallop), mirugai (giant geoduck clam), snowcrab leg, ankimo (monkfish liver), uni (sea urchin), and ikura (salted salmon roe). Each piece used high-quality ingredients. Sushi was such a refreshing change of pace from the strict vegetarian diet we maintained throughout the week. I savored each piece of fish as if it were my first and last. The negatives? The gunkanmaki were sloppily made and except for a small inedible bite in the aji, every piece of nigiri was perfect, fresh, and nicely presented. I saved the O-toro, the best, for last. You will be in sushi heaven with the Ultimate 10.
Jeannine's Bakery (Santa Barbara, CA)
The long lines should give you an idea of the popularity of this place. A gentleman who stood ahead of us in line suggested my friend and I get the Dungeness crab omelet. Not wanting to pass up on a good thing, we ordered it. I had also heard about the French toast from our friends and a Yelp reviewer who claimed that the French toast was so good, he'd trade his mother to Al Qaeda for it. The Dungeness crab omelet and banana nut French toast are the bomb! Lots of sweet, firm crab meat in my omelet. The side of mixed fruit was a nice touch. Unfortunately, the homemade biscuit wasn't very good. It was dry and not fluffy. Strangely, I felt a Popeye's biscuit was better than this. Strangely, the scones are spot on. The coconut pineapple one tastes like a soft cake. I loved my friend's banana nut French toast. The orange juice was a little tart. Two weeks later, my friends and I went here again and this time I had the Lobster Benedict. So so good! Don't miss these delightful seafood options.
Zen Yai (Santa Barbara, CA)
Voted Best Thai Restaurant in Santa Barbara, Zen Yai offers authentic Thai cuisine. I had the much acclaimed pumpkin curry with chicken, a fiery hot, savory green curry with big chunks of red peppers, potatoes, pumpkin, and basil. It was delicious. I also got to try a little of each of my friend's dishes: Vegetable Pad Thai, Poorman's Noodles, and Tofu Red Curry. All were delicious. I'm from Philadelphia where we have our choice of several amazing Thai restaurants. Zen Yai easily compares to the best in Philly.
Los Agaves (Santa Barbara, CA)
I had the salsa verde pork burrito twice here and both times it was great. The accompanying rice, salad, guacamole, and sour cream were awesome. The portion sizes were huge and delicious. The free chips and salsa are a great bonus. Once your order is placed, expect your meal to be ready in mere minutes. This is truly as good as it gets. Unfortunately, the lines to get in can be long. Be prepared to wait for this excellent food. This will definitely be one of my go-tos if I visit Santa Barbara again.
La Super Rica Taqueria (Santa Barbara, CA)
My friends and I went to a funny-looking little turquoise blue taco shack called La Super Rica Taqueria for dinner. Super Rica was the late Chef Julia Child's favorite Mexican restaurant in Santa Barbara. The Super-Rica Especial is the item to get. Roasted chile peppers stuffed with cheese and marinated pork on top of three fresh corn tortillas. The tortillas are made by hand just before they are placed on the grill. It doesn't get much better than that! I also got a pork tamale, but it wasn't as good as the one I got from a little truck called Grandma's Tamales.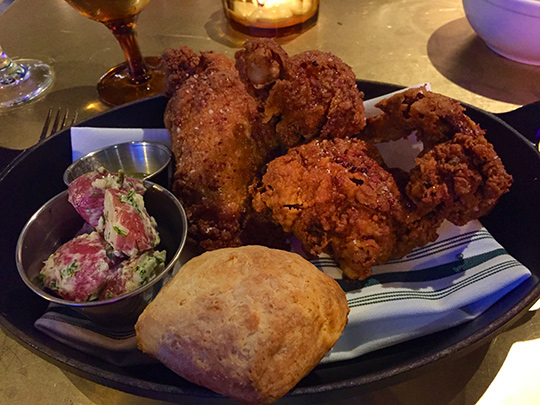 Juniper Commons [ CLOSED ]
Chef Kevin Sbraga knows fried chicken. My first exposure to his succulent birds was the hot chicken at The Fat Ham. Lo and behold, his lavender honey fried chicken tops its spicy cousin. The chicken is brined in buttermilk, dredged in seasoned flour and sits for ten minutes. It's then coated with a second round of flour and dropped into the fryer. The chicken (breast, wing, thigh, drumstick) is drizzled with lavender honey and sprinkled with salt and ground pink peppercorns. It comes with a buttermilk biscuit, whipped honey-thyme butter, and red bliss potato salad. It is some of the best fried chicken I've eaten in a long time. Crunchy, crispy coating on the outside with a juicy, moist inside. The sweet honey glaze is truly outstanding and finger lickin' good. The biscuit is awesome. I would definitely order this dish again and again. I got the salty but delicious fried smelts with chili pepper aioli as an appetizer. My friend Chris W got the filet mignon and butter poached king crab surf and turf. For dessert, I had a slice of salted pecan pie and he had the ice cream sundae. Every dish at Juniper Commons was top-notch. Chef Sbraga does it again!
The Best Dinner Deals for Your Five-Spot
If you're on a budget and can't afford to dine lavishly all the time, have no fear. Philly has a large number of affordable places for frugal foodies. Sometimes you can find something that's quite reasonable on your wallet in a restaurant that typically offers entrées for $10 and up. Mama's Vegetarian on the corner of 20th and Ranstead offers a small falafel sandwich with three falafel and mixed veggies in a pita for $4. Add a soda and the meal comes to $5. A delicious kati roll with egg omelet and Indian spices can be had for $4.50 plus tax at Spice End. Desi Chaat House offers some delicious Indian street food in the form of chaat for $4.99 plus tax. Some delicious meals can be had from the city's gourmet food trucks. There are a number of halal food trucks serving tasty $5 meals that come ith your choice of lamb gyro, chicken, and falafel on top of rice and salad with a soda. Some halal trucks give you a scoop of chickpeas in a tomato-based sauce as a bonus. Your five-spot also pays for a short rib burrito, lemongrass pork banh mi, or tofu over rice dish at Tyson Bee's. Splurge a little to get the curry of the week for $6. For all you Chinese food lovers, Ting Wong offers your choice of meat over rice dishes at $5.50 each. And let's not forget good ol' American fare. A Shake Shack hamburger with lettuce, tomato, pickles, and onions is just $4.19 plus tax. There are free cups and a water machine for those of you who truly want to spend no more than $5 there. A slice of specialty pizza and a soda costs just $5.50 at Joe's Pizza. Be sure to check out the slices of pasta and meatballs or ravioli!
Noir
My friend Chris W and I decided to take our culinary adventures to an upscale comfort food restaurant and bar on East Passyunk Avenue this week. For my appetizer, I had the Montreal Poutine, a big plate filled to the brim of freshly cut fries, corned beef, squeaky cheese curds, and brown gravy. Chris had the Moules Frites, an equally huge plate of mussels, spinach, tomato, garlic, and freshly cut fries. For dinner, we each had a plate of Lobster Ravioli, six big pillows of delectable lobster meat sitting in a tasty sea of brandy lobster sauce with three jumbo shrimp. Everything was delicious, well-executed, and well-prepared. The fries were beautifully done. Crispy on the outside, soft on the inside. The cheese was super stringy as it should be. The corned beef in brown gravy was delicious. Chris' mussels dish was delicous as well. We both enjoyed our lobster ravioli. It reminded me of the lobster ravioli Upstairs at Varalli used to serve.

Dinner Lab: Chef Geno Betz
Chef Geno Betz's "Relevant Elements" theme combines "techically driven and unexpected compositions." My only problem with this title is most every Dinner Lab chef is going to wow us with techically driven and unexpected compositions, so you don't have to say it. I sat with some interesting people. Jackie and Matt, a medical school student and advertising professional, sat to my left. Pete and Beth, an older couple originally from Chicago, sat to the right. We all came together today because of our love for food. Our first course, a Fluke Torchon in a hibiscus broth with raspberry tea, shaved beets, red vein sorrel, and puffed farro, was very bland. The fish was very fresh, but needed more seasoning. My tablemates and I kept thinking that a slice of jalapeño pepper and a little tangerine or other citrus fruit would've helped. Our second course, a Brown Butter Roasted Sunchoke with spring onion confit, broccoli purée, and artichoke-Parmesan espuma, a nice little salad, was so much better than the first. The play here is combination of artichoke heart that everyone's familiar with and the Jerusalem artichoke, or sunchoke. Both artichokes were soft in texture, in contrast to the nice crunch of the spring onion. Plus, how can you go wrong with the rich, decadent taste of brown butter? The espuma was one of my favorite parts of the dish. Everything tastes better with nicely seasoned foam. Our third course, Lobster and Shrimp Sausage with almond foam, asparagus, and braised young leeks, was the dish everyone was waiting for and it did not disappoint. Moussed lobster and shrimp formed into a long tubular shape baked to a golden brown. It was very Asian, like the shrimp and scallop meatballs in Chinese cooking or the crab cake from Le Bec Fin, which Chef Betz no doubt was inspired by during his time there. Our fourth course, Sweetbread Casoncelli with English peas, pearl onions, and seared trumpet mushrooms, was a kickin' little ravioli dish with a lot of nice flavors and textures. A couple of my tablemates and I felt the pasta filling could've been a less puréed to add more texture to the filling. Chef Betz already has a sweetbread ravioli on his Paradiso restaurant menu, so his pasta making expertise is clearly established. Our fifth course, Strawberry and Rhubarb Sucrée with white chocolate crémeux, lime zest, and basil, was a nice ending to a nice meal. One of the sous chefs commented that it was "the best Oreo cookie he's ever had," to the delight of the audience. Chef Betz made his rounds with his guests thanking each one and answering questions about his food and culinary style. I motioned him over for a picture with me and Jackie and asked Matt to take the picture, to which both he and Matt gladly obliged. I also complimented him on his seafood sausage and asked him for more of it, to which he replied, "Sure!" Jackie was amazed at my bravado. "Oh my God, you're awesome!" Jackie said. "It never hurts to ask," I said. The special cocktail of the night was an Old Fashioned, which I didn't like because it was too strong. The drink pairings (Montes Cherub Rose of Syrah 2012 and a Rhubarb 75) with the seafood sausage and dessert were nice, but I liked my Aranciata Rosa San Pellegrino soda better.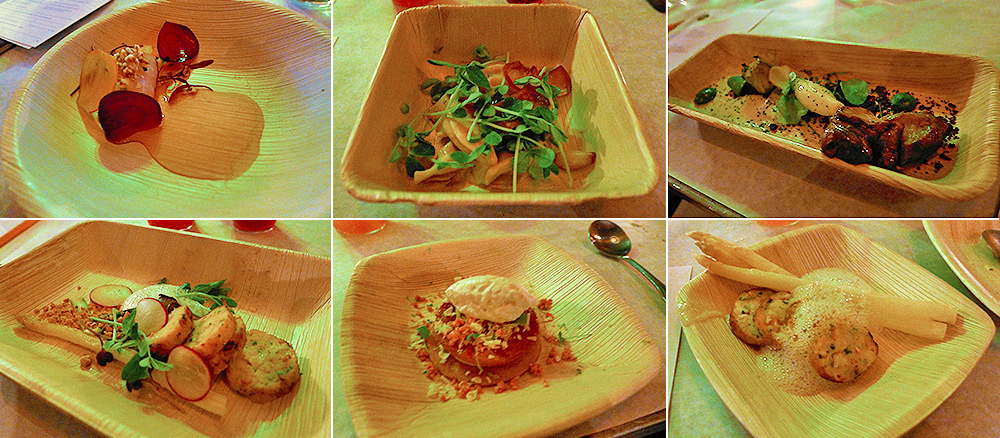 Ramayana
I tried the combination platter with three entrées as recommended by various reviewers on Yelp. I selected the Javanese beef stew, shrimp with potatoes, and the TTP (sauteed tofu, tempeh, and sator with chili peppers). "The beef tastes like Dinty Moore," my partner noted. I couldn't agree more. The tough pieces of overcooked meat sat in a flavorful sauce, but the meat was low quality. The shrimp with potatoes was also in a flavorful sauce and I didn't mind so much that the shrimp still had their shells on, since the shells were somewhat edible, but the shrimp tasted overcooked and old like dried shrimp. The potatoes were good. The TTP was probably the best dish of the bunch, but the soy products were all too firm for my tastes. I chose to eat here to prepare for the Indonesian meal I would have the next day with my friend Chris W.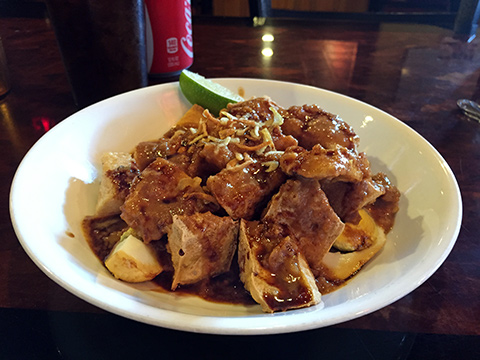 Sky Cafe
Highly praised by Yelp reviewers, the principle reasonings are good, cheap, and accessible. This is not gourmet by any stretch of the imagination, but decent Indonesian comfort food. The portions are big and you can eat dinner for less than ten dollars. My friend Chris W admitted that if he lived in the city, he would be eating here every day. That's a little far-fetched to me, because while the food was good, it wasn't that good. I liken it to my favorite hole-in-the-wall restaurants in Chinatown. The fried wontons are good and for just $3 are worth a try, but nothing to write home about. Item "N2 Seafood Homemade Egg Noodle/Mie Seafood" had some delightful pieces of seafood in its curried broth, but way too many noodles. The balance didn't seem right. My friend Chris W had a similar noodle dish with beef which seemed to have a better protein to noodle ratio. I love noodles, but to make that 80% of the dish isn't good. Perhaps the sleeper hit of the bunch is the item not listed on any online menus... Batagor. It was a curious dish with hard boiled egg, fried tofu, and fried "fish" soaked in peanut sauce. I put the word in quotes because I wondered what exactly the fish was. From its jelly-like texture and consistency, I concluded it was fish maw, or the gas bladder of a fish. Whatever it was, it was good and I came back the next day for another order. Unfortunately, I experienced a queasy feeling the second time I ate it, so I categorize this dish as a sometimes food. Too much of a good thing can be bad.
Monte's Trattoria
Expect to be amazed at Monte's Trattoria in Greenwich Village, NYC. Chef Pietro Mosconi is well-known in the culinary world and we had the pleasure of meeting and being greeted by him as he walked by our table carrying a large platter full of fresh homemade pasta. "Made it just now!" he said with a happy, smiling face. You can just tell that he loves his work. He takes pride in it and that's the kind of authentic Italian cooking you'll get at Monte's Trattoria. The cozy little dining room is the perfect setting for a romantic dinner. The old-school Italian waiters give the place an even more authentic feel. Robyn and I thoroughly enjoyed our entrées. She had the Filet Mignon Marsala, two large, juicy slabs of filet mignon with hearty mushrooms smothered in a red wine reduction. I had the Veal Palliarde, a pounded-to-paper-thin slice of tender, succulent veal sautéed in butter and garlic. Heaven on a plate. Our manicotti with ricotta was good but soupy, perhaps cooked a little more than we're used to. We will surely be back and can't wait to try more of their delicious food.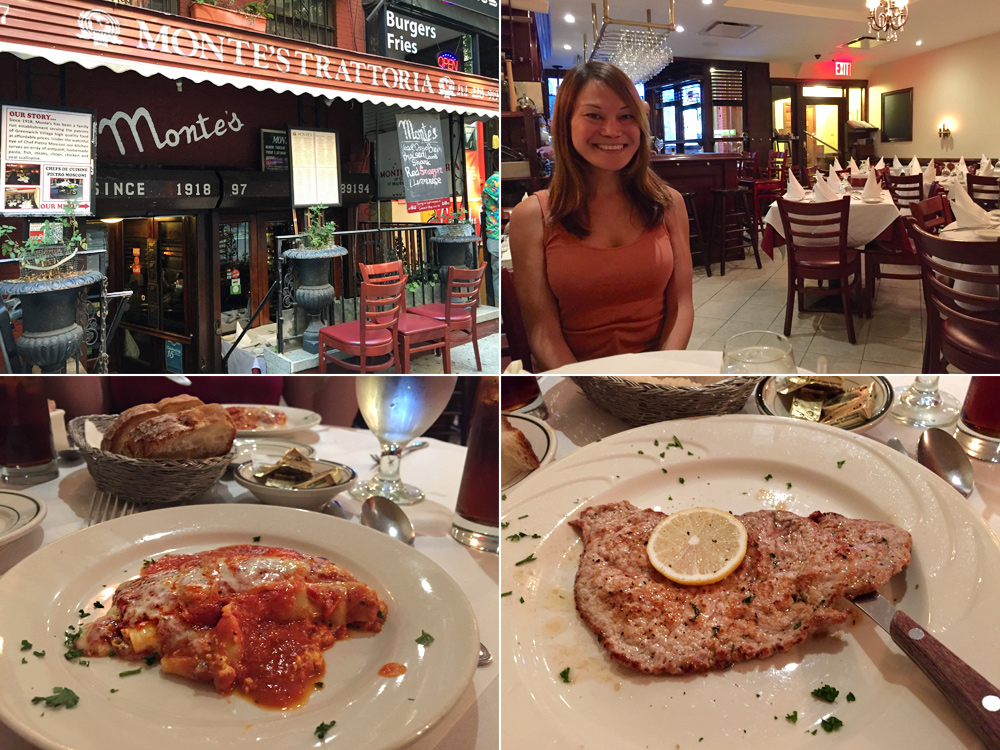 Brigantessa
My friend Chris W and I stopped in for a drink at Brigantessa one evening before dinner at Izumi, a sushi BYOB just down the block. Little did we know that this place was already given glowing reviews by food critics around town. Somehow Brigantessa totally escaped our radar. I was already familiar with highly praised Chef Cicala's work at Le Virtu having dined on plenty of his amazing ragu dishes in the past. Does Brigantessa stand up to the hype? Indeed. The Gulf Coast rock shrimp "con la conza" with toasted almonds, garlic, parsley, and white whine was absolutely divine. I've eaten so many dishes of rock shrimp tempura that have clouded my judgement of how good rock shrimp can be without the crunchy coating. The toasted almonds supply an added crunch factor that is superior to any Panko crust coating out there. The succulent morsels of rock shrimp stand up on their own in this perfectly cooked dish. Highly recommended. The wood-grilled calamari with black Pugliese chick pea hummus and Neopolitan pita was innovative and delicious. The last time I saw a dish this interesting was at Jose Garces' Amada where I enjoyed the Seafood Paella personally prepared by Chef Garces himself. The beet green "briganti hats" with dry-aged Lancaster beef ragu and Parmiggiano Reggiano was decent and unassuming. The homemade pasta was nicely prepared al denté and the ragu was delicious. I like the inspiration for the dish (you'll have to Google search "briganti hats" for more on this). The pièce de résistance of the night was the Stella pizza, a starfish-shaped pie with San Marzano tomatoes, sheep's milk ricotta, buffalo mozzarella, and pork sausage. True to what our server said, it was half pizza and half calzone. The crust was folded in such a way as to encapsulate the fluffy pillows of ricotta cheese. The center portion highlighted the wonderful juiciness of the tomatoes and the flavorful, melt-in-your-mouth pieces of sausage. If all of Brigantessa's pizzas are like this, then I might make this place my favorite pizza place in the city. If there was a disappointment on the menu, it was the sea urchin bruschetta. The 24 month Prosciutto di Parma and olive oil overpowered every other flavor in the dish. The sea urchin could only be tasted if I ate the generous slices of prosciutto on the bread first and even then it was a subtle taste. Perhaps the dish can be renamed "Bruschetta with 24 month Prosciutto di Parma, olive oil, chives, and sea urchin butter." The centerpiece should be the ham, which is already amazing. The sea urchin butter simply adds a little nuance of richness to it.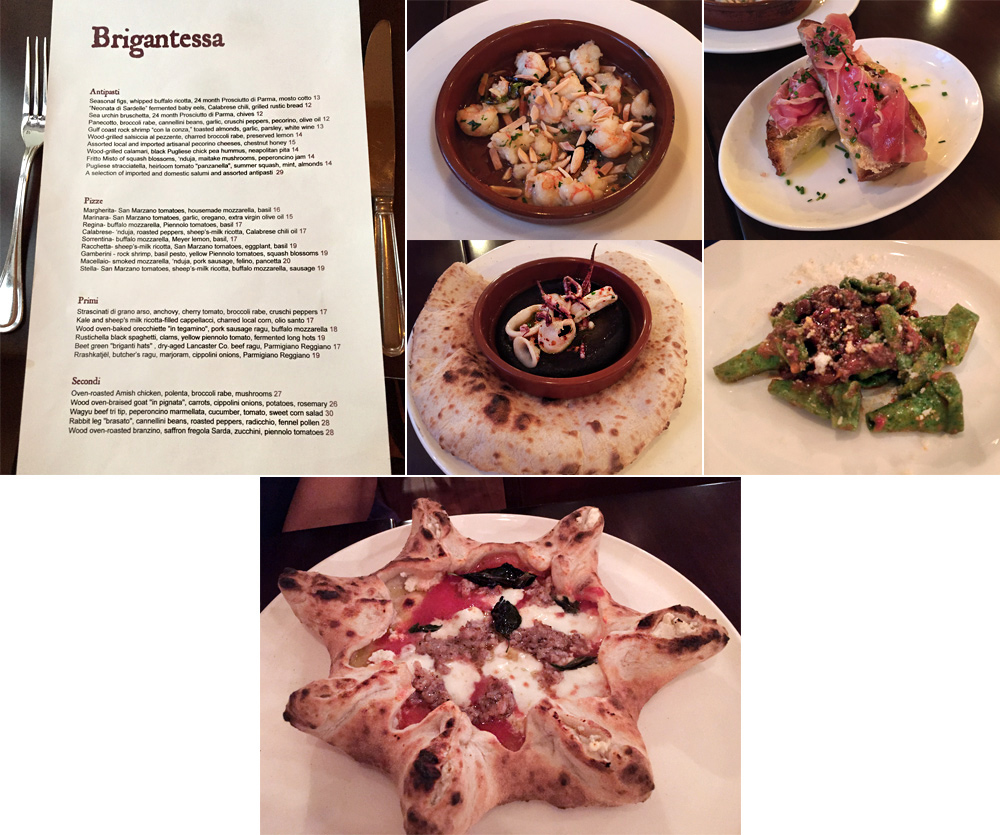 Marrakesh
Marrakesh gives you access to a large Morrocan feast for the small price of just $25 per person. There are seven courses in all and each one ranges from good to awesome. Before you eat, you are offered a towel and warm rose water to sanitize your hands.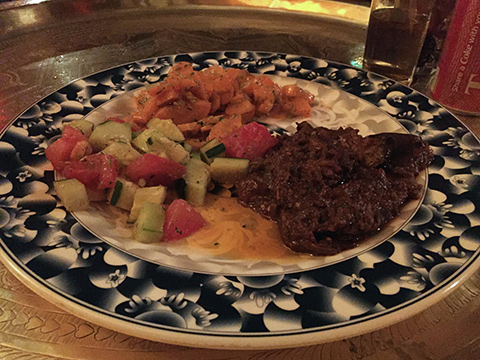 You will need to do this because there are no utensils; you eat with your hands. Trust me, this is not as bad as it sounds. You are given another towel to cover your lap because eating this food can be messy. The first course is a vegetable platter with pickled carrots, tomatoes, cucumbers, and roasted eggplant. I know people who don't normally like eggplant and they love this eggplant preparation. Our server offers each person three pieces of pita for their meal. You tear off pieces of pita and pick up the veggies with the pita. This course was absolutely delicious. The second course is a chicken bastilla pie. A light, crispy pastry shell conceals savory chicken, egg omelet, and sweetened nuts. A garnish of powdered sugar and cinnamon adds to the fabulous blend of flavors. I liked this dish; my partner thought it was good, but felt it was more of a dessert than an entrée. The third course was "spicy chicken," a roasted and baked half bird sitting in a sea of wonderful fiery hot spices. We both loved this dish. The chicken melted off the bone. The fourth course was cous cous with a stew of baked chicken, carrots, potatoes, and raisins. It was good, but not great. The dish came with utensils. The fifth course was beef kabobs. We opted for the beef over the lamb because I figured my partner wouldn't want to pick through all the lamb bones I've seen in numerous photographs of this dish. We liked it, but felt the meat was a bit tough. The sixth course was a fruit basket with giant green grapes, strawberries, an apple, an orange, and a tiny banana. Our sixth course was baklava with mint tea. I liked the baklava. She was full and couldn't eat any more. Perhaps the only thing I miss about this place from my previous visits five and twenty-five years ago is the servers used to pour the tea from teapots into your glass at ungodly heights. It was a little gimmicky, but I loved it. Oddly, these guys haven't changed the price of their prix fixe meal in years. It is truly one of the best values in town and a fantastic place to bring a date. You can tell a lot about a person by seeing if he or she is willing to sit comfortably on a couch-like seat and eat with his or her hands in front of you and others. Drink prices are very reasonable at $5 per mixed drink or glass of wine and there is an 18% gratuity charge added to your bill. Definitely give this place a try. You won't be disappointed.
Underdogs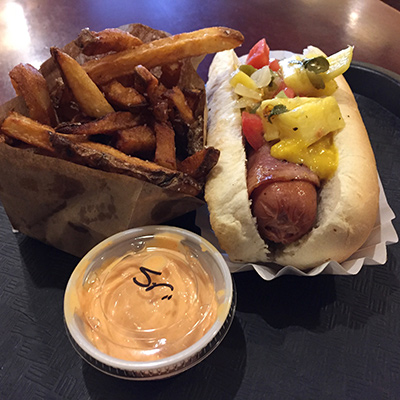 A gourmet hot dog place is going to have mixed reviews because not all of the combinations work for everyone or are equal, so your enjoyment will certainly vary every time you order a different sandwich. Underdogs uses quality ingredients, including plump hot dogs, big Cacia's Bakery rolls, and tasty toppings without artificial colorings like other places. Just look in the back. They chop a lot of the veggies themselves! The fries and drink make your sandwich a meal and getting the meal saves you a little money if you truly want the fries, which are cooked in refined peanut oil. The Back in the Day is a solid sandwich. A hot dog and cod fishcake with mustard and onions... so yummy! The Chicago is also good, but I happen to love Chicago style hot dogs. The Georgia Bulldog is okay. I think they gave me coleslaw instead of pepper hash. Pero Caliente is okay, too. The idea of a hot dog in mole sauce is quite original. Big style points for that idea! The California Dreamin' is quite tasty. The idea of avocado on a hot dog grossed out a friend of mine I told about, but don't diss it until you've tried it. It's good! The Adonis is okay. To me, it tasted like a Greek gyro. The Marrakesh is a spicier version of the Adonis. The 9th Streeter is quite good. The onions and peppers are big diced cuts that are quite juicy. The Chihuahua was a little underwhelming. Lots of onions. Maybe too many. I liked the queso sauce. I wasn't a fan of Haute Dog Parm, either. Perhaps some mozzarella would've made it more complete for me. The Smoker is a nice spicy hot sausage sandwich with pepper hash, relish, and ketchup. The Tryp is awesome. It's like a Thanksgiving meal in hot dog form. Warsaw Packed is real good, too. I like mine with a little ketchup. The Brats is also real good. Perhaps my favorite dogs are the My Thai and The Tryp. For specials, do try "The Pope Dog", a chorizo sausage with chimichurri and red onion salad (red onions and tomatoes). It was absolutely divine! (5 stars for this one). Another fantastic special is the Maui Wowee, a hot dog wrapped with ham and covered with pineapple salsa. Underdogs uses local favorites Czerw's (Andrew Zimmern-endorsed) and Martin's for their kielbasas and hot sausages. I've eaten all 23 hot dogs and sausages for my very own fist icon on their Wall of Fame!
Amis
My friend Cherise and I enjoyed appetizers of Sal's beef meatballs and swordfish meatballs with creamy polenta, pinenuts, and raisins and entrées of roasted lamb with potatoes and rigatoni with beef bolognese and spinach. Unbeknowst to me, I ordered the same items I had four years ago when I first dined here. We found the swordfish meatballs to be superior to the beef ones. The lamb was a bit dry and tough from the pan-frying process. The rigatoni with beef bolognese was good, but unexceptional. The accompaniments of polenta, pinenuts, and raisins and potatoes were prepared perfectly.

DinnerLab: Chef Andrew Gerson
"Secret Supper: A Brooklyn Brewery Collaboration", October 25, 2016
First course: Venison Tartare with Jerusalem artichoke purée, Cholula pickled shallots, rye bread
Second course: Scallop Crudo with Cholula pineapple emulsion, herb jus, cucumber
Third course: Roasted Squash Melange with butternut squash emulsion, blue cheese fonduta, candied pepitas
Fourth course: Braised Lamb with celery root purée, pickled grapes, fried brussels sprouts
Fifth course: Poached Apple with cinnamon cream, apple caramel, semolina crumble (a deconstructed apple pie)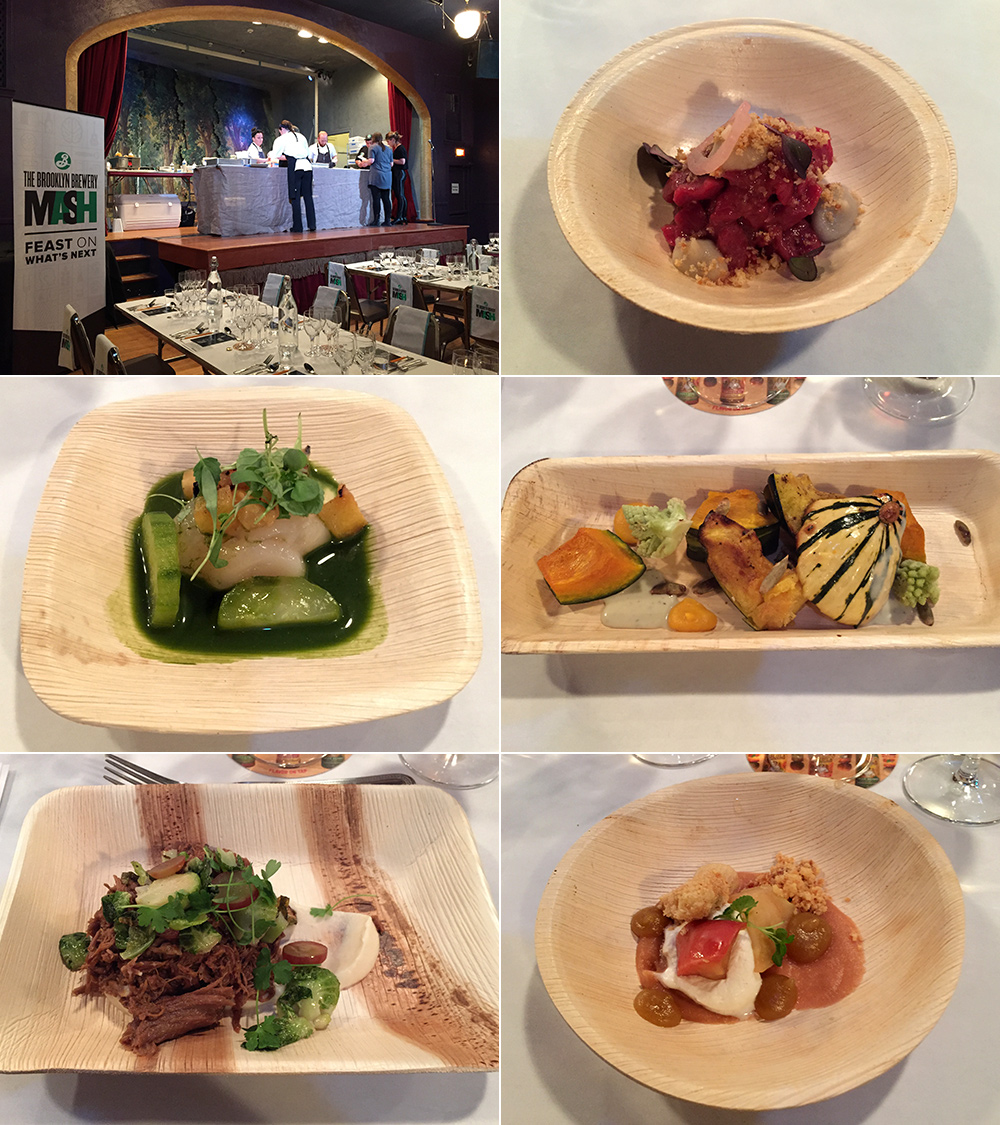 All images and work herein © 2007-2023 Clare Din. No reproduction without permission. All rights reserved.