Over the years, I've developed a refined palate from my experiences in dining at hundreds of fine restaurants with so many fine gentlemen who not only enjoy good food, but the pleasure of my company. None of my recipes are necessarily family ones. In fact, I like taking existing recipes and making them my own. When a recipe calls for a certain ingredient, I may subsititute something else in its place to make it better. Agave nectar in place of sugar or honey. Beef and pork instead of just beef. I do not believe in secret recipes because a recipe can always be improved. A 100-year old recipe may seem timeless to some, but, to me, you're just making food that was enjoyable 100 years ago by the people and their palates at that time. The modern chef combines ingredients and methods in her cooking to make something that transcends tradition.
Clare's "Meatyballs"
Back in September 2011, I made my delicious beef meatballs for my friends and family to enjoy. Being the foodie I am, I've discovered new ways of making familiar things taste better. One is through simmering. I used to bake my meatballs before throwing them into my spaghetti sauce and they were nice and soft, but not as soft as I'd like them. My experiences with Village Whiskey burgers taught me that adding pork to beef can make a burger taste extraordinary. Couple that with a slow cook process to allow sauces and juices to marinate and break down the meat and there you have version two of my meatball recipe, which is based on the meatball recipe here.
1 pound 80/20 ground beef
2 three-ounce sweet Italian pork sausage links
1 ounce of minced raw onions
2 cloves of garlic
1 egg
1/4 cup milk
1 seedless dinner roll or hot dog bun
1 teaspoon basil
1 teaspoon oregano
1/2 teaspoon garlic powder
1/2 teaspoon salt
1/2 teaspoon fresh ground pepper
1/4 cup grated parmesan cheese
(optional) bite-size mozzarella cheese balls
two jars of your favorite spaghetti sauce
1. Remove the outer casing of the sausages.
2. Break up the dinner roll into crumbs.
3. Mix all ingredients in a large bowl by hand. Use your bare hands for best results.
4. Roll meatballs into two-inch diameter balls.
5. (optional) Stuff each meatball with half a mozzarella ball.
6. Drop raw meatballs into three-quart pot containing spaghetti sauce.
7. Simmer for at least 3 hours, stirring occasionally.
Chef Mario Battali says on his cooking show, Molto Mario, that meatballs can contain up to 40% filler. "American meatballs were ruined by an overabundance of wealth. In Italy, meatballs were invented to make meat stretch further when times were tough. Cheaper ingredients like eggs and bread were added as fillers," he said. That makes it sound more like a meatloaf rather than a meatball. I would rather eat a meatball that has mostly meat than bread.
I've made many different variations of my meatyballs, some with more pork than beef. One of my tastier creations was a pork sausage, red pepper, and eggplant meatyball that used 1 pound of sweet Italian sausage, 6 ounces of minced red bell pepper, and 6 ounces of minced eggplant, but it required three pieces of bread to bind together because the vegetables made the mixture very wet.
Note: Trader Joe's Lamb Koftas with Masala Sauce for $4.99 is a very nice and quick Middle Eastern variant for those of you who don't have the time to make your own meatballs. You get 12 meatballs, enough for two to three sandwiches. However, Trader Joe's Italian style meatballs, also $4.99 for 12 meatballs, seems to pale by comparison to my homemade meatyballs. My kids and I tried them and we tried to like them, but didn't. They taste exactly like the kinds of blah meatballs you would get from a fast food cart that sells hot dogs and cheesesteaks.
Created October 2011. Revised June 2014 and February 2016.
Clare's "Colossal Crabbycake"
Everyone has their personal favorite crabcake recipe or restaurant, but very few people have experienced what I am about to describe as the best frickin' crabcake of all time. I started with the best crabmeat out there, colossal lump. Some people say that such meat shouldn't be used in crabcakes and instead should be savored in individual bites. Bullshit. Every food item was meant to be used in different recipes to make something good taste better. Each crabbycake is going to cost you about $11 in crabmeat, but it's worth it.
6 ounces of colossal lump crab
2 tablespoons of mayonnaise
breadcrumbs
1 sprig of parsley , finely chopped
1/2 teaspoon of lemon juice
1/4 teaspoon of of salt
1/4 teaspoon of Phillips Seafood Seasoning
1. Place all ingredients in a small mixing bowl.
2. Mix gently using a tablespoon. Break the lumps in half, but no further.
3. Line cookie sheet with aluminum foil and spray center (four inch diameter) with Pam butter spray.
4. Lightly dredge the Pam with breadcrumbs.
5. Place crab mixture onto bread crumbs. Mold crab cake with hands.
6. Place aluminum foil over crabcake. Mold foil into shape of crabcake.
7. Place in refrigerator and let set for at least one hour.
8. Place in oven at 350 degrees F for 8 minutes.
9. Remove top foil and bake for 4 minutes.
Created May 2013.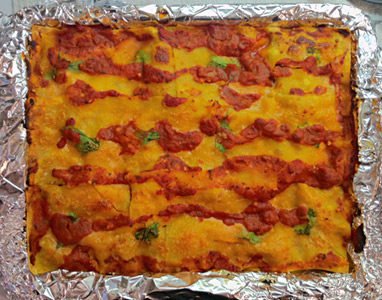 Clare's Lasagna
"This is really good, better than any restaurant lasagna I've had. You should've made this 20 years ago," my ex said. Of course, 20 years ago I had a more limited knowledge of food. I wouldn't have been able to make food the way I make it today. When I was younger, I followed recipes to the letter. I didn't have an instinct for cooking. I developed my ability to cook through my appreciation for fine food over the years. Most people who don't really know how to cook just use their senses of sight and smell to guide them, but cooking is really about using all five senses concurrently. I've become attuned to smells and have developed an instinct for how much spice to use. I could listen to how something was cooking and could tell if something was prepared to my liking just by the way it bubbles, sizzled, or crackled. I could feel the warmth of the food against my face while I was preparing it. If any of these five senses are faulty, your dish will end up mediocre at best. In a way, cooking is like art. You mold and shape something with your hands and you put your own signature on it.
Created May 2011.
Clare's Seafood Lasagna
Incredible is how I would describe my sixteen-layer seafood lasagna. That's right... sixteen layers... four pasta and twelve of everything else. I used a one pound box of Barilla Lasagna (sixteen of the twenty sheets), a 28 ounce can of Cento Chef's Cut Tomatoes with Basil, a 12 ounce can of Rosa Tomato Paste, one pound of pre-cooked peeled and deveined shrimp, 8 ounces of pre-cooked imitation crab or lobster, 2 to 3 ounces of baby spinach leaves, 12 ounces ricottta cheese, 4 ounces of shredded Italian six-cheese blend, 4 ounces of shredded mozzarella, 2 ounces (or a handful) of shaved parmesan, one large egg, two cloves of garlic, parsley, sea salt, ground black pepper, garlic powder, basil, butter, and olive oil. Boil water in a large pot. Add a shot of olive oil and three shakes of sea salt to the water to prevent the pasta from sticking. You don't need to use large or colossal shrimp for your lasagna because it'll all get chopped up anyway. Wash the shrimp to remove any remaining loose shells and ice. Take half of the shrimp, coursely chop it in a blender or by hand, and set it aside. Take the remaining shrimp and all of the imitation crab and blend it to a finely minced mixture. Sauté it for a minute in butter and olive oil. Mix in a dash of ground black pepper and a couple of dashes of garlic powder. This is the seafood mousse. Now you have two textures of shrimp in your lasagna! Finely chop the baby spinach. Mix the ricotta, spinach, and egg in a mixing bowl. Drain the canned tomatoes of excess liquid and remove the basil leaves if you wish. Lasagna should always be prepared with lots of love and generous portions of whatever foods you use. It should be a relaxing event, not something to stress over. I prepared all of my layers as shown in the following list from bottom to top. In my previous lasagnas, I always avoided putting the main meat ingredient on top of the top pasta layer, but I did so this time with great success. Credit for the seafood lasagna idea goes to Kevin Lynch and credit for the "meat on top" idea goes to Ree Drummond. I've noticed that most lasagna recipes on the Internet have just two or three pasta layers. I grew up in an Italian neighborhood where lasagna was made nice and thick, so I'm used to at least four pasta layers. If you want a much thicker lasagna and don't want to make a huge batch of it all at once, get the Giada de Laurentis ceramic loaf pans. You'll have to trim your lasagna to fit the pans. Each pan makes four large servings. Top it with parsley to garnish.
15
14
13
12
11
10
9
8
7
6
5
4
3
2
1


shredded mozarella (top layer)
spinach and ricotta mixture
tomatoes
coursely chopped shrimp
tomato paste
pasta layer
shredded Italian six-cheese blend
spinach and ricotta mixture
pasta layer
tomatoes
tomato paste
seafood mousse
pasta layer
spinach and ricotta mixture
pasta layer (bottom layer)
Place the loaf pans in a roasting pan lined with aluminum foil. Cover each loaf pan with aluminum foil and bake in an oven at 350 degrees F for 30 minutes. Remove the foil and sprinkle shaved parmesan on top. That's your sixteenth layer. Be careful not to mess up your parsley garnish! Bake uncovered for 15 more minutes. Your lasagna will have absolutely gorgeous layers of red, yellow, and green. Best of all, it tastes great, too. The next time I'll try sautéeing my seafood mouse in white wine. That should make it even better. With three successful lasagnas made using my knowledge as a foodie, I feel confident I can make any kind of lasagna now.
Created Febuary 2012.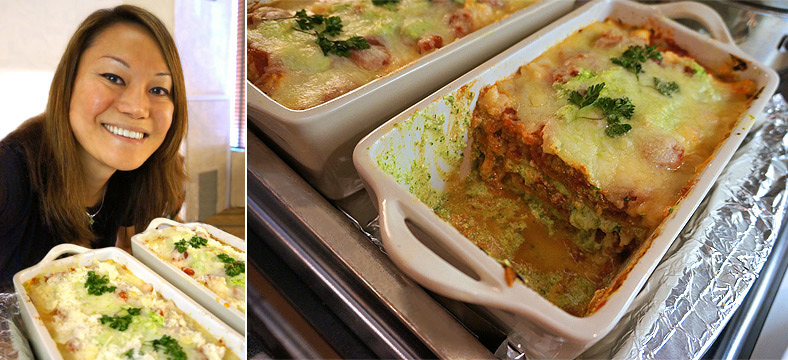 Clare's "Veggirific" Lasagna
I created an incredible fifteen-layer veggie lasagna, but made a stupid boo boo by forgetting to use my ricotta-spinach blend until last minute, so I made that my top layer. It still tasted great, but my lasagna would've held together better if the ricotta-spinach were inside. My veggie blend included eggplant, tomatoes, mushrooms, bell peppers, Cubanelle peppers, onions, garlic, basil, and oregano all diced and slow cooked in olive oil. I used the Barilla curly lasagna pasta, the kind you boil in a little salt and olive oil to keep the pasta sheets from sticking together. Baking was a 50 minute affair, 25 covered with foil followed by 25 without. Next time I'll get the layers right. I gave a piece to my mother-in-law. My ex said, "Oh yeah! I forgot to tell you she loved it. So did my dad! I didn't think he would eat it." My mother-in-law returned my Tupperware container with a serving of her delicious ziti with homemade meatballs.
Created March 2012.
Clare's Brooklyn Deli Tuna Salad
When I left Brooklyn, I noticed that everyone was eating some alien form of tuna salad that had nothing more than tuna, celery, and mayonnaise in it. Aghast at that fact, I always created my own deli tuna salad whenever I felt the yearning for the real deal. The tuna salad I grew up with is more like an egg salad with tuna in it. Tuna and eggs taste great together! Get the following ingredients to make my delicious deli tuna salad:
one can of your favorite tuna
two hard-boiled eggs
one celery stalk
one slice of fresh onion
mayonnaise
Old Bay seasoning
sea salt
ground black pepper
Coarsely chop the tuna, eggs, celery, and onion and put into a salad bowl. Add mayonnaise and seasonings and stir mixture with a spoon. How much of each is enough? Two shakes each of Old Bay, sat, and pepper is enough. How much mayonnaise you use depends on how wet you like your tuna salad. I don't think you can make a tuna salad too wet because once it's on bread, the bread absorbs the wetness and you don't have to coat your bread with mayonnaise. I like lettuce and red heirloom tomatoes in my sandwiches.
Created Febuary 1991.
Edward Weston
For my mid-term assignment in Still Life class, my professor asked us to prepare a short presentation on an artist we admire. I wrote about Edward Weston, the man who found beauty and commonality in everyday things, such as peppers, sea shells, landscapes, and nudes. We were also asked to create an image that serves as an homage to that artist. I created my own take on Weston's Pepper No. 30, 1925. I used Cubanelle peppers brushed with olive oil to add shine. I shot these images with my Sony NEX-5n and they turned out great. My classmates thought that they were darkroom prints! One MFA student said she loved my shadows. "I've never seen pepper images like these before!" the professor exclaimed. Immediately, people were reading sexual content in the images, although that was neither Weston's nor my intent. It's funny to see how people project their own emotions into pictures. My classmates gave presentations on Hans Bellmer, Mark RothKo (whose painting White Center, 1950 fetched $73 million at Sotheby's), Thomas Demand, and Irving Penn.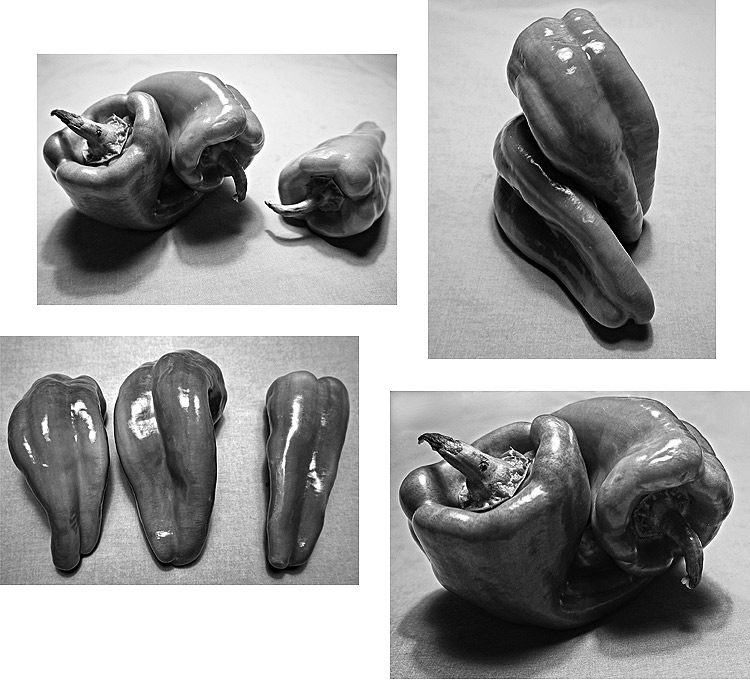 Clare's Pistachio Brittle

3/4 cup of sugar
4 ounces of dry unroasted and unsalted pistachio nutmeats
10 pieces of Hershey Cookies 'n' Cream candy

1. Melt the sugar in a small frying pan on high heat. Stir to keep sugar evenly heated. Smash chunks of sugar.
2. Remove pan from heat when sugar is a light to medium brown color. Add candy pieces. Continue stirring the sugary mixture.
3. Add pistachio nutmeats to mixture and stir slowly to cover all the nuts.
4. Pour contents onto cookie sheet lined with aluminum foil and smush mixture as flat as possible.
5. Cover with aluminum foil and place in refrigerator for at least ten minutes. Remove from refrigerator, break into pieces, and enjoy.

Created May 2013.
Clare's Apple Tart

1 cup all-purpose flour
1/4 teaspoon baking powder
pinch of salt
2 large Fuji apples
1 large egg
1/2 cup brown sugar
3 tablespoons agave nectar
1/2 teaspoon pure vanilla extract
1-1/2 teaspoons of ground cinnamon
1/2 cup butter, melted, and cooled

1. Preheat oven to 350 degrees F. Spray Pam in a 9-inch springform pan and put it in a baking tray.
2. Peel apples, cut in pieces, and remove cores. Dice apples into half-inch chunks.
3. Beat all ingredients but the apples in a large bowl untl you have a thick, creamy batter.
4. Using a rubber spatula, fold about one third of the apples, turning the fruit so that it's coated with batter. Scoop mixture into the pan and flatten it with spatula until it's even. Spread remaining apples evenly over mixture.
5. Slide pan into oven and bake for 55 minutes or until knife inserted deep into the center comes out clean. Remove pan from oven and let cool for 15 minutes.
6. Remove sides of the springform pan. Allow cake to cool until it is just slightly warm or at room temperature.

Created May 2013. Augmented February 2015.
Clare's Marscapone Apple Cake

Cake Layer:
1 cup all-purpose flour
1 teaspoon baking powder
1/4 teaspoon salt
2 large eggs
1/2 cup powdered sugar
3 tablespoons agave nectar
1/2 teaspoon pure vanilla extract
1/4 cup whole milk
8 tablespoons (1 stick) salted butter, melted, and cooled

Cream Layer:
1 large egg
8 ounces Mascapone cheese
1/2 cup brown sugar
1/2 teaspoon pure vanilla extract
4 ounces of raw cooking pecans

Topping Layer:
2 large Fuji apples
2 teaspoons of ground cinnamon

1. Preheat oven to 450 degrees F. Spray Pam in a 9-inch springform pan and put it in a baking tray.
2. Beat all cake layer ingredients in a large bowl untl you have a smooth, creamy batter.
3. Using a rubber spatula, scoop mixture into the pan and flatten it with the spatula until it's even. Put the pan in the refrigerator.
4. Beat all cream layer ingredients but the pecans in a large bowl untl you have a smooth, creamy mixture. When you are done beating the mixture, fold the pecans into the mixture.
5. Remove pan from the refrigerator. Using a rubber spatula, scoop the cream layer mixture into the pan and flatten it gently with the spatula so it's even on top of cake layer. Do not cover cake layer completely. Leave about half-inch from the sides of the pan. Put the pan in the refrigerator.
6 . Peel apples, cut in pieces, and remove the cores. Dice apples into half-inch chunks.
7. Remove pan from the refrigerator. Cover cream layer mixture with apples taking care to cover only cream layer.
8 . Slide pan into the oven and bake for 10 minutes. Reduce temperature to 400 degrees F and bake for 25 minutes. Reduce temperature to 350 degrees F and bake for 5 minutes. Remove pan from oven and let cool for 20 minutes.
9. Remove sides of the springform pan. Allow cake to cool until it is just slightly warm or at room temperature.

Created June 2013.
Clare's Most Excellent Stir-Fry

Moo goo gai pan, or mushrooms with chicken, is one of my favorite Chinese dishes and it is so easy to make. The secret to a great stir fry is the marinade and here is where you must use your own taste buds and good judgement to find the perfect balance of sweet and salty that you like.

Marinade:
2 tablespoons oyster sauce
1 tablespoon Chinese rice wine
1 tablespoon soy sauce
1 tablespoon all-purpose flour
1 teaspoon raw cane sugar
1/4 teaspoon sesame oil

Other:
4 dry Shiitake mushrooms, reconstituted with water for one day, thinly sliced
6 chicken breast tenderloins
1 inch round red bell pepper, thinly sliced
2 inch round sweet onion, thinly sliced
2 slices of ginger root

Optional:
bean sprouts, water chestnuts, bamboo shoots, cashews

1. Mix the marinade ingredients in a bowl, stirring around and around with a spoon until it is a nice thick brown gravy.
2. Immerse chicken tenderloins into gravy. Cover bowl. Let sit for ten minutes.
3. Preheat sauté pan on medium-high heat. Put marinaded chicken and mushrooms in pan. Cook for one minute, flipping over all ingredients every 30 seconds.
4. Add remaining incredients. Add approximately 2 tablespoons of oyster sauce directly to ingredients in pan. Use a short chop motion into the ingredients with your spatula. Gently scrape the bottom of the pan during this chopping motion so nothing sticks to the pan. Cook until chicken looks done, flipping over all ingredients every 30 seconds.
5. If adding cashews, I recommend tossing them into the pan in the final 30 seconds.

If you want to include meat in your stir fry, such as beef, chicken, or pork, be sure to tenderize it first. Tenderizing and then marinading your beef for a few hours is the secret to making even the toughest pieces of meat taste delicious. Please remember that the best stir-fries are the ones in which the chef is sampling the meat as it is cooking to achieve the desired temperature. I like my meat medium-rare but some may prefer well-done. Always cater your food to your guests.

Created March 2014.


Mushrooms with Chicken


Buddha's Delight