Welcome to my food page! I'm known throughout Philadelphia as The Yummy Girl. I'm a Yelp! Elite reviewer and have been to so many nice restaurants with my friends and family that I consider myself blessed in many ways. A new culinary experience is like discovering a hidden treasure. I don't have a favorite cuisine because there are fantastic things to eat in all of them. Food is an aphrodisiac to me and those who are as adventurous as I am will ultimately win my heart. My greatest culinary adventure is my trip to India in 2011 where I got to explore and enjoy authentic Indian cuisine.
Television Appearances
"Braz BQ" on Eat Street, Episode 516, The Cooking Channel
"Undrgrnd Donuts" on FYI Philly, ABC Channel 6
2013 Amateur Sushi Contest Winner
In April 2013, I entered Madame Saito's Nine Annual Amateur Sushi Making Contest and was one of eight contestants. Although my sushi making experience might seem limited by some (I took Madame Saito's courses, The Art of Sushi Making and The Art of Sushi Making Level 2, and prepared maki rolls at home), I used my creativity, resourcefulness, and time management skills to deliver the winning sushi plate!
| | |
| --- | --- |
| Me with my knives | My Fruits and Flowers theme that won First Place |
My Favorites...
Steak Place: Morton's, Capital Grille, Butcher & Singer, Barclay Prime, Ruth's Chris, Davio's, The Palm... there's no shortage of fine steak restaurants in Philadelphia. For best food, I like Morton's. Even with the changes of ownership and decor over the years, the restaurants in Philly and KIng of Prussia consistently knock out great food prepared to your exact specifications. Their Steak and Seafood special for $59.95 is the best deal around, but even before they had these specials, I was going there and loving every minute of it. The filet mignon is excellent, but the ribeye is my favorite. For ambience, oh my God, I love love love Butcher & Singer. The high ceilings are fantastic and it's a Stephen Starr restaurant, so you know everything will be great. I recommend the Porterhouse.
Last Meal on Earth: Zama's omakase. This was a difficult decision for me because I love Morimoto so much, but Chef Zama has truly impressed me with some very adventurous dishes.
Looking for reviews from 2014 onward? They're here.
Amada
My friends, Chris W and his wife Christine, joined my friend Philip and I for a baby suckling pig roast at Amada. Chef José Garces brines each suckling pig for 24 hours in a salt water and sugar solution, to ensure the meat is tender and flavorful. He then confits the pig in pork fat for up to three hours. After roasting it at 250 degrees for another hour to crisp the skin and lock in its natural juices, it's finished with sea salt and arbequina olive oil. The skin is crispy bacon-like and very tasty. The cheeks were tender, moist, and almost reminded me of a custard. We didn't get to try the neck or the brains like last time because they took the head away too quickly. The meat itself was oh-so-tender, so soft, juicy, and moist and even tasted great the next day after being nuked in the microwave. The meal also included four sides: Charred Green Onions, Herb-Roasted Fingerling Potatoes, Chickpeas with Spinach, and Rosemary White Beans with Ham. Our favorite was the white beans and ham. The amount of food we received was enough for four more people. We will definitely be piggin' out again sometime in the future.
Las Bugambilias
My friend Philip and I dined at Las Bugambilias, a traditional Mexican restaurant with an array of entrées that will satisfy even the pickiest eater's palate. I found it uniquely ironic that meals this large could be served in such cramped spaces. The restaurant is small and cozy with not much room between seats save for the one golden table for two next to the bookshelf of knick-knacks that we were fortunate enough to acquire. I had a hard time deciding between the ribeye and the langostinos, but, in the end, seafood won out. Five beautiful langostinos sat on my plate each split down the middle and stuffed with a generous portion of fresh garlic, herbs, and other spices. "The whole restaurant smells like your langostinos... it's making me so hungry!" our waitress admitted. The dish was extraordinary. All of the flavors were awesome. The confetti rice and black beans were standard staples more for tempering the spices than actual taste. A curious cabbage and red beet salad was also included, but I barely touched that. The langostinos were sooo good and were the focus of my meal, so much so that I forgot to give props to the rest of the meal, the marvelous ceviche mixto of shrimp, crab meat, and flounder and my friend Philip's juicy and flavorful filet mignon, by far the best filet mignon served outside of a steak house... and for half the price, too! For the longest time, I've been confusing the word "langostinos" with "langoustines," often using them interchangeably. The two species of sea creatures are actually very different from one another.Langostinos are commonly used in the restaurant trade to refer to the meat of the squat lobster, which is neither a true lobster nor a prawn. It is more closely related to porcelain crabs and hermit crabs. Crustaceans labeled as langostino are no more than three inches long and weigh no more than seven ounces. By contrast, langoustines are slim, orange-pink lobsters that grow up to ten inches long. They are more related to true lobsters, but cannot be marketed as lobsters according to the FDA. Both langostinos and langoustines have creamy soft tail meat that is much more flavorful than shrimp and lobster.
a.kitchen
My friend Philip and I went to a new trendy little restaurant in Rittenhouse Square called a.kitchen, which is on the ground level of the luxurious AKA Hotel. Yelp gave it mixed reviews, so here's my take on it. I seldom order the least adventurous thing on a menu like most people do, so I decided against getting the pork belly risotto fritters. Instead, I ordered the razor clams for my appetizer and the leg of lamb for my entrée. The razor clams arrived four on a plate and were smothered in a generous amount of garlic, herbs, and oil. The texture of the clams was like the stems of straw mushrooms and the garlic flavor was very strong and punchy. One Yelp reviewer complained that the food was bland. He must've eaten at a completely different restaurant because the food was anything but bland. The lamb was tender, juicy, and flavorful with a black olive chutney next to the radicchio for an extra kick. We sat next to a couple who complained about their meal the entire time they were there. The husband complained to his wife that the bread was stale (it was sourdough bread), questioned why there were three instead of four pieces of food on a sharing plate (did anyone ever teach him how to cut something in half?), and requested A1 steak sauce to go with his flank steak (never ask for A1 unless you're in a diner). Our drinks were comped because a.kitchen was still in the process of obtaining its liquor license, so while the restaurant can't legally sell alcohol, they can give it away for free. All in all, a good first experience. I look forward to more of the same.
10 Arts [ CLOSED ]
My friend Philip and I went to 10 Arts for a special tasting menu prepared by Chefs Eric Ripert and Jennifer Carroll. It's hard to find a more incredible and complete meal with many of my favorite meats and seafood. The striped bass was moist, savory, and delicate, perhaps the best preparation I've experienced in several years and my favorite dish of all. The other five fishes were good to great.The lamb was competing head to head with the fish, but in the end it's all about taste and presentation for me. A striped bass filet rolled up into a cylinder is a treat that most fried seafood eaters will never understand and enjoy. Too bad. The octopus salad had the most tender pieces of cooked octopus ever. It was a joy to eat. The roasted asparagus with soft poached egg was a pleasant surprise. It is so simple, but the combination tasted great. The thinly pounded salmon with foie gras and toasted brioche was very good. The dessert was merely good. It was a deconstructed lemon meringue pie with cardamom yogurt sorbet and cashews tracing a path across the plate. It's been a while since I had my picture taken with a celebrity, so here's me with the two world-renowned chefs. Many chefs consider Jamison Farms lamb to be the best and if you've been to as many fine restaurants as I have, you'll notice the size difference between Jamison Farms lamb and the imported stuff from New Zealand. They grow them big and fat in these parts. Top Chef contestant Jennifer Carroll did a good job with her roasted lamb preparation and included a quinoa and feta tabbouleh, an exotic addition to an otherwise traditional dish. The pomegranate sauce was really good and elicited a smile from my face. I almost forgot to mention the amuse bouche at the beginning of the meal, a little raw oyster with a big flavor. God, I'm still thinking about how good the striped bass was. Chef Terence Feury prepares great striped bass and Matyson does a very good one, too, but Chef Ripert is the seafood master. His bio includes being annointed a coveted three-star Michelin rating for his extraordinary food at Le Bernardin, which I've had the pleasure of experiencing.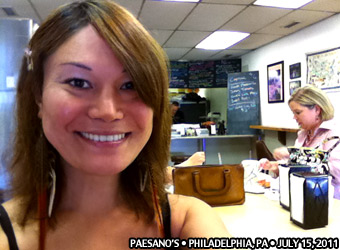 Paesano's
I tried a Paesano's Arista sandwich (whole roasted suckling pig, Italian long hots, broccoli rabe, and sharp provolone) and it was so good it made me cry. "Oh, my God! This is so good, I can dream about this," I said to the two coworkers who were with me. I closed my eyes. I was in pork heaven. The meat was so tender and juicy and the broccoli rabe added more delicious juiciness to it. The long hots and sharp provolone, two things I normally don't like, actually worked well with this meat and vegetable combination. When we finished our sandwiches and were about to leave, I walked up to the front counter and told one of the cooks, "This is the best roast pork sandwich I've ever had." "Oh, thank you, thank you," he exclaimed in a heavy Italian accent, "and thank you for gracing us with your beautiful face!" That made me giggle and blush. Carpuccio's Meats, right next door to Paesano's, sells fresh homemade sausage. I wanted something different, so I bought two kinds of veal sausage, veal with garlic and veal with green peppers and onions. An older man next to me took my lead and bought some veal sausage, too. He turned to me and said, "If we don't like this, whaddaya say we come back here next week and beat the owner up?" He chuckled and I laughed in response. When I returned to my office, I cooked a small piece of the veal with pepper and onion sausage in my microwave for 30 seconds and --- oh --- my --- Gawd! --- it was the best sausage I've ever tasted. Chunks of ground veal, diced onions, and diced green peppers with black pepper for flavor. It was so good! I look forward to enjoying it with the veal canelloni my friend Philip and I bought from Talluto's.
Sawatdee
My friend Philip and I went to a new Thai restaurant called Sawatdee for dinner. We started our meal with an appetizer of fried puréed chicken and shrimp cake, which tasted a lot like chicken nuggets infused with shrimp flavor. For my entrée, I had a dish that was like a crabmeat quiche with bok choy on the side. It was unique in that I had never had Thai quiche before. It was good, but not exceptional. The real winner was my friend Philip's roasted duck in coconut milk curry, cherry tomato, pineapples, and Thai basil. That was awesome.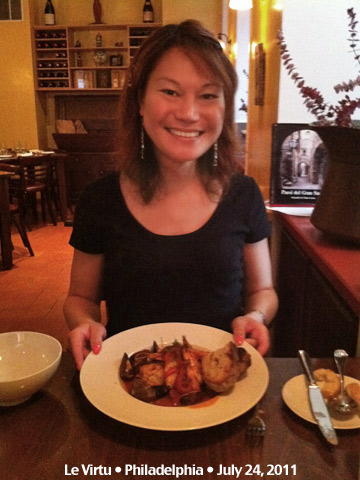 Le Virtu
My friend Philip and I went to Le Virtu where we enjoyed appetizers of fazzoletti ("handkerchief pasta") with braised duck ragu and entrées of seafood stew and seared dorade filets. I always order the fazzoletti because it is quite simply one of the best pasta dishes in Philadelphia, second only to the incredible pasta dishes at Vetri. My seafood stew included tender pieces of monkfish, prawns, calamari, oysters, and clams. The stew had a delicious tomato and roasted red pepper broth, much like a nice cioppino. I could forgive the burnt toast that was included with my stew only because the bread at the beginning of the meal was very good. Not everything is great a Le Virtu, but I've been happy with the handful of dishes I've ordered there.
Indian Restaurant
My friend Philip and I had dinner at Indian Restaurant, which is the absolute dumbest name for an Indian restaurant, but the food is good and appears to be a carbon copy of the highly regarded King of Tandoor located in another part of town. We ordered the Bengali shrimp appetizer and lamb korma, which were quite delicious. I expected the Bengali shrimp, served with steaming hot puffy bread, to be quite spicy, but it turned out to be mild and flavorful. The lamb korma was mild and sweet, not the sweetest I've ever had, but it tasted great with the tender cubes of lamb. We got a free rice pudding dessert, perhaps because we were the only customers seated between the hours of five and six or perhaps because the young Indian boy wanted to check out my cleavage. Whatever the reason, we enjoyed the free dessert.
Village Whiskey
If you've never had a burger at Village Whiskey, you're in for a real treat because these are gourmet burgers with the highest quality ingredients that can be enjoyed by everyone. You can even spruce up your burger with haute cuisine toppings, such as foie gras and truffled mushrooms if you'd like or plain with lettuce and tomato. This is the first burger I've ever eaten that doesn't need ketchup, mustard, mayonnaise, or some other condiment because the burger patty is so juicy. The only thing that sucks about this place is getting a table. The place is tiny, so seating is limited. You can't make a reservation and will likely be greeted with a 30 to 45 minute wait on most evenings. Sunday brunch might be the best time to try to get a seat. On a few trips there, we ended going to Tinto as our backup plan because we couldn't go to Village Whiskey.
Bibou
My friend Philip and I had dinner at Bibou tonight. My foie gras ravioli and roasted bone marrow were delightful. If you've ever had French style roasted bone marrow before, it is typically prepared as a jelly that you spread onto toast points. Bibou's version, at least the one I had tonight since they change their recipes weekly, had the toast points in crumb form with the marrow spread, chanterelle mushrooms, butter, and seasonings blended together and presented in a big . I give Chef Pierre Calmels an A+ for making this version of bone marrow accessible to the masses. It was like Thanksgiving Day turkey stuffing... beefy, earthy, juicy, buttery, and crunchy in every bite. So what is traditional roasted bone marrow like? One person describes the experience as "bread soaked with meat juices and fat." It is similar to taking a piece of bread and soaking up leftover juices from a beef dish, except the bread is nice and toasty and the marrow is more robust than the leftover juices from any dish. Another says bone marrow is "sumptuous, decadent, and unarguably meaty. I absolutely love the stuff." Wow, these are some pretty nice pictures taken with my iPhone camera!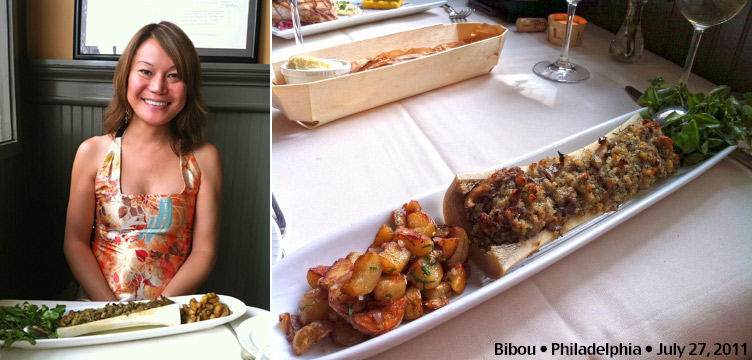 Zama
My friend Philip and I heard that Zama and Pierre Calmels of Bibou created the Bibou Roll that features French white snails sautéed with shallots, butter, edamame, soy sauce and a dash of cream. The escargot is delicately placed atop a thin green bean and raw fennel roll wrapped in red shiso paper. We ordered that and Questlove's Drum Roll, a Washugyu beef and provolone cheesesteak roll also wrapped in red shiso paper sprinkled with chili flakes. Both were delicious. The Bibou Roll is definitely a winner.
Oyster House
My friend Philip and I went to Oyster House after work for some awesome seafood. I had the Roasted Oyster Sampler that includes six small oysters in three different preparations, including 1) spinach, pernod, and herb butter, 2) lemon and ginger breadcrumbs, and 3) garlic parsley butter and lardo (the fat in bacon). The oysters were small, but had so much flavor in them! For my entrée, I ordered a plate of Fried Ipswich Clams. As any New Englander will attest, whole belly clams are the only way to enjoy clams. The bellies are packed with so much yummy flavor similar to lobster tomalley or crab hepatopancreas. Cape Cod Times says: "Fried clams with bellies or without? The age-old question of how to eat these deep-fried bits of summertime goodness may never be answered, but as local clam connoisseurs will tell you, those with guts enough to eat them whole get the benefit of the full flavor. The line between those who do and those who don't seems clearly drawn in geographical terms. Real Cape Codders either eat the bellies or are too ashamed to admit they don't."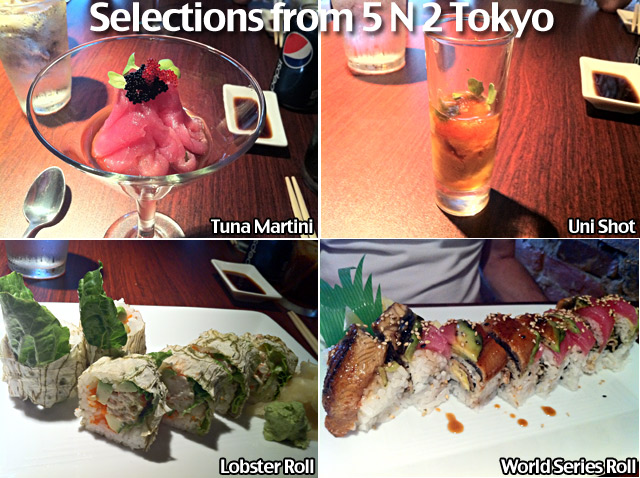 5 N 2 Tokyo [ CLOSED ]
My friend Philip and I went to 5 N 2 Tokyo. We tried two of their appetizer specials, the Tuna Martini and the Uni Shot, and three rolls. The Tuna Martini is a long piece of tuna sashimi delicately wrapped around a bed of imitation crab "noodles," topped with two kinds of caviar, and marinated in ponzu sauce. The Uni Shot is a sea urchin sitting in a quail egg with sesame seeds was also good, but didn't have the long-lasting satisfaction of the Tuna Martini. The Lobster Roll is a lobster claw and mayo "salad" with avocado wrapped in rice and soy paper. The World Series Roll is a soft shell crab tempura roll with tuna and eel on top. Both rolls were okay, but not without flaws. Every time I think of a lobster roll, I think of Pod's Lobster Roll and, while it may be an unfair comparison, it is worth noting that if you want to call what you sell a lobster roll, it should have a lot of pure, unadulterated lobster in it, not lobster and mayo salad. The World Series Roll was a little disappointing because I thought the eel and tuna toppings were great, but the soft shell crab tempura middle had too much bready-type breading and not enough soft shell crab meat. We saw a lot of leg meat, but where was the body meat? The strange thing is these premium rolls didn't compare to the pure, unadulterated taste of the yellowtail and scallion roll that was only one-quarter the price of the premium rolls! It is amazing that you can have lunch, a roll and a Pepsi, at 5 N 2 for less than $5. It's not a place I'd run back to again soon, however.
South Street Souvlaki
South Street Souvlaki finally opened its doors after a month-long hiatus. The owners take a vacation for a month in July to August, so it leaves foodies like me with one less option for Greek fare. "We only have sandwiches and salads right now, but we're slowly cooking more and we'll have the full menu as the day goes on," the owner said with a smile and a wink. When a stranger winks at you, you know there's something about you he likes. We ordered a small combo appetizer platter and that could've been our entire meal due to the generous portions of hummus, baba ghanoush, tzatziki, red beets and garlic dip, grape leaves stuffed with rice, Taramosalata (whipped roe sauce), feta cheese and olives, but we also indulged in lamb gyro sandwiches. Everything was delicious and nutritious, but, alas, Greek food makes your breath stink like something crawled out of Hades.
Smith & Wollensky
My friend Philip and I had lunch at Smith & Wollensky where we each had a Wollensky Butcher Burger. I felt the burger meat compared favorably to Village Whiskey's burger meat and the bonuses of cheddar cheese and bacon along with a fistful of fries sweetened the deal. The only thing bad about the burger was the bun, which tasted stale. By contrast, Village Whiskey's burger has a very soft bun. I don't judge a burger by its bun, so for me Smith & Wollensky's burger is my new favorite. Butcher & Singer is our next burger destination. After lunch, we drove down to South Philly's Italian Market to buy some fresh pappardelle pasta at Talluto's, fresh lamb and garlic sausage at Carpuccio's, and fresh tortilla chips from Tortilleria San Roman. I sampled a warm tortilla fresh off the grill. It was amazing!
Fish
My friend Philip and I dined at Fish where I had blue bay mussels soaked in Thai coconut curry and spanish mackeral with fava beans, smoked eggplant, lamb breast, artichokes, cucumber, pistachio, and harissa. He had raw oysters on a halfshell and crispy sardines with tomato consumée. We enjoyed our oysters and mussels and were looking forward to our fish entrées, but both failed as something we'd order again. My first bite of mackerel was filled with a lot of bones and I was afraid to offer a piece to Philip because of this. How can a nice restaurant charge $30 for a fish entrée with bones in it? Philip's sardines dish was the epitome of bone-in fish dishes. I would never be able to eat that. Beyond my first bite of mackerel, the rest of it and the accompanying vegetables and bite-size piece of lamb were very good. Still, it wasn't enough to make me gleefully jump up and down over it. My exotic cocktail of amaro, simple syrup, and Mexican cola tasted like tamarind soda one moment and medicine the next.
Devon Seafood Grill
My friend Philip and I went to Devon Seafood Grill where we had delicious Jumbo Lump Crab Cakes with Creolé remoulade and mango tartar sauce and I had the Macadamia Crusted Opah with orange buerre blanc sauce, grilled asparagus, and seasonal berries. I am normally deathly allergic to macadamia nuts, but I took a chance and am so glad I did because the fish was heavenly, so much better than the Spanish Mackerel I had at Fish the night before. I would definitely order the opah again.
Supper
My friend Philip and I went to Supper for dinner where we had mini lobster rolls, boneless lamb shank, deviled eggs, and hush puppies. I loved my lobster roll and the lamb was totally divine, tender and flavorful meat that was cooked just right.
Chabaa
My friend Philip and I went to Chabaa in Manyunk for dinner. We shared the appetizer sampler platter, which included chicken satay, spring rolls, fried tofu, and fried dumplings. He had the razor clams with egg noodles and I had the egg crepe filled with shrimp pad thai. I liked the ambience; it's a nice date place. The only problem was the food was bland and didn't have any kick to it. Philip's razor clams were a bit overcooked. It doesn't take much time to turn a heavenly razor clam dish into a rubbery one.
Ocean City
A group of us from my workplace headed to Chinatown to eat lunch at Ocean City, a recently renovated restaurant under new ownership. We enjoyed the following dishes: spicy jellyfish; beef with wide flat noodles; jumbo shrimp with walnuts; fried tilapia, tofu, spinach, and mushroom hot pot; Hunan pork; and the special of the day, mixed seafood with calamari, scallops, and sea cucumber. The six of us got to sample all of these great dishes for just $16 per person. Afterwards, we went to a little Vietnamese bakery down the street where we got these almond cookies that are so good I swear they are laced with crack. It is the best cookie you can buy for a dollar.
Tinto
My friend Philip and I went to Tinto for a nice dinner of soup and tapas. I loved my Sopa de Castaño, a truffled chestnut soup with duck and mushroom hash, fried quail egg, and pistachio. I also had the duck confit and pork belly. The pork belly was delicious. I also tried one of my friend Philip's spiced meatballs, which was very nice. He discovered the secret to Village Whiskey's tasty burgers through an article he read: the restaurant adds pork to their burger meat! Now why didn't anybody else think of that?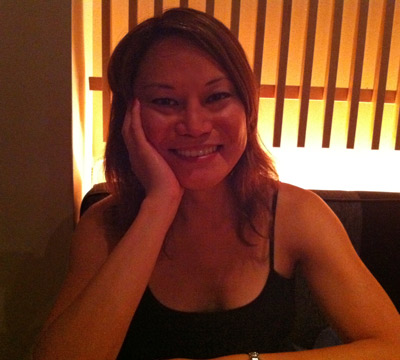 Zama
Tonight's meal at Zama was so good, it really livened up my dampened spirits from an otherwise exhausting day. A three-hour management class, a two-hour meeting, various little tasks in between, and three hours spent with my children can certainly tire a girl out! My ex asked me to help our seven year old with his homework, so not only did we finish one day's worth of homework, we went through and did the entire week's homework in one sitting. He's ungodly smart like me, but he's also unmotivated. He'd rather play with his LEGOs instead. I urged him to do his counting exercise, from 0 to 50, and he did so with some reluctance. "I already know how to do that," he'd say. "You have to count without making a mistake," I said. My two year old started counting along with him. It took three tries, but my seven year old counted to 50 on his own on that third try. "You don't know how happy this makes me feel," I said hugging him. Two weeks ago, he couldn't fathom a number beyond 20. His normally bored look was suddenly transformed to one of cognizance, as if he had acknowledged that I was happy. At Zama, my friend Philip and I ordered sushi a la carte. We shared a Black Spider roll (soft shell crab maki topped with black roe) and a Toro Scallion roll and each ordered pieces of nigiri sushi, including uni (sea urchin), tomago (egg), Albacore tuna, Tasmanian salmon, whole scallop, tuna, Red Snapper, and more. It was a late-night meal, but the restaurant still looked bright and beautiful inside. I actually have many friends who love sushi and some of my favorite friends have dined here or are about to dine here soon.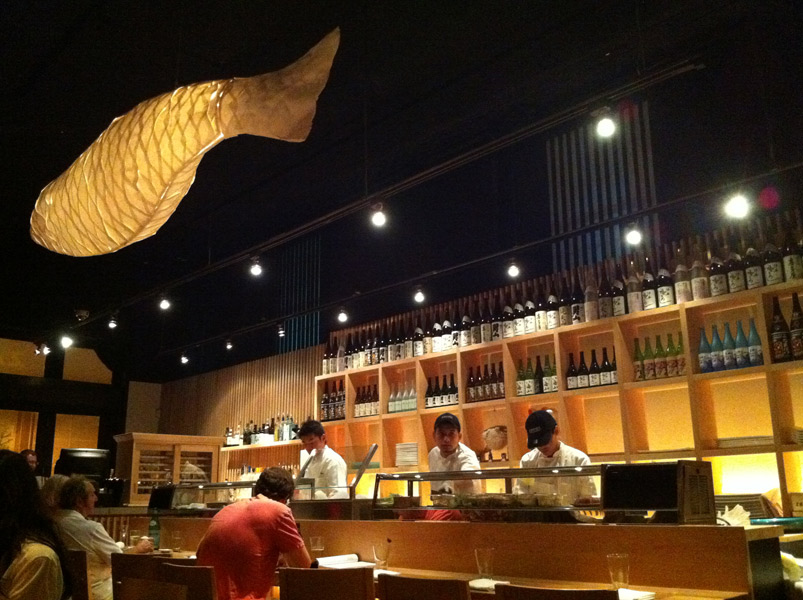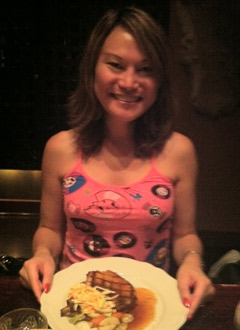 The Farmers' Cabinet [ CLOSED ]
My friend Philip and I had dinner at the The Farmers' Cabinet, a new restaurant that received rave reviews for its food and ambience. The place was dark - very dark - and the flickering overhead lights, long wooden tables and benches, and mounted deer heads looked more like a set from a horror movie than a fine dining establishment. The menu had Restaurant Week selections on one side and a subset of its regular menu on the other. "We have a new chef," our waitress said. Perhaps that was a warning of things to come because the food was not as fantastic as the reviews had led us to believe. Our escargot appetizers were bland, lacking any of the marvelous flavor of such fine French establishments as Bibou or Bistrot La Minette. Our pork chop entrées were also bland and overcooked. One bite had a briny taste to it, much like ham. Yuck. Pork chop is not supposed to taste like ham! I have to give my entrée high marks for at least looking like a tasty pork chop. Ironically, the Restaurant Week menu had more interesting-looking selections than the regular menu and perhaps we should've seen that as a major warning sign. For dessert, I got the vanilla custard and Philip got the strawberry rhubarb pie. The desserts were actually good. We went to Sampan for drinks afterwards. There was nothing sophisticated about Farmer's Cabinet and it was ironic that the couple behind us were saying, "Oh, I can't go in there. That looks too cool for me." If all it took to look cool was to turn off the lights, more restaurants would be doing it.
Parc
My son, my friend Philip, and I walked around Rittenhouse Square to see the Fine Art Show the next day. Over 160 artists exhibited their work, everything from paintings to sculptures. There were art professionals of all levels. Some of the work was outstanding while others looked like my seven year old could paint better. It dawned on me that almost anyone could be in the show provided they had a portfolio of work and could pay the booth fee of $400. The closest I saw to a photography exhibit involved mixed media art. I wonder how much work actually gets sold. I saw lots of people looking, but nobody buying. We went to Parc for brunch. My son had the Macaroni Gratin, a shell pasta and cheese casserole, which he really liked. I had the 1/2 Pound Lobster, chilled lobster meat expertly de-shelled and cut into delicious bite size pieces. I like how Parc took the concept of chilled seafood one step beyond any of the fine steak and seafood restaurants. Philip had the Cheeseburger, which he thought was a really good alternative to Village Whiskey's burger. After brunch, we went to Capogiro for gelati. Later in the afternoon, I went to my nail salon and got my nails done in a peach shade called Romantique.
Fork
On Sunday evening, my friend Philip and I went to Fork for dinner. I ordered the Crispy Lamb Confit and Lightly Smoked Duck Breast. Both were great dishes. The pearl onions accompanying my lamb and the carmelized onions, turnips, and Bosc pear accompanying my duck were nice accents to the main meat. My lamb confit had the same textures as a nice piece of pork belly. My duck was perfectly cooked, from the aromatic, flavorful layer of skin to the juicy, succulent medium-rare meat. Oh, you can order your duck any way you like, but if you order it medium-well like the dummies sitting next to us, your duck meat will taste very different from the way it was meant to be enjoyed. I had the Assortment of Cookies for dessert, which is the cookie off of every one of the available dessert selections. There were some hits and some misses like any cookie assortment, but overall I liked the variety.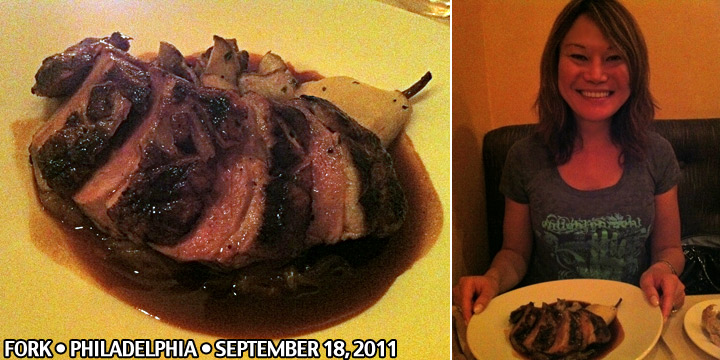 Le Virtu
My friend Philip and I went to Le Virtu for dinner tonight. We each ordered the fazzoletti "handkerchief" pasta with braised duck and beef ragu for our first course. It was sooooo goooood!!!!! Philip had the whole rabbit "porchetta" style with braised lentil and chestnut ragu for his second course. I had the lamb loin with lentils and artichoke cream. The lamb was also prepared porchetta style. A lot of fine restaurants prepare their meats this way (think Daniel and James, two awesome but defunct eateries in Philly, and Babbo in NYC). There were three textures represented in my cylinder of meat: tender and juicy, firm and salty, fatty and flavorful. I enjoyed each one. This place enjoys waves of popularity, so be sure to make a reservation if you go.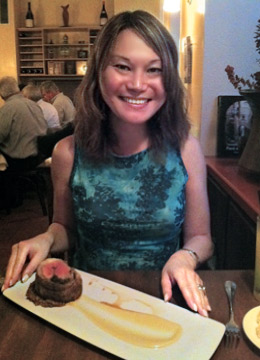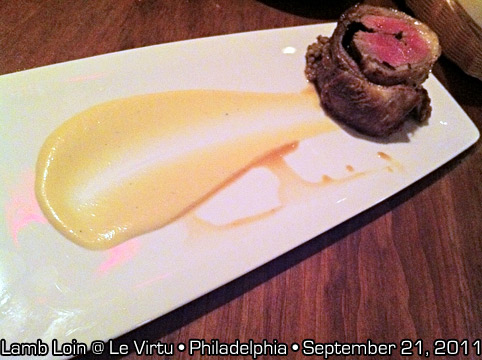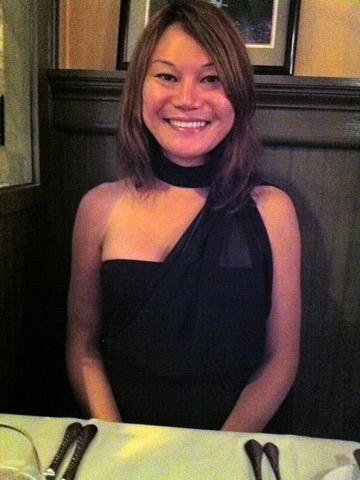 Bibou
I looked super hot last night, I'll admit. I wore the kind of top that absolutely requires nice breasts to wear and I paired it with long, flowing slacks for a very sleek, dinner babe look. To complete the look, I even drove my little black BMW to our dining spot, Bibou, and, yes, I got a number of glances from drivers pulling up next to me. If there's one place I wouldn't mind eating every week, it's Bibou. The food is outstanding, the servers are very nice, and it's a BYOB so you can bring your own alcohol. It even has free parking! Plus, how many restaurants give you the opportunity to talk to and thank the chef after your meal? Chef Pierre Calmels and his wife and hostess Charlotte are the nicest people and they're always genuinely happy to see you. Be forewarned, though. Because Bibou is so good, you will likely not get a table without a reservation and, even if you do, you'll have to be happy with whatever table you get because the place is small, cramped with too many tables in its space, and is as popular as Le Bec-Fin used to be. Why? The obvious answer is Chef Calmels. He is possibly our area's finest French chef having been executive chef at Le Bec-Fin for five of his eight years there. His sous chef at Bibou was also a chef at Le Bec-Fin. Bibou serves extraordinary French food at reasonable prices and without any of the pretentiousness that turns off a lot of people from French restaurants. My friend Philip and I each ordered the Foie Gras Duo for our appetizers. Can you believe it? Two preparations of foie gras! Foie gras port wine crème brulée and seared foie gras with sautéed fig in a red wine, campari gastrique sauce. The taste of the crème brulée might be a turnoff for those expecting their crème brulée to be the usual boring sweet vanilla variety, but this was a marvelous version made with my favorite organ meat. The seared foie gras sat atop a small piece of sweet toast that was very much like French toast. The accompanying sauce tasted very much like maple syrup. Both preparations reminded me of a decadent breakfast. For our entrées, I had the braised veal cheeks, rutabaga purée, turmeric spaetzle, fava beans, and sundried tomato, and he had the poached red snapper roulade with pasta au gratin, baby arugula, and almonds. I sampled the red snapper and it was delicious, prepared in a porchetta style. Add Bibou to the list of places that serve items in an elegant porchetta style! My veal cheeks were simply the best entrée I've ever had the pleasure of eating at Bibou... and I've had quite a few meals here. I have to say that their Pied de Porc, which is braised pig foot stuffed with foie gras, has gotten plenty rave reviews, but is not my thing. There was just too much gelatinous fat for me and too many lentils in the dish. I've had the distinct pleasure of enjoying Bibou's soft shell crabs, a summer dish, on three occasions with marks of good to excellent each time. I've also had their bone marrow, a divine entrée that only a foodie like me will understand. Craig Laban of the Philadelphia Inquirer calls it "caveman cuisine at its most decadent, and so primally good, like eating Satan's stuffing." As good as all of these entrées were, none compared to the gorgeous dish in front of me last night. Oh, it is an ugly-looking dish by most standards, this braised veal, but it is gorgeous in its flavors, textures, and aromas that simply define good comfort food for the soul. Chef Calmels told me he wanted to make it more stew-like for the season. I like his thinking. If only I could eat this while sitting in front of my television watching the Eagles on Sundays!

Tashan
Tonight my friend Philip and I went to Tashan, an upscale Indian restaurant on Broad and Catharine Streets. The place immediately reminded me of Buddakan with low ceilings. "One of the chefs is from Buddakan," my friend Philip said.That statement alone told me that this place was serious about its survival. Unlike Buddakan's feeling of spaciousness, Tashan's space didn't bother me so much because everything about the decor was meticulously presented. A statue of Ganesha, the Elephant God, is the first thing you see when you walk in. "Wow, I like this place already," I said to myself. The hostess was tall, model-like, and had a pleasant smile when she greeted us. It was like a nice Rittenhouse Square restaurant teleported a few blocks too southeast. The servers were very nice and mostly attentive, although one of them seemed out of sync with her cohorts, as if she were trying to find things to say or do to prevent from getting fired. The bar and lounge area looked very nice. If the couple behind me at The Farmer's Cabinet last week thought that that place was too cool for them, they would never feel comfortable in this place. This place is dark and clubby and plays Bollywood-style techno music in the background. It's definitely the kind of place you take your hot girlfriend to and not the wife you'd rather hide at home. The food is really good and I would've said excellent had our first dish, the King Crab Tak-a-Tak, not been a huge miss. It was too salty for my liking. Things were looking gloomy at the start, but then it got a whole lot better when our Tandoori Jumbo Shrimp arrived. They were big, juicy, and full of flavor. The preparation was unlike any Tandoori meat or seafood I've had at other Indian restaurants. Suddenly, this was feeling like an Indian Buddakan again and I was sipping my specialty cocktails with delight rather than dread. Next up were the Mangalorean Sausages, or house made chicken vindaloo sausages. It was actually just one big fat sausage rather than a few smaller ones. It was very good. I could definitely taste the quality of the freshly cooked ground chicken in every bite. The Tandoor Chaamp Lamb Chops and Fennel-Scented Diver Scallops arrived together. The scallops were good, but the lamb chops... oh, my God... this is hands down the best lamb I've ever had in any Indian restaurant! The lamb was covered with a rub that was just otherworldly good. The Peshawari Naan stuffed with nuts and raisins was the best stuffed Indian bread I've ever eaten. Previously, Gobi Paratha or Garlic Naan were the stuffed breads of choice for me. The lamb, shrimp, and peshawari should be enough to convince even the most food-challenged idiot to like Indian food, but I detected some trickery involved. Was this really Indian food? Or was it Indian Fusion cuisine? Tashan's owner says no to the latter. "It's Modern Indian," he says. It's a trick, I say. Mr. Buddakan behind the grill infuses his Stephen Starr knowledge into the food and it largely works somehow. They should've named the restaurant Tashanakkan. For dessert, we ordered the Kulfi Trio, three different flavors of Indian ice cream, and the Gulab Jamun Créme Brulée. Alas, I give the nod to Philip's dessert for the fusion of two popular desserts into something more enjoyable than each alone. It was raining like crazy tonight, so we stayed inside for another drink. The Jashan drinks I've been sipping have a slice of torched peach in them. A warm, crispy, bruléed snack inside a drink... cool!
Zama
My friend Philip and I went to Zama for sushi. We each had sushi and a specialty roll. He ordered the Bibou Roll and I ordered the Zahav Roll. The Bibou Roll is a tempura haricot vert bean and fennel maki topped with escargot sautéed with edamame beans, shallots, and shiso in a soy dashi butter. I like the Bibou roll, but sadly missing are the lobster mushrooms used in the escargot dish in Chef Calmels' restaurant. The Zahav Roll is a hand roll made with Shiso flecked soy paper, Albacore Tuna, shiso, and black sesame hummus. The hummus is made from edamame beans, sesame oil, lemon juice, black sesame paste and water. The roll is served alongside falafel made from edamame beans, flour, water, Za'ater, and togarashi. It's also comes with a non-traditional Tzatziki sauce made with yuzu juice, sour cream, and créme fraîche.
Smokin' Betty's
The next day, we went to Smokin' Betty's for burgers and ribs. This place came highly recommended by one of my coworkers who always looks for a good value for his money. I ordered the Betty Burger, a half-pound sirloin burger with pork belly, avocado, cheddar, lettuce, tomato, fried egg, and roasted garlic aioli. It was good, but the pork belly meat was almost nonexistant and I have my doubts that the burger actually weighed half a pound before cooking because I've never been able to finish a half-pound burger with all of its toppings. Not at Village Whiskey, Smith & Wollensky, 500 Degrees, or the greasy spoons I used to order burgers from in my youth. This was more like a five-ounce burger. I like the barbecue sauce, which was very sweet. I requested a little cup of it to use as a dip for my sweet potato fries, which were soggy good. He had the St. Louis style ribs prepared with a dry rub. I tried one and I found myself constantly using the barbecue sauce to add flavor to it. I like my ribs wet. We went to Talula's Garden for drinks after dinner. The restaurant is in the former Stephen Starr-owned Washington Square space. I ordered the bartender's special of the night, a muddled pear juice cocktail. I woke up the next morning at around 4:30am with a terrible case of nausea and coughed up a lot of my Betty Burger. Smokin' Betty's must soak their burgers in lard or something because the meat was so rich tasting. No more Betty Burgers for me!
Distrito
My friend Philip and I ate lunch today at Distrito. I almost forgot how good this place is! The flavors are very nice, the portions are just right, and everything is made with really fresh ingredients. We had the guacamole with cotija cheese and shrimp ceviche with plaintains for appetizers and the mahi mahi tacos and the mushroom, queso, and truffle huarache (it's like a flatbread pizza) for entrées. Yummy in my tummy!
Di Bruno Brothers
I was curious about the homemade Italian meatballs I saw on Sunday evening when we stopped by Di Bruno Brothers for a look. I asked the man behind the counter for two meatballs and never would've guessed that they weigh almost half a pound. The ingredients were nothing special: ground beef, egg, pecorino romano cheese, garlic, parsley, french bread, whole milk, salt, and pepper. I heated them up along with some baked ziti I made at home. How did they compare to my famous meatballs? The parsley gave it an extra dimension of flavor. The problem was there's a little too much parsley. It was almost a meat and vegetable ball. The french bread probably makes this meatball special for most people, but as crazy as it may sound, I think crushed Cheerios is a better bread filler than any bread you can use. If you're a meat purist, I think my meatball is actually superior to Di Bruno Brothers' meatball. The oats in Cheerios gives my meatball a better texture. If I just added a little parsley and cheese to it, it would be the ultimate meatball.
Tashan [ CLOSED ]
My friend Chris W and I had dinner at Tashan. We feasted on Tandoori Jumbo Shrimp, Tandoori Chaamp (lamb chops with ginger and paprika), Wild Venison Loin, Muscovy Duck with yogurt, spices, and saag paneer, Butter Chicken (Tandoori chicken in a tomato-butter cream sauce), and garlic, onion, and coriander naan. The lamb chops were out of this world. My second favorite was the duck, which was basically a duck tikka. It was a fantastic upgrade to the chicken version of the dish I've had a zillion times in the past. Perhaps my third favorite was the venison, gamey but tender slices of I-don't-know-where-this-deer-came-from-but-it's-good kind of thing. We went to Square 1682 afterwards for cocktails by the fireplace in the Hotel Palomar lobby.
Devon Seafood Grill
My friend Chris W and I had dinner at Devon Seafood Grill last night. Chris had the Coconut Curry Mussels and Grilled Salmon Panzanella and I had the Roasted Duck Flatbread Pizza and the Seared Scallops with Meyer Ranch Shortribs with pappardelle pasta, shiitake mushrooms, leeks, and spinach. The duck pizza was stupendous, easily the best flatbread pizza I've eaten anywhere. Imagine roasted duck meat in a fig barbecue sauce with three cheeses (fontina, provolone, gorgonzola), red onions, granny smith apple slices. Awesome! We had drinks at Parc and Sofitel afterwards.
Koo Zee Doo [ CLOSED ]
My friend Chris W and I went to dinner at Koo Zee Doo, a Portuguese BYOB in Northern Liberties. The food is really good and is a fun way to introduce yourself to Portuguese food. We each ordered the Chef's Tasting Menu, five courses for $50. Each of our courses, except for the soup, was different and overall we tried ten different things. Here is what we had:
First Course: Appetizer
Salt cod sashimi with rabe puree, olives, basil
Potato and salt cod croquettes
Second Course: Soup
Puréed potato broth with collard greens and chorizo sausage
Third Course: Seafood
Creamy salt cod, carrots, onions, and potato casserole
Whole grilled sardine with roasted peppers
Fourth Course: Meat
Picanha steak with presunto (dry-cured ham), fried egg, and fried potatoes
Roasted Suckling Pig with crispy pig skin and salad
Fifth Course: Dessert
Cinnamon rice pudding
Coconut tart with chocolate whipped cream
Chocolate-covered mission figs
We liked everything but the third course. The casserole was too salty and the sardine was too bony. My favorite dishes were the picanha steak followed by the roasted suckling pig. Koo Zee Doo is a play on the word "cosido," which means "cooked" in Portuguese. Everything has a comfort food quality to it. I can picture myself sitting in front of a television watching a movie or sports game and eating any of these dishes.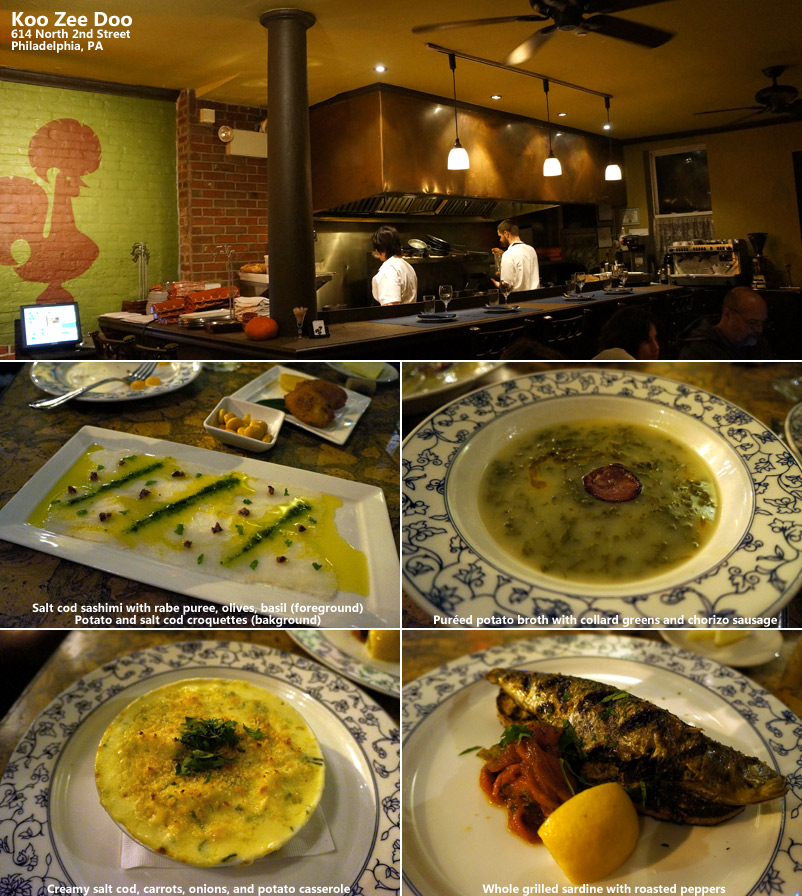 Authentic Fried Chicken
One of the ladies in my office was extolling the virtues of authentic Southern fried chicken. I talked about the fried chicken recipes I saw on the Food Network that call for buttermilk and breadcrumbs. She looked at me like I was crazy. "Fried chicken don't have no breadcrumbs or buttermilk! Real fried chicken is rolled in spices and then in flour. You put the chicken and the flour in a paper bag and shake it up. You then fry the chicken. That's all there is to it. I'm from the South. You think the slaves got breadcrumbs and buttermilk from their masters? No, the breadcrumbs would be a side dish, an accompaniment to go with the fried chicken! And the buttermilk would be served in a glass for the family to drink! Ain't no damn buttermilk and breadcrumbs in fried chicken!" she said. I asked her where I might find authentic fried chicken in West Philly, home of a lot of bad fried chicken places. She pointed me out to a gourmet food truck I'm already familiar with for jerk chicken and oxtail. "Gigi's has the closest thing to authentic fried chicken that I'm used to," she said. So I walked over to Gigi's for lunch, got the wings, and they were great. A small order with three huge wings and two sides costs seven dollars. I chose cabbage and yams. Other selections include red beans and rice, fries, and mac and cheese. Everything at Gigi's is really good. They have another truck near Amtrak station and a sit-down restaurant in West Philly.
Il Pittore [ CLOSED ]
My friend Jim took me out to dinner at Il Pittore, Stephen Starr's newest restaurant focusing on Northern Italian cuisine. Chef Chris Painter, Starr's culinary director, designed the menu that at first glance looks like a marriage between a Marc Vetri and Mario Batali menu. The gnocchi was the wonderfully soft, melt-in-your-mouth experience I've had at restaurants like Tangerine (now defunct) and Vetri. Ironically, Chef Painter worked at Tangerine at the time I experienced the said gnocchi, so this was a reunion of sorts for me. The duck agnoletti was my favorite dish. It so reminded me of Babbo in New York. A big curtsy to Chef Painter. The foie gras was in a torchon form and served in one of those silly little jars like at Farmer's Cabinet, but it was a good amount of it, so I'm not complaining. The octopus salad had a sweet and sour flavor to it, very much like relish, so this was the only iffy dish for me, but I still enjoyed it. The scallops were delicious and I'm convinced that acorn squash and chanterelle mushrooms can catapult any meat or fish to a heavenly status. My second favorite dish was the suckling pig with its melt-in-your-mouth tender meat and crispy skin. The baby Bugs Bunny carrots and cavalo nero (Tuscan Kale) gave it a stew-like quality. The pear mostarda had hints of sweetness to it and not too overbearing. The cavalo nero is worth mentioning. I thought it was collard greens at first and it kind of is because both are from the cabbage family, but this had an unbelievably smooth texture to it. All in all, Chef Painter rocks! The drink menu has new and innovative drinks, such as The Fall of Rum, a mix of Flor de Cana Anejo Rum, Allspice Dram, lemon juice, honey syrup. The best way to describe it is WOW! The service was attentive and first-rate. Perhaps the service was a little syrupy as our waitress seemed to love every selection we chose, but older folks would certainly appreciate her enthusiasm. The servers were excellent. They went on to describe each dish in detail and were exceptionally nice to me. The hostesses were great. They help you put on your coat like they did at Striped Bass, another Starr-owned restaurant. Starr needs to make sure this happens consistently at Buddakan. I wish more restaurants did this simple gesture because it adds class and a nice thank you for your patronage.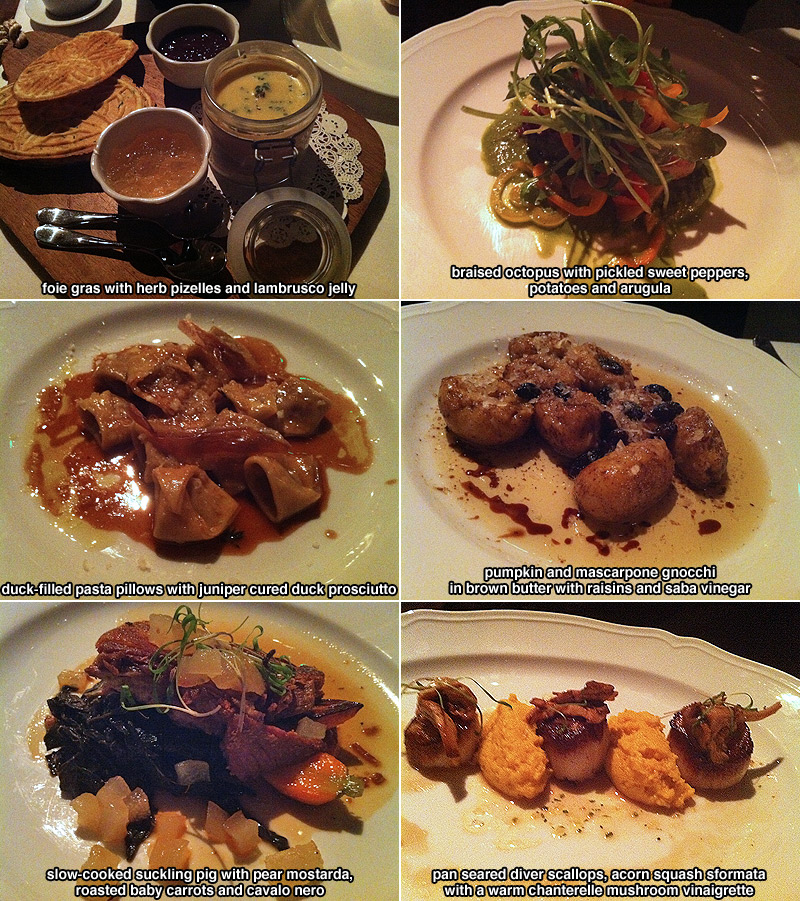 na'Brasa
Chris and I went to na'Brasa, a Brazilian steakhouse, for dinner. We tried all 15 meats and sampled items from their salad bar that features Di Bruno Brothers coldcuts and cheeses. We were disappointed that the hostesses knew nothing about the sampler platters that were advertised on their web site. It was as if they thought we were speaking some alien language when we tried to explain what we saw on their web site to them. Of the 15 meats, I liked about three of them. That's typical of places like this. I liked the picanha, beef ribs, garlic sirloin, and bacon-wrapped filet mignon. I wouldn't say the picanha is the "melt-in-your-mouth experience" their site advertises, but it's quite good because of the layer of fat covering the meat. It reminded me of ribeye steak. The beef ribs actually come in a large pot roast form. That was certainly a melt-in-your-mouth experience. I got two servings at different times during the night, but the second was not as flavorful as the first. I think all of the meats are a hit or miss every time you get them. The lamb chops, for example, were very salty on the outside, but perfect on the inside. The Di Bruno Brothers fare didn't impress me as much because I live in the city and visit Di Bruno Brothers often.
Stella
Don't let these little Stella pizzas fool you. You can get filled up pretty quickly. Chris got the Pistachio, which also has red onions, rosemary, and fontina cheese. I got my favorite, the Tartufo, which is black truffle, egg, and fontina cheese. I've always been curious about their Pistachio pizza and now I'm a convert. You can actually get full on this because the pistachios are basically the "meat" of the pizza and there are a lot of them.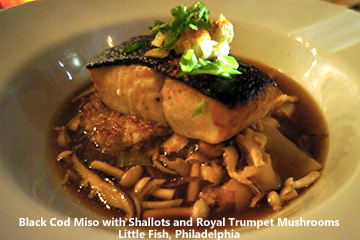 My pizza was more like a girl pizza, a cheesy flavored bread that I admitted smelled quite bad but tasted so good.
Little Fish
Did you ever have a meal where each course was better than the previous one? That's what it's like at Little Fish. Raw Kumamoto oysters followed by grilled octopus with chorizo and carrot slivers followed by black cod with miso, shallots, rice, garlic ravioli, and royal trumpet mushrooms. The grilled octopus was among the best I've ever had. More tender than Waterworks, on par with Girasole. The black cod miso had more dimension to the dish than Morimoto's or Buddakan's version. The fish was tender and meaty. The skin was crispy perfection and so flavorful. It was in stew form so everything was decadently immersed in sauce. Yummy! I personally thanked the chef for this wonderful dish. My friend Chris W liked it more than the black cod miso at Buddakan. My first food experience at Little Fish (before the renovations) wasn't very memorable and Fish is a crapshoot, but this meal was really stellar. Chris and I went to Saloon and Beau Monde for drinks afterwards where we had some interesting eye-opening conversations.
Dim Sum
I've recently learned that the pan-fried turnip cakes I love are actually not made of turnips, but daikon radishes. I also love bean curd rolls and rice noodle rolls. I miss going to dim sum places with large groups of friends. It's fun to sample many different dishes in one meal. I love variety in my meals. This is why I love Morimoto, Vetri, Amada, Tinto, Zama, and any Chinese dim sum restaurant.
Las Bugambilias
Memories of delicious langostinos lured me for a return visit to Las Bugambilias. There is something truly exquisite about a giant prawn butterflied on a plate with lots of spices covering its delicious lobster-like meat. Combine it with rice, salad, and black beans and you have a wonderful, filling meal. My friend Chris W and I thoroughly enjoyed our langostinos. Our queso with with shrimp and crabmeat appetizer could've been better as there was hardly any seafood in it, but that didn't matter because the langostinos were the focus.
Karina's
If you're in the mood for Spanish paella, Karina's Ristorante has the awesome Paella Balenciana, a blend of mixed seafood and tomato-saffron rice with chicken and Spanish sausage. The shrimp (three different sizes), scallops, calamari, mussels, and clams were all cooked to perfection. The rice was delicious. The sausage was very good. The chicken was a little dry. The paella could easily stand on its own without the chicken and sausage. It's better than the paella at Mixto and very near the greatness of the paella at Amada, although Amada isn't a fair comparison since it has Langostines in it, black squid ink, calamari with tentacles, and costs much more. My friend Chris and I went to Stir afterwards for cocktails.
Casablanca
I've always ignored this food cart because I saw Asian people running it, but I decided to try it today and am amazed at how good the food is and how much you get for your money. Casablanca's sandwiches are among the largest that you can get from a food cart. I got the kefta (seasoned lean beef) with an additional topping of a grape leaf. There are tomatoes in the sandwich, which is rare for a food cart. Everything was fresh and tasty. The spicy sauce has a good kick to it. The flavors are right up there with Ali Baba, Magic Carpet, and others. Judging by the proliferation of Middle Eastern food carts on the Penn campus, I'd say Middle Eastern food has now topped Chinese food in popularity.
Magic Carpet Foods
A longtime favorite of mine, Magic Carpet offers an all-vegetarian menu with fresh ingredients and sauces. Don't let that discourage you, however. The tofu meatballs and seitan pepper steak will satisfy most meat-eaters' tummies. Depending on your rapport with the person preparing the food, you can get quite possibly a very large sandwich. The heavy sauces and high carbs in most of the sandwiches make me question how healthy this food really is. I think the emphasis is on taste and not on diet because eating a pound of anything is going to make you gain weight. I always go for the veggie burgers on Fridays. These are not the usual supermarket Boca burgers, but homemade patties containing ground corn, peas, carrots, and broccoli. The patty is stuffed into a pita with tomatoes, bean sprouts, fontina cheese, mixed garden salad, and a sauce laced with crack.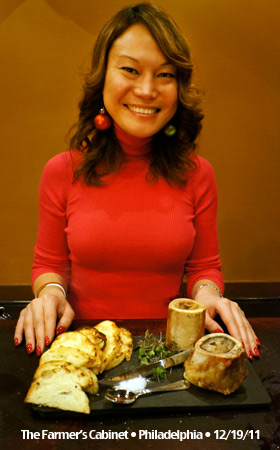 The Farmer's Cabinet
My first experience at The Farmer's Cabinet was less than stellar and I couldn't understand what the hype and rave reviews were all about. The escargot was bland and the pork chop was dry. I gave the restaurant a bad review on Yelp and the manager promptly responded by asking me to give the food another try. I'm happy to say that my second experience was much better. I recently fell in love with bone marrow, especially from places like Bibou and Adsum, so I ordered that as an appetizer. It was every bit the buttery, gelatinous goodness you'd come to expect from this popular delicacy. My entrée was the Duo of Elk with celery root puree, nebrodini bianco mushrooms, and elk jus. The duo, or pairing, is actually New York strip and tenderloin. The tenderloin was tender and juicy. I wish there were more of it. The strip steak was the more flavorful meat. It was much more tender than any beef steak I've had. Every bite was mouth-watering and exploding with crazy, awesome flavors. It was like a close your eyes, mind-wandering, multiple orgasm experience. I absolutely love gamey meats, such as duck, lamb, mutton, and wild boar, having been exposed to all of it in my childhood. Everyone compares elk to venison, but I'm not a venison expert, having eaten it just a few times in my life, so I really can't compare. All I know is elk is good and I want more soon. Like Amada, the cocktails all have long names here, such as Hot Rain on Twelfth Street and Breakfast in the Eye of a Hurricane. The bar staff did a good job of making drinks you won't find anywhere else and although drinks tend to be more on the bitter, sour side, my Powder Horn punch was sweeter and more to my liking. I'm not a fan of the rustic picnic tables and bench seating, but it adds to the cabin in the woods atmosphere.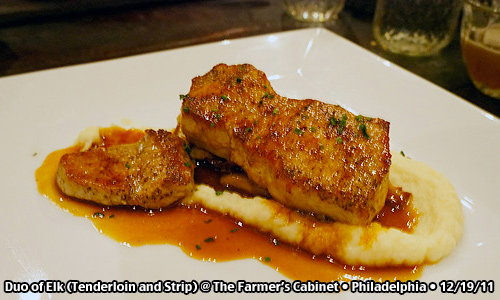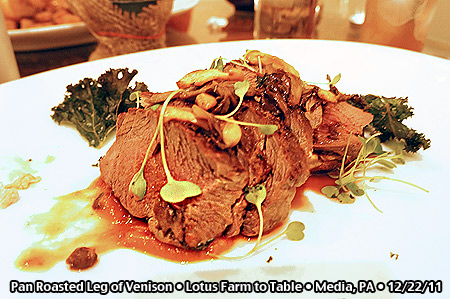 Lotus Farm to Table
My friend Chris W and I dined at Lotus Farm to Table in Media, PA before our holiday party at Thursday Night Tgirls. I enjoyed my duck confit appetizer and venison entrée for their gamey, earthy flavors. The duck came with diced poached pears, hazelnuts, bleu cheese crumbles, and grilled radicchio. The duck skin was crispy like Peking Duck and the meat was very tender. The venison came with delicious hen-of-the-woods mushrooms, a spaghetti squash fritter (slivers of squash in an egg omelet), and carrot velouté (technically, a soup but used as a sauce here). The leafy green veggies were crisped and edible, too. This has been an incredible week for me because I had elk and venison in the same week! Chris liked his potato dumpling appetizer and roasted chicken entrée. It was a BYOB, so in place of alcohol, they had an assortment of Asian teas and natural juice spritzers.I had a spritzer with fresh fig purée. It was very refreshing and surprisingly good. There are many nice restaurant options in the little town of Media, PA. Hopefully, they will be comparable to this one.
Percy Street Barbecue at the Comcast Center [ CLOSED ]
This tiny satellite storefront brings Center City West a taste of the same great barbecue meats as their flagship restaurant on South Street. Authentic Texas-style beef brisket, pulled pork, boneless pork ribs, barbecue chicken, and smoked turkey all come in sandwich form and at very reasonable prices. I absolutely love their pork sandwiches, mac 'n' cheese, collard greens, and pecan pies.
500 Degrees [ CLOSED ]
This little spot should honestly be a lot busier because it has damn good burgers with really tender, juicy beef. I enjoyed their truffle fries, too. Be sure to check out the specials and extra toppings that are not listed on the main menu. Watch out, though, because the toppings could really add up.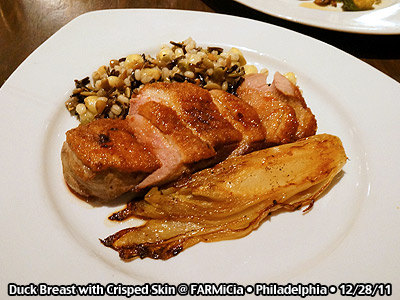 FARMiCia
While the farm-to-table concept isn't exactly new to the Philly dining scene, this past year has brought a huge influx of new farm-to-table restaurants, including The Farm and Fisherman, The Farmer's Cabinet, and Talula's Garden. FARMiCia opened its doors long before these imitators. I've walked by the place many times never even once considering a meal there because I was puzzled by the name and the chalkboard sign on the sidewalk that advertised it as the Metro Café. It wasn't until I delved more deeply into the history of the place that I realized that Metropolitan Bakery, arguably the best source of bread in the city, co-owns it. Teamed with Chef Kevin von Klause of White Dog Café and I have to wonder how this place escaped my radar for so long. My pan-seared jumbo lump crabcake resembled a smaller version of the one at The Fountain, basically mashed jumbo lump crabmeat with bits of parsley held together with egg and sitting on green goddess sauce. My duck breast in orange glaze was deliciously moist and tender and had perfectly crisped skin. I didn't care for the accompanying braised endives and wild rice pilaf, but the duck was quite memorable. My friend Chris J had the crabmeat and Asian pear salad and pan-crisped Meadow Run chicken breast. Both were delicious. We went to Monkey Bar and National Mechanics for drinks afterwards.
Rangoon
My friend Chris W and I had an excellent meal at Philly's only Burmese restaurant, Rangoon. We had the Thousand Layer Bread with Curry Potato Dip, an appetizer sampler with spring roll, Burmese samosa, and crispy onions, Pagan Beef (stir-fried beef with cauliflower, broccoli, carrots, onions, potatoes, and coconut and peanut sauce), and Jungle Shrimp (stir-fried shrimp with assorted vegetables and lime leaves in a coconut green curry sauce). Everything was delicious. One of the servers had a little conversation with me and asked me if I was Thai. For some reason, Asian folks think I'm everything but Chinese. I've been thought of as Korean, Vietnamese, Thai, Japanese, and black. Yes, black! Nobody in my family wants to divulge all the details of our ethnicity, so I may never know what different kinds of Asian I am. Chris and I went to Talula's Garden afterwards where I enjoyed a couple of Haymaker cocktails (muddled pear, citrus, clove, and pear vodka).
Alyan's Middle Eastern Cuisine
I've read many good reviews about Alyan's kibbe and falafel, so my curiosity was quenched recently when I took my son there for lunch. Sadly, it didn't live up to my expectations. I love Middle Eastern food, but the kibbe was quite bland and the falafel didn't have the soft, crumbly texture of many other places I like. The bread and vegetables were good and fresh, but there wasn't anything really special about the food. Mama's Vegetarian, a sit-down cafeteria-style restaurant, has much better falafel and bread. Ali Baba's Magic Food, a food truck, has kibbe and falafel with more authentic flavors. If I were to put my finger on something, I'd say the food lacks soul and is meant as a kind of beginner's Middle Eastern food for people who aren't used to the spices. Two nice ladies sat next to us and one of them told me how beautiful my son was. I thanked her and she asked me if I was Korean. She immediately concluded that my son must be part Caucasian to which I said yes. She said her husband was Filipino. When it was time to leave, I said to her, "Thank you and have a wonderful day!" She thanked me and wished me the same.
Pura Vida
My friend Chris W and I ate at Pura Vida, a Latin American BYOB that received lots of rave reviews on Yelp. We ordered the Guatamalan tamales, ginger chicken soup, and salsa and chips for our appetizers and two entrées called the Playo Gaucho and El Playero. The Playo Gaucho was uninspiring as I felt the steak from overcooked and tough and the shrimp lacked any flavor. Both items sat atop a big bed of shredded lettuce and diced tomatoes soaked in too much vinegar dressing. The El Playero was a complete opposite. It had large flavorful shrimp and homemade ravioli filled with lobster and ricotta cheese in a magnificent sauce of garlic, butter, and cilantro. I couldn't stop eating it. We found ourselves dipping the relatively bland Playo Gaucho beef and shrimp in the wonderful sauce of El Playero. We went to Buddakan for drinks afterwards. That was fun.
Amis
Good Italian comfort food is a great belly filler on cold weather nights. My friend Cherise and I had dinner at Amis where we enjoyed appetizers of seafood frito misto (fried calamari and shrimp) and swordfish meatballs with creamy polenta and pinenuts and entrées of roasted lamb with potatoes and roasted head-on shrimp with smashed chickpeas and watercress. Everything was really good as expected from a Marc Vetri restaurant.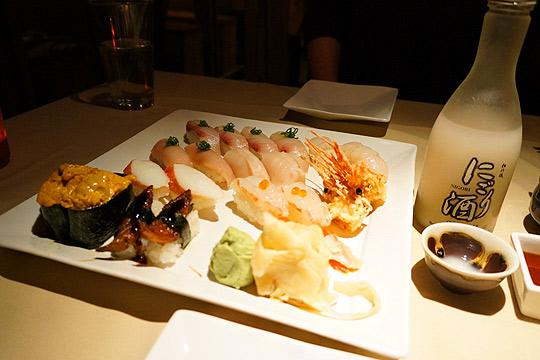 Fuji Mountain
I met John, a Canadian network design consultant, at a party and when our conversation turned to cachaca (Brazilian sugarcane liquor), I quickly mentioned Rum Bar and the good food I had there. "Is it open now? Are you hungry?" he asked. That's like asking me if cows moo. I called Rum Bar, but nobody answered. John asked me what else could be open at 11:30pm. "Do you like sushi?" I asked. "I love sushi. Everything but sea urchin," he replied. "Then you haven't had good sea urchin," I said. "Where can we get good sea urchin?" he asked. "Fuji Mountain!" I said without hesitation. I called Fuji Mountain and discovered they were open until 1:15am. We took a cab there and enjoyed some wonderful sushi, including kampachi, scallop, white albacore tuna, fatty tuna, king crab, sweet shrimp with fried shrimp heads, sea urchin, eel, and red snapper. Until recently, the thought of eating shrimp shells disgusted me, so I was surprised to discover how much I enjoyed the fried shrimp heads that accompanied our sweet shrimp sushi. The light, crunchy tempura coating and rich, creamy innards are a perfect contrast and the flavors and textures of the shrimp heads reminded me of lightly fried soft shell crabs. "I can eat a bunch of these with a bowl of rice," I admitted. We shared a bottle of Nigori Creme de Sake, which is similar to a coconut sake version of Bailey's Irish cream. I learned something new from John, that it's impolite to pour your own drink when eating with others in Japan. You pour your companion's drink and your companion pours yours. We did this and ended up holding hands and enjoying each other's company. He walked me home after our late night meal and we ended the night with a kiss.
Buddakan
My friend John and I had dinner at Buddakan where we had Malaysian Spicy Lobster, Hot and Sour Scallops with Chinese sausage, sweet corn, tofu, and black mushrooms (similar to Ma Pao Tofu, which I love), Dungeness Crab Sticky Rice, and Chinese Eggplant and Garlic Sauce. Everything was sooo... goood... yum... John loved it and thanked me for the suggestion. We stopped by the Roxy Theater to see what was playing and we would've seen the new Sherlock Holmes movie had we known that the last showing was 7:30pm on a weekday. We took a stroll through Rittenhouse Square Park and went to the lounge at Sofitel for drinks and stimulating conversation that left me with a very good feeling about him.
Blackfish
My friend Chris W and I had dinner at Blackfish. We had appetizers of applewood smoked Scottish salmon with crispy potato and fried egg and roasted bone marrow with brook trout roe. For our entrées, Chris had the lancaster county poulard with butternut squash, cipollini onions, and shittake mushrooms and I had the roasted Scottish salmon with trumpet mushrooms. It was a very nice meal, much like my first Blackfish experience back in October. I liked both salmon dishes although a bit more lemon would've cut down the fishy smell more. My bone marrow was more like jelly whereas Chris' bone marrow was more like butter. Both were good and the portion size of each bone marrow dish was huge compared to other places. Surprisingly, I thought Chris' poulard (spayed hen) dish was a winner. The crispy skin had plenty of flavor and the meat was juicy and tender. We went to my Thursday night party after dinner. One of my guests told me I have a gorgeous smile and that my smile "lights up a whole room and makes others want to smile."
Paesano's
My friend Chris J2 (I know way too many Chrisses) and I had lunch today at a little South Philly sandwich shop called Paesano's, which was featured on Bobby Flay's Throwdown. Last time I ordered the Arista, a roasted suckling pig sandwich with Italian long hots, broccoli rabe, and sharp provolone. This time I ordered the Paesano, a beef brisket sandwich with horseradish mayo, roasted tomatoes, pepperincino, sharp provolone, and a fried egg. The rolls used in all of their sandwiches are seeded Liscio rolls, which I find more enjoyable to eat than Sarcone rolls. Alas, one of these sandwiches is way too big for me. I found myself eating just the insides of the second half of my sandwich. For just a dollar more than a Pat's or Geno's cheesesteak, you can get a highly memorable gourmet sandwich at Paesano's.
Benihana
There's something ultimately satisfying about a Benihana meal. I've always loved hibachi-style cooking, especially when the show of utensil acrobatics is as good as the fresh vegetables and meats cooked right in front of you. While it is fun to sit at a table of eight, the experience cannot compare to the having your own chef for two. My friend Chris and I enjoyed selections of hibachi steak and colossal shrimp and seafood diablo (shrimp, scallops, calamari with noodles in a spicy sauce). For the first time ever, my steak was prepared the way I like it, medium-rare, and my shrimp was not overcooked as in previous visits. At the Benihana in Plymouth Meeting, we waited a few minutes before our server decided that nobody else was going to join our table. The Benihana in Pennsauken would've made us wait until our table had eight people before starting the grill.
Percy Street BBQ
I'm a big fan of Chef Erin O'Shea's pulled pork and pork belly meats, so I was delighted to see pork cheeks served with sweet potatoes and brussels sprouts on Percy Street BBQ's new menu. It was damn good! The pork cheeks were cut into small bite-sized pieces, marinated, and cooked like all the other wonderful barbecue meats. I've had pork cheeks from baby suckling pigs that tasted like custard and really soft meat. These pork cheeks, presumably from an older pig, were much firmer, similar in texture to filet mignon. The bitter flavor of the brussel sprouts was a stark contrast to the sweetness of the sweet potatoes. I would've preferred a vegetable that was a lot less bitter. I tried all three sauce choices - Sweet Thang, Old Faithful, and Hot Mess - and found the hot sauce to be pretty intense. My favorite was the sweet sauce.
Morton's
Morton's is my favorite steakhouse because it not only has great steaks, but fantastic appetizers. Their crabcakes are made of all jumbo lump crabmeat with no bread crumbs. Their Colossal Shrimp Alexander, basically panko-crusted fried shrimp sitting in a butter sauce, is to die for. The hosts and servers at the Philadelphia and King of Prussia locations all remember me and that's a wonderful, welcoming feeling that should exist at any restaurant. If the bar had lots of people, I'd definitely frequent it, but the big problem is Morton's is not in a very scenic area and there's no concept of window views. My friend Chris W and I shared a crabcake, a plate of Colossal Shrimp Alexander, a double cut filet mignon, and mashed potatoes. It was a fabulous meal. "I could eat this every day," Chris remarked. I could, too, but then I'd weigh 400 pounds.
Baby Blues BBQ
My foray into pork continues at Baby Blues BBQ where I had a lunch platter with pulled pork, beef brisket, and a sausage link with a side of sweet mashed potatoes and cornbread. Four sauces were available - Sweet, BBQ, Hot, and XXX. The Hot and XXX sauces were nowhere near as spicy as Percy Street's Hot Mess. Sweet was close to Percy Street's Sweet Thang. I found the pork to be tasty enough to not require any sauce, but I always try to take my food in different taste directions during the course of my meal because I get bored sick of the same old thing all the time. I went to Baby Blues with five of my workgroup mates to celebrate my birthday.
Bibou
My friend Chris J treated me to an amazing dinner at my favorite French restaurant, Bibou, recently minted a prestigious four-bell rating by Philadelphia Inquirer food critic Craig Laban. Our first course was a complimentary amuse bouche, a crème de chou-fleur cauliflower cream soup with croutons and saffron cauliflower florets, that was delicious. Our appetizers of pork rillettes and foie gras Bergamot crème brulée and seared foie gras with grapefruit were equally outstanding. When I first ordered this Foie Gras Duo, I was sad that the portion of seared foie gras was halved in order to make the foie gras crème brulée, but the crème brulée is such an amazing dish on its own that I would miss it if it were stricken from the menu. For our entrées, Chris had the sautéed dorade fillet with fennel compote and watercress emulsion and I had the duck leg confit and duck sausage with sauerkraut, bacon, and tourné potato. I often compare French and Chinese cooking because they actually use many of the same ingredients and I usually favor the cuisine of my heritage, but Chef Calmels' makes amazing duck and his homemade duck sausage easily eclipses the Chinese version by a long shot. One of the nice experiences of any restaurant is when the chef walks around asking his patrons how they liked their food. Chef Calmels and his wife Charlotte stopped by twice because I had the great fortune of dining with an old restaurant friend of theirs. Chris J happens to be the former restaurant manager of Brasserie Perrier, a sister restaurant of Le Bec-Fin. The three of them reminisced of their days working for gastronomical giant, Georges Perrier. I was sad that bone marrow wasn't offered as a special that night. "We did offer it," Chef Calmels assured, "but it went so fast. We always prepare ten every night. If you call next time, we can reserve a bone marrow for you." Awesome. Bone marrow here is not like bone marrow anywhere else. It's stuffed with chanterelles and Scottish partridge in Madeira sauce. For dessert, I had the banana tartin with honey ice cream. The tartin was like a flattened banana cake soaked in a sweet sauce. Prior to Bibou, Chris J and I went to Buddakan for drinks. My hair looked pretty amazing that night.
Philly Delicias
Most people think negatively of food trucks, but the fact is some of the most amazing food in the world can actually be had from a food truck and I'm not referring to the proverbial hamburger. World-class Korean tacos, authentic Jamaican jerk dishes, and fabulous falafel sandwiches can be experienced for a fraction of the price of expensive restaurants. And so it is with Philly Delicias, a Venezuelan arepas truck new to the Penn/University City scene. The ladies who run the truck prepare authentic food from their native country. Not wanting to stray from what the truck is known for, I ordered an arepa filled with chorizo sausage and pico de gallo. Es muy delicioso! An arepa is a corn patty that is lightly toasted and piping hot. You can have it filled with shredded beef, chicken, chorizo sausage, or veggiesw. The only negative is they're not that big, so two would make a satisfying meal, but ten dollars is pretty pricey for a food truck.
Tampopo
There's really no good reason to order the spicy squid bowl when the spicy pork bowl gives you more food and the same great flavor. Aside from a couple of gristly pieces, the pork actually tastes better, too. The spicy sauce didn't help my conversational abilities as I was chatting with a guy I liked at my party. It was pretty embarrassing to be burping up the stuff throughout the evening, but what can you do? I'm as real as you can get.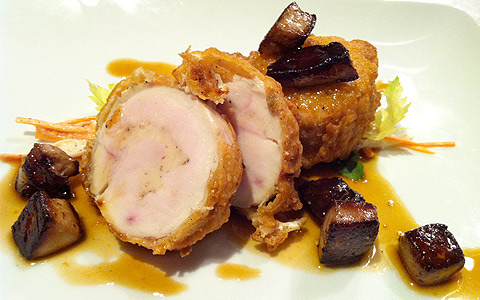 a.kitchen
"Mmmm! Chicken and foi gras, two of my favorite things in one dish!" commented a woman a few seats away when she saw my entrée. My friend Jake and I spoke briefly to her and her dinner companion during the course of our meal. We sat at the kitchen bar watching the chefs expertly prepare our meals while Chef Bryan Sikora supervised the entire operation. I had read rave reviews about the Fried Chicken and Foie Gras dish at a.kitchen. I knew I had to have it, but let me preface what I'm about to say by stating that I seldom order chicken in a restaurant. I'm a culinary snob when it comes to food. When you're raised in an Asian household where your mother cooks up five or six unique dishes every night to be shared with the entire family, you get spoiled. Chicken? Why not duck? Steak? Why not lamb? Flounder or salmon filets? Why not the whole goddamn fish? You can see why I look at simple meals with great disdain. Simple is not good in my life. That's why I'm always seeking the next great dish. I have my favorites, but finding that next great dish is like discovering a piece of Heaven. Everyone knows I love foie gras for its taste, texture, and decadence. An ounce is not enough. Two is fine. Three is grand, but a heart attack on a plate. The amount of foie gras in Chef Sikora's dish is probably somewhere between one and two ounces. It's not a lot. It's there to make a statement, that you're eating a more decadent version of a Southern-style giblet gravy. The fried chicken is actually a chicken breast rolled up, formed into the shape of a golf ball, dipped in buttermilk and cornmeal, and deep fried. It was phenomenal! The rave reviews were all correct. This was the best chicken I've ever had. It was so soft my knife cut through it as if it were jello. How do they do this? The little bed of "winter slaw" was there for decorative purposes, to give you the much needed veggies in your diet. I also had the Fish Stew which was absolutely delicious. Calamari cut like noodles, diced swordfish, tender scallops, and a chunky tomato broth with saffron. It was Heaven on a plate. I'm a big fan of cioppino or fisherman's stew. My dessert of almond macarons with chopped nuts, creme fraiche, and yuzu jam was a nice ending. Jake had the seared scallops, duck with corkscrew pasta, and pomegranate semifreddo. He let me pick his meal for him so he could try new things. He enjoyed everything, too. I thanked the two chefs who prepared my meal. I told them the food was awesome.
Erawan Sampler
Today I tried one of LivingSocial's daily deals, a $5 special for the Erawan Thai Cuisine appetizer sampler that is normally $8 plus tax. The sampler includes a spring roll, a fried shrimp, a skewer of chicken satay, two spicy veggie fritters, and two fried dumplings. Everything was really good and it was an excellent value. Even the usual $8 price is a bargain for this. The big negative is almost everything's fried.
Zama
My friend Jake treated me to a wonderful meal at Zama where we shared appetizers of miso black cod, red snapper crudo, and king crab tartare, sea urchin with quail egg sushi, a Philly Style maki roll (premium Japanese Washugyu beef, provolone, spicy mayo, rice, and bibb lettuce wrapped in red pepper flaked soy paper), and a Bibou maki roll (escargot sauteed with shallots, edamame beans, and shiho in a soy dashi butter set atop tempura haricot vert and fennel maki). One of the things I like about Jake is he's open-minded and adventurous like most of my guy friends and I'm incredibly fortunate to be able to attract the kinds of guys who make good dining partners. What I never like to hear is a negative response from someone who doesn't even dare try a new food because of built-in prejudices that keep him from experiencing Jake and I went to Square 1682 for a drink afterwards. We stayed until closing, which was 12:40am. I like Jake because he's unpretentious, calming, and very easy to talk to. There must be something in the stars because every decent man in my life right now is around my age. That's so cool.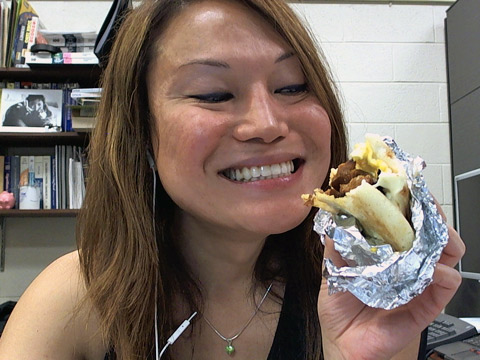 Benihana
My friend Chris W and I each ordered a delicious filet mignon and colossal shrimp combination meal at Benihana. Somehow we finished our miso soup, garden salad with ginger dressing, grilled shrimp appetizer, grilled zucchini, onions, and mushrooms, and our steak and shrimp with not much food left over. We felt so full afterwards and yet somehow I ended up losing weight the next day because the scale said 133. I'm liking my body again.
Popeye's
Whoaaa... I rarely praise fast food, but Popeye's Butterfly Shrimp Tackle Box is not to be missed. I've never had good fast food shrimp. Even Sid Booker's shrimp stand in North Philly doesn't make shrimp as good as this Popeye's special. There's something about the seasonings that add just the right amount of flavor and spiciness to the shrimp. You're supposed to get eight pieces in a serving, but I got nine both times I ordered it. Be sure to ask for the Confetti Sweet & Sour sauce as your condiment, however, the shrimp is so good on their own you won't need it. Substitute the fries for a small red beans and rice for a more satisfying meal. God damn, this is good! Anyone on Drexel's campus should try the Cap'n Crunch Tilapia Burrito from Cucina Zapata. I turned a couple of coworkers on to this secret find! I also love the chorizo, egg, and cheese arepas from Philly Delicias. (No, don't read this as a way to take me out on a cheap date.)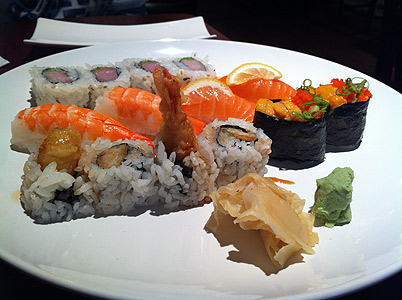 5 N 2 Tokyo [ CLOSED ]
It's funny when a seven year old who has shown very limited food inclinations in the past year suddenly becomes adventurous. "Can I have that?" my son asked, pointing at the pink fish maki roll in front of him. "No, you can't. It's raw and, besides, you might not like it," I said. He looked at it with greater interest, the raw pink yellowtail tuna and scallion roll glistening under the lights. It was too pretty not to eat. I nodded, so he took the piece and ate it whole, chewing it curiously as I watched, thinking to myself, "Oh, no, I'll bet he's going to ralph it up onto the plate." Then he did something I sometimes do, which is perhaps the reason why so many guys enjoy taking me out and watching me eat. He closed his eyes as he chewed and swallowed, as if he were thoroughly enjoying the experience. He opened his eyes and said, "That was good!" I have to give credit to the little guy for his willingness to try something new. It was his first time eating authentic sushi. He sampled a little bit of the sea urchin, too. "It doesn't taste like anything," he commented. "It's kind of like sea custard," I said. He tried the fish eggs and scallions next, nodded, and said, "Mmm, good." I didn't dare let him try the salmon nigiri even though he wanted to. It was just too much raw fish for a young boy. He enjoyed his shrimp nigiri and shrimp tempura maki roll, two sushi items with cooked shrimp. We went to Cookie Confidential next where he had chocolate chip cookies and I had the cheesesteak cookie and strawberry shortcake cookie. The cheesesetak cookie was very weird. "Cookie" is a bit of a misnomer in this case because it was more like a piece of flatbread, a salty flat piece of cheesy dough with chewy bits of beef in it. It was akin to a cheese arepa studded with beef bits. The cheesesetak cookie was smaller than the other cookies, but priced higher. The strawberry shortcake cookie was a treat to eat. My son and I played at Starr Garden Playground for a while before we headed to our dinner destination, Blackbird Pizzeria, for a slice of seitan sausage and Daiya cheese pizza. His eyes bulged as he ate it. "This is good!" he exclaimed.
Las Bugambilias
My friend Jake asked me where I wanted to go to dinner and I suggested Las Bugambilias because every meal I've had there was always super fresh and delicious. The prices are very reasonable and you get a lot for your money. I love the Langostinos and jumbo shrimp dishes. I love the Carne Tampiqueña, a skirt steak wrapped around a jalapeño pepper filled with chihuahua cheese covered with coriander sauce and served with a chicken mole enchilada, rice, beans, and guacamole. We stayed until closing. We went to Xochitl for drinks afterwards. The bartender clued us in that the best margarita on the drink menu is actually the cheapest and most basic one. "I've been working here for nine years, so I know how to make a great margarita," he said. That was indeed true. Jake talked about his long hours each week to build up his chiropractic business. He felt kind of down because he was working so much. "Come here," I whispered, motioning him to move in closer. I closed my eyes and pressed my lips onto his slowly, deliberately. "This is what you have to look forward to each week," I said. "I like that," he said, smiling. I like Jake for the simple fact that he's good for me. He's levelheaded, easygoing, and unpretentious. He's willing to try new foods and he likes comic books. He has a daughter whom he's helping his ex-wife raise so he knows responsibility. These are all things that work in his favor. Jake and I talked and talked and stayed until closing again. Not wanting the night to end, Jake suggested we check out Dark Horse Pub, an Irish pub housed in the Old Plough Tavern off of South Street. We had another drink and did some peoplewatching. Hopefully, we'll go out again soon.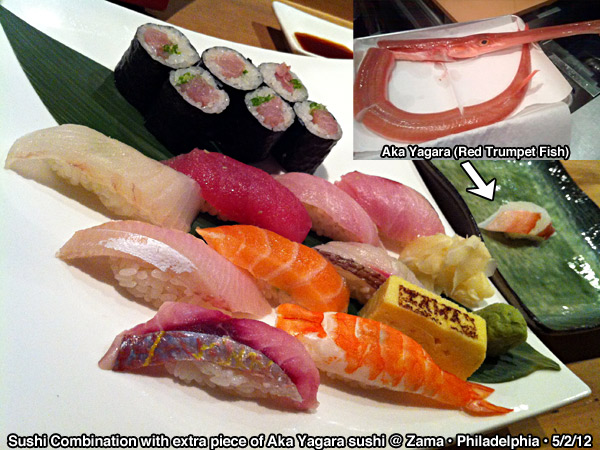 Zama
Devon Seafood Grill's bar was full so I was determined to find another place to eat a nice, quiet meal. I was going to go to Tsuki, but then I remembered Chef Zama's Facebook announcement about a new fish of the day he had at his restaurant called aka yagara, or red trumpet fish. It's super mild and sweet. Each piece was $7, but you only live once! It tastes a lot like red snapper, my server said, and I agreed. Better things could be had for $7, but I'm glad I tried it. My sushi combination platter included pieces of white tuna, bluefin tuna, kampachi, king yellowtail, yellowtail, Scottish salmon, red snapper, kingfish, and shrimp. The surprise for me was the tenth piece, a rectangular block of egg omelet. The omelet, made of eggs and sugar, is usually eaten at the end of the dinner as a dessert. You also get a simple maki of your choice. My server suggested spicy tuna, but I wanted yellowtail with scallion. I chatted with two businessmen who were sitting at the sushi bar next to me. They ordered the omakase meal, the chef's choice multi-course meal where you trust the chef to prepare dishes that are sometimes not on the menu. The omakase is not listed on the menu, but goes for anywhere from $45 to $120 depending on the number and quality of the dishes. The fresh, made-to-order wasabi makes your meal well worth the price. The three of us shared stories of trendy restaurants we've dined at. It was refreshing to meet people who were foodies, too. It's a shame they were married because the one sitting next to me and talking to me more was trés handsome. I'm glad my life has been filled with lots of men who've taken me to nice restaurants because that just adds another dimension to my experiences as a woman.
500 Degrees
I met my friend Tammy for lunch at 500 Degrees and we shared a truffle burger and fries. I wanted a combo meal, although there technically wasn't a combo meal for the truffle burger because it was a speciality burger. My server, whom I believe is the manager of the restaurant, punched up the truffle burger, fries, and drink. "So there really is no combo for a truffle burger..." I said to him. He paused. "No, there isn't. Is that okay?" he asked. "That's fine. Can you throw in a topping or something?" I asked with a big grin. He deducted the cost of my drink from the bill. "There, that's better," he said. "Cool! Thanks!" I said with glee. He told me he recognized me as a past customer and thanked me for my great review on Yelp. The lines and wait were long, but worth it. Their burgers are really good and much cheaper than Village Whiskey. Apparently, 500 Degrees is a very popular lunch spot because when I arrived at noon, there was a line running out the door.
August Moon
Who says Conshohocken is barren of good restaurants? My friend Chris W and I went to August Moon, a Korean Japanese restaurant where we feasted on wasabi pork shumai, seafood scallion pancake, seafood stone bowl bibimbap, and a platter of sushi and sashimi. The shumai left me teary eyed from the sinus explosion. "Oooh, that's like so good!" I admitted to Chris. The scallion pancake was good, too, but there was very little seafood in it. If you used a magnifying glass, you might find bits of squid and whitefish. I expected more seafood. The helping of seafood in the bibimbap was also quite sparse. It was certainly the best hot bibimbap I've ever had. The vegetables were all fresh and juicy and the rice was excellent in both its steamed form and the stuff stuck to the bottom of the stone bowl giving it a chewy, crispy texture. We liked it a lot more than Miga's version. The sushi and sashimi fish was totally fresh and beautifully prepared. I liked the flowers made of sashimi. The white tuna and salmon were especially good. We had enough leftovers for a small meal that our friend Madeline gladly ate. "Oh, my God, this is really good!" she exclaimed. August Moon also has a list of sakes and specialty drinks. I especially liked my Sen Saketini, a drink resembling something I could get at any posh Asian Fusion eatery in Philadelphia.
Cucina Zapata
It's a shame when nearby Drexel University has better food trucks than Penn. My coworkers and I walked over to the Drexel food truck row where we ordered our meals from Cucina Zapata, an Asian fusion food truck that serves the delicious Cap'n Crunch Tilapia Burrito. Their menu selections are limited, but each item is done so well that it doesn't really matter. Today I got the Thai Short Rib Tacos. The moment I chewed my first bite, I swear I had an orgasm. The freshly sliced avocado, lettuce, tomato, guacamole, and sprinkling of crushed peanuts were enough to give me sensory overload. They were pretty nice size tacos.
Kabuki
You have to love a restaurant named after a type of Japanese theater that uses crossdressed male actors. Kabuki is a nice little sushi BYOB in the Philly burbs housed in what looks like someone's home. The decor is plain and simple, the staff is friendly, and the food varies from good to great. Appetizers such as the sunomono (sliced octopus, imitation crab, and shrimp seasoned with vinegar dressing), scallop katsu (tempura batter scallops), and sashimi cocktail (tuna, salmon, whitefish) were all awesome. Oddly, the sushi was just okay. Sushi rice is a large part of what makes great sushi, but, unfortunately, Kabuki's rice falls short. The king crab, normally a favorite of mine, was saltier and darker than it should've been and not the beautiful, fresh cut that you can get from a place like Fuji Mountain or Zama. The yellowtail sushi made me feel like I was just eating a slab of fish on top of plain rice. There is a synergy missing where the right amount of sticky rice, water, and rice vinegar complements the seafood item it is adhered to. Look at my picturess from Fuji Mountain and Zama and you'll see that something like yellowtail is supposed to engulf the rice, not lay flat on top of it. As much as the rice didn't work in the regular sushi, it worked surprisingly well in the softshell crab handrolls. Nicknamed "Couple of Spiders," the temaki (handrolls) contained copious amounts of soft shell crab with minimal amounts of rice, lettuce, tobiko (fish eggs), and sauce. The soft shell crabs had one of the best tempura batters I've ever tasted and the crabs themselves were big and juicy with plenty of tomalley. "Couple of Spiders" is not on their menu. You have to special order it, but you'll be glad you did.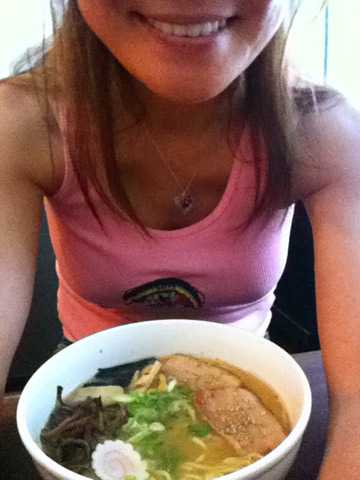 Nom Nom Ramen
After much anticipation, there is now a place for authentic Hakata style Tonkotsu ramen in Philadelphia. Nom Nom Ramen boils selected pork bones for more than 24 hours to extract the rich, savory flavors from the marrow, cartilage, and meat. Fresh scallions, marinated bamboo shoots, crunchy kikurage mushrooms, and mouth watering chashu pork belly sprinkled with sesame seeds are added to create an amazing bowl of Tonkotsu soup. The noodles are the Hakata style ramen noodles that you will find in high-end ramen noodle restaurants like Ippudo in New York... but now I don't have to travel to New York and pay $15 to enjoy a bowl of delicious ramen. The atmosphere is very basic and no-frills, but what it lacks in decor it more than makes up for in fabulous food. The only thing that was off was the pork, whic needs a little more fat, but the health nuts will appreciate the lean cuts. The Shoyu and Shio ramen are awesome and only $8 each! The Miso ramen is even more flavorful with its black garlic and sesame sauce. My son and I thoroughly enjoyed our bowls.
Sushi Taro
Robyn pulled out all stops and took me to Chef Nobu Yamazaki's Sushi Taro restaurant, reputed to be one of the finest Japanese restaurants in the United States. We looked like gorgeous lipstick lesbians in our dresses and high heels. I wore a sleeveless pine green halter dress and high-heeled sandals that made my body look very inviting. She wore a three-quarter length sleeve burgundy belted dress with alligator-embossed high heeled-sandals. With a little makeup and hair spray, my girlfriend looked amazing. It took us a little while to get to the restaurant because of recent storm damage, but we just made our reservation. Robyn ordered the kaiseki tasting menu for us and it was outstanding. The fish was super fresh and expertly prepared to create eight exquisite dishes. The centerpiece, the Hassun tasting platter, was an assembly of various fishes, jellies, fruit, tamago, and banana leaf-wrapped veggie sushi. One of the items was tuna and sesame seeds stuffed into lime wedges made to look like little watermelon slices. The house-made sake was so good, we ordered more glasses of it. Every table was reserved, but we managed to get moved to a booth partway into our meal because we wanted to sit next to each other. Sitting next to your loved one at a restaurant is the nicest feeling in the world.
Sushi Taro Kaiseki Menu, June 30, 2012
house-made sake (palate cleanser)
soft tofu topped with sea urchin, miso, and wasabi
oyster and Japanese mackerel with ginger jelly in a halfshell
seared salmon and amber jack sashimi
shrimp ball miso soup
softshell crab tempura dipped in squid ink with tempura vegetables
Hassun tasting platter
three-piece sushi
deconstructed risotto with sea bass, quail egg, and vegetables
"This must be the amuse bouche and this other dish must be the salad course," Robyn commented. Whoa. Few people I've met or known know what the hell an amuse bouche, kaiseki, or full-course dinner is! Our kaiseki was easily one of the finest kaiseki/omakase meals I've ever had the pleasure of experiencing and the company made it so very enjoyable.
Sbraga [ CLOSED ]
Chef Kevin Sbraga, winner of TV's Top Chef Season 7, has worked for such culinary giants as Georges Perrier and José Garces before opening Sbraga last October. The four-course prix fixe menu has items to satisfy everyone, although bigger eaters who may balk at the portion sizes. "Plate sizes start off small and get progressively larger by the third course," our server said. What is larger? "The meat portions are about five ounces," he assured. My first course, the fried green tomato, smoked sweetbreads, and cumin aioli was excellent. My second course, the parsley risotto with escargot, garlic cream, and prosciutto was out of this world! "I should've ordered three of these," I joked to Chris W. My third course, the lamb with onions and pita, fashioned to look like a deconstructed gyro, was a bit too salty for my taste. The quality of the meat was excellent, but it didn't need all the salt! Chris let me sample his selections. I liked his salmon sashimi with frozen yogurt shavings and also his scallop and pork belly with jalapeño tabbouleh dishes. The pork loin was the best of his three courses. All six dishes looked like little works of art. Although Sbraga could definitely be a date place for the well-heeled, I saw people dressed in all manner of casual and dressy clothing there, so I like the unpretentiousness. I attribute that to the open air kitchen concept much like a.kitchen, Little Fish, Osteria, and Amis. On the whole, I love the food here. It really tickles my senses. Chris W enjoyed watching me eat, which is a unique experience that a small number of lucky souls have ever had the pleasure to see. Food is a very sensual experience for me. It's not just sustenance like many people I know see it as. A big hamburger or steak does nothing for me, but the parsley risotto at Sbraga really entices me.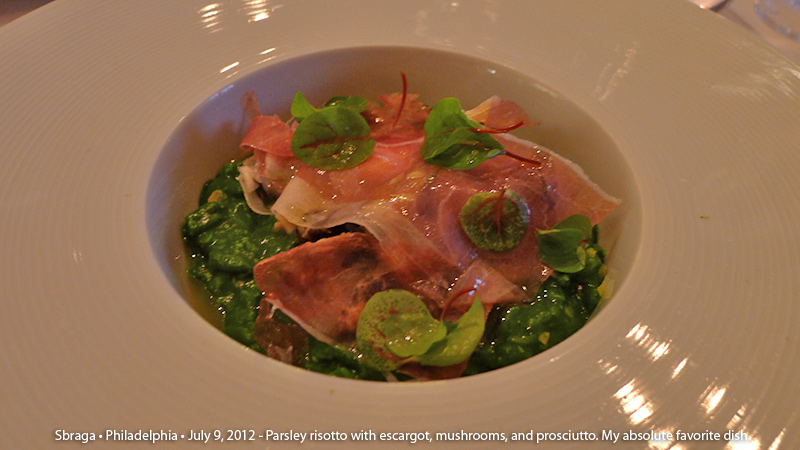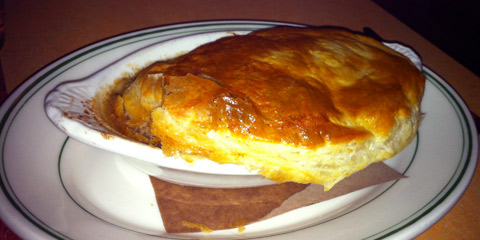 Alla Spina
It may not look like much, but Alla Spina's Pig Pot Pie is an otherworldly delight. A hearty pork, potato, and mushroom stew topped with puffed pastry bread, this belly warming dish is full of savory goodness with every bite. My friend Chris W and I enjoyed our pies. We liked the bibb lettuce and pig trotter wraps, too. I wish there were more than two. We felt that the poutine with guinea hen bolognese and mozzarella curd was a bit too salty. The decor feels a lot like Osteria with its seating arrangements facing a bar and open air kitchen. A big pig hangs over the bar tempting you to try any of Alla Spina's porcine delights. It wasn't until I later that I learned that what I had enjoyed was an Italian Gastropub experience, so if beer is your drink of choice, this is the place. Even my prosecco, vodka, and lemon sorbet cocktails were fashioned to look like champagne glasses of beer with froth on top. The restaurant felt a little like Amis and a little like Osteria. All in all, a nice, comforting meal without the need for dessert. Right next to Alla Spina is Route 6, a Stephen Starr restaurant I'd like to try sometime.
Gunning's Seafood
My first visit to Gunning's Seafood with Robyn included a mix of awesome hard shell crabs, crabcakes, and crab soup. We made our dinner more manageable this time by skipping the hard shells. The two crabcake platter that comes with two sides and a garden salad was more than enough food. Each crabcake is seven ounces of jumbo lump crabmeat with very little filler. The crabmeat is very high quality with little to no shells. If I could eat these crabcakes every day for a week, I would. They're that good.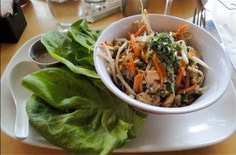 The Continental
It's been ages since I've eaten at The Continental. My friend Chris W and I looked at the new Asian fusion menu and decided it would be a good dinner spot one night. His calamari salad was huge and the rings of batter-fried calamari were prepared perfectly.My Thai chicken lettuce wraps, considered a small plate on the menu, was enough to be my entire meal. I ordered an extra plate of Bibb letuce so I could finish the wrap filling as intended. Being the food snob that I am, I normally don't order chicken dishes at restaurants, but I took a chance on it and was pleasantly surprised. It was sooooo gooood!!! I would definitely order it again. Chris liked his lobster mashed potatoes. I was struggling to find lobster meat in my scoops, but the seafood flavor in the potatoes was very satisfying and memorable. My Buffalo soft shell crab was big and juicy. The Buffalo sauce was good, but not needed on a soft shell crab of such high quality. We discovered that the mojito martinis were an excellent value. You get more than one drink's worth in each martini. The restaurant was pretty busy for an off night. I like the atmosphere, which is basically that of a nice diner. Our buxom blonde server was someone Chris had met on his vacation in Rehobeth Beach. Whatever negative impressions I had about The Continental's food in the past have disappeared. This is good stuff.
Beck's Cajun Cafe
Beck's Cajun Cafe in 30th Street Station has the same great food as its sister foodstand in Reading Terminal Market. I finally got to try the gator gumbo with white rice. It was really good! I think their chicken and andouille sausage gumbo is still the best, but it was nice to be able to finally try gator sausage in Cajun spices. I also like their jambalaya, red beans and rice, and praline cookies. The jambalaya bowl is the best value because it has huge chunks of chicken and sausage and the servers really fill the takeout container with it. The crab and shrimp etouffée is a big miss. I tried samples of it here and at Reading Terminal and both had hardly any seafood in it.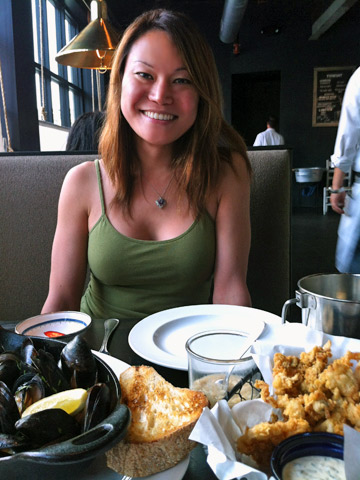 Route 6
The decor of Route 6, Stephen Starr's newest seafood dining spot, is much like a nice shore dining spot, but without the all-you-can-eat specials. My friend Chris W and I enjoyed appetizers of fried ipswich clams and steamed mussels and the entrée specials of the wild ivory king salmon and barbecue shrimp. Sadly, the shrimp was overcooked, dry, and not quite Stephen Starr quality. The other items were well prepared. I enjoyed the clams and mussels and loved the salmon. I'm not normally a huge fan of cooked salmon, but it was excellent. The corn, red pepper, and butter bean medley was a great complement to the salmon. The cocktails were really good, too, because they contained fresh fruit compotes and purées.
On my second visit to Route 6 approximately one year later, my friend Chris W and I ordered appetizers of New England clam chowder, fried ipswich clams, and fried lobster tails. The chowder was good, the clams were awesome, and the lobster tails were even better than that. The lobster and clam bake was excellent. The lobster was cooked perfectly. The sausage and corn on the cob were nice and the clams and mussels were very flavorful. The clams are the authentic steamers with the big feet that you will find in traditional New England clam bakes. The broth was a light tomato-based broth with just enough flavor to be tasty but not overpower the taste of the seafood. If I were to complain about anything, it would be the grittiness of the salt in the clams, but, overall, our meal was a big yums up!
New Harmony Vegetarian
I love lamb, beef, pork, duck, chicken, and all kinds of fish and shellfish, but I also love great preparations of vegetables, too. Being Chinese, there's no way I could escape not eating some lovely combination of meat and vegetables in the same dish. I find it fascinating to see so many younger folks be anti-meat. I understand their philosophies on not wanting to dine on animal flesh, but if you grow up used to a certain thing - or, in my case, everything - then restricting yourself to a this or that diet doesn't quite work.Robyn and I agreed to be meat-free on Sundays, so I researched and found New Harmony Vegetarian's dinner buffet. $12 for a buffet meal is a great deal, especially when it comes with appetizers, entrées, and fillers. The bean curd skin rolls filled with bamboo and other vegetables were fantastic, about as good as any I've had with meat. The two kinds of vegetable dumplings were filled with a flavorful mix of finely chopped vegetables, but were too doughy. The pork lo mein was okay. I thought the noodles with water chestnuts and mushrooms were good, but the diced "pork" tasted like Spam. The broccoli with fried bean curd was a hit and miss. The bean curd was too firm. I've had this dish dozens of times before and know that the bean curd should never be firm. The walnut "shrimp" is touted as the main attraction by many reviewers. I've already tasted it at this restaurant before, so I wanted to see if it tasted the same in buffet form. It did. It's neither good nor bad. I'd rather eat real shrimp, which tastes better. My question is where were the walnuts? I could retrieve the broccoli and pineapple from the other buffet trays, but no walnuts could be found anywhere in the buffet. Overall, the food is good, there's plenty of variety, and there's virtually no line since the restaurant isn't very busy around 6pm on a Sunday.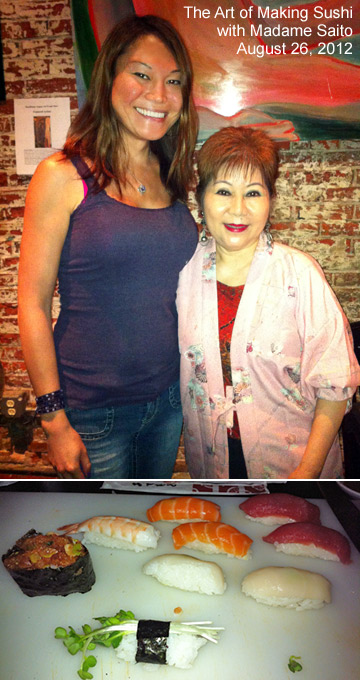 The Art of Making Sushi
The Art of Making Sushi is a six-part, three-hour course taught at Headhouse Bar by Madame Saito, a veteran sushi chef and teacher for almost thirty years. The class' twenty-six students were taught to make a cucumber roll, a pickled radish roll, a California roll (8 pieces), a spicy tuna hand roll, a grilled salmon hand roll, a shrimp tempura and fish super roll (10 pieces), spicy tuna gunkanmaki (small handwrap roll), and tuna, salmon, white tuna, shrimp, and Japanese sprout nigiri. The fish was super fresh and the sushi rice was phenomenal, perhaps the best I've ever tasted. Making something that tastes just as good, if not better, than what I can get at the best sushi restaurants is simply amazing. Nothing beats sushi that you can eat moments after it is made. I found the class fun, informative, and filled with nice people. We learned how to make three different kinds of maki rolls, the classic hoso (regular), ura (reverse, or rice on the outside), and temaki (hand roll). We learned how to make different shape rolls, such as round, square, and triangle. We also learned how to create a "super roll," which is a larger than normal roll with premium ingredients and a little design in it.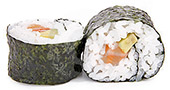 The design is basically a little curl showing in the roll. Madame Saito demonstrated how rolls can be arranged with ginger or edible flowers to improve their aesthetic appeal. My Mercer sashimi knife was perfect for the class and impressed several students around me who found it to be superior to their Crate & Barrel version. "Whoaaa!!! That's a real sushi knife!" they said. Well, sort of. Mercer is an American company using German steel. "Is it easy to cut the rolls with it? I've been going back and forth, back and forth with my knife," one student asked. "Oh, yeah, one slice cuts right through it," I replied. It was especially good for slicing thin pieces of sashimi, its intended use. Madame Saito mentioned that any interested students could enter her sushi competition held every year in April. While everyone focused on making monster-sized pieces of sushi, I made much smaller, more delicate pieces that reminded me of the sushi I've enjoyed at Morimoto and other authentic sushi restaurants. Sushi isn't supposed to be big mamma-jamma he-man sized. It's supposed to be small and pretty, made with tiny hands like mine. "Never use sriracha mayo with raw fish, only for tempura," Madame Saito warns. "Mayonnaise with raw fish not good. Cannot taste the fish. Use only sriracha," she said. It makes sense and now I see why I never liked all of those little holes in walls that Yelp reviewers love so much. Those inferior restaurants always drizzled sriracha mayo on everything. I was loving every piece of salmon, white tuna, and red tuna sashimi I sliced. None of the fish needed any seasoning at all. The class basically includes a make-your-own meal for $185. Actually, two meals, as Robyn and I dined on all of the items I made and stored in my Tupperware container. With a little bit of practice, I'm confident I could make better sushi than most places that charge $25 for a sushi dinner entrée. "Mmmm!!! That looks delicious!" my eight year old said when he saw the sushi.
Fresh Basil
You gotta' love it when you live right across the street from a world-famous French chef. Every now and again, I see his wife taking care of a small makeshift garden right outside a parking lot. A sign over the plants says, "Do you like fresh basil? Take some home if you do!" I picked a plant for myself, washed it throroughly, and added it to my pasta sauce. Whoa, it's so good and so fragrant! Nothing beats fresh basil handpicked from a garden just moments before cooking. I'll be picking more of these plants for my future culinary creations.
The Perfect Sandwich
Four or five slices of London broil, one slice of pepper jack cheese, one leaf of iceberg lettuce, one slice of beefsteak tomato, and mayonnaise in between two slices of potato bread. Better than a Philly cheesesteak. I researched what London broil is and it turns out it is usually a broiled, marinated flank or top round steak and its origins are not from England. The slow-cooking process turns these typically tough meats into soft, juicy heaven. If you want a prime example of how tender and juicy flank steak could be, look no further than a good Chinese restaurant.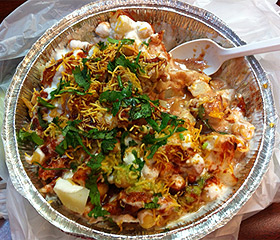 Chaating Away
This weekend reminded me of how much I miss Indian food. Nothing beats a good lamb saag or chicken korma, but it wasn't until recent years that I began enjoying chaat, an Indian snack often found in the appetizer sections of Indian restaurant menus. Chaat usually has some element of boiled and fried items masterfully blended and connected with yogurt and a delicious tamarind sauce. It is a crazy mix of flavors that simply dance in your mouth. Chaat is surprisingly inexpensive, too, usually around $5 for a portion that serves two. My favorite chaats are the classic papri chaat and vegetable samosa chaat. Papri chaat is a mixture of crispy fried dough wafers made from refined wheat flour, chickpeas, and boiled potatoes and topped with yogurt, tamarind, mint, and cilantro chutneys, and sev (crispy noodles). Samosa chaat might be more familiar to many of you because everyone who has delved into any kind of Indian food has probably tried a vegetable samosa, a fried dumpling filled with curried potatoes and green peas. Like papri chaat, samosa chaat is smothered in yogurt and tamarind sauce.
Chifa
My friend Chris and I went to Morimoto for happy hour where we enjoyed cocktails and appetizers of spicy lobster skewers and rock shrimp tempura. We walked a few doors down to Chifa where we had an extraordinary dinner with tasty duck tacos, an amazing red curry with jumbo lump crab, coconut, tofu, and eggplant over rice, and the incredible Chinese 5-spice pork. Six condiments, six soft taco shells, and four leaves of Bibb lettuce accompanied the roast pork shoulder. There was more than enough meat for all of the taco shells and lettuce leaves and it was damn good! We went to The Farmers' Cabinet for eclectic cocktails afterwards. I had the The Farmer's Cup (Pimms #1, bergamot simple, cucumber, ginger, mint, lemon, soda) and The Kentucky Firing Squad (Buffalo Trace bourbon, lemon, tamarind molasses, angostura bitters).
Philadelphia Chutney Company
I've eaten at the Sansom Street location several times for good reason. The food is good, inexpensive, and a terrific value for the money. I love the classic masala dosa and the selection of chutneys. For $5 to $8, you get the equivalent of two small meals, especially when you order the chicken tikka roll, which contains a savory filling of marinated chicken cubes and roasted green peppers in a mildly spicy tomato-based curry. Yes, the spices have been toned down to suit the typical American palate, but it's tasty enough to be much more enticing than your usual hamburger or chicken sandwich. Bademiya it isn't, but it's the closest we have to my beloved food cart. The dosas at Philadelphia Chutney Company are huge. I've seen Indian families of five share two. I've been to India and can attest to the size of the dosas at some Indian fast food eateries. I don't know of any other Indian fast food dosa restaurant quite like this. Perhaps the closest thing is The Kati Roll Company in New York, but they only sell kati rolls, not dosa.
Han Dynasty
My second time at Han Dynasty was as pleasurable as the first. I went with my coworker friends, Robert and Ingrid, a couple who share my love for authentic Asian food. We each ordered and shared our family style dishes of Dan Dan Noodles, Spicy Beef Noodle Soup, and Taiwanese Sausage Fried Rice. Whoa... these dishes were simply amazing! Plentiful portions packed with so much heat, they were fine examples of how spicy hot food can be quite enjoyable. I've had the Dan Dan Noodles here before and recommended it to Robert. He and Ingrid loved the dish. Ground bits of pork, peanut sauce, and chili oil. So simple and yet so addictive. My Spicy Beef Noodle Soup tingled my lips with its exotic flavor that was equally as addictive as the Dan Dan Noodles. The beef and tendon chunks were very tender. I just wish there was more meat. The Taiwanese Sausage Fried Rice was the most ordinary of the three, but it was like the superior quality fried rice you get at Chinese weddings. "This is one the best meals I've had in my entire life," Robert admitted. "Even better than our wedding?" Ingrid challenged. "It's right up there with that," he replied. That's the best endorsement you can get! I returned to Han Dynasty over the weekend to get Dan Dan Noodles before an Eagles game. The takeout portion is a lot larger than the dine-in portion. I feel there's a bit of pomp and circumstance with the Dan Dan Noodles when you eat them in-house. Your server brings out the noodles unmixed and mixes the ingredients in front of you. No other dish on their menu is like this. My fifth time there I was with my friends, Chris W and his wife, and we had a veritable feast with Dan Dan Noodles, Dumplings in Chili Oil, Double Cooked Pork Belly, Hot Sauce Chicken, and Kung Pao Chicken. The pork belly was sliced thin like bacon and was my least favorite dish. I picked it, but I didn't have anything to reference it to other than its simple description. Had I known it would be thinly sliced, I would've passed, but the flavors of the dish, like all the others, was outstanding. The Hot Sauce Chicken was especially tender and juicy. I had that dish twice and it was great both times. I used to not like spicy Szechuan food, but I've grown to enjoy it over the years.
Craft & Claw
Craft & Claw is Philly's newest spot for craft beer, seafood, and crab legs. There are all-you-can-eat specials of Alaskan Crab legs on Mondays and hard shell crabs on Wednesdays. Daily menu selections include per-pound plates of Alaskan Crab legs, Dungeness Crab legs, and King Crab legs. Despite the nearly packed room, the sound was amazingly quiet, a testament to the acoustically tempered design. "The type of wood they used and the sound baffling on the walls help," my friend Chris said. We started with appetizers of Tempura Fried Blue Crab Fingers (actually claws) and Crab Cake Sliders. Both were good, but not exceptional. I didn't like my crab fingers until the second one, which was meatier than the first. It got addictive by the fourth and before I knew it, they were all gone and I wanted more. We both agreed that the crab cake in the sliders would not stand well on their own. They were made with shredded, mushed lump crab. I could only guess that the crab they used in the appetizers were products of Vietnam. Chris' pan-seared salmon was very good, but my Dungeness Crab legs served "Baltimore Style" (Old Bay seasoning) were absolutely phenomenal. It brought back fond memories of my time in San Francisco. Now the big dig... they took away my Margarita before I finished it! It was more than half full! That, and a hostessing blunder, knocks it down two stars in my book. Yeah, that's right, Craft & Claw would've gotten my coveted five-star rating if their servers did better.
Creed's Seafood & Steaks
I had my heart set on the Short Rib Sandwich, but they no longer offered that on their lunch menu. The servers recommended the Wagyu Cheesesteak so I ordered that. The restaurant is beautiful on the inside, the servers are all friendly, and there's plenty of free parking. With its multiple dining rooms, the place reminds me of someone's house rather than a restaurant. It's almost Deux Cheminees-like. My cheesesteak was good, but represented another fine example of what not to do with Kobe/Wagyu beef. Why make it well done? The ciabatta roll was top notch. The carmelized onions were delicious. The cheese was a bit salty and overpowering. The side of potato chips instead of the traditional fries was inexplicable. $17 for a sandwich that isn't phenomenal is a bit pricey. I'm left with mixed feelings about the place. I'm willing to try it again and go for a sit-down steak dinner next time.
The Spot
When you get Craig Laban's attention, you know you're good and while I don't always agree with Laban, I bow to his knowledge of the almighty burger. Imagine if you will what your idea of a fantasy burger might look like. Now be prepared to be amazed as some dreams do come true. Josh Kim, owner of The Spot, grinds the meat himself and uses the finest ingredients in each meat-lover's masterpiece. Huge, pillowy soft buns, generously thick slices of tomatoes, juicy, slow-cooked spinach, tangy teriyaki sauce, or whatever strikes your burger fancy... it's all here and, frankly, I don't know where they store it all. The Spot is cute, too. Freshly painted in yellow with red accents, Kim's family might also own Kami, the red with yellow accented Korean food cart parked right next to it. I've always believed that a limited number of menu items ensures specialization and the highest quality because if you're not good at making those three or four things, you may as well not be in business. At $6.50, Kim's burger prices are higher than everyone else's, but you're getting a restaurant-quality burger. I walked my burger five blocks to return to my office at Penn and it still kept its thickness. Now I'm jealous that Drexel has better food carts than Penn!
Rouge
I've always thought of Rouge as a posh lounge with an award-winning burger, but little did I know that a fantastic meal can be had here, too. My Steak Tartare and Seared Tuna were really good and my friend Chris' Pan Seared Duck Breast with chorizo, corn, and potato hash and morel mushrooms was excellent. I was particularly impressed with the accompanying black rice with maitake mushrooms in my tuna dish and the hash in Chris'. A top chef always cares about the side items that accompany the featured item. The flavors in each dish were very nicely done. The drinks were very good, too, not the usual jet fuel they serve to patrons sitting and drinking under the canopy. Rouge exceeded my expectations. I had doubts, but my doubts were totally obliterated. After Rouge, Chris and I went to Vango for drinks. We met a friendly black gentleman at the rooftop lounge. He and his friend opened a box of cigars. It was starting to rain and we offered to let them sit under the canopy with us, since our table was the only one under the canopy. They said "No, no, that's okay" and I said half-jokingly, "Are you sure? Because I was kind of hoping you'd give us a cigar!" He smiled and took two out of his box and offered them to us. They smelled like chocolate! Chris and I enjoyed the smell. It was the first time I ever smoked a cigar. We had a second dinner in Chinatown at midnight where we had fried tofu stuffed with minced shrimp at David's Mai Lai Wah. Drinking and cigar smoking made me hungry.
Kami
I often wonder about the design choices of certain buildings, restaurants, and food carts. Kami is a new food cart on the Drexel campus that's bright red in color with a caricature of a duck wearing a chef's hat and holding a cooking spoon. Kami translates to "god" in Japanese. What did Kami's owners mean by that? Enter the bugogi kimchi cheesesteak with your choice of provolone or cream cheese. At the suggestion of a fellow food reviewer, I got both. I opened the foil wrapper. It smelled really good. I sunk my pearly whites into the most tantalizingly juicy sandwich I've had in a long time. The hoagie roll was pillowy soft like the buns used at The Spot. The marinated meat was perhaps the most tender meat I've ever, ever, ever had from a food cart or sit-down establishment. The mushrooms and onions enhanced the beef's flavor. Only a sparse amount of kimchi was used, but it was just enough to give the steak a little kick. I didn't taste the provolone, but I did taste the cream cheese and it really gave my cheesesteak an interesting texture component as well as curbing the spice of the kimchi. What a great combination. This is hands-down the best cheesesteak I've ever eaten. Now I know what Kami refers to. This is God's sandwich... for just $7.50. The free salad was a nice touch. Kami offers only three menu items - chicken bulgogi, bibimbob, and bulgogi kimchi cheesesteak - ensuring specializaton and high-quality preparation and ingredients. I wish it wasn't Friday because I'd love to go back there again for lunch tomorrow. In my earlier review of The Spot, I mistakenly believed that Kami's owners were somehow related to them. They're not. "They helped get us started," the young woman manning the grill at Kami said. The cordial, older woman taking food orders reminded me of the same setup as The Spot. Having a separate money handler and allowing the cook do what he or she does best is a winning formula. Both Kami and The Spot are setting new cleanliness standards for food carts. For this reason, you can't call them food carts anymore. The more proper term should be mobile kitchens. Kami is a frickin' awesome mobile kitchen.
Ramen Bar
I've twice eaten at Philadelphia's newest ramen spot, Ramen Bar, on the west end of the Penn campus and both times were fabulous. It is now my favorite ramen spot in Philly. I thought Nom Nom was good, but it doesn't compare to this. Super fresh noodles, marinated chashu pork belly, kikurage mushrooms, menma bamboo, red pickled ginger, sesame, and scallions sit in a pork broth that is slow cooked for 20 hours. Nom Nom gives you three slices of pork, but the one slice of pork at Ramen Bar is about the same amount of meat and is twice as tender and flavorful because of the fat component. It truly is a delicious bowl of ramen. My only "beef" with Ramen Bar is the way they seem to nickel and dime you on every additional ingredient. Most bowls of ramen soup elsewhere include a slice of fish cake. It's 50 cents more here. A shot of spicy sauce is also 50 cents. Nori (seaweed) is also an option. The soft boiled egg for a dollar is reasonable since everyone charges a dollar for the egg, but the other three items should be included in the so-called Tonkatsu as a matter of course. Just how much does fish cake cost anyway? It comes in big sausage-like links for five dollars a pound! A piece of seaweed shouldn't kill their budget, either. Right now, their prices are higher than everyone else's ramen bowls so it would be nice if they gave a little more than less.
R2L
It's been ages since I've had the pleasure of eating Chef Daniel Stern's R2L Style Veal Stew, an exceptional bounty of veal goodness in every bite. Tender chunks of veal breast, a cylindrical formed melt-in-your-mouth veal tenderloin, and a small cube of savory veal meatloaf sit in a delicious sweetbread gravy filled with fingerling potatoes, onions, spinach leaves, and fried eggplant. I'm glad I saw it on the menu because it wasn't listed on the online menu. I urged my friend Chris to order this dish, too, and he did and he loved it. Before our entrées, we shared an appetizer of foie gras and duck confit spring rolls with Asian-inspired cole slaw. It was a heart attack in a roll, but so worth it. Our window seat overlooking a gorgeous nighttime view of the city. We had drinks at Smith & Wollensky afterwards. I noticed that the general manager at Smith & Wollensky who outed me earlier in the year has been replaced by a new person. Good riddance to a discriminatory piece of shit. He claims to be stepping down from his post to take time off to write a book. Let's all hope his book bombs. We thought he bar was pretty barren on a Monday night, but within fifteen minutes, a large group of men and a few women walked in and livened the place up to the point of being quite noisy. We left after our drinks and went to Dandelion for another drink. There I had a very unusual drink containing Bacardi rum, orange marmalade, Young's Chocolate Stout, and nutmeg. If I were to drink beer, it would have to be flavored like that. There's a chicken and duck liver parfait and a duck, foie gras, and pistachio terrine that I'd love to try.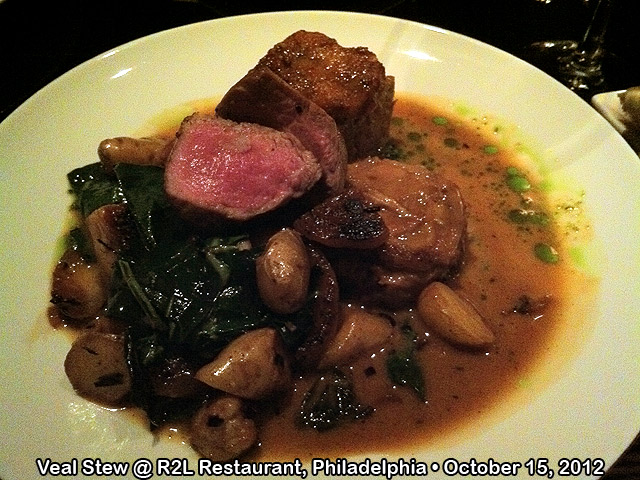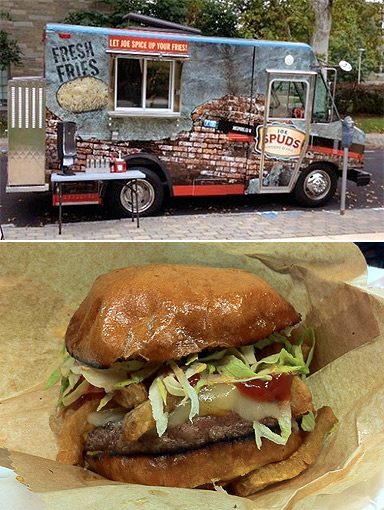 Joe Spud's
Joe Spud's, you win. I thought The Spot had the best gourmet burgers from a food truck, but your Cheesy Joe burger bested the two burgers I had from there. Kudos to you for using big, soft, glazed-top buns from Le Bus, high-quality beef, two kinds of cheese, thick tomato slices, and fresh lettuce. Bigger kudos for topping your burger with a small amount of fresh-cut fries. Whoa!!! This is an evil sandwich, my friends, and it's your fault you've made me gain another pound or two. $8 is a hefty price to pay for a Cheesy Joe, but it's well worth the money. The no-frills decor of most of the food trucks on my college campus won't fly anymore as newer trucks start invading the neighborhood.
Manakeesh
Have a hankering for quality Lebanese food? Manakeesh will satisfy your Middle Eastern cuisine cravings. Delicious sandwiches on homemade pitas, extraordinary side dishes of baba ghanouj and grape leaves, and delicately sweet filo dough pastries are just a sampling of the wonderful menu items. The moment I tried their baba ghanouj at one of my office lunches, I had to go back for more that day for dinner. I've also enjoyed their wonderful gluten-free platter containing hummous, baba ghanouj, grape leaves, falafel, and salad, and several of their pastries. With a couple of pitas, this could be three meals. The only problem is this kind of food really makes your breath stink!
My Trip to New York City
I did some research and had my heart set on eating at The Kati Roll Company, but a few recent bad reviews made me look for another place. I found Masala Times, another Indian fast food place that serves kati rolls and shows a quirky sense of humor in their in-restaurant signs. "What a fucking weird place," I thought to myself, "but it's clean and the food is good." I ordered a lamb bhuna roll, which brought back fond memories of the Bademiya food cart in Mumbai. It was spiced nicely, but nowhere near as hot as my beloved Bademiya's lamb bhuna roll. What would've been a nice experience ended up kind of iffy as one of the employees took a liking to me and sat and talked to me for the entire length of my meal. Starting off like any other guy hitting on me, he wanted to know where I was from, what I was doing in New York, and how long I'll be staying. "Where's husband?" he asked. I didn't want to have to explain that I'm a lesbian, so I responded, "At home, working." "In Philadelphia?" he asked. I nodded. He grinned like a Cheshire cat. Like most lecherous guys, I caught him sneaking glances at my boobs. At some level, I like being seen as desirable, but not while I'm eating! Eating is sacred to me. He told me he was from New Delhi and I told him about my trip to India, which included a stop at New Delhi. He asked me if I would go there again and I said I definitely wanted to, but I didn't have any money. "I pay for trip. You and me to India," he said, smiling and bobbling his head. One of these days I should take some guy up on his offer, but I fear the worst in that the experience would end up resembling a live version of a Benny Hill chase scene. "Don't tell your husband. I pay for your hotel room to stay here extra night!" he said slyly. "No, no," I said, shaking my head, "I'm faithful." "Oh, sorry," he said, "many American girls have open hearts." I think he meant that most of us are easy.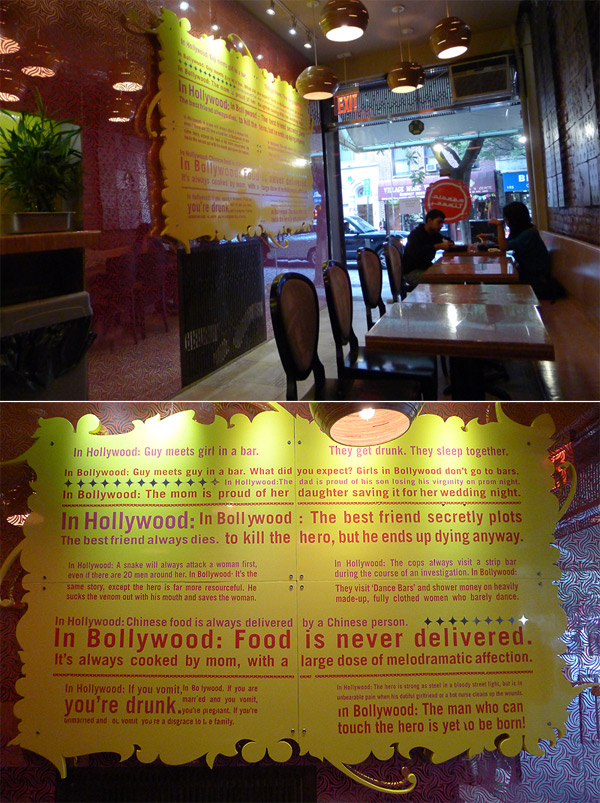 I really liked my lamb bhuna roll and I wanted another one, but I couldn't bear being in his presence any longer. I left and walked down Bleeker Street and noticed all the Indian stores and restaurants. I then realized I was in the heart of Little India. I found The Kati Roll Company and decided to give it a try. It was right next to a shop called Tastee Curritos, yet another Indian burrito place that also sold hoagies with Indian spiced meats in them. Weird. The Kati Roll Company is just like I had envisioned it, a hole in the wall with no restrooms. It looked like a shack, but it wasn't as bad as the reviews from the dumb suburbanites on Yelp made it sound. The shack-like aspect of it is fabricated and quite comical. I ordered an Unda Aloo Roll, a spiced potato, green pepper, onion, and scrambled eggs roll. It was awesome! It was like a breakfast burrito with a little kick to it. My Kati Roll Company roll was definitely smaller than the one at Masala Times, but that could've been because of the ingredients. I'm not exactly comparing the same items. It wasn't too spicy, but my breath and hands reeked of Indian curry after eating it. Unfortunately, one of the things our teacher told us to avoid, in order to have an optimal voice, is spicy foods.

Mong Kok Station
Want some authentic Chinese dumplings and pastries? Be careful what you wish for. The servers don't speak much English. I'm Chinese and even I had trouble communicating with them. You know you're in the wrong place when the servers don't know what a Coke is and it's right in their refrigerator! The place is filled with locals who only speak Chinese. Yes, they will poke fun of you if you don't know as much Chinese as them. I took my children there for a weekend lunch and we ordered several dishes: shrimp dumplings, bean curd rolls filled with beef and mushrooms, dried shrimp and scallion rice rolls, and turnip cake. I found a dead bug on my plate of rice rolls. I would've alerted the server to it, but she probably wouldn't understand me. Perhaps the best part of the meal is what they truly do best, the pastries. The pineapple buns are soft and delish and only 80 cents. The ones down the block have custard in them for the same price. The bill was just $12.05 for this substandard food, but it was filling.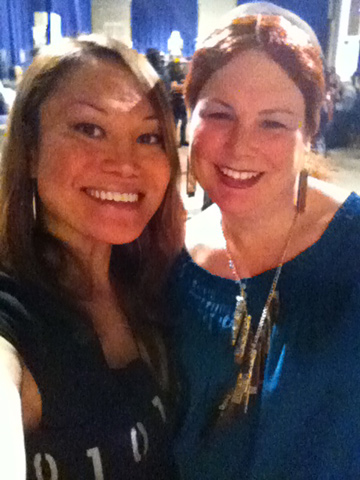 Night By The Nile
As a Yelp elite reviewer, I get invited to some really cool parties with free food and drink. Their latest soiree at the Penn Museum had a two halls filled with delicious bites from City Tap House, Circles, Fat Jack's BBQ, Fuel, Basic 4, Soy Café, The Tomato Bistro, Cake and the Beanstalk, and The Sweet Life Bakery. Alcoholic beverages included several local breweries serving beer, flavored wine, moonshine, apple cider liqueur, and more. My favorite items were the seared scallop and mushroom risotto from City Tap House, the Thai pumpkin soup from Circles, the shrimp canape from Fuel, and the BBQ pork from Fat Jack's. My friend Tammyrae accompanied me. We weren't in theme with the Egyptian motif, but we weren't the only ones. One of the highlights of the party was a very informative tour of the mummy exhibit led by one of the museum curators who impersonated the female pharoah Hapshetsut. The promo cards asked guests to not make a meal out of the finger foods, but it was hard not to. Nine food vendors plus getting seconds from three of them made for a very filling meal. I was somewhat disappointed that nobody recognized me. After the Yelp party, my friends, Chris and Chris, picked us up and we all went to the Henri David Halloween Ball at the Grand Ballroom of the Sheraton Hotel. I don't think there were more than a couple hundred costumed attendees. It wasn't the massive two thousand person affair it usually is, perhaps because of the aftereffects of Tropical Storm Sandy. Plenty of people all over the Philadelphia area recently got their power back after a recordbreaking 350,000 homes and businesses lost power. The storm really didn't affect the city much. My condo has experienced much worse rainstorms, so I was fortunate. My friends and I stayed in the lobby bar sipping cocktails. A couple dressed as hillbillies bought me a drink. I managed to catch the eye of a couple of nice-looking, younger guys as I passed them by, so that was cool. I stayed with my friends Chris and Chris in their Bethlehem home and we went to a couple of good Asian restaurants, CJT and Prince Palace Dumpling House, the first day. In between lunch and dinner, we toured the Sands Casino and Lehigh University. We watched the horror film, High Tension, at night. The next day we went to the Palace Diner for lunch, visited a comic and gaming store called The Portal, walked around The Promenade Shops at Saucon Valley, toured Allentown where Chris works, sipped cocktails at Bethlehem Brew Works, and enjoyed dinner at Edge, a restaurant awarded "Best Fine Dining" in the area. Chris and his wife had the calamari, pear salad, and pork tenderloin. I had the seared foie gras and grilled mahi mahi. My foie gras sat atop banana nut bread and drizzled with honey. It felt good to taste foie gras again. My grilled mahi mahi sat atop a bed of carrot risotto. Aside from the corners, which were a little salty, the bulk of my fish was fantastic and buttery soft. Cocktails were unique, too, and reminded me of the kinds of drinks I could get in fine restaurants in Philly and New York. My Key Lime Martini (Stoli Vanila, pineapple juice, a splash of rose's lime, and cream) was fantastic. It actually tasted like key lime pie complete with ground graham cracker crust lining the edge of the glass. I also had the Caipirinha (Cachaca, muddled lime, and sugar), which was a bit heavy on the lime. Chris' wife had the Lychee Martini (Absolut, lychee juice, and splash of champagne), which was really good. Chris and his wife each ordered the pork tenderloin. I sampled some and it was absolutely fantastic. If I didn't know it was pork, I would've assumed it was prime rib. We had vanilla créme brulée and pistachio dusted goat cheese for dessert.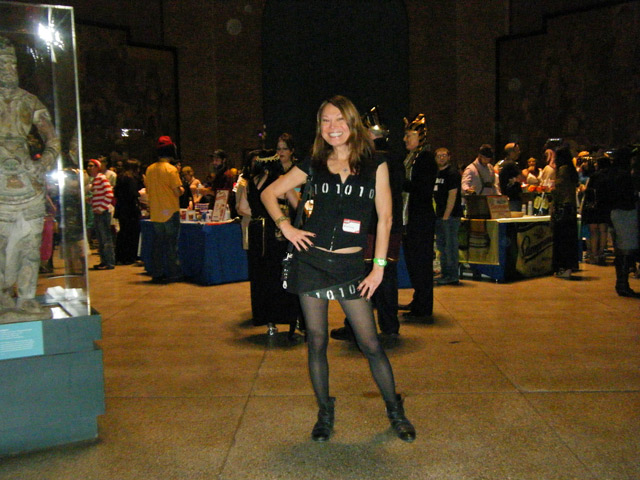 Blackbird Pizza
Vegan places are notorious for spicing up their foods to hide the fact that soy proteins don't exactly taste like animal proteins. I took my sons to Blackbird Pizzeria this weekend to get them to try "fake pizza," as I like to call it, because it has Daiya cheese instead of mozzarella. Some crazy vegans will insist that it tastes like mozzarella, but the texture and consistency is more like cream to me. They liked their plain slices. I liked my assorted mushroom slice. I also ordered fries and buffalo wings. The wings were fried seitan smothered in a fiery hot citrus-based buffalo sauce. Fried compressed bread. So I'm really eating sauce on bread, which is silly. I like soy chicken better.
Xochitl
My friend Chris and I did a little food and drink tour around South Street and Chestnut Street. We had drinks at Dark Horse Tavern first and then dined at Xochitl, a restaurant that serves delicious Mexican-inspired dishes. We shared the guacamole, which we customized with Spanish onions, cilantro, roasted garlic, cotija cheese, and crabmeat. We had appetizers of Duck Pelliscada and Crab Ceviche. Chris' duck pelliscada was really good. Tender duck confit sat atop a baked masa cake with white bean and bacon purée, caramelized fig, and chipotle and fig sauce. My crab ceviche was okay. The crab tasted like Chicken of the Sea crabmeat. I absolutely loved my Shrimp Chili Nogada, a huge roasted poblano pepper stuffed with shrimp, rajas, queso mixto, mexican red rice, and topped with a walnut and canella cream sauce, pomegranate seeds, and micro cilantro. The quality of the shrimp was not as high as a place like Las Bugambilias, but it worked in this dish. I also didn't like the soggy green peas in the rice. I thought I'd mind chewing on pomegranate seeds, but I was fine with them. Chris' Fish Tacos contained marinated chunks of walu fish. The fish was really good, but I didn't like the accompanying Mexican cole slaw. We went to Bridget Foy's for a drink, shot a game of pool at Buffalo Billiards, and had a drink at Monkey Bar. On our way to the final drink spot, we met a guy in the street who asked me for directions to a place with dancing and single girls. "Vango," I said. I told him that we were going to go there earlier. "Come join me?" he said. If I was single, I would have.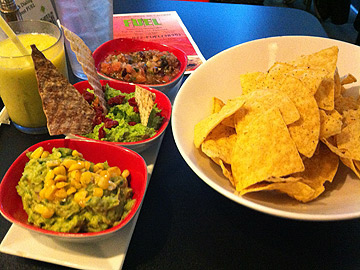 Fuel
I wish I could say all good things about this place because I was really enamored with their sample offerings at the recent Yelp food and drink party, but I can't give it a great review because my first experience there wasn't good. I ordered the Fuel Sampler, which gave me a choice of three items from a list of guacamole, black bean and tomato salsa, hummus, and sweet pea mash. The sweet pea mash was incredible, but the salsa and guacamole were too salty. The guacamole was especially salty and I let my server know that. She tried to rectify the situation by giving me a substitute of hummus, but that, too was too salty. Why was this place awarded "Best Hummus"? I can certainly appreciate the fact that it's freshly made, but something in the guacamole, hummus, and salsa just didn't taste right. That aside, if I had just ordered the sweet pea mash or perhaps the shrimp canapes that I tried from the Yelp party, I would've given this place four or five stars. I'll give it another try before I dismiss it. I'm sure the wraps and salads are good. I did like my Zen smoothie (cucumber, mango, pineapple).
Cuba Libré
Chris and I dined at Cuba Libré where we enjoyed the "15 Tastes of Cuba," a special 15-course tasting menu designed by internationally renowned Chef Guillermo Pernot. I've have had many fine meals at Cuba Libré so I was very excited when I saw this new menu addition. My expectations were met, even exceeded in some cases. The pressed Cuban bread with mango butter is always delightful. I'm a big fan of bread that eats like a pastry. We were served two plates of appetizers. The first plate included black bean hummus, rum-cured smoken marlin salad, and salsa with plantain and malanga chips. These were just fillers, nothing extraordinary. The salsa was kind of runny. The bean dip was plain. The marlin salad was chicken-chewy. The second plate included a shrimp cocktail of four large shrimp soaked in an avocado salsa, empanadas filled with chopped chicken, corn, sweet peppers, and jack cheese, potato croquettes filled with beef picadillo and topped with crispy onions and Manchego cream, and fritters made of purple taro root, garlic, and cilantro. Everything on this plate was delicious. Nothing really stood out. These were all very tasty comfort food items. I liked the shrimp cocktail the best. We each received our own plate of three mini entrées of grilled skirt steak with mushroom salad, BBQ grilled shrimp with guacamole and mango salsa, and a Mahi-Mahi filet on top of squid ink black rice with calamari rings.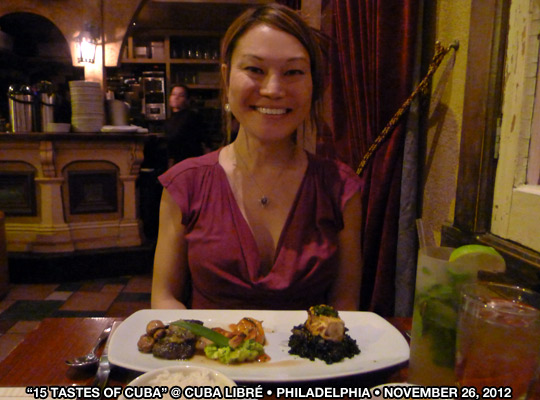 A third plate sat in between us with sides of sweet plantains, black beans, and white rice. I liked the plantains. They were sweet and crispy and made just right. The beans and rice were just fillers. The steak was nothing special. It was the kind of tough steak made to taste tender through marinade and tenderization methods. I didn't care for the layer of onions on top that reminded me of White Castle onions. The shrimp was very good. I wish there were more than one. You can't go wrong with shrimp in mango salsa. The fish was probably my favorite of the three. It was very nicely done and my only criticism of it is it didn't really taste any different from the way it would've been prepared at, say, Devon Seafood Grill or Legal Seafoods. In other words, it didn't taste very exotic. It was very good, but not very exotic and the whole point of coming to a place like Cuba Libré is to sample something exotic. We each received dessert plates of flan with citrus salad and a tres leches de caramelo cake. The flan was okay. The cake was good. Is the food great? Yes, it uses very high-quality ingredients prepared in a well thought out manner. Is the service great? Yes, our server was reasonably attentive. Is the decor great? Oh, hell, yeah. This place looks like it belongs in Walt Disney World. So, what's wrong with it? It's missing the real taste of Cuba. I want the real deal, not the watered down stuff that suburbanites who visit Philly want to eat. Give me the tentacles with my calamari. Give me the spices. I want to experience the spices... and if it's ever too spicy for me, it's my own fault for wanting the spices. I don't necessarily want spicy hot spices, but the authentic spices that most people who are used to eating fast food hamburgers and steakhouse steak would never dare consider.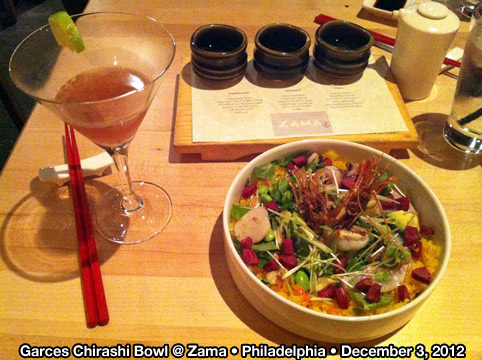 Zama
Chris and I went to Zama for dinner. We enjoyed plates of seaweed salad, Black Cod Dice, Garces Chirashi Bowl, and the sashimi sampler. My personal favorite was the Black Cod Dice, miso marinated black cod with pickled vegetables and Belgium endive. Chris remarked that this version tasted better than Buddakan's Black Cod Miso. It did. The sashimi was delicately sliced and very tasty. My chirashi bowl was a disappointment. I felt that they skimped on the ingredients and the chorizo and avocado gave a hokey Tex-Mex feel to the dish. A look at the first version of José Garces Chirashi Bowl revealed that chorizo and avocado were not even used. They should've kept it that way. This is chirashi, not fried rice! I liked the head-on shrimp. They were beautifully done. The rest of the jumbo shrimp was included as well as scallops, squid, giant clam, and sea bass. Chris ordered the sake flight and we each took turns sipping the three sakes. Only one tantalized our tastebuds, the Rihaku Dreamy Clouds Nigori. My Pomegranate Green Tea Martini (green tea vodka, Pama, simple syrup) was very good. Chris is going to drive me to my surgeon's recovery suite to check in the day before my surgery. He took half a day off work and was willing to drive an hour and a half to my place to be there for me. For that, I told him I love him because I know I could count on him. I let him hear the song I wrote, sang, and dedicated to Robyn. He loved it. "Is there anything you can't do?" he said. "No," I said, smiling. After Zama, we went to Rouge where we sat outside on the warm November evening sipping cocktails and enjoying their Truffle Parmesan Pomme Frites. We decided to walk off our drunken stupor and got a gelati ice cream sandwich from Capogiro along the way home.
Zahav
My friend Chris and I enjoyed a fine meal at Zahav where we each ordered the Tayim, a multi-course tasting menu with your choice of hummus, two appetizers, entrée, and dessert. The bonus course is the salatim, a daily selection of eight salads served in little tins, much like Indian thali. We ordered the Turkish hummus, a fluffy, whipped hummus mixed with butter and garlic that is served warm. The homemade laffa bread was extraordinary and I was quite full after the salatim and hummus. Next came our mezze, or appetizers. We each chose two from a menu of thirteen selections. Never wanting to try the ordinary, we ordered grilled duck hearts, sweetbread schnitzel, smoked salmon with latke, and smoked sable with Challah toast and egg, which I affectionately call "fish French toast." The appetizers were incredible, especially the fish French toast. Chris loved the duck hearts. For our shipudim, or grilled skewer entrées, we ordered the stuffed quail and duck sausage over rice. Yummy! Our desserts of halvah mousse and pumpkin cake were also outstanding. About the only thing I did not enjoy was the creepy manner in which the servers and busboys appeared out of nowhere to serve our food or pick up empty plates. I'm usually great at sensing when people are sneaking up behind me, but I couldn't detect them at all. So, what are you waiting for? Go get Tayim'ed as soon as possible at Zahav! Chris and I went to the Sheraton Philadelphia Society Hill Hotel bar around the corner for cocktails before we retired for the night.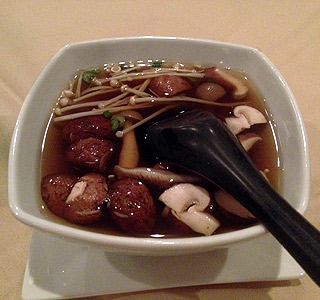 Fuji Mountain
My friend Chris W and I had dinner at Fuji Mountain, our favorite sushi spot in Philly. Unbeknownst to me, it was Restaurant Week in the city and Fuji Mountain was offering a five-course meal for the incredible price of $35 per person. Each course had an ample number of selections to satisfy any palate. The two soup selections in the first course were miso and kinoko soup. We were already familiar with miso soup, so we decided to try the kinoko, a clear broth that includes four different kinds of mushrooms. What a delicious bowl of soup! The four salad selections included seaweed salad and salmon skin salad. The salmon skin was nice and crispy, but nothing extraordinary. The four selections in the third course included beef negamaki and lobster ravioli. My beef negamaki - scallions and asparagus wrapped in thinly sliced beef - was juicy, tender, and delicious. Chris' lobster ravioli had lots of lobster in them. We had a choice of three hot or three cold entrées, so we each ordered the Fuji Premium sushi and sashimi combo, a safe bet, since sushi is the reason why people go to this restaurant. The "premium" label was so given for its inclusion of scallop, squid, and red snapper. The usual pieces of tuna and salmon were included for completeness. The dessert was your choice of three ice cream flavors. We chose green tea, a perennial favorite. This was a fantastic value for the price and, best of all, I somehow lost weight eating all of this because I weighed 133.8 the next morning. I ate a restaurant-quality burger from Spot Gourmet Burgers for lunch and a provolone cheesesteak from Sonny's Famous Steaks for dinner and I weighed 133.6 the next morning. Oddly, I still have a belly even though my weight is at a recent low. Perhaps I'm ready to dip below 130 soon.
Foo Truck
Foo Truck may very well be the next Tyson Bee's. Before Chef Tyson Ophaso left the truck bearing his iconic name, Tyson Bee's was a culinary gem on the Penn campus with its Asian-inspired tacos, burritos, and rice dishes. Foo Truck has filled the void and satisfies the culinary adventurer's desire to obtain a high-quality meal with premium ingredients at a reasonable price. Every sandwich at Foo Truck is a unique experience, from the highly-praised spicy green curry with roasted vegetable medley to the savory, mouth-watering braised meatballs. On my repeat visits to Foo Truck, I tried the roast pork sandwich filled with Chinese roast pork, steamed rice, pickled vegetables, cucumbers, and crushed peanuts. It's like a Vietnamese pork hoagie in burrito form. I also thought the pork belly sandwich with shoyu potatoes, tea egg, and Chinese greens was crazy good and quite satisfying, definitely worth the wait. The flank steak sandwich with onions, water chestnuts, and mustard greens is another winner. I found myself unable to stop eating it. Before I knew it, I finished the sandwich and didn't even need a sip of my beverage.That's the sign of really good food. I also must give props to Foo's braised meatball sandwich. It is, quite simply, awesome. The combination of meatball and napa cabbage is genius. I don't know what kind of culinary pedigree Chef George has, but he clearly knows what he's doing. The pork belly, flank steak, and braised meatball sandwiches clearly make this a five-star truck. Highly recommended.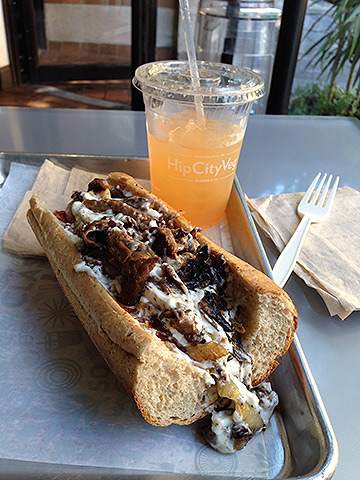 Hip City Veg
Hip City Veg is a veggie lover's paradise for delicious homemade meatless sandwiches and salads. Like any fast food place, everyone has their personal favorites. Mine are the Philly Steak and Udon Noodle Salad. The Philly Steak is Hip City's answer to a Philly cheesesteak. Let me forewarn you that this sandwich won't taste exactly like the kind of cheesesteak you're used to. The texture of the "meat" is more like mushrooms. The sandwich includes lettuce, tomato, mushrooms (yes, mushrooms to go with the mushroom-like meat, onions, and a mayo sauce that brings it all together). It's a great sandwich and I urge you to try one with an open mind because you will probably love it. The Udon Noodle Salad is one of the more popular menu items and it's easy to see why. The salad is filled with lots of good stuff: spicy glazed soy chicken, udon noodles, sprouts, arugula, carrots, cabbage, daikon, peanuts, and black bean dressing. It was delicious. I didn't even realize the chicken was soy until I was more than halfway through! The Bistro Bella is a big portabella mushroom sandwich. Many vegetarians will claim that portabella mushrooms taste almost exactly like beef. It doesn't. It's good, but to call it beef would be insulting to both beef and mushrooms. The Bistro Bella is a nice, hearty sandwich filled with plenty of red onions and artichokes, a couple of slices of beefsteak tomato, arugala, and olive tampenade all in a big multi-grain roll. Be forewarned, your breath will stink of onions when you're done, but it's sooo good. The Fajita Wrap with its blackened soy chicken, peppers, onions, pico de gallo, and avocado is a little more forgiving. For less zesty selections, try the Hip City Ranch or the Jerk Caesar Salad. It's not exactly a sit-down place as there is limited seating, but on a warm, sunny day, I can think of few places around Rittenhouse Square that can provide you with a more satisfying quick meal that you can enjoy while sitting in the park people-watching.
Federal Donuts
They aren't cheap at $2 each, but where else can you get such heavenly donut flavors as cherry almond, pistachio, French toast, or maple bacon? Certainly not from the usual donut chains or even some mom and pop shops. The cherry almond is to die for. The cherry coating tastes like the outer coating of a candied apple. The almonds are fresh and crunchy. You will get hooked. I'm warning you now. Federal Donuts also sells Korean-style twice-fried chicken in different seasonings or glazes. I've tried their honey ginger glaze, which is very good. An order of half chicken isn't really a half chicken, since it's missing the wing, but the chicken breast is big and meaty and I couldn't finish all four pieces anyway. The free honey donut is a nice bonus.
Nom Nom
Nom Nom Ramen is not the best ramen soup joint in Philly, but it's certainly the best in Center City. The broth is thick, rich, creamy, and tasty. Topped with fresh scallions, bean sprouts, marinated bamboo shoots, crunchy kikurage mushrooms, and mouth watering chashu pork belly. The ramen noodles are okay. They look almost like the ones in the little packages, but they're fresh, not freeze-dried. Today's special was a "premium chashu pork" that claims to melt in your mouth. It was a few dollars more than the standard bowl, but it included extra pork with a sesame fish sauce drizzle, pickled veggies, and a marinated soft-boiled egg. To say that it was delicious would be an understatement. The pork was indeed melt-in-your-mouth. The entire meal was comfort food and very appropriate for the cold weather.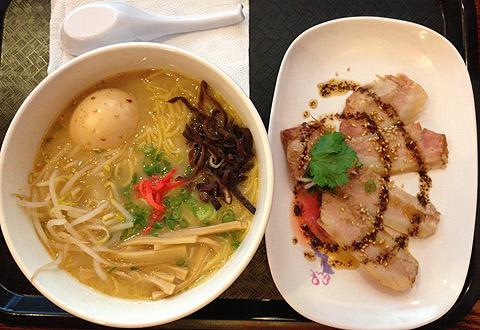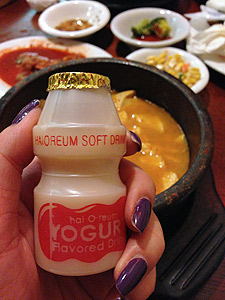 Sammy Chon's K-Town BBQ
Sammy Chon's is a Korean BBQ restaurant with four locations (actually three and a food truck) that serves authentic Korean cuisine. Let me warn you that you will not walk out of this place hungry.Every entrée comes with five to seven assorted side dishes of kimchee, shoyu potatoes, fishcake, broccoli, cucumbers, green beans, and sweet corn. Chris W and I ordered appetizers of potato-wrapped shrimp and honey BBQ Korean fried chicken wings and entrées of kalbi (beef short ribs) and soon dubu (tofu stew with your choice of meat or seafood). The fried chicken exceeded my expectations. Each piece had a crunchy coating with tender, juicy meat inside. The honey BBQ sauce was delicious. The potato-wrapped shrimp were medium-size shrimp encased in a firm potato ball (or is fishcake?), hand-wrapped with potato strands, and flash-fried. I thought they were pretty good, but not something I'd crave again. The kalbi had excellent flavor. The meat itself was very fatty, which was good for about half the dish. There were both lean and fat portions, but overall it was a little too fatty. I'm thinking that the more expensive three-inch short ribs might alleviate the fat problem, but it was quite pricey at $38.99 compared to all of the sub-$20 entrées on the menu. The seafood soon dubu was mostly soft tofu and straw mushrooms with three pieces of shrimp, two clams, and a raw egg on top. If I were to get this again, I would go for all shrimp. I actually enjoyed this dish and found comfort in dumping my white rice into the stew to make it more hearty. I ordered my spice level to be medium on a 1 to 7 scale, but our server sized me up and said I should get a "2". Chris ordered a "4" and our server asked, "You sure?" to which Chris nodded and said, "Hell, yeah!" Our drink was a carafe of soju wine mixed with lychee juice. That was yummy! Our server presented us with a small bottle of tangy yogurt drink as a dessert at the end of our meal. We went to Dandelion and Sofitel for drinks afterwards. I had a vodka martini with two olives stuffed with black truffle and cream cheese. Amazingly, I didn't have a hangover the next morning.
Morimoto
My friend Chris W and I enjoyed a fantastic omakase meal at Morimoto. As usual, the servers asked us if we had any food allergies and I replied, "No sardines." I'm not allergic to sardines. I just hate them, even if they were prepared at Morimoto. "It's my birthday and I've had the omakase here over twenty times, so please surprise me," I said. They assured me that they would try to accommodate me, but that some dishes may appear again by chance. That was fine. The only food request I made was to have us both start with the toro tartare. If you enjoy raw tuna, the toro tartare with garlic, fried shallots, and tobiko is not to be missed! My omakase meal also included a sea urchin and oyster cream soup, seared sockeye salmon in a parmesan cheese brulée, wagyu steak with truffle butter salad, poached lobster salad, "fork tender" kobe beef short rib, seared Schooner salmon filet with straw mushrooms and spinach foam, a sushi platter with chu toro, fluke, yellowtail, mackerel, and orange clam, and a yuzu meringe tart with apricot chutney. Chris' omakase included raw Kunamoto oysters, a yellowtail salad, yellowtail sashimi in citrus soy and sizzling oil, poached lobster salad, "fork tender" kobe beef short rib, eight-spice lobster, a sushi platter with chu toro, fluke, yellowtail, mackerel, and orange clam, and a chocolate pot de creme. We enjoyed some wonderfully unique cocktails, including an oolong colada, a clementine martini, and a pear and elderflower martini. Major props to our servers, a young bearded fellow who was very nice and a tall, bald fellow whose course descriptions made even our small intermezzo courses sound divine.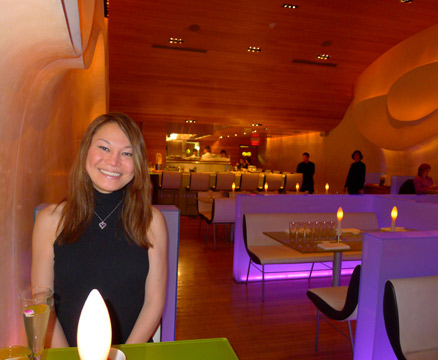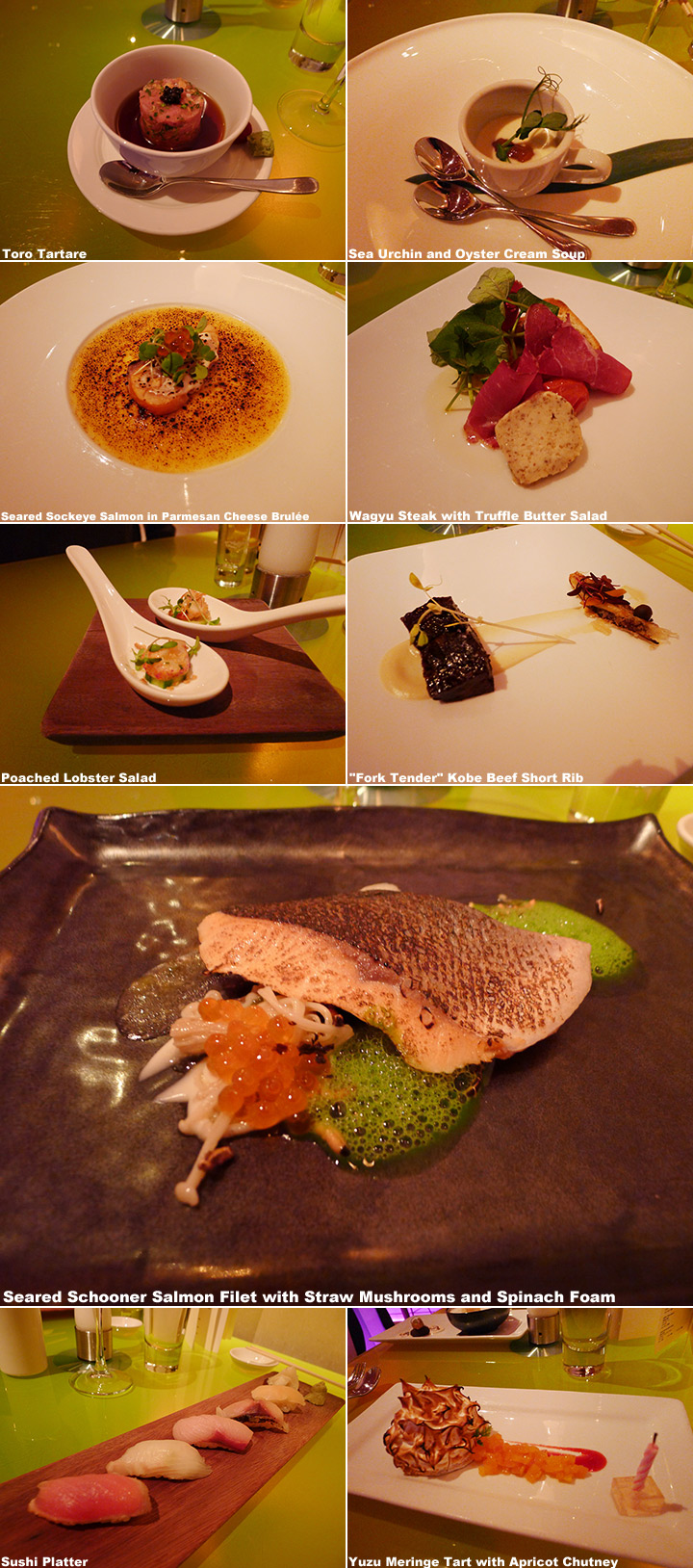 Manakeesh
I love Middle Eastern food almost as much as Asian food. You can say I grew up on it, having feasted on wonderful Middle Eastern sandwiches and platters for over 25 years. The first time I tasted something from Manakeesh, I was floored. The office staff and I helped ourselves to some leftovers from one of the conference room lunches. I tried Manakeesh's baba ghannoush and it was love at first bite. For several months, I made occasional trips into the heart of shady West Philadelphia to retrieve some of that precious baba ghannoush as well as Manakeesh's delicious filo dough pastries. It was only recently that I decided to try one of their namesake entrées, the manakeesh, a Lebanese flatbread pizza. I tried it with kafta (a ground lamb, beef, and parsley meatloaf) and I have to tell you that the kafta is something special. "I could eat two of these," my friend Chris W said during lunch one day. "I know, right? I got one for takeout and was eating it on my drive back home. It was soooo good!" I exclaimed. I was lucky I didn't crash my car from food orgasm. Did you ever eat something that was so good, it felt as if you were whisked away to a place far away from where you currently are? That's the magic of this kafta with its special combination of heavenly spices that tickle the senses. I could not make a better meatloaf myself.
Street Food Philly
"No way can a truck charge ten dollars for a roasted lamb pita!" I thought to myself, but they do and it's roasted lamb and not cheap gyro meat like the Mediterranean carts serve. The pita is a homemade gordita pita. The salad greens are fresh. The feta cheese adds a thick, creamy texture. A creamier cheese would've been more appropriate. There's a tasty orange sauce sparsely mixed throughout. I don't know what it is, but it tastes good. I'm left with a nice feeling in my belly, like I just ate something wonderful that's not too light and not too heavy. I feel a craving for more lamb and that's a nice feeling. I'll save it for another time. Street Food Philly is part of a new generation of mobile kitchens serving quality food to the masses. I think I just found a new spot to go to.
Mac Mart
Mac 'n' cheese from a cart? That takes guts to do, especially since everyone who has any kitchen sense has their own version of it. I'm one of those "try anything once" kind of girls, so I got the BBQ in a Bowl to satisfy my curiosity. The pulled chicken was delicious. The BBQ sauce was sweet as I like it. The cornbread and potato crisp crumbles were delicious. The mac 'n' cheese was very nice with perfectly cooked pasta and creamy smooth cheese. It was almost like eating a dessert. My problem with it is there was too little topping and too much mac 'n' cheese. The medium size bowl is pricey at $8, so having a bit more chicken would've been nice. Maybe a 50/50 ratio would be fair because a savvy eater who has his or her choice of food carts from this block will say to him or herself, "Hmmm... mac 'n' cheese for $8 or a Spot burger (that has more meat) for $7 or Street Food Philly tacos (that have more meat) for $5." Still, I commend Mac Mart for being the first truck to sell gourmet mac 'n' cheese in our city. The truck is real pretty to look at, too.
La Dominique Creperie
Sculptor Zbigniew Chojnacki's highly praised La Dominique Creperie food cart has gotten many rave reviews, so it was time for me to find out for myself if the reviews were accurate. Even though this is a fast food cart, Chojnacki takes his time preparing each crepe. I appreciate when a fellow artist prepares my food because there are certain details that artists consider that non-artists who are just out to make money do not. Chojnacki slices fresh tomato on top of my crepe, drizzles a delectable sweet sauce on top, garnishes it with scallions, and carefully places a dollop of sweet butter in the center. I take a whiff of my lunch as I walk down the street. Wow... good stuff! I ordered the spring crab crepe after reading many reviews. It was a bit of a letdown that the crab was imitation crab, but here's the crazy thing... it tasted good. Real good. I ate the entire crepe. I normally can't finish an entire crepe or sandwich! As I enjoyed each bite of fake crabby goodness, I kept thinking to myself, "How the hell is he using so much crab meat? I know it's imitation crab, but even imitation crab in large quantities is not cheap!" The cream cheese, cucumber, and imitation crab combination was delicious. His crepe was nicely prepared, too. Soft and chewy in the center and crispy and flaky on the edges.There were hints of spices in the sauce that I couldn't quite place and they were quite agreeable with me. In any other food venue, I wouldn't dare give four stars for an imitation crab dish, but this one truly impressed me.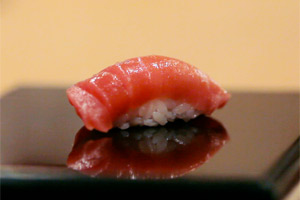 Jiro Dreams of Sushi
A spectacular film about the life and philosophy of Jiro Ono, the greatest sushi chef in the world. After you gaze upon the succulent pieces of sushi this shokunin (Japanese for craftsman or artisan) creates, you will never look at sushi the same way again. Here are a few words of Chef Jiro's wisdom: "Once you decide on your occupation, you must immerse yourself in your work. You have to fall in love with your work. Never complain about your job. You must dedicate your life to mastering your skill. That's the secret of success and is the key to being regarded honorably."
Angels and Demons
My friend Ingrid was going through her closet in preparation for a move and found the beautiful red dress she wore at her wedding reception. "I thought of you when I found this dress. Do you want it? It doesn't fit me anymore," she said. I quickly nodded. Never pass up an opportunity to get a good dress! I asked my friend Chris W to accompany me to Yelp's Angels and Demons party at Fire and Ice. Chris looked dashing in his tux and I looked... ummm... let's just say Chris' endorsement speaks for itself: "Any guy who wouldn't want to be with you tonight is an idiot." The buffet included braised beef short rib, seafood chowder with shrimp and crab, chicken curry stew, truffle mac 'n' cheese, artichoke dip, and bananas foster. I liked all of the selections, but the chowder and mac 'n' cheese were awesome. It turns out this party was an intro to the restaurant and not like the previous party that had samples from many different restaurants. We met Michelle C, the organizer of the party, and her boyfriend. Her boyfriend told her, "You HAVE to meet that couple. They win the award for the best dressed couple at the party!" Lots of girls complimented me on my dress. I did Ingrid proud. "I'm glad you were able to get a use out of it," she said.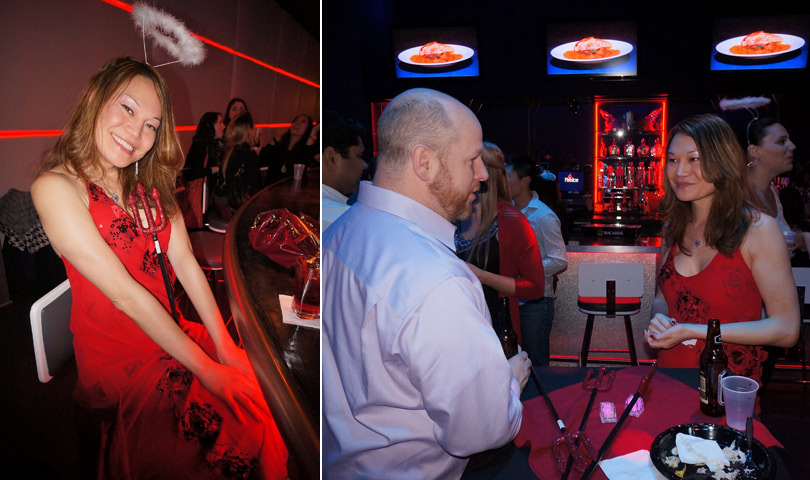 Zama Omakase
Morimoto's omakase has been my undisputed choice for my last meal on Earth for as long as I could remember. Why do I love Morimoto so much? The food is outstanding Asian fusion cuisine that's accessible to the masses. However, aside from exotic fishes, sea urchin is probably the most exotic thing Morimoto will serve you. I love Morimoto's omakase, but Zama's omakase just takes it to another level. Throughout our meal, my friend Chris W and I reminisced of Chef Todd Dae Kulper's omakase at the now defunct Ro-Zu. It wasn't fair to keep comparing Chef Zama's food to Chef Kulper's right in front of Chef Zama himself, but by the end of the meal I had a newfound respect for Chef Zama. If this is what a real omakase is supposed to be like, I want more of it! The fantastic thing is it's priced less than Morimoto's omakase and geared more towards foodies. The omakase is not listed on the dinner menu. It's a special offered only from Sunday to Thursday and you must inform the restaurant in advance if you want it. You are urged to sit at the sushi bar where Chef Zama prepares your meal in front of you. The hot dishes that include cooked seafood are prepared in the kitchen, but everything else is expertly and delicately prepared by Chef Zama himself. Why am I so high on this omakase? The symphony of flavors built up dish by dish like a crescendo, fell back again to let us catch our collective breath, and then rose again with a second peak and fell back once again to a soothing yet satisfying ending. The first course, poached red snapper and crisped root in ponzu sauce, just nailed it for us. "If everything else is this good, I will be pleased," Chris said. The textures we experienced in the second dish moved from the familiar to the unfamiliar. The soft, tender black moss (seaweed noodles) I'm familiar with in Chinese cooking to the slightly firm oyster, the firmer shrimp, and the still firmer crunchiness of the codfish roe all showcase a range of seafood textures. The sashimi platter had an elegant assortment of fine seafood. Its centerpiece was the live scallop on a halfshell. You haven't lived until you've tried live scallop. It's such a clean, pure taste, almost like sea jello. The soft shell head-on shrimp and accompanying sweet shrimp provide a perfect contrast of crispy and soft. The fluke ceviche also deserves special mention for its wonderful taste and texture. My first moment of nirvana was when I tasted the monkfish liver, sometimes known as foie gras of the sea. Monkfish liver is a prized Japanese delicacy and I felt honored to be able to enjoy this treat in my own city. It is truly delicious, but not for the faint of heart. A monkfish is damn ugly, but it tastes good. Who knew it had a liver that tasted good, too? My second orgasmic moment was the delicious hamachi collar with its delicate pieces of buttery soft meat falling off the bone. The entire experience was like finding every morsel of juicy meat on a chicken thigh. The lobster salad maki was akin to a sweet palate cleanser that prepared you for the brown buttery goodness of the snow crab claws. In the words of another foodie friend, "It's just perfect." The sushi platter had red snapper, squid, salmon belly, mackerel, chu toro, and sea urchin. The sea urchin came freshly packed in sea water before being made into sushi. Only at L'Atelier de Joël Robuchon in New York's Four Seasons Hotel had I experienced better sea urchin. Chef Zama capped this fantastic meal off with a piece of sea eel and an SST (shrimp and scallop tempura) handroll. The eel was freshly cut and seasoned. "This is the best eel I've had yet," Chris admitted. I agreed. The SST handroll was technically our last course, fitting because it was shaped like an ice cream cone. We also sampled Chef Zama's delicious tomago (sweet egg omelet). At the end of the meal, I told Chef Zama, "I had the omakase at Morimoto three weeks ago. This is much better." He smiled and thanked me. The incredible thing was this fantastic meal was less than the price of the omakase at Morimoto! The omakase is priced at $75 and up per person. Your price is determined by how many courses are served. Expect to pay from $75 to $100 per person for the omakase. It's totally worth it.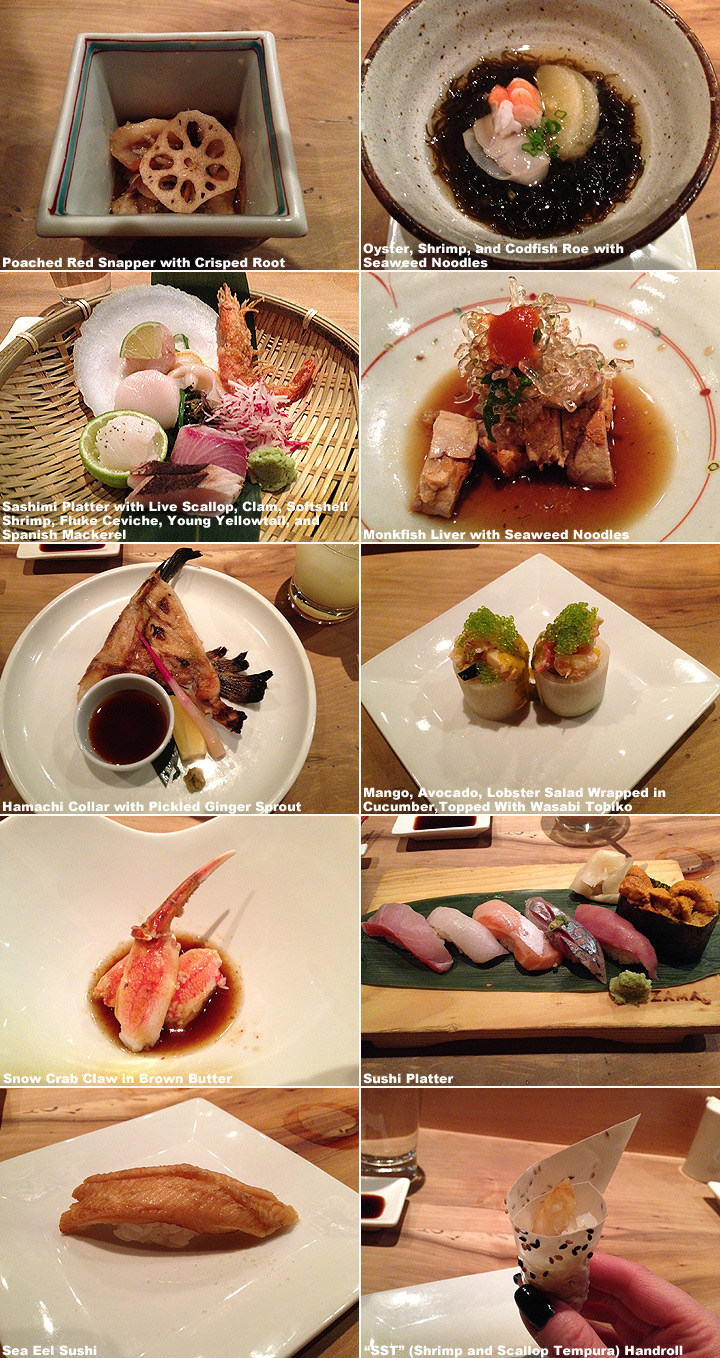 The Art of Sushi Making Advanced Level 2
Last August, I took a course called The Art of Sushi Making taught by Madame Saito, a veteran sushi chef and teacher for almost thirty years. I found the class fun, informative, and filled with nice people. We learned how to make three different kinds of maki rolls, the classic hoso (regular), ura (reverse, or rice on the outside), and temaki (hand roll). We learned how to make different shape rolls, such as round, square, and triangle. We also learned how to create jumbo-sized "super rolls" and how rolls can be arranged with ginger or edible flowers to improve their aesthetic appeal. Madame Saito recently offered her second class, The Art of Sushi Making Advanced Level 2, so I was quite excited when I heard that it was being offered. There were three of us and the first two hours of the class was basically a refresher of everything we learned in the first class. What was disappointing was Madame Saito had all of her Level 2 students sit in the same room as the much larger Level 1 class, so her focus and energy was on the larger class. The Level 2 students received hardly any instruction during the first two hours. "You are all semi-pros. Just go ahead and make the sushi on this list," she said. We were asked to make a vegetable roll, an inside-out roll, a super roll, two handrolls, and six pieces of nigiri, and to arrange the sushi in a decorative way. The three of us were just winging it, trying to remember what we did months ago when we took the Level 1 class. I tried making my inside-out roll, but didn't cover my nori completely with rice. It was a mistake, but when Madame Saito looked at it, she complimented me by saying, "Wow! You're really good! Your sushi is really decorative and looks so nice!" She sprinkled sesame seeds on my roll and that was basically our first "lesson" in two hours. My classmates and I were really miffed. We spent all this money to learn how to sprinkle sesame seeds on rice? I decided to make the most of my situation. I made a volcano out of angle cut maki. My sushi knife was sharp enough to easily cut maki this way. Nobody taught me how to do this. I just did it. I arranged my maki pieces in interesting patterns. I made my nigiri have wasabi eyes and lined them around the perimeter. They were the guardians of my make-believe sushi island. The three of us were asked to present our creations to the Level 1 class. We received plenty of oohs and aahs. We were also photographed with Madame Saito. "See what you could do in Level 2?" Madame Saito announced to her Level 1 class. We wanted to reveal to them that we didn't learn anything new yet. The next two hours were more interesting. She taught us how to make a teardrop roll and methods for arranging the teardrop roll. We were asked to make three teardrop rolls and arrange them in a decorative manner. I made a tree out of mine.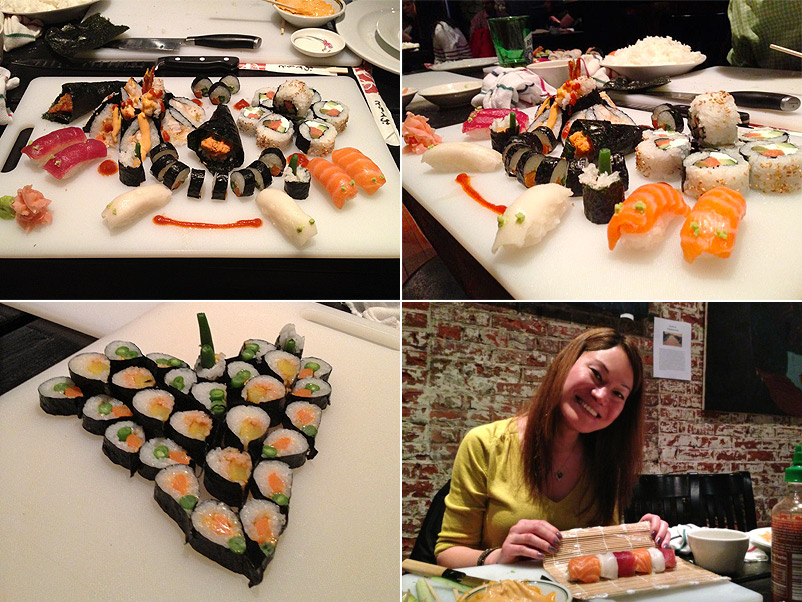 Madame Saito taught us how to make a Rainbow Roll in the last part of the class. "First, make an inside-out California roll using crabstick, avocado, and cucumber. No sesame seeds! Lay the fish on top, slightly overlapping the pieces, straight or at an angle," she instructed, "and wrap the roll in plastic wrap and cut. To make a Dragon Roll, just make a Rainbow Roll and add decoration."
Sampan
My friend Chris W and I enjoyed the tasting menu at Sampan where we selected Shrimp and Lobster Dumplings, Lobster Ceviche, Kobe Beef Satay, Crab Tacos, Veal Skirt Steak, Ahi Tuna, and Shrimp Pad Thai, all for the incredible price of $45 per person. Some of the dishes were quite delicious. I especially liked the crab taco and veal skirt steak with the kobe beef a close third. My only complaint was the fried rice that the veal sat on top of had bits of rice that were a little too crisp. The shrimp pad thai was excellent. If you just order these four things off the normal menu, it would cost you more than $45, so the tasting menu is a great deal. Be prepared to gain a few pounds from all of the food.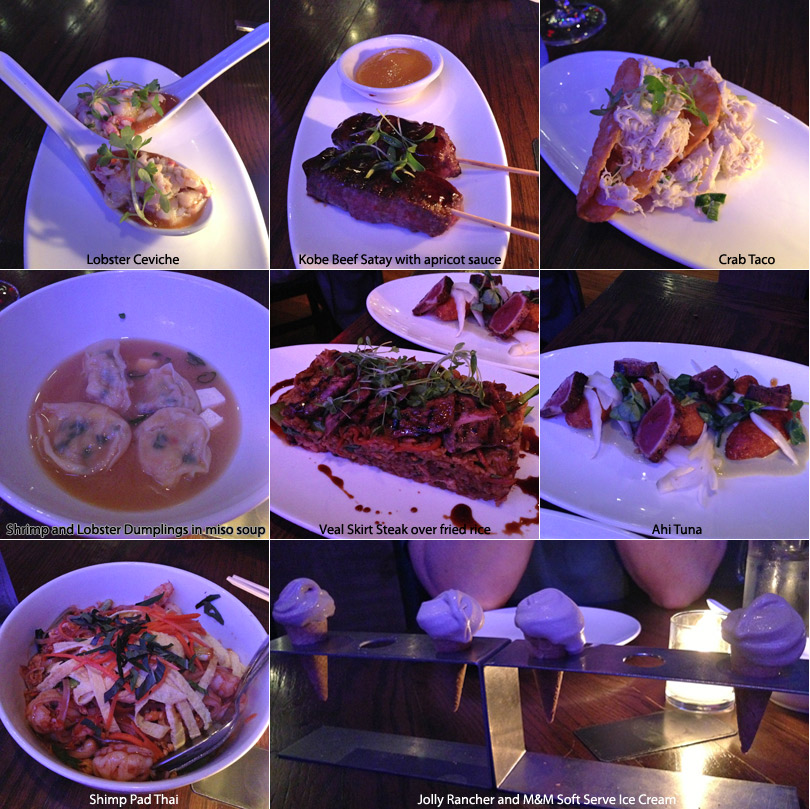 Matyson
"Matyson is so nondescript on the outside that you'll probably walk right past it," I told my friend Chris W, and sure enough we did just that. We also didn't realize it was a BYOB until we arrived, but luckily there was a wine shop around the corner. This pretty little New American restaurant offers a weekly tasting menu with five courses for $45 that everyone should try. The week's theme was "Finger Foods" and the menu included four meats (shrimp, pork, fish, and duck) prepared in four different cuisine styles (Vietnamese, Korean, Brazilian, and American). Whoa, I say! This has got to be one of the more innovative menus I've come across in a long time. The summer roll is a familiar staple in my diet, since I go to Vietnamese restaurants quite often. It tastes like every good Vietnamese summer roll I've had. Fresh shrimp, pickled veggies, and noodles wrapped in a paper thin chewy rice roll... good stuff. The BBQ pig tails are crazy good. Fork tender meat falling off the bone... or tail bone to be exact. For some reason, I felt a bit queasy about eating a tail, but that was quickly assuaged by the delicious sweet BBQ sauce. By the time I finished my two tail pieces, I was ready for four more. The same goes for the pacu ribs. If you've ever had the pleasure of eating pacu fish, you'd know it is truly a divine experience. The meat is sweet and melts in your mouth. Dealing with the bones is a frustrating experience at first, but by the end of the second rib, you'll want four more of these, too. The foie gras burger is made with one-third duck meat and two-thirds foie gras. It is topped with bacon, a slice of shitake, and a thin layer of foie gras. It is the most decadent slider you'll ever eat. I fell in love with it after the first bite. The truffled parmesan fries were delicious. The ice cream sandwich trio included three bite-size cookie sandwiches with chocolate cookies and strawberry ice cream, peanut butter cookies and banana ice cream, and oatmeal raisin cookies and maple ice cream. My fave was the oatmeal one. Chris and I shared a bottle of German reisling with our meal. I would love to go Matyson again. It's not quite Bibou, but it's great in its own right.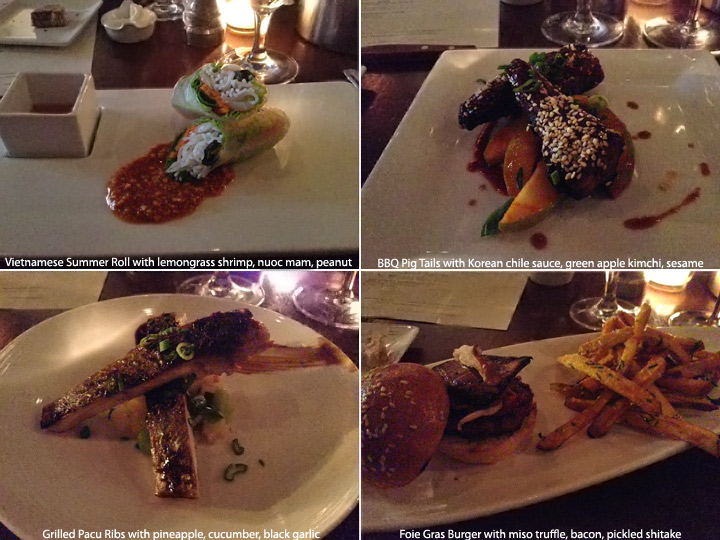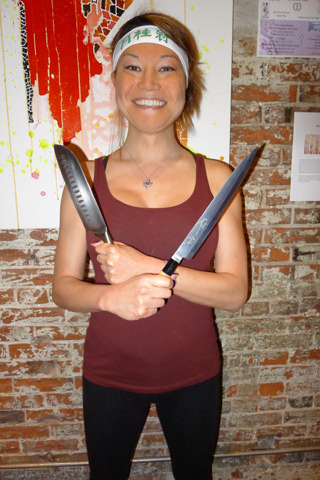 Sushi Girl
In my first attempt at making sushi outside of a classroom environment, I won first place at the Ninth Annual Madame Saito Amateur Sushi Contest. Representatives from Subaru and the Cherry Blossom Festival were present as judges. Philadelphia area chefs, including Chef Dan D'Angelo, Culinary Instructor and President of the Philadelphia Chapter of the American Culinary Federation, were also present. There were seven contestants, two of whom entered the previous year. One contestant brought his own little bridge, Japanese figurine, and edo sushi plate. I thought for sure he'd win because his final plate was the most decorative, but he placed third. In the end, my plate won on concept, execution, and taste. I made a variation of Morimoto's shikai maki, a Valentine's Day heart maki, and sushi fruit, an orange, apple, and pear coated with roe and filled with salmon, tuna, and avocado, respectively. The shikai sushi is designed to look like a stainglass window. It is a very large roll that requires assembling a roll within a roll that is then quartered and arranged to create a diamond shape in the middle. Whereas Morimoto's version uses five strips of tuna and four strips of tomago (egg), mine had four strips of tuna, four strips of yellow radish, and one strip of salmon in the middle. The contest was not only about design, but taste. Honestly, I had no idea what my sushi tasted like. My primary goal was to make decorative rolls. I'm a foodie first, cook second. Having dined at dozens of sushi restaurants, I had a good idea about the proper proportions of rice, fish, and veggies to use so my rolls wouldn't end up being overwhelmed by any one ingredient.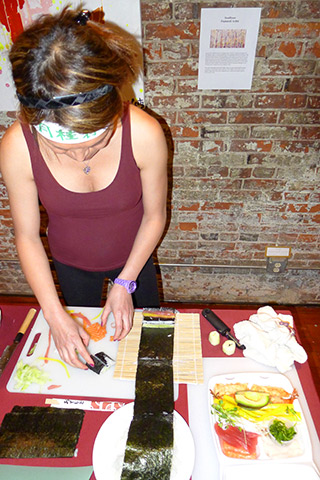 "Mmmm, this tastes like a salad," one judge commented about my shikai maki. Everyone gathered around me, took lots of pictures, and asked lots of questions when I assembled my shikai. Had I had more time, my shikai would've looked more precise, but it was a great first attempt. "This is a very complex maki roll to make," a chef from a private women's club said, "but you did a great job of executing the concept." The chef had entered Madame Saito's contest eight years ago. I made my heart sushi have rose designs inside each piece. My roses actually looked better than most of the roses in pictures of heart sushi I found on the Internet. The judges thought my heart sushi tasted good, too. It had the right amount of tuna, avocado, wasabi, and Japanese sprouts. My sushi fruit were rice balls filled with fish or avocado and Japanese sprouts sticking out of the top to resemble the leaves of each fruit. Each rice ball was coated with fish roe. I used orange roe for the salmon, red roe for the tuna, and black roe for the avocado, since Madame Saito didn't have green roe available. I shaped each rice ball to resemble an orange, an apple, and a pear. I knew that the flavor of roe is an intense experience for some people, so I didn't try to overwhelm the judges' taste buds with any other intense flavor, such as wasabi. It was hard making the sushi fruit because the sticky rice kept falling apart on me, but I quickly learned that the oily quality of the fish roe was the secret to keeping the sticky rice together. When I made my third and final sushi fruit, I closed my eyes, held it close to me, and mouthed the words, "I hope I win." In truth, my competition wasn't that fierce, but the challenge was to prepare everything within 40 minutes and field questions by the judges and spectators during that time. "Tell me what your theme is for your presentation today," one judge asked me at the start of the competition. "Why do you wet your knife before each cut?" another asked. "Are you a professional chef?" a few people had asked me. I shook my head, smiled, and said no. One group was surprised that it was my first time at the competition. "You must be an artist," one woman said. I nodded and replied, "I am." "Ahh, that explains it," she said. The six other contestants had experience of varying degrees, but few showed a high degree of creativity. I believe that my experience dining at some of the finest sushi restaurants in Philly and New York and my ability to research and discover unique sushi on my own really helped me win. My prize was a sushi boat serving tray, the shiny black and red lacquered one you see in sushi restaurants. Yay!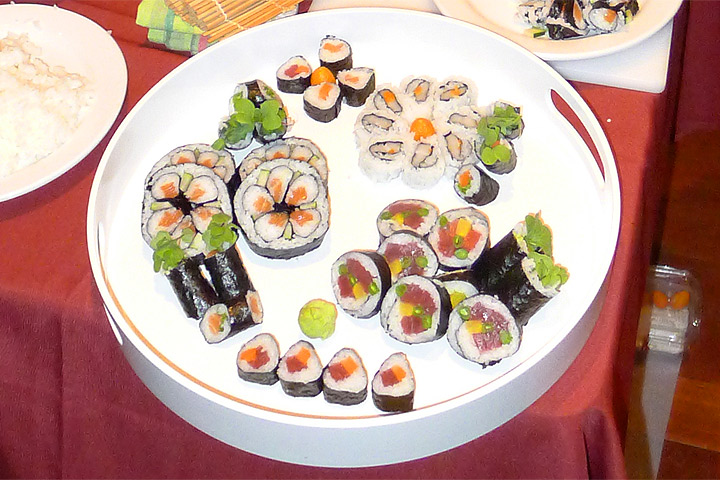 Contestant #1 - Cherry Blossom theme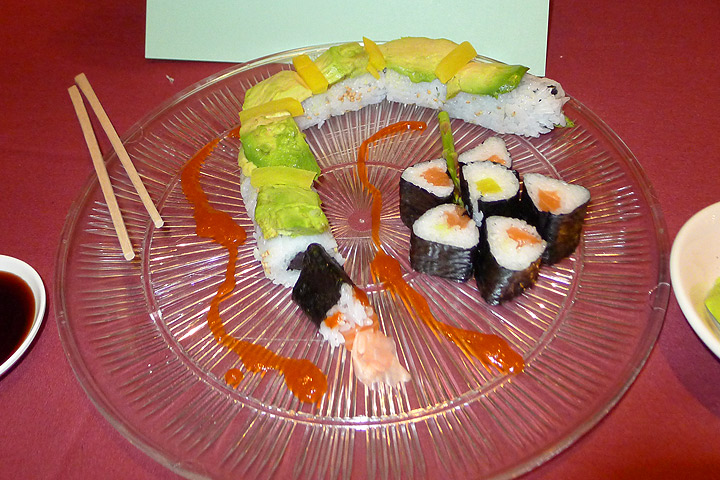 Contestant #2 - Dragon Roll and Cherry Blossom theme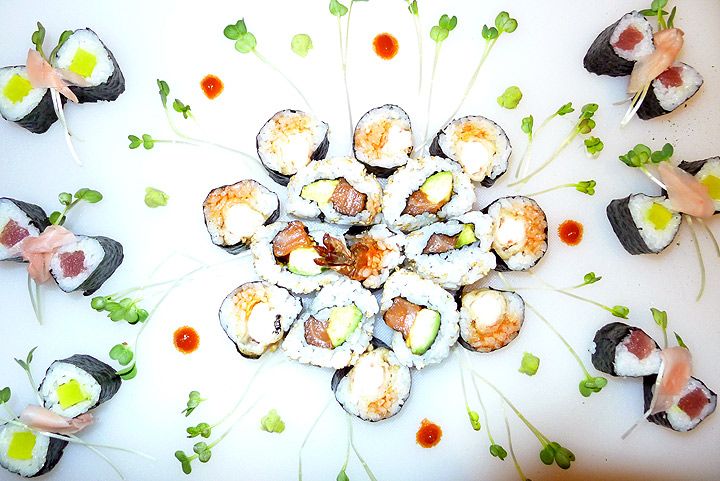 Contestant #3 - Cherry Blossom theme (Second Place Winner)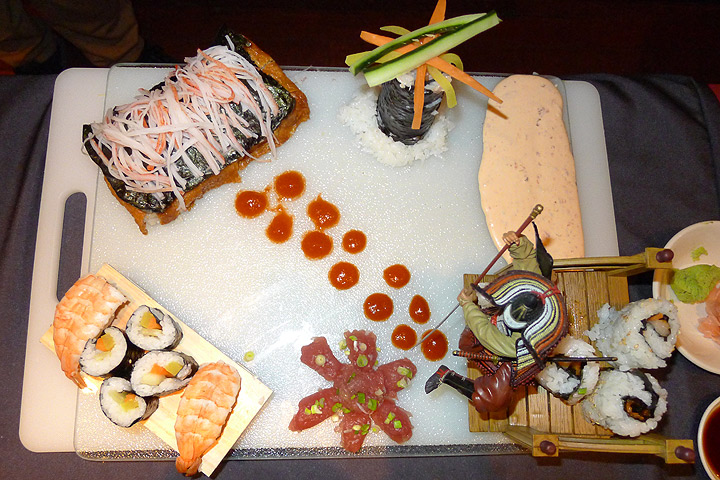 Contestant #4 - Edo Sushi theme (Third Place Winner)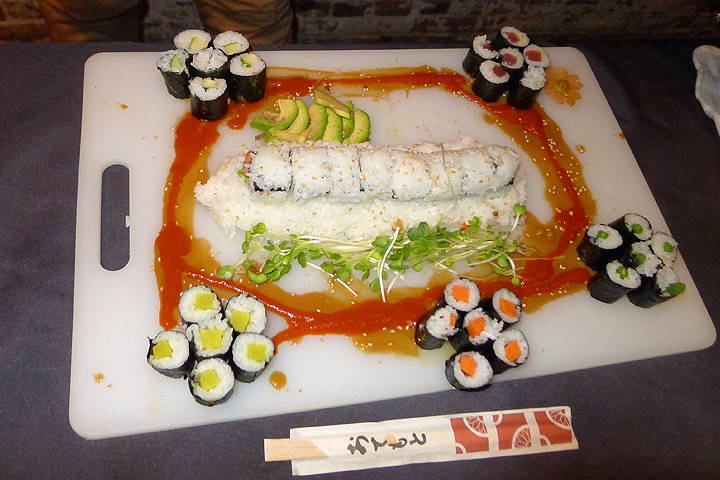 Contestant #5 - Island theme
| | |
| --- | --- |
| Me (Contestant #6) with Madame Saito | My Fruits and Flowers theme that won First Place |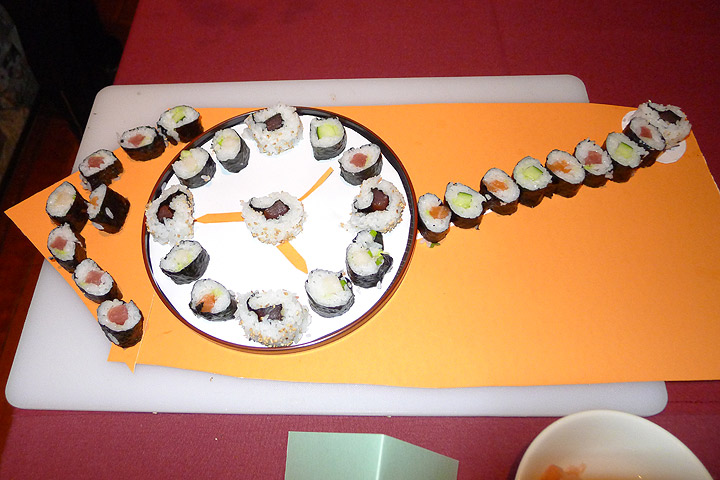 Contestant #7 - Big Ben Clock theme
Tria
My friend Chris W and I enjoyed some nice small snacks and bruschetta at Tria, a wine and cheese bar, in Rittenhouse Square. We had the Pistachio Herbed Ricotta with Lavender Honey, the Warm Tuscan White Bean Spread with Paprika Toast, the Truffled Egg Toast with Fontina Fontal, and the Sliced Italian Meats with Sweet Red Pepper, Pickled Onion Mostarda, and Spicy Garlic Oil. "What? No honey?" I said to the server. The sliced meats plate normally doesn't come with honey, but he brought over some lavender honey to appease me. You can't have sliced meats without trying a slice or two dipped in honey! The pistachio cheese spread was sweet and yummy like a dessert. I loved it. The white bean spread reminded me of hummus but without all the garlic. That was good, too, especially with the cracked parmesan on top. The truffled egg toast reminded me of Stella Pizza's amazing Tartufo pie. The piece de resistance, our sliced meat platter, featured four different kinds of meat. I loved the prosciutto ham dipped in honey or topped with roasted red peppers. Drinking wine is dangerous because you seldom feel as if you're drinking too much until it's too late. I had a glass of Torrentés white and two glasses of German Reisling. Good stuff. We walked off our buzz around the park and then went to the rooftop lounge at The Continental for a couple more cocktails.
Sophie's
I had my culinary sights set for a small chain of Cuban restaurants in New York called Sophie's. I was ready to try some oxtail stew when my server shook her head and warned me, "It's too soft right now." I asked her what most people order when they eat there. "The baked chicken is really good," she suggested. Oddly, it was the cheapest item on the menu. I chose yellow rice and sweet plantains for my sides. I can honestly say that I have a renewed appreciation for chicken now. Chicken is not something I normally marvel over at a restaurant, but this was really good. My Yelp peers suggested I try the green sauce and I found it to be a perfect spicy, creamy complement to the spices already baked into the chicken. The green sauce was so good I found myself putting more on the rice and eating it like a curry. The plantains were carmelized and slightly crisp on the outside just like I like. What an awesome entrée for nine dollars!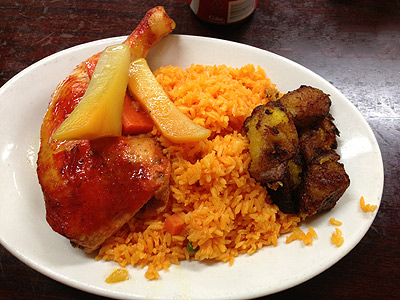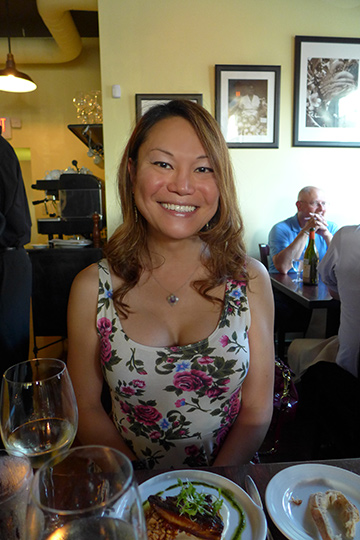 Fond
My first impression of Fond, a contemporary American bistro run by three Le Bec Fin and Lacroix graduates, was "What a lovely little restaurant!" I specifically requested the table smack dab in the center of it all because I like to see and be seen. My date, Jack, liked the decor as well, but was put off by the aroma of seafood that was no doubt emanating from the open air kitchen in the back. Was it the skate wing, the cod, or the soft shell crabs on special that night? No matter, the food is what I'm reviewing here and Fond did not disappoint. The Seared Foie Gras with Greek yogurt, strawberries, cashews, and tarragon was orgasmic, so much so that we ordered it again for dessert. Did you ever enjoy something so much that when you close your eyes, you enter another state of consciousness that you don't want to end? That's what good food does to me. Foie gras, how I've missed thee! It paired beautifully with a glass of Riesling. The Thai-based Tuna Crudo with red curry, avocado, and coconut was a pleasant improvement over the classic tuna with avocado combination. The Lobster Risotto with hazelnuts and truffle oil was out of this world yummy. "Food is like sex to me," I admitted to Jack. I wish I had ordered the entrée portion of this fabulous dish because it felt over before I got started. The Greek Style Escargot with feta cheese, bread crumbs, and fennel was also a nice update to a classic dish. I have never tried escargot this way, but I enjoyed it. The Soft Shell Crabs with papaya salad, tamarind, and crispy shallots were delicious. Chef Lee Styer has a knack for creating unusual combinations that work. Service was excellent. I felt that everyone was working in unison to provide us with an extradordinary experience. Like Bibou, Fond seems to be going for the Lacroix style without the high prices. The portions are tiny, designed to give you just a taste rather than belly bust your tummy. I love a hearty meal as much as anyone else, but hearty meals are best at home. Fond is tastefully decorated and the bar at the front just beacons you to sit for a drink. A private dining room with an oak table and eight seats serves as a chef's table, much like that at Lacroix. I've always liked the exclusivity of such rooms as they add a deeper level of intimacy to be shared among friends. I would love to do the tasting menu at the chef's table someday. After dinner, Jack and I took a little stroll down Passyunk Avenue to find a place with outdoor seating for drinks. We chose Cantina Los Caballitos where we enjoyed a pitcher of blood orange marguerita. It was a nice 76 degree night, a hint of the scorching hot summer that will surely come.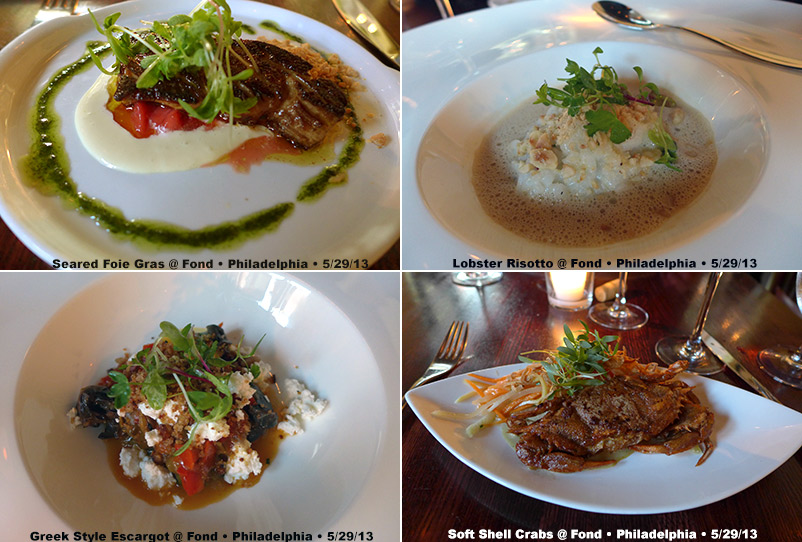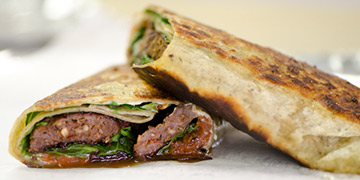 Paesano's
The words "greasy" and "oily" are normally not associated with "savory" and "delicious," but that's the best way to describe the Gustaio at Paesano's, a South Philly sandwich shop that's been lauded by such cooking show luminaries as Bobby Flay, Anthony Bourdain, and Adam Erace. Imagine homemade lamb sausage, sun-dried cherry mostarda, roasted tomato, carmelized fennel, gorgonzola spread, and arugula all wrapped in a grilled pita. Sinking your teeth into this mighty beast is like eating a fine stew. The damn thing is so messy and so good that I didn't miss eating their seeded roll sandwiches, such as the signature Paesano (beef brisket) or the Arista (suckling pig). The combination of salty, sweet, and zesty was incredible! The Gustaio is now my second favorite Paesano's sandwich after the Arista.
Tacos El Rodeo
Let me just say that you have not lived until you try beef tongue in a taco. No, seriously. You haven't lived. Oh, sure, you can get an order of delicious carnitas pork tacos from this neat little taco truck, but that's boring. Truth be told, Taqueria La Veracruzana across the street is better, but it's unfair to compare a sit-down restaurant to a food truck. What Tacos El Rodeo does, it does well. Getting "everything" on a taco is the way to go. You get lettuce, tomato, avocado, two sauces, a lime, and a slice of pickled carrot. It's all yummy. I must remind you not to look up what a beef tongue looks like, because you probably won't want to eat it, but it can be prepared in ways that make it look rather yummy. Beef tongue is a multidimensional taste experience. You get chewy pieces and meaty pieces. It's like eating a good sausage. When I didn't know any better, I thought Honest Tom's and Los Guapos was the bomb. It wasn't until I tried tacos from La Lupe, Los Taquitos de Puebla, and the aforementioned Taqueria La Veracruzana that I saw the light.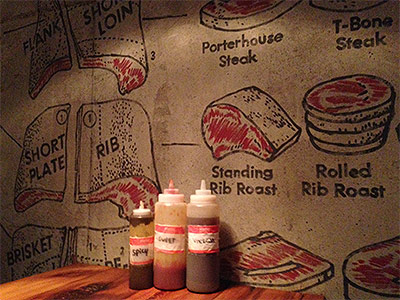 Fette Sau
Visit #1: Stephen Starr has always been a name I trusted for fine dining. Morimoto, Buddakan, Pod, Alma de Cuba, and... you get the idea. Occasionally, there will be a misstep on their menus. Pod and their Crab Pad Thai with the missing crab meat and the stupid waiter who tried to convince me that the crab was really in it. Route 6 and their barbecue shrimp that was too dry. Unfortunately, I will have to say that there was more bad than good in what my friend Chris and I ordered at Fette Sau, Starr's dry rub barbecue restaurant located in the rather unscenic, up-and-coming Fishtown area. The Duroc St. Louis Pork Ribs were dry. "It tastes like pork jerky," my friend Chris commented. The Black Angus Beef Brisket looked juicy when the server sliced it, but was also dry, no doubt due to overcooking. Thankfully, the Black Angus Bone-In Short Ribs were moist, tender, and juicy. It was the one saving grace in our meal. The Roasted Mushrooms were good, but Danté's German Potato Salad was not. We ended up drowning our dry meat in the sweet and spicy barbecue sauces to make them edible. Overall, a very disappointing meal given our expectations of Starr restaurants. It's a shame because I really wanted to like this place.
Visit #2: After my bad review of Fette Sau, Stephen Starr's management contacted me to apologize for the food and treat me to my next meal. It was a very generous offer and I accepted. I was able to sample every meat on their menu that day, including the beef brisket, pork ribs, pulled pork, chicken, and sausage. The bone-in short ribs, my favorite item from my first visit, was curiously absent, but I know it's great, so I don't need to review it again. The brisket looked especially good. The cute guy behind the counter was slicing some for the customer ahead of me. "Looks real juicy," I remarked. He looked up, nodded with great approval, and said, "Oh, it's very juicy today... and real good." I knew I was in for a treat. My friend Chris and I thought the difference between our two Fette Sau visits was like night and day. "Damn, we don't even need sauce for these meats," he said as he dug right in. He was right. Good barbecue doesn't need sauce, but if you like sauce, their sweet variety is excellent. Unlike last time, the brisket was positively outstanding. It was like eating long, tender slices of prime rib. It even held up well to next-day reheating. The pork ribs were still a bit firm, but much better than last time. The pulled pork was good, also better reheated. The chicken was delicious. Its breast meat was tender and juicy and the seasoned skin was absolutely perfect. The sausage reminded me of a good pepperoni with a mild initial spice kick to it that gradually creeps up on you. We wondered about the huge difference between our two visits. Every restaurant probably has good and bad days and we just chanced upon a bad day our first time. In some ways, Fette Sau's barbecue is better than Percy Street, Phoebe's, Baby Blues, and Sweet Lucy's. Why? Well, I never really enjoyed beef brisket until now. That's saying a lot. Dinic's in Reading Terminal Market is good, but this brisket blows Dinic's away. My one recommendation is to stop using paper plates. The paper just absorbs and robs all of the precious juices in the brisket. Thank you, Stephen Starr, for giving me the opportunity to sample your food again. You probably know I've been to Morimoto more than 25 times and the reason I keep returning to Morimoto and your other restaurants is consistent quality. I love good food. I live for it. I'll return to Fette Sau soon for more brisket.
Visit #3: Perhaps even more amazing than the Black Angus Beef Brisket is the Pork Belly that was available on my third visit. Pork belly usually includes a thick layer of fat, which I like, but they trimmed most of it off so you get a layer of lean meat, a layer of lean but melt-in-you-mouth meat, and a thin layer of fat that's there but charred on the outside to give it some texture for the fat-haters. It is truly an extraordinary preparation. I recommend getting this and the beef brisket as your two main meats on any of your visits.
Spring Mill Café
Spring Mill Café is truly a hidden gem in boring little Conshohocken. The restaurant occupies the ground floor of a charming little house that welcomes you into what appears to be a rustic dining room with a library full of antique books. My friend Chris and I ordered the Pâté Tasting for our appetizer. This is a plate of three homemade pâtés: shredded pork and duck, chicken liver, and country pâté. I love paté and this plate easily exceeded my expectations. I was in the mood for steak and our server pointed out the difference between the two offerings of filet mignon. "The regular filet is good, but the grass-fed filet is out of this world," she said. I took a chance on it and I'm glad I did. It was ungodly good! You bite into each piece and the most aromatic steak juice in the world fills your mouth. Oh, my God, soooo delicious! This, my friends, was better than Morton's, Smith & Wollensky, Ruth's Chris, and The Palm. It was sex in my mouth. In Conshohocken, no less! Chris had the Rack of Lamb. Normally, I go crazy for lamb, but today the steak was the winner. We were offered a free glass of wine with our meal, which was a nice touch. The only miss was dessert, a huge slice of Daffodil Cake, a light angel food cake with citrus cream, toasted coconut, and
freshly grated lime. It had way too much cream in it.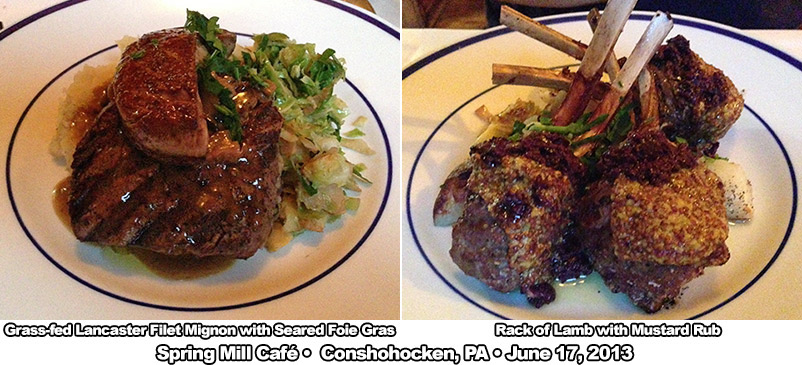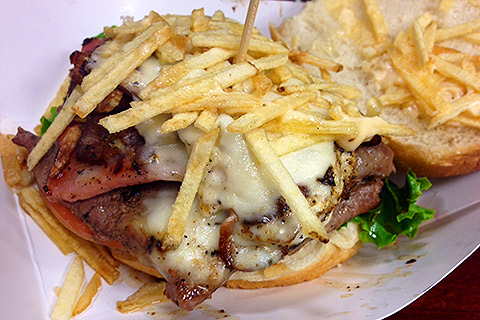 BrazBQ
One of the more daring and endearing sandwiches found on any fast food menu is "The Kitchen Sink," a burger with every popular topping imaginable. I was a fan of The Kitchen Sink at Ted's Montana Grill when it was open in Philly. Most women will never admit to wanting a big ass burger like that, but I'm no ordinary woman. I'm a 400 pound behemoth trapped inside a 129 pound body. Never did I think The Kitchen Sink would make it into my hands once again... until now. Enter the Hamburgao, a delicious sirloin steak sandwich with smoked ham, sizzling bacon, melted cheddar, fried egg, corn, green onion, lettuce, tomato, potato sticks, and "special mayo" on a Kaiser roll. My mouth waters just thinking about it. That's how much this sandwich has affected me. I barely sipped my beverage while I ate this. That's how juicy it was. The sirloin was seasoned, cooked on a churrasco rotisserie, and prepared medium-rare, just the way I like it. "That looks like a dirty truck," my son commented. "Yes, but some of the best food in the world comes from food trucks like that," I said. He nodded and agreed. When he ate his half of the hamburgao, his eyes lit up. "This is sooo goood!!!" he said. BrazBQ, you have made my little boy and me real happy. Thank you for your excellent food!
Terakawa
Finally there is a reason to go to Chinatown for ramen soup! Like New York, some of the best ramen soup restaurants are scattered throughout Philly. Unlike New York, there is no real "Japantown" for all things Japanese. We have our areas of Korean and Vietnamese concentration, but Japanese people appear to be underrepresented in downtown Philly. Why that is is a mystery to me considering all of the sushi restaurants that exist. I know, I know, many sushi joints are owned by Chinese and Koreans who are cashing in on the sushi craze. The uninitiated will eat anything drizzled with spicy mayo on it. How authentic are ramen soup joints? Aren't they also owned by Chinese and Koreans? Maybe. Even so, some of them are making amazing food. Look at Terakawa. They claim "our chef's recipes originate from the Kumamoto region of Japan. The broth is simmered for two days. Due to the extensive cooking period, our broth has a deep, well developed flavor that can only be described by experiencing it." Their noodles are handmade and cooked al dente. I ordered an appetizer of Takoyaki, also known as octopus balls. These takoyaki are lightly fried Japanese mountain-potato balls filled with octopus. They're topped with Japanese barbeque sauce, Japanese mayo, and shaved fish. The dish was a delight to my senses. The signature Terakawa Ramen is filled with Heritage Berkshire Pork bone soup topped with roast pork, bamboo shoots, kikurage mushrooms, red ginger, chopped scallions, and a seasoned boiled egg. The broth is a bit saltier than Nom Nom and Ramen Bar, but the quality in the ingredients and preparation is all there. You also get a lot more food for your money at Terakawa. I give it a big thumbs up.

Asianoodle
One of the injustices of the world is when a relatively unknown restaurant gets stomped on by reviewers because of its high prices. When it comes to food, you don't always get what you pay for. Most foodies should know that. Prices are adjusted according to location. The sad fact that Asianoodle, a little fast food cafeteria-style restaurant, is attached to the Valley Forge Casino forces its prices to be higher than most Asian-style restaurants. The prices are flat-out preposterous for some of the menu items, but study the menu more closely and you will discover a hidden gem in the $18 Rack of Lamb with mushrooms and broccoli. It is a wonderfully prepared dish. The lamb chops are cooked first, seared, and cut in the wok. Portobella mushrooms and teriyaki sauce are added and, when the stir-fry is done, the mixture is placed next to a heaping mound of white rice. The broccoli is steamed to perfection and so tender you could cut the spears with a plastic knife. The spears are not part of the stir-fry, but could've been. The dish looks more Americanized that way. The lamb is cooked medium, a little warmer than I'd like, but the taste is magnificent. Where else can you get rack of lamb for $18 these days? The mushrooms and sauce are very flavorful with hints of aromatic sweetness. I feel that the three Asian chefs behind the counter know what they're doing and are providing great-tasting Asian-inspired fare. Never mind that it's not authentic Chinese or Japanese or cheap. The fact is my dish tasted great and that's what any foodie should be basing his or her review on.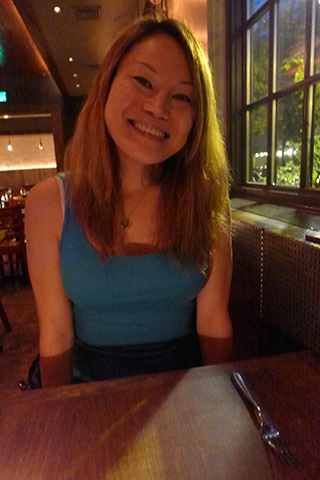 Ela
I've put off going to Ela for too long because I never got over the fact that it was once Ansill, one of the few reasons I'd venture into the South Street area, a neighborhood known more for its bars and drunken reverie than for its exquisite food. Two years and two ex-partners later, I finally had my chance with my good friend and fellow foodie Chris W. Chef-owner Jason Cichonski prepares menu items with as much creativity as anything you'd find on a menu at Lacroix. This is no coincidence as Chef Cichonski was once Executive Chef of Lacroix at the tender age of 24. If this man were not a chef, he could be an underwear model because he has an exquisite physique. But I digress. I didn't even know he looked gorgeous before I researched him. The menu is presented as small plates, from first to third bite, each "bite" larger than the previous. We shared a Kampachi Tartare with yuzu, radish, and black rice cracker for our first bite. This dish was as good as anything we've had at Morimoto or Buddakan. The tender, flavorful shards of kampachi were accented with a sweet and spicy finish. The black rice cracker reminded me of fried shrimp chips, a favorite snack of mine from childhood. For our second bite, Chris had the Pork Belly Dumplings and I had the Diver Scallop "Noodles" with white corn, watercress, saffron, and fried shallots. The golfball-sized dumplings were outstanding. Their sweet outer dough is the same used in Chinese sesame rice balls. Combined with the tender, succulent pork filling and it was like eating a decadent haute cuisine-style Munchkin. The diver scallop noodles were everything I had hoped for. I had read the reviews for Ela and this was one of the most popular choices and - HOLY FUCK - it was good! It is quite simply the most fantabulous way to indulge in diver scallops ever.
Ever.
The corn chowder that the noodles lay in was slightly salty, but added the needed flavor to the scallop noodles. It was also an excellent dipping sauce for the focaccia bread, but only if you've had enough of their delicious homemade olive oil. Fuck it, I had both on my bread and it was great! For our third bite, we shared the Crispy Confit Peking Duck with black beans, bok choy, whipped coconut, and plum. Chris commented that it was the best duck he's ever had. It was certainly the most elegant and carefully prepared duck I've ever had and it made me think, "This is Lacroix food for the times when you don't want to dress up for Lacroix," and that's what makes Ela excellent. For dessert, also called the "final bite," Chris had the Whipped White Chocolate with Verbena Blueberry Jam and Granola and I had the Goat's Milk Cheese with Corn Honey. Chris wasn't very impressed with his dessert. I liked mine because the corn honey was unique. We normally don't go for dessert, but we were curious. I never base my review of a restaurant on its desserts anyway, so my recommendation is you will probably love this place more if you simply ordered another plate off of the regular menu and skip dessert. I normally don't mention drinks unless they're memorable, so I'd like to make special mention to the drink I had called Flying at Tree Level, a blend of vodka, lemon, blueberry, lavender, and soda, which was really nice. I liked the two candied blueberries that served as a garnish.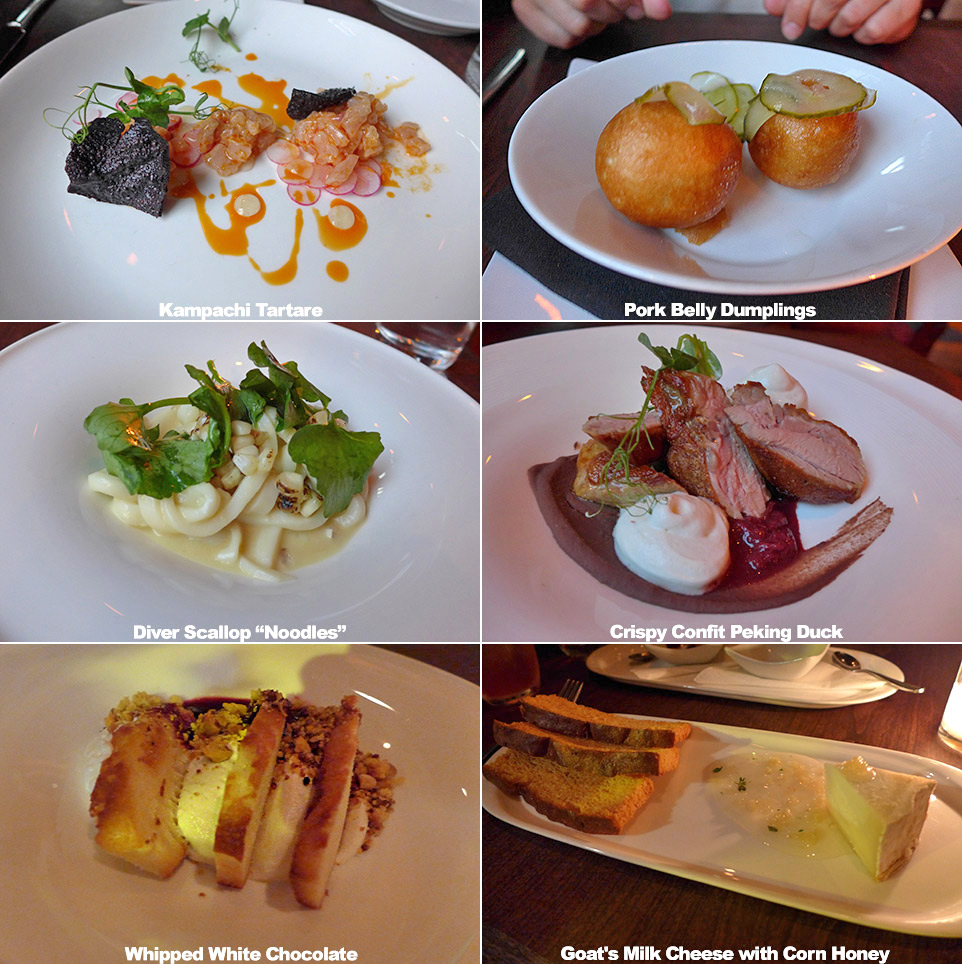 Dasiwa
Sometimes a little hole-in-the-wall can make some surprisingly decent food. Dasiwa is a little neighborhood coffee shop and sushi joint. Coffee, cakes, and biscotti are still sold on the premises, but the sit-down menu is mostly sushi. I ordered three nigiri items: ika (squid), albacore tuna, and hotate (scallop). These were good, but completely unseasoned, perhaps catering to the tastes of its neighborhood clientele. Strangely, the spicy sauce accompanying our Shrimp Shumai and Sashimi Salad proved otherwise. The shumai tasted like every other shumai, but with the addition of sesame seeds and a nice sweet and spicy sauce. The salad had some nicely seasoned shards of fish in it. The Naeng Myun (buckwheat noodles served in a chilled tangy broth made from beef, pickled radish, and chinese cabbage and topped with kimchi, assorted vegetables, spring mix, beef, and half of a hard boiled egg) was a total miss. I hated it. The noodles were good, but where's the beef?! We didn't find any. The chunks of flavored ice sitting on top of the noodles was especially unnerving. The best item on the menu was the Dasiwaki, a shrimp tempura, avocado, and mango maki roll topped with salmon, avocado, unagi sauce, and spicy mayo. The combination of sweet, spicy, chewy, and crunchy was truly fantastic, an example of how simple ingredients can taste great together. The Spider Monkey, a tempura fried soft shell crab and asparagus roll topped with spicy salmon, tobiko, and scallions wasn't as good. I didn't like the fried batter on the soft shell crab. The crumb coffee cake was 60% crumb, just the way I like, and it wasn't overly sweet, making it a good dunker in milk or coffee. Our server was very nice and attentive and my friend Chris W and I liked the quaint atmosphere of this BYOB.

Eat Street
Eat Street, a Cooking Channel show about North America's tastiest, messiest, and most irresistible street food, interviewed me today for my high opinions on BrazBQ, a food truck I frequent. The film crew asked me questions, got me on film eating a hamburgao steak sandwich in normal and slow-motion (my foodie friends call this "food porn"), and saying words of praise to the owner of the truck. The man in the baseball cap interviewing everyone is Calum MacLeod, past host of Road Hockey Rumble and employee of Paperny Entertainment. At the end of the segment, I was cued to say, "Thanks for all the yummies!" The show will air in six months!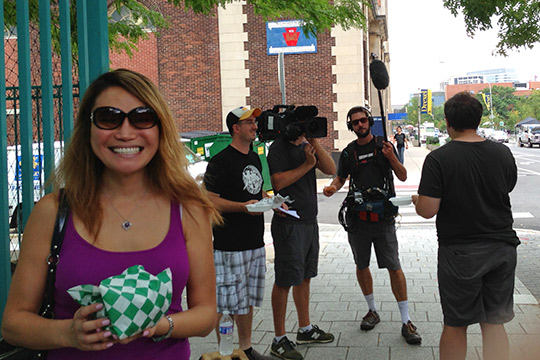 Strangelove's
This odd little beer bar/restaurant in the heart of the theater district offers what purports to be New Orleans-with-a-twist cuisine via Chef Paul Martin of Café Nola fame. My appetizer was the Fried Green Tomatoes with lump crab, cucumber, cherry tomatoes, and ravigote dressing. I had seen pictures of this on various web sites and I must forewarn you that it will likely be one of the nicest things you'll ever sink your teeth into this summer. The cornmeal dusted tomatoes are so juicy and flavorful. The combination of the crab, cucumber, tomatoes, and dressing is simply euphoric. Every bite is delicious. My friend Chris ordered the Duck and Sausage Gumbo with Carolina rice, tilefish, and green onions, a hearty stew filled with all kinds of goodness. I love it. For our entrées, Chris had the Shrimp Arugula Salad, which was underwhelming. Seasoned, grilled shrimp are added to a plain salad. Nothing fancy. I had the Crispy Pork Belly with maque choux and blackeye pea salad. The pork belly was lightly crisped on the outside and deliciously moist on the inside. Each bite was full of intense pork flavor, from the crispy rind-like skin to the tender, pull-apart white meat. Maque choux is a mixture of corn, green peppers, cherry tomatoes, and onions. Strangelove's version contains diced roast pork. I wouldn't mind eating this dish again and again. The Big Ass Brownie also deserves special mention. A jumbo-sized cut of dark chocolate brownie slathered with drippy cream cheese frosting and toasted coconut was an instant hit with us.

Calle Del Sabor
Calle Del Sabor is the latest Mexican food truck to hit the University City area and may be the first true contender to Don Memo's for Mexican food supremacy. There are plenty of taco trucks that have come and gone, including José Garces' Guapos Tacos (now called Distrito), but they simply cannot compare to the excellent taste of a Calle Del Sabor meal. If you want boring tacos for people with no tastebuds, eat at a truck with nary a Mexican cook on their staff. If you want tacos with meat and seasonings that are full of flavor, eat here. You won't be disappointed. I'm a big fan of their pork having tried it in the quesadilla and Cuban sandwich. The quesadilla is cut into five pieces and sprinkled with a generous helping of sour cream and pico de gallo. It is so simple yet so good at the same time. The secret to the pork appears to be the inclusion of fat, which help add flavor to the meat. Some of my non-foodie friends have an aversion to meat fats or non-traditional meat by-products yet these same sillyheads have no problems eating a common hamburger or sausage! Calle Del Sabor, don't change a thing because I love the bits of fat in the pork! Encanta el sabor del calle del sabor!
Spice End
On a recent trip to New York, I had the great pleasure of eating some delicious kati rolls. A kati roll is a street food originating from Kolkata, India. Its original form was a kati kabab enclosed in paratha bread, but over the years many variants have surfaced and are also classified as kati roll. My ex-boyfriend always poked fun of kabobs, especially Middle Eastern kabobs, for their "tough meat." That's what happens when you grill meat too long over an open flame. There's something very satisfying about Indian methods of slow cooked meat marinated in spiced stews. The meat is so tender it literally falls off the bone and the bones are slow-cooked in the stew, too, for added flavor. The chicken tikka roll is simply outstanding. The chicken has a robust and hearty flavor. The lamb roll is more like a meatloaf than cubes of lamb, so you might be disappointed if you were expecting whole meat. Like the chicken, it is nicely seasoned, perhaps even more so than the chicken tikka, but my money is on the chicken. I initially balked at the price for one, since New York prices are a dollar cheaper, but these are a tad bigger. The size of these rolls is probably designed so you can order one for lunch or two for dinner. Everything from the paratha bread to the chicken to the accompanying vegetables is really high quality and packaged nicely so that a six-block walk back home won't affect the taste. I will definitely return for more.
Twenty Manning Grill
Few things in life compare to a thick and juicy slab of meat prepared well. Twenty Manning Grill prepares an amazing pork chop complete with grilled peaches, seared brussel sprouts, and a rich, delicious melted gorgonzola cheese sauce. Everything else my friend Chris W and I ordered just paled by comparison. His duck confit salad was okay, a bit too crispy for my liking. His tuna sashimi was good, but not any different from what you might find in a decent sushi restaurant. My day boat scallop ceviché had some good morsels of seafood in it, but the marinade was a bit much halfway through. Ah, but what an amazing pork chop! The meat nearest its bone really delivers a lip-smacking goodness that you would only find in a steak with an upgraded sauce from a high-end steakhouse. There is no doubt that I will order this prized piece of Petunia Pig again. It has exceeded my expectations as few restaurants in recent memory do.

Purple Parrot
The Purple Parrot's Infamous 1/2 Pound Crabcake Sandwich was good, but nothing to write home about. Their promotional material proudly displays a quote from some devotee named Bob that says, "Best crab cakes I ever tasted. Fun place to go!" I don't agree with Bob. The crab had a slight aroma and taste that didn't was more fishy than sweet. I found myself slathering on a lot of tartar sauce to mask the fishy taste. My friend Chris W's Crisfield Maryland Soft Shell Crab sandwich, on the other hand, was excellent. The Ours, Not-Chos (nachos) were good, but light on the chili. Not exactly a food lover's paradise, The Purple Parrot appears to cater to the cheap booze crowd as Pinnacle is their best vodka. I've eaten here twice before when I was younger and was similarly unimpressed.
Crabcake Factory USA
If crabcakes with huge chunks of jumbo lump crab is your thing, you've come to the right place. The crabcakes are small five-ouncers, but they're really packed with good crabmeat. My only criticism, albeit minor, is that the crabcake could've been seasoned a little more. Still, the firmness of the crab and the delightful flakiness of each piece will win your heart. My Cherrywood Bacon and Crabcake Wedge salad had a heaping portion of nicely flavored, crispy bacon and bleu cheese dressing piled on top of a small wedge of iceberg lettuce. The crabcake alone is $14, so for just $2 more you get a very filling salad. On my second visit, I ordered the crabcake with Ceasar salad and hand-cut fries. The salad had big, crunchy, well-seasoned croutons, thick shavings of parmesan cheese, and a small amount of dressing on top of plain lettuce. The fries were soggy by the time I walked them back to my room two blocks away. My friend Chris W's mac 'n' cheese side was decent. The bar atmosphere might be a turn-off for some, but I'm basing my rating on the marvelous crabcake.
Blue Fish
My friend Chris W and I shared an order of K2 (soft shell crabs with kani salad and tuna avocado salad) that we thought was very good. The breading reminded me of sweet and sour meats from a cheap Chinese restaurant, but the quality of the crab made up for it. My Mt-Fuji Roll (kani, avocado, cucumber inside, topped with oven baked shrimp, jumbo lump crab, fresh scallop and Japanese cheesy sauce baked on top) was a little salty, but good. Two of my friends ordered chicken teriyaki, which was okay. I tried the jumbo shrimp from a third friend's entrée and that was good. Perhaps the best part of the meal were the innovative drinks, such as the Blue Lagoon Fizz, and the decor, otherwise this is just an okay restaurant.

The Greene Turtle
The Greene Turtle is an Irish pub chain that purports to be "the perfect spot to grab friends to call a huddle over a basket of wings." Like most bar restaurants, the food can be a hit or miss. My Chesapeake Burger Seasoned with Old Bay seasoning and topped with crab dip, smoked bacon, and American cheese was a huge disappointment. The best way to describe the quality of the crabmeat is soft and mushy. I hated it. The burger was soft and tender, but had no flavor in it at all. It tasted like it was boiled in water. My friend Chris W had the beef and bean chili, which was actually very good. He's a chili connoiseur and gave it rave reviews. Unfortunately, he wasn't as impressed with the Seared Ahi Tuna, which, in his words, "tasted like they were prepared in Shake 'n' Bake." His wife's fried pickle spears were okay and her Fish Tacos contained nicely seasoned blackened tilapia. Overall, it's a sports bar experience. Nothing more and nothing less. The bar was brightly lit so you could actually see what you were eating.
Shenanigans Irish Pub & Grille
My friend Chris W recommended I try the Bangers and Mashed Potatoes, two large grilled jumbo Irish sausages served over a generous helping of garlic mashed potatoes covered with Guinness gravy and caramelized onions. All five people at our table ordered it. True to his word, the entrée was extraordinary. The sausages were juicy and flavorful. The mashed potatoes were nice. The sauce was so good I could simply dip my dinner roll into it and call it a meal. The Gaelic Garden Plate with its roasted red pepper hummus, homemade black bean dip, seasonal garden vegetables, and toasted flat bread was solid. We liked the hummus and bean dip, but the sausages just won the hearts of everyone at our table.
Happy Jack
One of the best places to eat breakfast in Ocean City, Maryland is Happy Jack. Just as its name implies, pancakes are Happy Jack's specialty. They usually come in stacks of three, but our server was nice enough to inform us that we could order two for a dollar less. I got to try my friend's baked ham and potatoes with onions and both were excellent. I also got to try a bite of the other flavors of pancakes the other ladies at the table ordered. All were excellent. I got pecan. My friends got blueberry and banana. The servers are friendly. The portions are big. The food is good. I'm sold!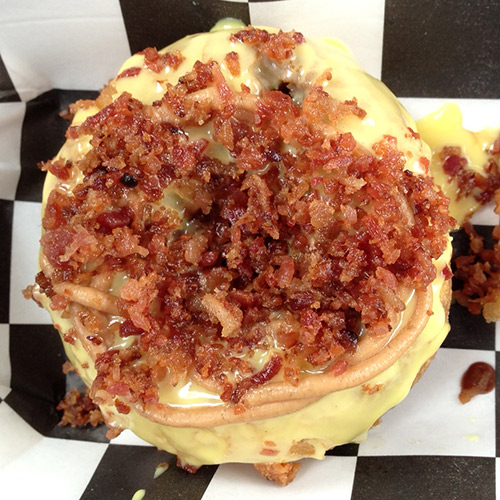 Undrgrnd Donuts
Run, do not walk, to this new donut truck. These guys make unbelievably good donut creations. The base donut is simple enough. "It's a vanilla favored donut," donut designer Michael explains, "and you could get any combination of dunk, dip, and swirl toppings on it. My Fatty Frank (Chocolate Dunk, Maple Swirl, Chopped Pecans) and my friend's Black Forest (Raspberry Dunk, Coconut, Chips of Chocolate) were sooooooo (multiply the "o" 50 times) good and addictive we made a promise to go back again. On return visits, I got The 420, a chef's choice anything-goes combination. If you like everything sweet, just trust their good judgement. Trust me, it'll be good! My first 420 was a half chocolate and vanilla with caramel and sea salt topped with walnuts. Whoaaa, baby!!! My second 420 was a mango-injected donut topped with vanilla cream, strawberry and caramel swirls, apple crisps, crushed Lemonheads, and powdered sugar. Double-deelicious!!! My third 420 was vanilla and chocolate dipped and topped with raisins, granola, and powdered sugar. My fourth 420 was a Monkey Chunk on steroids... delicious raisins, crushed Lemonheads, and banana chips on top of the usual banana cream dip, chocolate chips, and ground walnuts. My fifth 420 was a chocolate-injected donut topped with banana cream, peanut butter swirl, and bacon bits sitting on top of a pool of mango sauce. Good Lord, this is a complete breakfast in a donut! Picasso on a plate! My sixth 420 was peanut butter dipped with colored sprinkles and hearty chunks of Reese's Peanut Butter Cup on top. It's a peanut butter lover's dream! The Nutty Professor is a delicious chocolate dipped donut with slices of banana and walnuts on top. Great work, Michael and Jude!!! I thought Federal Donuts were good. These donuts take the concept of crack donuts to a whole new level.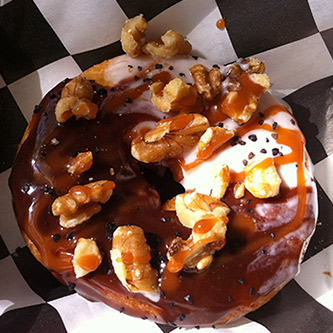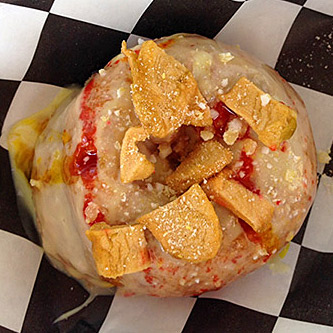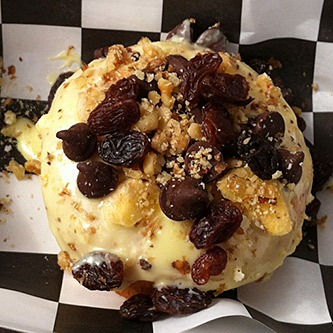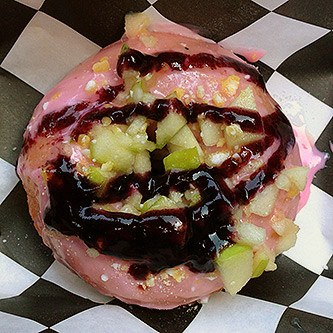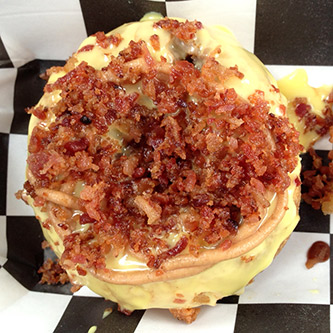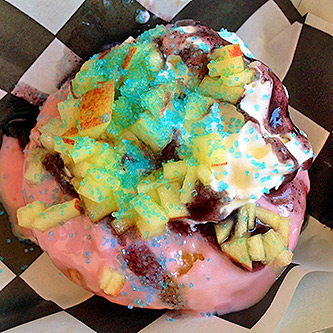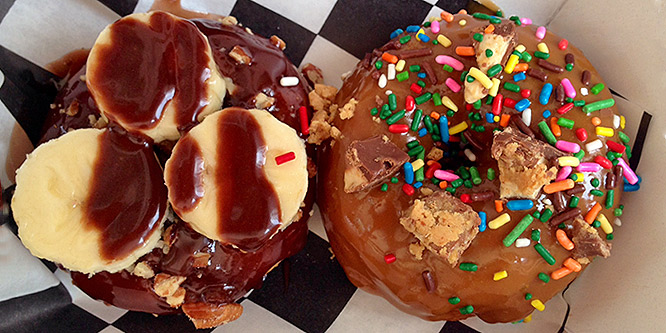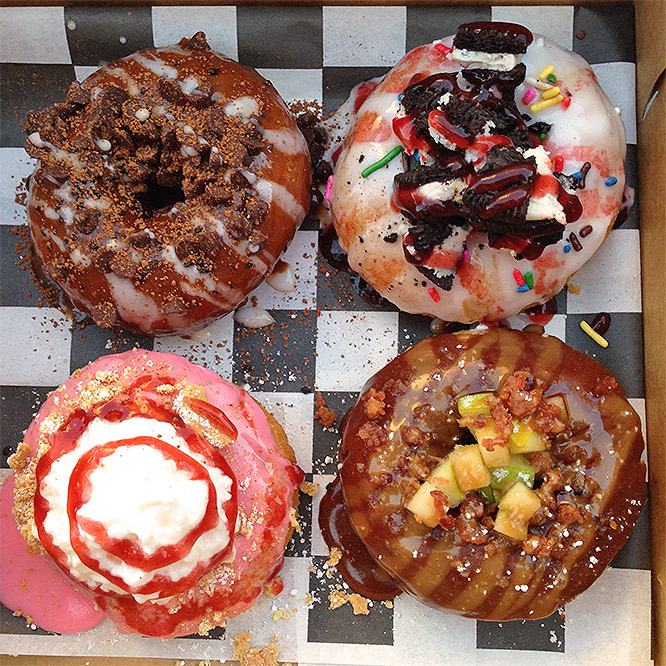 Pizzeria Vetri
When I first heard about Pizzeria Vetri, I wondered why Chef Marc Vetri wanted to open YAPP (Yet Another Pizza Place), especially since they already had a good pizza spot like Osteria, but one look at the décor and I knew that this was a place I was going to like. You don't have to get dressed up to go here and the food is as good as any Vetri establishment. This is not the type of pizza place with 20 different pizzas that all taste like some variant of greasy parmesan cracker bread. Uh uh, this place is the real deal with its Renato AR/700S wood-burning oven calibrated by Renato Riccio himself. (I learned something new today: Wood-burning ovens are used to make traditional Neapolitan-style pizzas. The characteristically blistered, "leopard-spotted" (charred) crust owes something to the intense 900-degree heat of the wood-burning oven. The pizza is fully cooked in about 90 seconds.) My partner Robyn and I each ordered the slice of the day, a big Silician-style slice of culinary heaven topped with sliced homemade meatballs containing beef, pork, and pistachios along with chunky tomato, basil, ricotta, and mozzarella. The best part of this gastronomical goodness is the crust that was both chewy and crunchy at the same time. You could really taste the quality ingredients in every bite. For some people, Silician slices always conjure up bad memories of school lunch pizza. Don't worry, this is not that crap! Most of you, even the non-foodies, will likely find this to be one of the best slices of pizza you've ever had. Prior to the slice, we shared an order of cookies called "The Cookie Jar" that contained two each of pignoli, almond cookies, chocolate biscotti, and pistacchio gnocchi. The pignoli and pistacchio gnocchi were my favorites. I also had the Rotolo, a dumpling made with pizza dough, mortadella, ricotta, and pistacchio pesto, and the Italian Sloe Gin Fizz, a nice summer beverage made with limoncello, sloe gin, and Americano wine.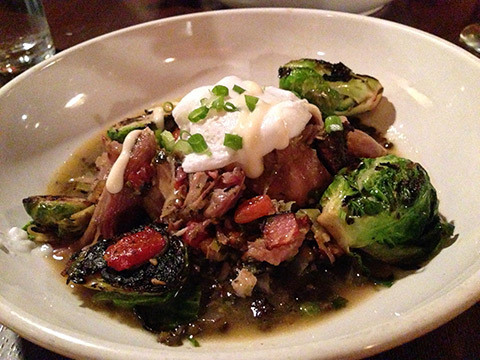 Cochon
Cochon, a small Queen's Village BYOB that features a variety of pork dishes on its menu, has somehow escaped my radar for a very long time. My partner Robyn and I met our fellow foodie friend, Hal, there for a nice dinner paired with glasses of Riesling. Cochon means "pig" in French, and while the food was decent, it didn't knock my socks off like I thought it would. My crispy chicken livers had that wonderful balance of crunchy on the outside and soft and tender on the inside. The plum sauce the livers were smothered in was quite good. I had hoped that Cochon's signature dish, roasted suckling pig with lentils, brussels sprouts, plum tomatoes, and a fried egg would be otherworldly, but it wasn't. My initial bite of meat was tough, not tender as a well-prepared suckling pig usually is. Subsequent bites didn't wow me, either. This isn't Amada, I know, but it ain't Koo Zee Doo, either. Koo Zee Doo did their suckling pig right. It was tender, flavorful, and not salty. Cochon's pig was a big salty for my taste. My two small chunks of meat and one chunk of gelatinous fat, if prepared better, would've been satisfactory, but I was left with a feeling of too many lentils, too many brussels sprouts, and not enough pig. Robyn's Trio of Pork was stupendous. I loved the mouth-watering pork belly and the juicy spare ribs. The sausage was good, too. She was more impressed with the potatoes and sauerkraut than the meat. I thought her appetizer of pig's feet was very good. It was prepared to resemble a small cylindrical sausage patty. She didn't like it, but I appreciated the multidimensional flavor and textures in it. If I could trade my meal for her's, I would. Hal's ravioli with roasted duck and mushrooms was good, but nothing spectacular. Overall, a disappointment for me.
Jerry's Bar
My partner Robyn is right when she said that most people don't eat like me. They want "normal food" that they can identify and even though they may have had the same food elsewhere dozens of times, they appreciate eating the same thing prepared with the finest ingredients and cooked with gourmet sensibilities. That is what Jerry's Bar is all about. "These are some of the best mussels I've ever had," my friend Chris W commented. My beef, pork, and veal meatballs were equally amazing. They were so good they tasted like my slow-cooked meatballs and that's saying a lot because I've had meatballs from many restaurants and they don't taste as good. To put it in perspective, most yuppies would think that a DiBruno Brothers meatball tastes good, but I think their meatballs leave a lot to be desired. Chris' pork milanese was another winner. The light dusting of breading was crispy crunchy and the pork was tender and juicy. I enjoyed my homemade veal breast pastrami. I especially liked the accompaniments of rye spaetzel, braised cabbage, and 1000 island dressing. It was simply the best pastrami I've ever had. Alas, the big portions kept us from ordering any desserts. You will gain a few pounds from eating the wonderful food here, I guarantee it.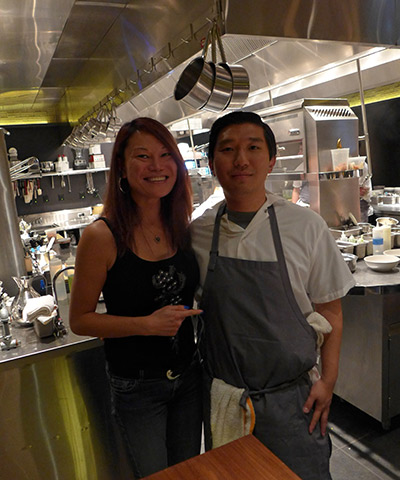 Serpico
After much food review fanfare, my friend Chris W and I knew that it would only be a matter of time that we'd try Serpico one day. That night came soon after listening to Chef Serpico's very entertaining interview. If you're ever curious to see how hard a successful chef works, I urge you to go to an open air kitchen restaurant like Serpico or a.kitchen. These places have to be kept spotless because everything is under careful scrutiny. At times, Chef Serpico's team of sous chefs moved in unison and resembled a well-oiled machine. He's a very hands-on chef and I liked the fact that he had a hand in preparing every dish. There was an intensity in his gaze that immediately told me that this man was serious about his food. He wanted to make the best dish possible to please his guests. Not only are his dishes beautiful, but they're good, too. Chris and I ordered six items and there wasn't a loser in the bunch. If I were to complain about anything, it would be that our first course, the Beef Consumme, was quite bland. The Duck Liver Mousse was delicious. I only wish there were more of it. I would've liked a crustless bread so I could really enjoy the flavor of the mousse and pomegranate. The beef consumme reminded me of Vietnamese pho soup without the noodles. Unfortunately, it's hard to beat a good bowl of pho with its powerful taste of a dozen spices. The Cope's Corn Ravioli was zesty, flavorful, and quite savory. It's once of those dishes that feels like good comfort food. I would love to eat something like this while watching a football game. The Hand Torn Pasta is one of those yummy wow dishes that nobody else has. Snail sausage? Crispy chicken skin? Who would ever think to make pasta with these ingredients? Now wait... is the sausage made with snails or is it pork sausage that's coiled to look like a snail? I'm not sure. Whatever it is, everything about the dish was really frickin' delish. It reminds me of the fazzoletti dish at El Virtu, but with different ingredients. The Duck Breast was yummy in my tummy. The honey and shallots really worked together to bring out a powerful taste in the duck. Last, but not least, the Caper Brined Trout, a dish that looked like an upscale Chinese porridge, was otherworldly good. The generous amounts of crab and roe complimented the trout perfectly. It wasn't quite orgasmic like some of Morimoto's dishes, but it was almost there. Although Serpico doesn't get five stars from me (yet), I feel that the best is yet to come. Keep a close eye on this place and make return visits again and again because I'm sure it's just going to get better and better.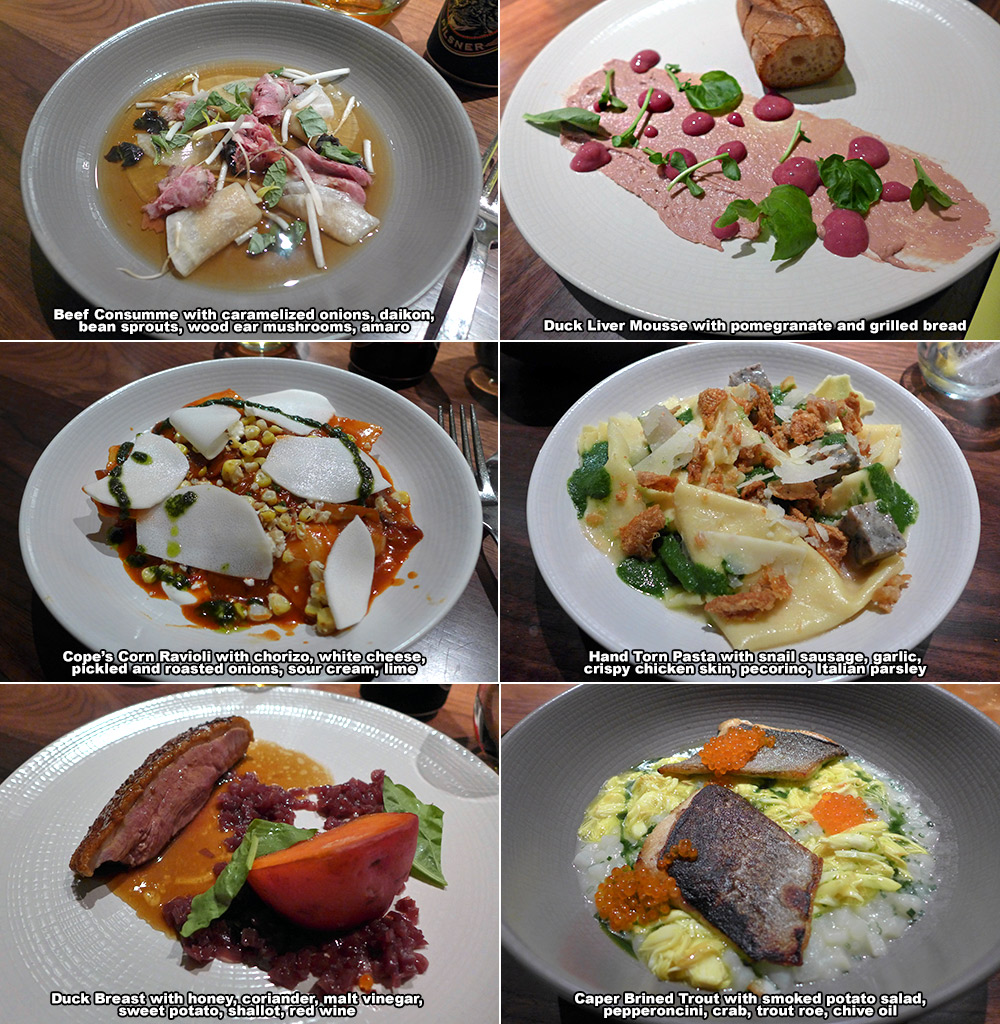 Fat Salmon Sushi
Without a doubt, sushi has become a very popular dinner choice among Americans. There are dozens of sushi restaurants in Philadelphia. Some are good, but most are just okay. Some try to reel in diners with gimmicky rolls or fusion flavors from other cultures. Fat Salmon does a lot of things right and wrong. My friend Chris W and I liked the cool vibe of the restaurant. It looks like a lot of thought went into the decor. The special maki rolls are very unique and artistic. There's a lot to be said about chefs keeping with the Edo-style sushi traditions, but fushion sushi can be good, too. My Naked Gyoza, for example, was delicious. Who would've thought to combine Mexican pico de gallo salsa with spicy salmon on a fried crisp? Chris liked his Grilled Baby Octopus. I thought it needed a lot more octopus. Everything was just drowned in too much pungent sauce. The Fancy Sushi was good. I don't know why they mixed the panko crumbs with slivers of radish. The panko would've been better inside the roll. The Lipstick Trace was okay. Chris doesn't like cucumber and, unfortunately, the crunch of the cucumber was probably the one thing missing from this vegetarian roll. The Lobster Roll was a complete miss. The lobster was dry and had no flavor. Chris joked that it should've been cooked in butter. I was very disappointed with it. The Sea Urchin nigiri was very good. It tasted delicate and fresh, like "flowers from the ocean," as an old friend used to say. Perhaps the saving grace of all of the rolls was the Hako Roll, a square sushi made with eel and spicy tuna. It was tasty, well-balanced in all of its flavors - sweet and spicy, soft and crunchy - that I feel compelled to give it its own rating apart from my overall rating. Yes, my friends, the Naked Gyoza and the Hako Roll deserve five stars. If you go to Fat Salmon, these are my two yummy recommendations. Unfortunately, everything else ranged from bad to just okay.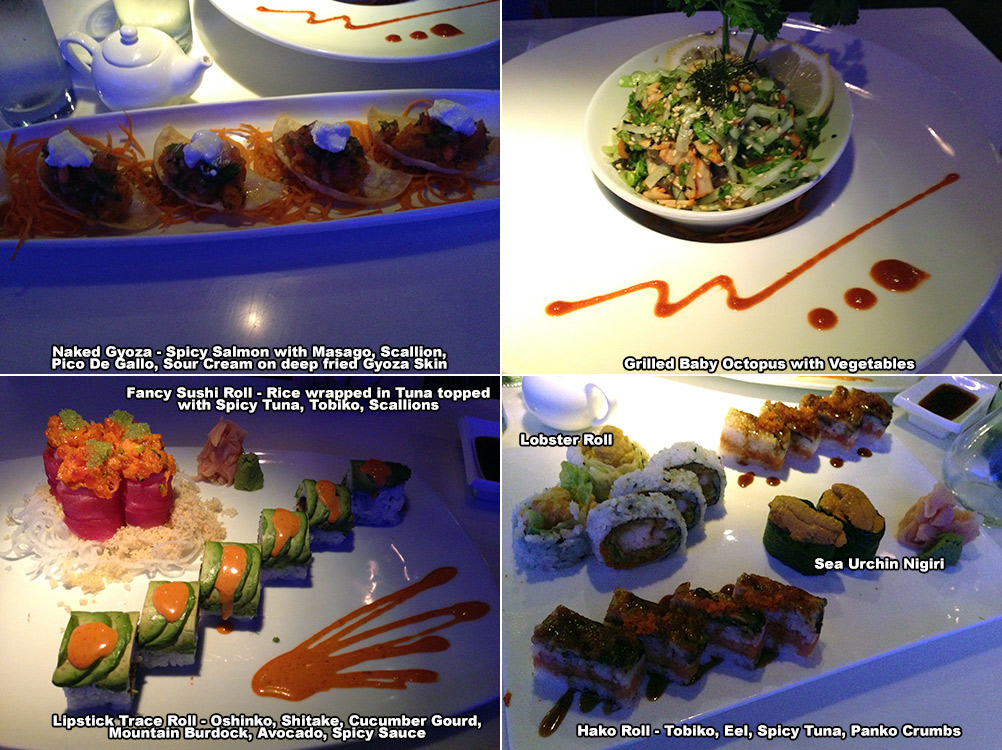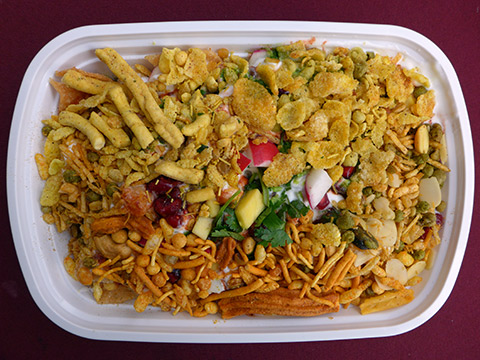 Desi Chaat House
This Indian street food restaurant has become a source of nourishment for me on football Sundays. Chaat is basically an Indian snack consisting of Chex mix-like grains on top of a creamy potato salad with chickpeas and lentils added for extra oomph and don't forget the nice bonus of fruits and nuts and sweet and spicy sauces mixed in. It's really filling and good comfort food on a cold day. Even though there are over a dozen chaats on the menu, I couldn't tell you what the big difference between any two are. Aside from the ones with vegetable samosas or black gram dumplings, the rest kind of look and taste the same to me. This is a good thing because no chaat here is bad. I like the Kashmiri Chaat for its mixture of nuts and raisins. I like the Bengali Chaat for pretty much the same reason. I like the <whatever> Chaat for the same reason. Are you catching my drift? If you're undecided,the Crazy Chaat is great for people new to chaat because it contains seven different types of crispy cereals from different regions of India. You get a little taste of Andhra, Mumbai, Utter Pradesh, Shahi, Kashmiri, Mastana, and Punjabi in every bite. Whatever, baby, it's all good. The next time you go, just show the man behind the counter the picture to the right and ask him to make you a Chaat that has your favorite cereal mixture in it. I like the dried noodles on the upper left. There are also vada pav sandwiches (fried potato ball burgers), pav bhaji (vegetable stew sandwiches), and biryani (Indian fried rice) on the menu. Give this place a try. The owner, Hasan, is fantastic and the food is pretty authentic as evidenced by the number of Indians eating there.
Hikaru
Before I became entranced with fusion Japanese restaurants like Morimoto and Zama, I was a very simple girl with simple tastes. I loved classic Edo-style sushi done well and this is what Hikaru gave me with every visit. There are no flashy cuts of fish, day-old fish drowned in excess spicy mayo, or mammoth nigiri pieces fit for a typical chunky-sized American. What you have at Hikaru is how sushi and sashimi is supposed to be done, I'm told time and again by people who've been to Japan. The Hamaguri Butter Yaki (butter-fried clams) were very, very good and the Negimaki (beef wrapped scallions) were excellent as usual. My Super Deluxe Nigiri platter contained a wonderful balance of familiar (tuna and salmon) to the exotic (sea urchin and salmon roe) with a wonderful little eel roll that is so much better than the plain tuna rolls in nigiri platters in other sushi restaurants. My friend Chris' Assorted Sashimi Combination was a feast for two even though it was meant for one. The octopus was especially good. Sometimes the classics are the best and Hikaru is truly a classic.
Seafood USA
It's not a fine dining sit-down establishment, but Seafood USA always delivers the goods. It has also been my go-to place for its delicious seafood-based comfort meals at affordable prices. My partner Robyn and I each had a Deluxe Combination Platter with a jumbo lump crabcake upgrade, filet of fish, sea scallops, clam strips, fries, and cole slaw. "We have places like this at home!" Robyn reminisced of her roots in Florida. I remember fondly of my days working in Radnor and going to the Wayne location (there is also one in Paoli) for a quick lunch. "I'd like a six-ounce piece of Chilean sea bass fried and made into a sandwich with fries and cole slaw," I said one day or "I'd like a soft shell crab and crab cake platter" I said on another. Indeed, the beauty of Seafood USA is its unpretentious atmosphere and the feeling that anything on display can be cooked up into a meal. That, my friends, is a rare kind of place and the kind of place I've always liked.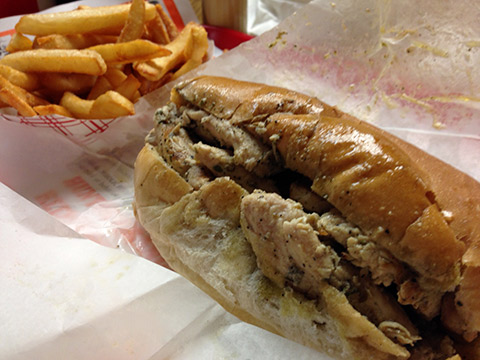 Spiedie & Rib Pit
Just off the Binghamton exit of I-81 lies Spiedie & Rib Pit, a fast food joint that serves a sandwich as popular to that region as a cheesesteak is to Philadelphia. That sandwich is called a spiedie, a marinated shishkabob served in a hoagie roll. Spiedies are the invention of Italian immigrants who moved to Upstate New York in the early 1920s. Traditional spiedies were made from spring lamb, but most commercial restaurants now use chicken or pork. Robyn, Chris W, and I stopped in for a combo meal, which includes our choice of a sandwich, fries, and drink. I picked the Spiedissimo, a spiedie with provolone, roasted green peppers and onions, and a tangy sauce with lots of olive oil. Perhaps the only thing that would make this sandwich even better is roasted red peppers. The meat and veggies were juicy good and flavorful. It was like a chicken cheesesteak with chunks of chicken instead of sliced chicken loaf. In my opinion, that makes a spiedie better than most chicken cheesesteaks I've experienced. The fries were crisped the way I like. Other spiedie choices include Buffalo chicken, bleu cheese chicken, and chipotle. There are also baby back ribs available. I'll save these for future trips.
Wokworks
Asian stir fry using top shelf ingredients could never be bad. In fact, it can be frickin' delicious! Oh, my God, there are FLAMES shooting straight up and around the wok, just like how my mother used to cook! Whoever taught these guys how to use a wok truly deserves a pat on the back. My wok noodles (fresh lo mein) with angus beef and creamy nut sauce was one of the tastiest meals I've ever had. The beef was brimming with flavor. The mixed veggies (carrots, cabbage, bean sprouts, onions, and egg) gave nice texture contrasts to the soft lo mein. Oh, and that delicious peanut sauce! Is it massaman curry? I find myself nodding my head with every satisfying bite. This is good stuff. I don't want it to end. That's how you know a curry sauce is really good. Besides lo mein, there are four other noodle or rice options, including chow fun, soba, steamed rice, and quinoa. There are six protein options, including farm-raised chicken, my wonderfully tender Angus beef, thick-cut and smoked bacon, roasted pork, wild-caught shrimp, and tofu. There are seven veggie options, but I'd suggest skipping those unless you're a vegetarian because mixed veggies already come with your entrée. There are eight different sauces from green curry to oyster sauce. To top it all off, there are also a variety of side dishes, such as pork belly buns and edamame dumplings.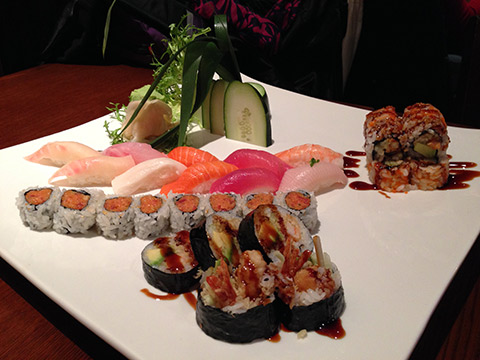 Tsuki
When I'm in the mood for good, inexpensive sushi in my neighborhood, three places come to mind: Vic Sushi Bar, Mizu Sushi Bar, and Tsuki Sushi. Vic is arguably the best of the three, but it can be frustrating eating there because their small number of seats fill up quickly. I'm not really into many of the "creative rolls" that are simply the same cuts of tuna, salmon, and eel drowned in lots of spicy and sweet sauces. Unfortunately, I think that's what most of Vic's fans love about it. Mizu is also very good, but Tsuki is a bit better. I like all three in that none of them create "super-size" nigiri that is popular with some people. Sushi is not about value for your money. Sushi is about nice, well-crafted nigiri and rolls that actually taste good. Sauce should be used sparingly so you could taste the delicate flavors of the sea. This is why I love nigiri so much. You get a slice of pure, unadulterated deliciousness resting on top of a small bite of perfectly seasoned rice. Maki rolls are a hit or miss. I really don't care for the "happy island sunshine rolls" or similar nonsensical adjective/noun/noun names, especially since they're all variations of the same six ingredients: tuna, salmon, eel, whitefish, avocado, cucumber. At some point, you have to ask yourself, "What makes one sushi joint better than the others?" Unfortunately, few sushi joints carry anything original. Such is the case with Tsuki. They make good sushi that some say is bland, but that's because they don't put any wasabi in their nigiri. I'm willing to bet they did this to satisfy the average person. Their specialty rolls are the nonsensical combinations like everyone else's. I prefer the simpler rolls with two or three ingredients that taste good. Give me a good yellowtail with scallion roll over a "big rockin' volcano dynamite roll" any day. Execpt for the slivers of fish bone in my red snapper nigiri, the Sushi For Two plate that my partner Robyn and I shared was quite enjoyable. You get ten pieces of nigiri with tuna, salmon, whitefish, red snapper, yellowtail, white tuna, and shrimp. You also get three maki rolls: spicy salmon, eel with cucumber, and shrimp tempura with avocado. The fish was fresh and tasted great. The rolls were delicious. The standout was the shrimp tempura with avocado. It tasted as good as any of the best softshell crab tempura rolls I've eaten. I also think Tsuki's tuna roll blows Mizu's out of the water. The secret is simple. Tsuki uses a little more tuna than other places. If you crave good sushi for decent prices, go to Tsuki. It's good stuff. Just be sure to tack a little wasabi onto each piece of nigiri to make it taste better.
Garces Trading Company
I've eaten at Garces Trading Company many moons ago when they still had their daily specials. I'm glad it's morphed into a full restaurant now rather than the half cheese shop, half rustic diner that it used to be. The menu hasn't changed much because the food has always been good classic European bistro fare. Charcuterie (yum!), duck salad (double yum!), seafood, and macarons! The duck salad was possibly the best salad I've eaten all year. Pop the egg yolk and let it seep onto and into every part of the salad for an orgasmic experience. Duck, potatoes, spring mix, egg yolk, more duck... oh my God!!! Trust me, you will never want to eat salad any other way after this. The bouillabaisse had its ups and downs. The sea bass was absolutely delicious. The prawn was good. However, the mussels elicited an "I've had better" from my dinner companion, Chris W. The saffron rouille sauce tasted more cheese wizzy than it should've. We went to The Tavern later to try Chef Mackenzie Hilton's garlic aioli fries and her garlic aioli beats Garces' saffron rouille. The scallop risotto was good. The scallops were a bit salty, but the risotto was perfect. The macarons were awesome. Suspiciously, they looked like the Trader Joe's Assorted Macarons except these included pomegranate and salted caramel flavors. Whereever they're sourced from, they're delicious. Chris educated me on the virtues of adding Metaxa to red wine, which seemed to cut the bitterness of the wine.


Shrimpers Grill & Raw Bar (Stuart, FL)
The conch fritters were seriously good, better than my partner Robyn's lobster tail tempura and my jerk dolphin dishes, both of which were fine dishes. On a sunny day, the deck out back is the best place to eat and enjoy the marina scenery. The drinks were a little watered-down, the worst of which is their "special" Cool-ossal Toxic Pocket Punch, a fruity neon green concoction with a gummy shark floating among the ice cubes, no doubt a play on Florida's toxic algae problem.
Sonny's BBQ
Sonny's BBQ is a chain BBQ restaurant originating from Florida and comes highly recommended by my partner Robyn. We were so enamoured with the place that we ate at three different Sonny's locations during our week in Florida. I have tried the baby back ribs, the St. Louis ribs, the pulled pork, the beef brisket, and the smoked turkey. The winner among the pile is the tender baby back ribs. Paired with the Sizzling Sweet sauce, this is quite simply an extraordinary combination. Kudos goes to the sweet corn fritters, nuggets of sweet corn fried to a golden brown and topped with powdered sugar. You will fall in love with them as I did.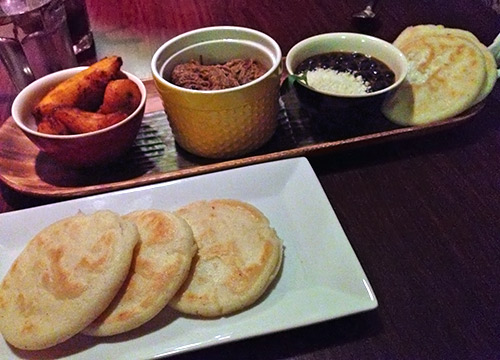 Delicias
I'm a big fan of the Philly Delicias food truck on the Penn campus. It's the only truck that purports to have authentic Venezuelan food. The original owner, a Venezuelan woman of Chinese descent, made some incredible arepa sandwiches. Not long ago, the truck and its business was sold to a new owner who continued the tradition of serving the same food and maintaining its high quality. Because the truck has done so well, it befuddles me why the restaurant serves basically the same food for higher prices. Shouldn't a restaurant give a chef an opportunity to really shine at his or her craft? The Pabellon, marinated flank steak served with black beans, cotija cheese, and plantains, tasted exactly like the food truck version. By itself, the steak was chewy, stringy, and tough. About the only thing saving it was the broth it was sitting in. Combined with the beans and plantains, the toughness of the meat is masked, just like the food truck pabellon sandwiches. I will say that the beans and plantains are nicely done and the arepas and empanadas are very good. We ordered a beef and a fish empanada. The beef one contained the same tough pabellon meat. The fish, a salmon and vegetable mixture, was actually quite excellent. The restaurant itself is located in the old 5N2 sushi restaurant space. I know this because the layout of the restaurant is the same and the old pair of pants that serves as a curious decoration still adorns the right wall. I feel that Delicias is still new and searching for its identity. There is no question that the food is good, not great, so now the owners need to create dishes that will take their restaurant to the next level.
All images and work herein © 2007-2023 Clare Din. No reproduction without permission. All rights reserved.