Sunday, March 8, 2015 - Day 0 - The eight-hour flight from Philadelphia to Santa Barbara was long and uneventful. I remember a lot of turbulence during my previous trip from Philadelphia to Portland. A young woman named Leticia drove me from the airport to the place where I'll be staying for the next month. I was the first one to arrive, so I had the pleasure of meeting Mark and Zefea and the rest of the evolation team. I also got to meet Mark and Zefea's adorable children, Indira and Ravi. Indira and I sat watching videos of P. Allen Smith making soy milk and tofu. "I love tofu!" Indira exclaimed. The house that we're staying at for the next month is beautiful. It's a retreat space located in an area known for its lavish homes. We have two large living room areas for lectures, posture clinics, and teaching clinics, an in-house studio for classes, a backyward pool and jacuzzi, and a poolside area for meals. There are orange, lemon, lime, and avocado trees in the backyard, an area known as the Quiet Zone. As a last hurrah for meat, five of us took a car ride out to Santa Barbara to eat at Los Agaves, a local Mexican restaurant. My salsa verde pork burrito was frickin' delicious. The accompanying rice, salad, guacamole, and sour cream were awesome and the portion sizes were huge. The free chips and salsa were a great bonus. This was great Mexican food.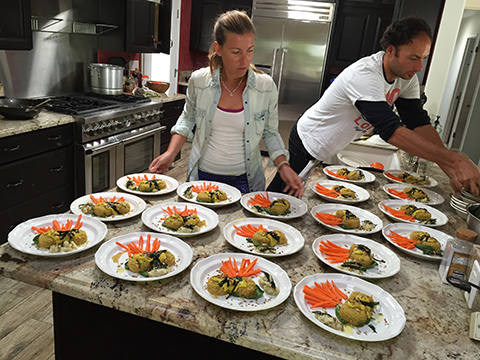 Monday, March 9, 2015 - Day 1 - We had a meet-and-greet this morning that involved sitting in a circle and reciting everyone's name and favorite posture. Mark and Zefea led an orientation session afterwards where they introduced us to some of the senior teachers we will be training with: Susan Wyler, Maria Filippone, and Torrey Trover. Susan is a yoga teacher with over 40 years of teaching experience and knew Bikram before BIkram became Bikram. She is to evolation what Emmy is to Bikram. Her sagelike wisdom and encyclopedic knowledge of yoga gives our training an added dimension that we'll rarely find anywhere else. Maria is a gifted Pilates and Vinyasa Flow teacher from Vancouver who has taught classes to such notable celebrities as Sting and Alicia Silverstone. She has the calm demeanor of a Buddhist priestess and the majestic look of a Greek goddess. Quite simply, she is one of the most stunning, beautiful women I've ever met. I would love to someday carry myself with such dignity and grace. Torrey is perhaps the youngest of all the senior teachers, but Mark advises that Torrey has wisdom well beyond her years. She is also a certified rolfing specialist. Zefea is a three-time international yoga champion. She is strong, beautiful, and articulate. It is difficult not to notice her piercing gaze, the kind of look that demands perfection. "It's important to know that we're all already teachers. The fact that you came to teacher training shows that you have a seriousness of purpose that not all students have. Study the postures every moment you have," she advised. For lunch, Chef Alessandro Giovanazzo, or "Alex," and sous chef Lucia Crisa prepared quinoa with curry and nori, scalloped cauliflower, and sliced raw carrots. After lunch, we had an introduction to posture mechanics class where Zefea and others will be teaching the intricacies of all the postures. We then carpooled over to The Big Yellow House studio where we took Mark's Hot 60 + Still 30 class. For dinner, Alex prepared a delicious spinach and mushroom frittata and a potato and onion soup. After dinner, we had an introduction to teaching clinic class where Mark gave us advice on how to study the asana dialog. "Project the dialog, stand up, say the words as a teacher, and feel yourself saying it," he advised.
Tuesday, March 10, 2015 - Day 2 - My tummy was not adjusting well to the new vegetarian diet. My usual practice of skipping breakfast might not be a good idea, so I ate a small bowl of Cheerios and Craisins. We started our day with a group study where we practiced our dialog for Half Moon with another person. Jen, my roommate, was the natural choice for this. She's a medical doctor and a flow yoga teacher, so she's super-smart and can retain words better than I can. We got three rounds of practice in before we were carpooled over to The Big Yellow House for a Flow 75 (Vinyasa Flow) class taught by Maria. I thought Bikram was a challenge. I was wrong. Maria's class had a spirtually transformative quality about it. She was calming in her voice and uplifting in her instructions. She had a graceful way about her and she helped improve three of my postures. At one point, she must've felt my lower back was tense and sore, so she rubbed a cooling gel on it and massaged it in. It felt great. She's a great yoga teacher. We had teaching clinic after flow class. One by one, we stepped up to the front of the room and recited what we studied of Ardha Chandrasana with Pada Hastasana to everyone. "Bend your knees and move your hips right and left, right and left. Do a little dance. A little cha cha cha," I said during my recital. I credit my teacher Malea for the last part. We each received feedback from the teachers and students for our performance. Everyone's feedback was very positive and designed to encourage rather than discourage us. We are now ahead of schedule because we learned we didn't have to do Pada Hastasana today. For lunch, Alex and Lucia prepared an Italian-style salad with mandarin oranges, walnuts, and black olives, a Baba Ghannouj-like purée of asparagus and onion, and grilled asparagus with cheese. After lunch, we had a posture mechanics class with Zefea. She taught us everything we needed to know about standing and Ardha Chandrasana. We used the hallway walls of the retreat house to practice feeling what Ardha Chandrasana is supposed to feel like. We then carpooled over to The Big Yellow House for a Hot 60 + Still 30 class taught by Torrey. Unfortunately, I felt the onset of a heat stroke or dehydration again. I couldn't sit or even lay through the entire meditation. It didn't feel peaceful sitting in the heat today. I think I overextended myself in the Hot 60 class. I'll have to learn to conserve my energy so this won't happen again. I also stretched or pinched a nerve in my wrist from this morning's class. Jen brought me an ice pack and ibuprofen. For dinner, we had a delicious tofu and broccoli purée scramble with black beans and coconut rice. The walnut, tomato, and mushroom salad was also quite good. "I'm not a vegetarian, but this is really good," I told Lucia.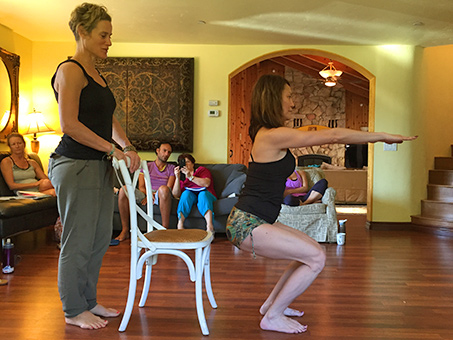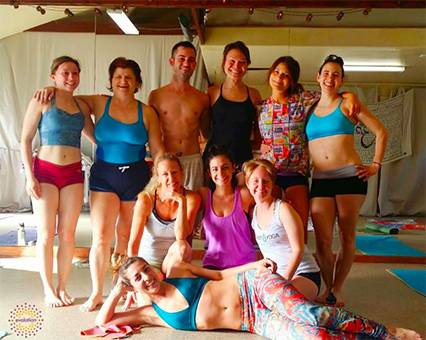 Wednesday, March 11, 2015 - Day 3 - Today was our first Hot 90 class at The Big Yellow House taught by Susan. Her class was tough and physically demanding, but it felt good to be able to finish it. Teaching clinic followed Susan's class at the studio. We practiced reciting the words to Awkward Pose to Susan. We were supposed to just do Backbending, but we're ahead of schedule. I started off very well, but missed a bunch of words. Still, I led my classmates through the entire posture without delaying and making them tired. "You have an awesome part two of Awkward," my classmate Carly, a gorgeous Mika model, said to me. A couple of students cried because they felt they couldn't get the words out. "Don't worry about it so much," Susan advised. "You're right where you're supposed to be. The words will come in time. You have a whole month to study." For lunch, we had rice and spinach "meatballs," hummus, and sweet potato purée. After lunch, Maria and Susan taught our posture mechanics class where they analyzed our backbends. "Lift your chest up towards the ceiling," Maria advised me. Hopefully, I'll be able to incorporate this technique into my next class. A lecture on the eight limbs of yoga taught by Torrey followed. For dinner, we had veggie tacos with sweet peppers, roasted potatoes, three purées of various veggies, and a variant of the "meatballs" we had earlier. After dinner, Torrey continued her lecture on the eight limbs of yoga. I developed a sore throat, stuffy nose, and itchy ears over the past day. It could be allergies.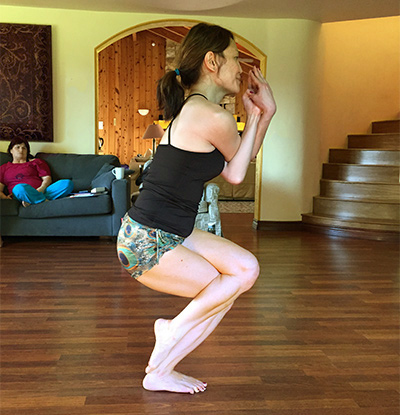 Thursday, March 12, 2015 - Day 4 - We had our third student break down emotionally today in teaching clinic. "I don't understand it. I know the words!" she said. I broke out of my posture and walked over to hug her. "You'll do great," I whispered to her. She tried again and did better. Teaching clinic is such an emotionally charged experience. We all push ourselves to be the best and, as a result, sometimes we're too hard on ourselves. Susan said that sometimes we create artificial barriers for ourselves. Once the barriers are overcome, the teacher in all of us can come out. When the student sat down next to me, I poured my heart out to her and that's something that's not easy for me to do. "You've been so nice to me the past few days. I normally don't open up to people very easily," I said, giving her a hug. At that moment, I learned to let go of my guard, something that had built up over the years from anxiety and self-doubt. Unlike other teacher trainings, the message at evolation is training is not about churning out human tape recorders who can recite dialog word for word but developing teachers who can utilize their unique gifts to bring Hatha Yoga to more people. With our exposure to Vinyasa Flow and meditation in just the first few days, that already makes our teacher training something much more robust and enriching than Bikram training. In posture mechanics class, we analyzed Awkward and Eagle. Susan remarked that I have long arms and legs and a short torso. "Wait, I always thought I had a long torso," I said. It turns out I have a big head which makes my torso appear long when I sit down. We had two Hot 60 + Still 30 classes today, the first taught by Alex and the second by Susan. The first class was taught at the in-house studio. I thought Alex did a good job of making the little space feel like a hot yoga studio. He conducted his class with a wonderful cadence like a maestro conducting an orchestra. The second class was taught at The Big Yellow House. Susan walked around the class and corrected postures as needed. It was interesting to experience the different forms of meditation that both teachers taught. I'm beginning to believe that meditation is, indeed, a vital part of yoga. For lunch, we had spaghetti with marinara sauce. For dinner, we had a vegetable medley and carrot soup. Several of us are not strict vegetarians and we were not feeling complete with the food provided to us here.
Friday, March 13, 2015 - Day 5 - Torrey's morning Hot 90 class at The Big Yellow House felt a lot less strenuous on my body than Tuesday's Hot 60 + Still 30. Whereas I felt ready to pass out in Tuesday's class, I felt invigorated by today's class. I had a smile on my face for most of the class and I even found myself laughing at myself a couple of times when I fell out of Standing Bow. Have no doubt, I was feeling tired during several postures, but it was Torrey's upbeat personality and smile that helped me through these grueling postures. I was much more relaxed today in teaching clinic. The posture was a difficult one: Standing Head to Knee. I said to myself, "What will be will be," because I'm confident I know the posture and all I need to do is fill in the engrams in my mind with the words I've heard and read dozens of times. To shake off stage fright jitters, Susan had all of us perform the posture in silence, perform the posture while speaking the words, and perform the dialog in a mock class setting. I felt that this was a great way of allowing us to be comfortable with our own bodies and comfort zones than if we were to just recite the dialog immediately without preparation. Everyone is blossoming into great speakers with a confidence, energy, and enthusiasm that grows each day. In posture mechanics class, Susan, Maria, and guest lecturer Savona taught us the intricacies of Standing Head to Knee and Standing Bow. Savona is a former Bikram Yoga studio owner who practices twice a day and teaches up to four times per day. She's an older woman whose age I cannot fathom, but appears to have an amazingly strong body. She and Susan presented opposing viewpoints on the proper way to kick out the standing leg. After the two postures, we learned breathing techniques, including Mula Bandha. In group study, Jeannie Savage helped Jen and I with our dialog retention using the call and response method. For lunch, we had a pasta and cheese tart, kale salad, celery and cheese, and balsamic mushrooms. For dinner, we had vegetable stir-fry and carrot and curry soup. In the evening, some of us joined together in the living room to watch "One Track Heart: The Story of Krishna Das." It was a very interesting film, but one in which the director could've cut out about a third of the interview segments to achieve the same effect.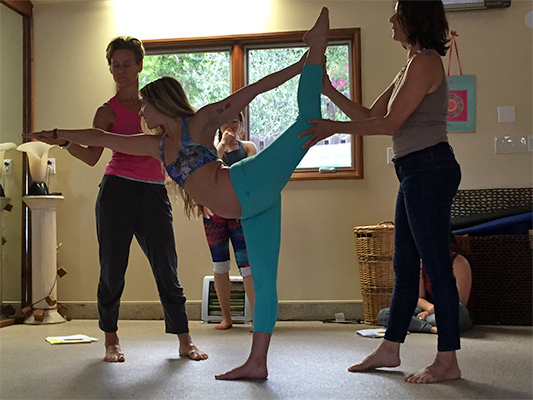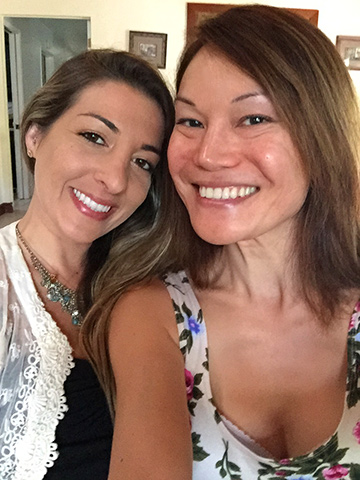 Saturday, March 14, 2015 - Day 6 - The week ended with a morning teaching clinic where we all sat in a circle and chanted a kirtan similar the ones Krishna Das sang last night. We then took turns teaching Standing Bow. The two flow trainees were in the teaching clinic, too, so we got a taste of the kinds of things they were doing in their training. Brunch followed where we enjoyed a nice apple, pineapple, and cucumber plate with avocado chocolate mousse and a chocolate Craisin smoothie. We then carpooled over to The Big Yellow House for a 60 minute sadhana meditation class followed by a two-hour advanced class taught by Zefea, Suan, and Maria where the sequence included moon salutations, hip openers, lotus poses, and wall-walking. I must admit, I was petrified during my wall-walk. We each tried three or four times and each time I couldn't go down more than three steps before I panicked and broke out of it. The hip openers posed many problems for me, especially Pigeon and Mermaid, where I couldn't get my hips to sit flat on the floor. The flow girls were amazing. Haley could do Pigeon with no trouble. Jules did Crow with precision. I could do neither. I looked over at Jen, smiled, and said, "Ah, to be 25 again... or even 35..." Several students had built up high levels of anxiety over the fact that Zefea was teaching the advanced class. What kept me calm was knowing that the worst thing that could happen to me is something I've probably already experienced over the course of my Bikram training. What could Zefea do? Come over and correct a posture? I'm all for that. Yell at me and push me harder? I like that. Use me as a bad example in front of the whole class? What knocks me down can only make me stronger. I give a lot of credit to my teacher, Sandy Robin, for making me strong and resilient. Zefea had a very stern presence in the room. As a yoga champion, you could tell that she demanded the very best of her students. Maria demonstrated many of the postures and led us through the moon salutations sequence. I absolutely love Maria and trust her completely during posture corrections. Susan led us through a sequence of lotus postures, various poses designed to open up the hips. I liked Garbha Pindasana (Womb Embryo Pose) that Susan says Tony Sachez showed her. For dinner, we drove to downtown Santa Barbara where we dined at the highly-rated Arigato for sushi. I got the Ultimate 10, which included O-toro, kampachi (yellowtail), tai (sea bream), aji (horse mackerel), hototegai (live scallop), mirugai (giant geoduck clam), snowcrab leg, ankimo (monkfish liver), uni (sea urchin), and ikura (salted salmon roe). Sushi was such a refreshing change of pace from the strict vegetarian diet we maintained throughout the week. I savored each piece of fish as if it were my first and last. Except for a small inedible bite in the aji, every piece was perfect, fresh, and nicely presented. I saved the O-toro, the best, for last.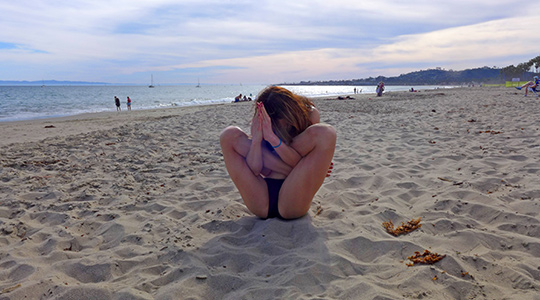 Sunday, March 15, 2015 - Day 7 - Late morning, a small group of us visited a beautiful store called The Sacred Space to look at pendulums, crystals, buddhas, and other arcane gifts from the East. The "backyard" of this store is a winding maze with several highly decorated areas where you could sit and meditate in peace. We made our way to the beach where we met up with other trainees who already had a head start enjoying this beautiful weather. On the beach, I did Garbha Pindasana from our advanced class yesterday. The day ended with another delicious burrito from Los Agaves. I got a couple of different salsas to go with the side of rice.
Monday, March 16, 2015 - Day 8 - Morning group study was followed by a Hot 90 class at The Big Yellow House taught by Martyntje Kyle. None of us knew anything about her, so we had no expectations or reservations. Martyntje's soft voice and steady, even pace made the class feel relaxing, similar to a Noelle Burgoyne class. I didn't feel winded after class like in some of my more intense Bikram classes. After class, Torrey gave us a two-hour anatomy lecture. For lunch, we had eggplant parmigiana and polenta with green tomatillo sauce. A three-hour posture clinic followed where Zefea finished up the details of Standing Bow and taught us the intricacies of Balancing Stick. I learned some new stretching methods that will be valuable in my teaching of these postures, especially in private lessons. "This should feel like a good chiropractic adjustment," Zefea said, and it did. Zefea and Alex pulled me in opposite directions to stretch my spine. The stretching method against the wall for Standing Bow was even more brutal. Zefea hiked my leg up as high as possible and then pulled my leg up even further. It hurt like hell, but I was determined to get better, so I let it hurt. She hiked my leg up more and I snapped forward. Frustrated, I calmed down and tried again, reaching that point I snapped out of last time. Zefea hiked my leg up again. I held it. I got out of the posture and thanked Zefea. For dinner, we had delicious veggie tacos. Teaching clinic followed dinner. We started with a mantra and then took turns teaching Balancing Stick. I didn't overprepare again like I did with some previous postures and ended up doing well. Pretty soon, we'll be moving into teaching more than one posture in our teaching clinics. We also have an assignment where we have to observe and critique a live yoga class being taught. I was the first to volunteer for this, so I chose Wednesday's morning class.
Tuesday, March 17, 2015 - Day 9 - My morning routine is slowly turning into a bowl of Trader Joe's High Fiber O's with any two of the following add-ons - peanut butter, raspberry jam, banana - and soy milk. I still drink Pepsi every day, but it's not the four or five cans per day affair I was used to. Today was probably my worst day of sleep at six hours. Yesterday I had an extra half hour. Maybe my body is getting used to the environment or maybe it's because I wake up itching every day. I've switched from Claritin to Zyrtec over the past week because Claritin doesn't seem to help my allergies. At night, I take a Benadryl before I go to bed and I wake up every morning with severely dry sinuses. When I leave the retreat space, I feel great. It turns out the bed I'm sleeping in is the one the family dog slept on. Argh! Our morning Flow 75 class was taught by Julie Nail at The Big Yellow House. I looked around the class and noticed that everyone was doing different things. "What the hell is going on?" I thought to myself. Unlike Maria's class, I didn't feel the same teacher-student connection in Julie's class. What I will say, though, is that Julie has a very calming presence. It's like looking at an angel. You look at her face and feel more calm. Zefea gave us a two and a half hour posture clinic on Standing Separate Leg Stretching after class. For lunch, we had mixed veggies and risotto. After lunch, Torrey gave us a three-hour anatomy lecture. For dinner, we had tofu and veggies and minestrone soup. After dinner, Maria led the teaching clinic where we started with a mantra (Om Gam Ganataye Namaha) and then took turns teaching Standing Separate Leg Stretching. I didn't want to be last to teach like in the last two clinics, so I was in the middle this time. Jeannie, one of the evolation teachers, felt I knew the dialog. I just need to work on my cadence and filling in the pauses with words.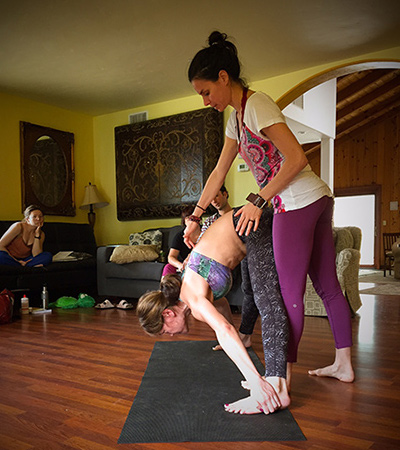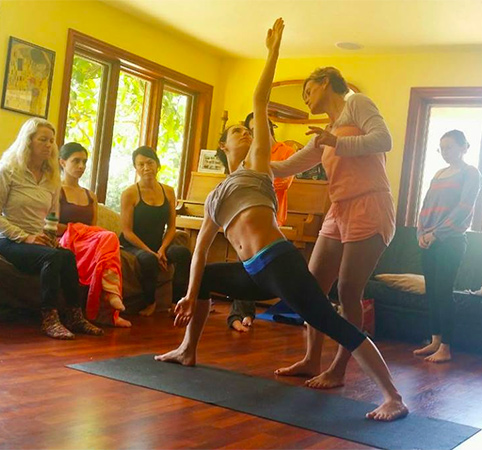 Wednesday, March 18, 2015 - Day 10 - I sat out of Maria Filippone's Hot 90 class today to complete a class observations assignment that every teacher trainee is required to complete. I observed Maria's timing, dialog, energy, voice, student interaction, and body language throughout the entire class, including the meditation segments. I noticed she held herself in a very beautiful, graceful, and composed manner. She constantly scanned the room, made posture adjustments to both beginning and advanced students, used her voice to create energy and stillness, and added her own colorful phrases to deepen our understanding of the postures. I told Maria that we should all aspire to be like her. After class, I carpooled with Maria and we purchased fresh juices from Pressed Juicery. Maria taught the teaching clinic today where we took an in-depth look at Triangle. Maria broke Triangle up into seven major parts: 1) hips forward, upper body back, 2) heels together in one line, 3) bend your right knee and sit down, right thigh bone parallel to the floor, knee and hip in one line, right knee back, left leg straight, 4) spine straight and centered, windmill your arms, 5) stretch your right hand down, palm facing the mirror, fingertips between the big and second toe, 6) stretch your left arm up, palm facing the mirror, look up to the ceiling, chin to shoulder, and 7) twist your upper body back to create a spine twist, opening your chest to the ceiling. For breakfast, I had a bowl of Special K with freeze-dried strawberries. I'm actually allergic to strawberries, but I was actually okay with these strawberries for some reason. For lunch, we had faro smothered with red beat sauce and pine nuts, brussel sprouts, pickled cabbage with parmesan cheese, and curried cabbage slaw. I felt this was a wonderful combination of different flavors and textures. For dinner, we had baked potato and rice au gratin and green beans with a chunky tomato sauce. I went for thirds on the au gratin. Torrey taught a three and a half hour anatomy class that packed so much information into our brains that we were all mentally exhausted when it came time for teaching clinic. In teaching clinic, we each took turns teaching Triangle. My focus this time was to maintain an even pace throughout my dialog and get my students in and out of the posture without any mental blanks. I succeeded today. It was a good feeling. I sold my stash of candy to a classmate. He was very happy.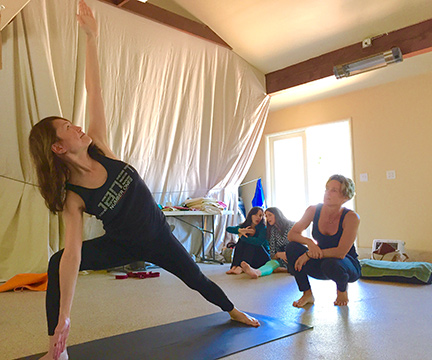 Thursday, March 19, 2015 - Day 11 - Jeannie taught a Hot 60 class at our in-house studio in the morning. It was a decent class with a steady tempo and good dialog. Jeannie really knows the dialog and is a good role model for us. "I've only been teaching for a year, so I'm a 'baby teacher,'" she admits. Jen gave her lots of positive constructive feedback during her class observations. Mark taught the teaching clinic after class. We were given very little time to prepare for Standing Separate Leg Head to Knee. The vibe was very different from previous teaching clinics. Michael Mayle of Balance Yoga Center and Dana Dineen from Bikram Yoga Toronto sat in as guest teachers. Their criticism towards the student teachers was very harsh. We told Maria about it and she spoke to Mark and the guest teachers about the negative energy in the room. The negative energy was promptly eradicated. Not every student got to teach the posture in the morning teaching clinic, so we continued in the afternoon. Maria taught posture mechanics class where we continued our review of Standing Bow. She helped me fix my Triangle pose. I also got to teach another student Triangle. For lunch, we had broccoli with pistachios and craisins, jicama with strawberries, and curried snap peas. Teaching clinic resumed in the afternoon with Mark, Michael, and Dana. I was the first to teach. My dialog didn't flow as easily as it should have. Michael thought I had a very commanding voice, but I wasn't using it effectively. The things I'll work on next time are increasing energy, volume, and inflection. We had a Hot 60 + Still 30 class taught by Mark afterwards at The Big Yellow House. I pigtail bunned my hair and several of my classmates thought I looked cute. I had to lie down in Savasana for most of the Still 30 class because I pushed myself hard in the Hot 60. For dinner, our chefs prepared us a cucumber salad with two bean dips and quinoa. There is very little wasted food here. If there are leftovers in the pots or pans, they are somehow used in the next meal. Tomorrow, we will be teaching tree and toe stand and the entire standing series.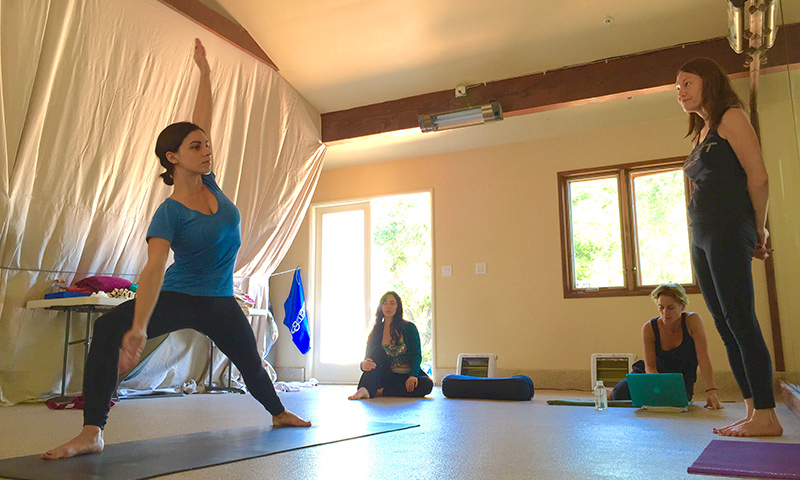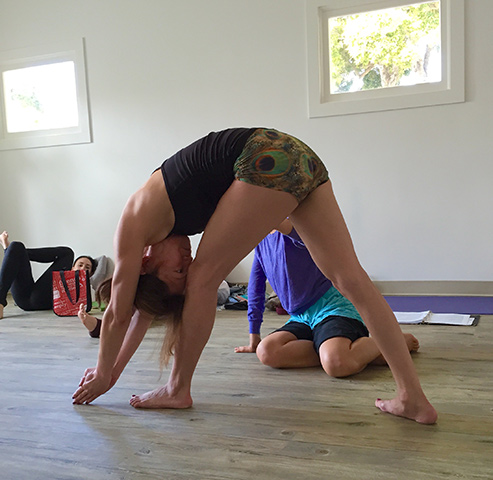 Friday, March 20, 2015 - Day 12 - Torrey taught a two and a half hour posture mechanics class this morning at The Big Yellow House. We learned everything about Standing Separate Leg Head to Knee and Tree Stand. I learned that I need to suck my belly in more and bring my right hip forward more in Standing Separate Leg Head to Knee. She noticed that Tree Stand looked easy for me. After posture mechanics, Torrey taught us a DEEP 75 (75 minute Yin) class. This was my first Yin class and I enjoyed the experience. We did ten postures, four of which were left side and right side, and held them for about five minutes each. The room was heated to about 86 degrees and we were able to get deep stretches all over our bodies. Torrey said that at some point we'll finish up anatomy class. "They gave me nine and a half hours and I'm still not done with it yet!" she said. For lunch, we carpooled back to the retreat house where Alex prepared for us an absolutely delicious egg quiche with mushrooms, green beans, and spinach and a side of quinoa with sliced avocado. After lunch, we split into two groups and we each took turns reciting the entire standing series to the other people in our group in a mock class setting. Mark and Michael gave us encouraging, constructive feedback on our performances. Like other students, I blanked on a couple of postures and missed lines of dialog, which is weird because I'm quite familiar with all of these postures as a practitioner. This was a valuable exercise for all of us because we were able to get the anxiety build up of that first class out of the way so we could focus on what we need to do better in order to prepare for our next teaching experience. For dinner, we had a delicious stir-fry with tofu, peppers, and onions. Alex cracked my back using various massage techniques, including one where he was literally lifting my body by my skin.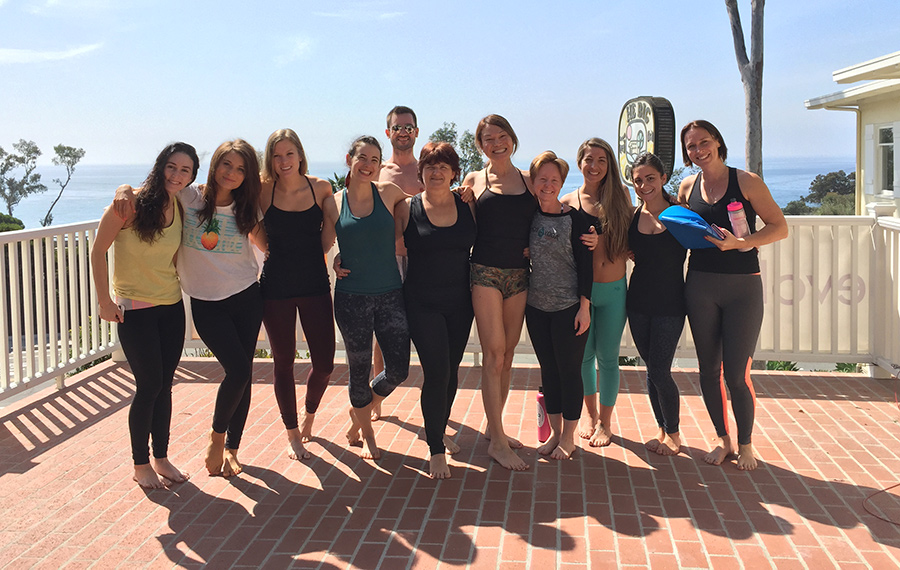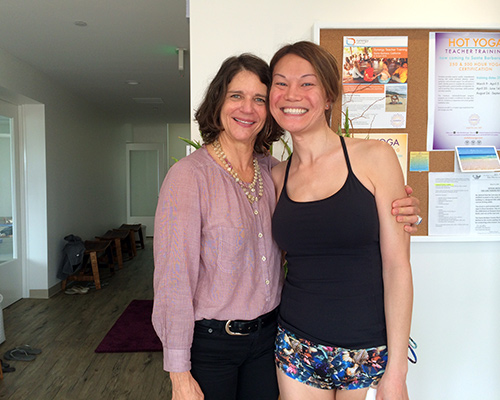 Saturday, March 21, 2015 - Day 13 - Our second week is officially over. Evolation Yoga at The Big Yellow House celebrated its grand opening with free yoga classes all day. We started our day with a teaching clinic where we each took turns teaching the sequence from Tree Stand to Toe Stand to Savasana. I received good feedback in this clinic. We carpooled over to The Big Yellow House and had a Flow 75 class with Maria at noon. The studio was packed wall-to-wall and there was uplifting music throughout the entire class. I thanked Maria for her class afterwards and told her I wished every yoga class was like hers. "Thank you, Clare. It's always nice to have your energy in the room," she said. Alex, himself a world-renowned yogi, left the class in tears. "That was the most beautiful class I've ever been in. Such positive energy... so emotional," he said. Maria and Alex are two people whom I feel are spiritually connected to something higher. Susan returned from her trip and greeted me and my classmates. She told me she absolutely loved my beach pictures. A small group of us went to The Sacred Space after class and we each purchased lots of cool jewelry for ourselves. I bought two items that resonated with me, a sacred hand-carved sandalwood medallion embellished with sparkling goldstone beads and finished with a beautiful handmade sterling silver clasp and hand-knotted sacred Rudrashka seed mala beads. We also went to a nearby strip mall to get juice at Pressed Juicery and a dress for Jen, my roommate, for her going away party. We went back to the studio where we had a Hot 90 class with Zefea. After class, we hung out at the studio greeting guests and talking to people who wanted to know more about the studio. There was an array of good vegetarian food there, including hummus, mixed veggies, stuffed grape leaves, and apple turnovers. In the evening, we went to The Four Seasons for a send-off party for my roommate Jen. My classmates and teachers all looked beautiful. I thought Haley looked absolutely gorgeous.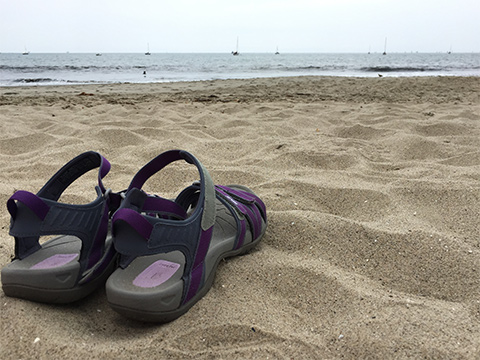 Sunday, March 22, 2015 - Day 14 - I joined my evolation family for breakfast at Jeannine's Bakery where I had a delicious Dungeness crab omelet. The crab meat was sweet, firm, and delectable. The banana nut French toast was also noteworthy. One reviewer exclaimed, "I'd sell my mother to Al Qaeda for this French toast!" We bid farewell to my roommate Jen who had to leave to catch a flight. She was crying because she was happy for all of us, but sad to leave her evolation family. We promised we'd keep her updated on our progress. After breakfast, Carly and I wanted to get our nails done. We tried to go to Salon Del Mar in the Hyatt, but they were understaffed so we wouldn't be able to get our nails done at the same time. They suggested we try Tina's Nail Salon right down the block. I got a Shellac Gel mani and a pedi with sole treatment done by two nail techs. My mani turned out real nice. My pedi was less than perfect. My toenails weren't shaped very nicely. I had to get the pedi tech to reshape them and they still weren't perfect. A small group of us went to the beach at noon, soaked in a few rays on this mostly overcast day, and walked along Chase Palm Park to see the arts and crafts marketplace. Lots of vendors were selling junk jewelry. One vendor I liked, Tom Holmes of Wooden Monarch, sold handcrafted exotic hardwood yo-yos. Somewhere along the way, I saw a curious food truck called Grandma's Tamales that sold homemade tamales for $2.50 each. Naturally, I couldn't pass this up, so I got a pork tamale. It was delicious, but, unfortunately, I got pretty sick afterwards. We met up with a couple of friends and went to Eladio's Restaurant and Bar for a drink. For dinner, Carly, Jules, and I went to Nardonne's La Famiglia Pizzeria where I had a delicious sausage and pepperoncini calzone. I love Carly. She has a vibrant energy and is very down-to-earth in her opinions and attitudes. Jules is quickly becoming one of my favorite people at the training. She's very level-headed and has knowledge about food and places that most twenty-somethings don't possess. My room feels empty without Jen.
Monday, March 23, 2015 - Day 15 - Morning group study was followed by a Hot 90 class at The Big Yellow House taught by Martyntje Kyle. I thanked Martyntje for the class and she complimented me by telling me I did a very good job. After class, Maria, Susan, and Torrey led a two-hour teaching clinic where we each took turns reciting the dialog to Wind Removing Pose. I was totally relaxed and simply let the words flow out of my mouth. I included the points about how the pose stimulates the ascending and descending colon as well as the entire digestive system. Maria and Ulri both thought I had an excellent voice that was calming and relaxing. Maria also thought my timing was great. I felt a lot of passion in Haley's teaching today. Her words sounded like they were coming straight from her heart. We had our fourth student break down emotionally today. I've always felt she was the strongest physically and mentally of all of us. She's a survivor, able to hike in the wilderness and carry over 70 pounds of gear on her back! We gave Martyntje feedback on her morning class as a group exercise. For lunch, we had strozzapreti pasta with sweet potatoes, green breans, and onions and a spinach and lettuce salad with corn and thousand island dressing. Our three-hour posture mechanics class was taught by Zefea, Susan, and Maria. We continued our discussion of Tree Pose and moved on to Toe Stand and Savasana. We read articles and book chapters on savasana by Bikram Choudhury, B.K.S. Iyengar, and Michael Stone. We were also told that our teaching clinic studies will now include two postures per day. For dinner, we had a spinach and rice quiche, medallion potatoes with avocado and goat cheese sauce, and green beans. Mark gave us a two-hour lecture after dinner on the difference between self and Self.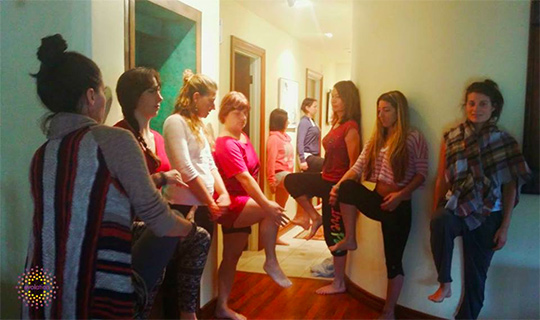 Tuesday, March 24, 2015 - Day 16 - Morning group study was followed by a Flow 75 class at The Big Yellow House taught by Julie Nail. I liked her class today more than last week. The instruction was better and I appreciated how she took the time to correct a couple of my postures and ask me how I was doing, since she knew I was a beginner. Her presence was calming and beautiful. After class, Maria and Susan led a two and a half hour teaching clinic where we each took turns reciting the dialog to the evolation-style Sit-Up and Cobra Pose. Unfortunately, I wasn't as smooth as I was in recent teaching clinics. I needed more energy in my sit-up dialog. We finished teaching clinic early, so we moved from the little studio to the large one where we each took turns teaching a posture of our choice. I did Triangle. Maria thought I did a good job with this challenging posture. For lunch, we had veggie tacos with sautéed broccoli, tomatoes, and artichokes. Susan, Torrey, and Maria led our posture mechanics class where we learned more about Tree and Toe Stand, Sit-Up, and Wind Removing Pose. For dinner, we had strozzapreti pasta with goat cheese and green beans in a marinara sauce. Mark gave us a two-hour mindblowing lecture after dinner on The Yoga Sutras of Patanjali. Yoga is good for controlling the fluctuations of your mind so you can realize your true Self. Somehow I think Mark's lectures alone are worth the price of the training. A couple of students wished we had two Hot 90 classes per day, but I don't agree. The tradeoff is the extra class would take away time we would use for teaching opportunities.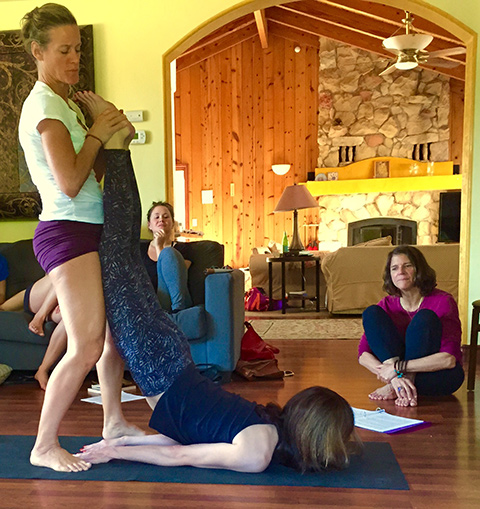 Wednesday, March 25, 2015 - Day 17 - Morning group study was followed by a Hot 90 class at The Big Yellow House taught by Torrey Trover. After class, Maria and Zefea led a two-hour teaching clinic where we each took turns reciting the dialog to Locust and Full Locust. I got to teach in the big studio. The students thought I taught the postures well and with a lot of energy. I missed a concept in Locust, the one about kissing the floor before lifting both legs up. Zefea reminded us, "Know the concepts of the dialog. You don't necessarily need to know the dialog verbatim so long as you know the concepts." Taylor knew the concepts and the dialog. I was particularly entranced by her noteworthy command of both. "It was a pleasure to listen to you," I told her. A fifth student broke down in teaching clinic today. Negative feedback and criticism affects people in different ways. Some people take all such feedback and criticism personally. Some have never experienced negative feedback and criticism. Others welcome it. In the end, I think we all have to break down in some way in order to build ourselves up to be stronger people. For lunch, we had an amazing asparagus risotto. Susan, Zefea, and Maria led our posture mechanics class where we learned more about Cobra, Locust, and Full Locust. Susan thought I had a beautiful Cobra, but she warned, "You're very intense. You have to learn to let go so your movements are fluid." Maria and Susan showed me what is possible with my body with continued practice. For dinner, we had a delicious, beautifully presented trio of tapas including tofu with tumeric on top of grilled jicama, ratatouille, and tofu with mandarin orange sauce. Lucia told me that she always sees such positive energy in me. "You're always smiling and happy," she said, "and it reminds me of the people I used to work with." I told her that I'm just happy to be here and to enjoy the good food that she and Alex prepare each day. After dinner, Susan led a discussion on The Bhagavad Gita. The Gita teaches us how to be a person of yoga. You don't do your poses to perfect them; you just do them to the best of your ability without any attachment to the outcome. "Let go. Everything is love," she relays, "and find a calm in yourself so you can handle the rigors of life."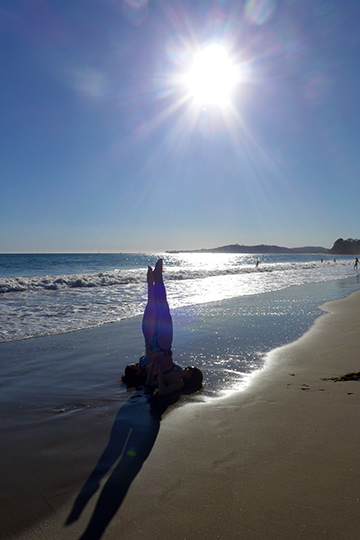 Thursday, March 26, 2015 - Day 18 - Morning group study was followed by a Hot 90 class at the in-house studio taught by Zefea. I may have taken the hottest spot in the studio since I was directly under a heater unit. Zefea corrected my alignment on a few postures, which was greatly appreciated. Holding my ankles in Cobra really enabled me to curl up a lot higher. After class, Susan led a two-hour teaching clinic where we each taught Bow and Fixed Firm. My classmates thought I did well, but I left a few key points out of Bow pose, such as keeping your wrists straight, toes pointed, and rolling on your belly. "You have to get all the key points in before you start adding window dressing," Susan advised. I was a little disappointed in myself because Bow is such an easy pose. I did a pretty good job in Fixed Firm. I got all of the dialog out, but a few sentences were out of order. I had good timing and I projected a lot of energy, which surprised Ulri because she hadn't yet heard how much I could project my voice. I'm apparently known for my loud, commanding, almost militaristic voice. Our studies have been moving so quickly! It seems like only yesterday that we were all struggling with teaching our first postures. After clinic, we discussed how we were doing with our commitments to ourselves at the beginning of training. We were asked to give up one or more of our vices during the course of the training. Mine was candy, cakes, and cookies. Except for one episode with two bite-size pieces of candy, I've kept my commitment. For lunch, Alex made Thai curry with rice noodles. I liked the dish so much I ate two portions. Susan and Maria led our posture mechanics class where we learned about Bow and Fixed Firm. I learned that I've been doing Bow all wrong because my left knee keeps flaying out to the side and I'm not keeping my knees together throughout the posture. Maria announced at the end of class that Mark decided to give us a special break today, since we were ahead of schedule, so we spent the time at the beach before going to our evening yoga class. We got plenty of cool yoga pose pictures at the beach, including the one of me and Shayna doing Shoulderstand. One of my classmates remarked, "Y'know, when I first signed up for yoga training, I expected to be in a class full of gnarly old people, but when I got here, I was like, 'Damn! Everyone looks like a model here!'" Our Hot 60 + Still 30 class at The Big Yellow House was taught by Mark. A lot of us were really tired, but we churned through the class like warriors. I sweat like mad in the Still 30 classes. I showered in the studio and let my hair air dry. We carpooled back to the house and, for dinner, we had an egg and cheese frittata with a roasted eggplant and carrot burrito. The food was delicious. Everyone at the dinner table remarked that my hair looked really pretty in its natural, curly state.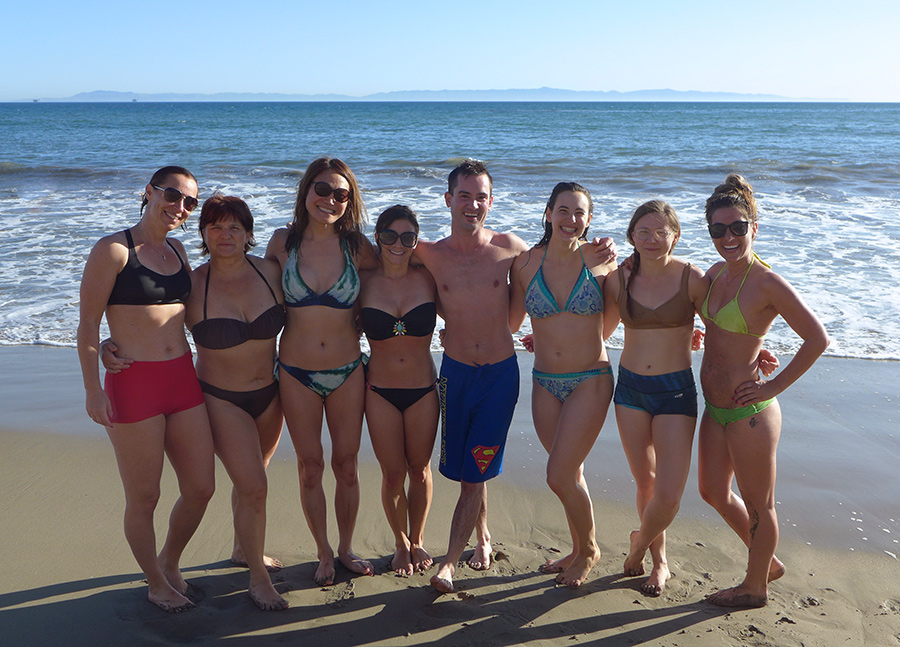 Friday, March 27, 2015 - Day 19 - Morning group study was followed by a two and a half hour posture mechanics class taught by Susan where we continued our study of FIxed Firm along with Half Tortoise and Camel. We carpooled over to East Beach where we had lunch - an avocado, tomato, cheese sandwich on multigrain bread - and learned about chakras and the poses that open those chakras from Maria and Susan. One student had a total meltdown that required the teachers to intervene and remind us about the importance of kindness to one another. We were also taught that it's okay to say no to things we don't feel comfortable with instead of letting people impinge upon our comfort zones. We carpooled back to the house where Susan led teaching clinic and we taught Half Tortoise and Camel. Our feedback was a little relaxed since everyone didn't have much time to study the postures. We were all very comfortable teaching the postures in our own words. I revealed to the class that I'm much more comfortable teaching postures I know I can do well. Susan asked me which posture I'm having the most trouble with, so I told her Standing Separate Leg Stretching. She made me do the posture several times in front of everyone adding modifications until I could do it right. It was a very empowering exercise. For dinner, we had millet with spicy beans, beefsteak tomato, and sautéed broccoli. After dinner, we finished our lecture on chakras and ended with a chakra opening meditation. Carly and I talked about going to Bikram Choudhury's class tomorrow morning and getting our picture taken with him, but it didn't fit into our schedule. Bummer. I really wanted to go to Los Angeles to bend with the master.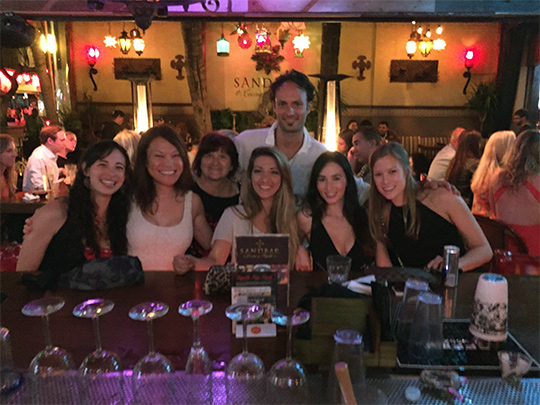 Saturday, March 28, 2015 - Day 20 - The day began with a two-hour teaching clinic led by Susan where we each taught Rabbit and Head to Knee with Stretching. Susan and the students thought my teaching was great, very commanding, and calm. "Your voice is really nice. It's very meditative for a 90 minute class. You have a really good voice that's strong," said Jeannie, a support teacher. "I love your voice," said Haley, "I really wish I was there on the first day when everyone said how scary it was, because I can listen to you now and get lost in it." My voice has been described as militaristic before, but now it's melodious. Just two more postures left to study! For lunch, Alex prepared a number of finger sandwiches. We carpooled over to The Big Yellow House for a 60 minute Sadhana meditation class followed by a two and a half hour 84-posture advanced class led by Susan and Zefea. In the series, we did Embryo Womb (Garbha Pidasana) again and I might have found another posture that I could work on: Full Tortoise. I also tried my hand at Wheel and made some good progress with it. There's something for everyone in the advanced class. I'm glad I did it instead of going to see Bikram. I was thinking about this for a while and concluded that it's my destiny to complete the evolation training. Going to Bikram class was a tease and a test of my faith. My destiny is to complete my evolation teacher training. A group of seven of us went to Sandbar Cocina Y Tequila for drinks and food. I had a raspberry marguerita and a classic mojito before dinner. I ordered fried shrimp tacos which were really good. Carly and I bought shots of tequila at the bar after dinner. The bartender gave us free glasses of sangria afterwards. He asked me what flavor I liked, I said raspberry, so he gave us a free round of shots. Our original plan of going out dancing was nullified by the fact that everyone was tired by 9:30pm.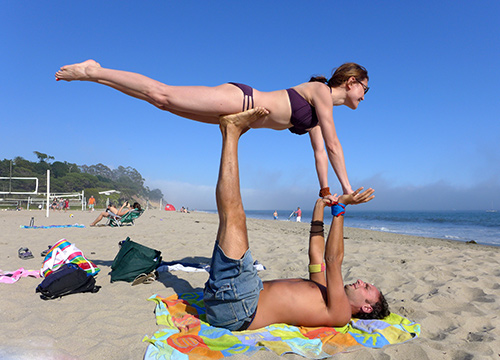 Sunday, March 29, 2015 - Day 21 - This morning I noticed that Alex was about to drink a glass of orange juice. "Wow, where did you get the orange juice from?" I asked, noting that there was no juice in the refrigerators. "I made it using the oranges from the tree behind the cottage. The oranges are so juicy that you only need two to make a full glass. Try it," he said. I sipped the juice he made and it was sweet and delicious. I quickly scooted to the back of the cottage in search of this wonderful tree. I found it and picked a few oranges from it, returned to the house, and made my own juice. Good stuff! I went to the beach with Alex and Shayna and met up with Jeannie, Leticia, Haley, and Jules. Everyone was doing AcroYoga poses, so I asked Alex to teach me a basic one. I performed my first AcroYoga pose - the front plank - with him. It was very empowering. At the nearby arts and crafts show, I bought the Wooden Monarch yo-yo I had my eye on last week. It's handcrafted from African Wenge hardwood. My kids will love it. Robin, Shayna, and I went to a funny-looking little turquoise blue taco shack called La Super Rica Taqueria for dinner. Super Rica was the late Chef Julia Child's favorite Mexican restaurant in Santa Barbara. The Super-Rica Especial is the item to get. Roasted chile peppers stuffed with cheese and marinated pork on top of three fresh corn tortillas. The tortillas are made by hand just before they are placed on the grill. It doesn't get much better than that! I also got a pork tamale, but it wasn't as good as the one I got from Grandma's Tamales.
Monday, March 30, 2015 - Day 22 - Morning group study was followed by a Hot 90 class at The Big Yellow House taught by KelleyJane Paradise. "You have a beautiful practice," KelleyJane told me after class. We returned home to Zefea's hour and a half lecture on "The Mindset of Teaching" and "the teacher switch." "You already are a teacher. You already have a toolbox. We give you the tools you can put into your toolbox," Zefea said. We were given a set of mental tools to help us prepare for teaching a class. For lunch, we had a fruit and nut salad and lentil soup. Zefea also taught a two-hour posture mechanics class on Head to Knee with Stretching. I came away from the class with a valuable tip on thinking about the stretching part of the pose as a kind of backbend in order to keep my back straight. Mark led an hour and a half teaching clinic afterwards where we taught Spinal Twist. To give you an idea of how stressful teaching clinics can be, even a student in our class with a year's worth of Bikram teaching experience under her belt dreaded teaching clinic. "Nobody is judging you when you teach in a studio," she said. For dinner, we had a vegetable medley with two kinds of rice and a pasta and bean casserole. After dinner, Mark gave us a two-hour lecture on willful surrender, practice, and commitment.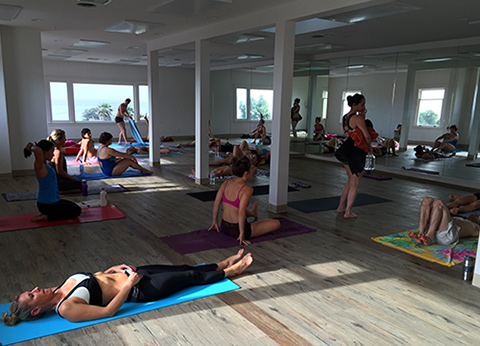 Tuesday, March 31, 2015 - Day 23 - We woke up early this morning to attend Alex's meditation class at the in-house studio. It was a totally amazing, spiritually transforming class. My classmates and I sat in a circle listening to spiritually uplifting music. Alex introduced us to the meditation practice of giving and receiving energy. He said that our arms would open with our palms up to signify giving energy and our arms would open with our palms down to signify receiving energy. He also said that it is normal to experience an outpour of emotions during the meditation. We closed our eyes and chanted Om seven times with our hands up in the air. We then lowered our hands and chanted Om repeatedly for what seemed like an eternity and a short moment at the same time. "Let your body feel the energy flow through you," Alex said. We chanted Om again and again and then something amazing happened. My arms started opening slowly by themselves! The ball of energy in between my hands grew slowly by the second. My hands eventually held this huge ball of energy in my outstretched hands. I was swaying back and forth, somehow balancing on my sits bones. At the end, Alex passed a ball around and we each vowed to let go of something that troubled us. It was then that my emotions starting getting the best of me and I started crying uncontrollably. I vowed to let go of my hatred towards certain people who've hurt me in my life. After class, I hugged and kissed Alex and thanked him for a wonderful class. Zefea taught a two-hour class on Pranayama and Kapalbhati breathing. We learned about the six-count and did an exercise in which we marched around two practitioners standing in the center of a circle while we counted aloud. One practitioner acted as the teacher and the other the student. Zefea showed us a fun, playful side of her that we rarely got to see during our time in training. The entire scene reminded me of the Mickey Mouse Playhouse characters all marching to the Hot Dog song. For lunch, we had a tofu, kalamati olive, and cucumber scramble with a side of quinoa and mixed squash. Several of my classmates were hesitant in teaching on the first day of full-class teaching. I volunteered to go first because I wanted to ensure my spot in the large studio at The Big Yellow House. I wanted my teaching environment to feel as much like a real studio as possible. It was an exhiliarating experience to be able to teach in that space. I was sweating like a banshee during and after class. "That felt like a real class," I said to my students.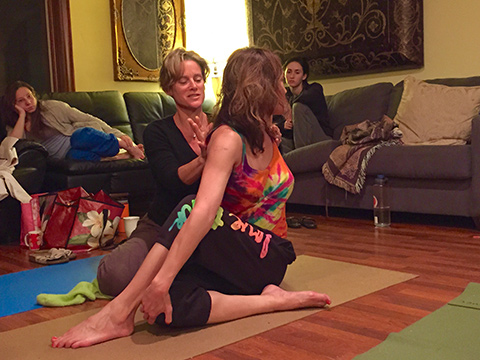 "That was a real class!" Shayna affirmed. In my excitement to teach, I forgot to audio record my class. My students enjoyed my teaching, which was described as meditative, and hugged me afterwards. I put plenty of additional dialog into my savasanas and I remembered all of the Sanskrit names of the postures. I ran over time by two minutes, which is not bad. Mark and Maria's detailed feedback was very favorable. I finished strong, connected well with my students, and had good timing in certain parts. Mark commented that I needed to move around more and not stand in one spot so much. I assured him that I would be moving around a lot more when I teach at my studio. I did move around a lot when I taught Pranayama Deep Breathing in Sandy's morning class. For dinner, we had veggie quesadillas with leftover tofu scramble from lunch, an egg scramble with tomatoes and onions, and fresh guacamole. After dinner, Maria led a two-hour posture mechanics class where we learned all about Spine Twist. After both sides of twisting, Maria gave us a Thai massage along our spines. After the day's activities, I took a long, warm shower. It's amazing that something so simple as a shower can feel so refreshing and rejuvenating. Our retreat house has been a safe place where we get to experience the love and kindness of others and to laugh, to cry, to learn, to grow, to share, and to be the kind of person we were meant to be. One day we will look back upon this experience as the best thing that could happen to us and we will be thankful.
Wednesday, April 1, 2015 - Day 24 - We woke up early this morning to attend another of Alex's meditation classes, this time in the living room that we've been using for our posture mechanics classes. We sat, closed our eyes, and started with a breathing technique where we held our inhaled and exhaled breaths for longer and longer counts. We then softened our gazes and stared at a candle. Finally, we stood up with our eyes closed, let our minds go free, and allowed ourselves to wander in our space. Different types of music were played during each part. The last part was the most enlightening for me. I found myself letting go of everything within me and then a strange thing happened. I started to feel like I was flying! I circled around and around until I ended up spinning. This may sound weird, but I had no control of my body during this time. "Make it stop! Stop spinning me around!" I said to myself. I laughed. I smiled. I felt free. Torrey wrapped up her anatomy lecture series with a two-hour lecture on the endocrine gland system and a discussion on how our anatomy training relates to our yoga postures. She reminded us that we shouldn't think of each part of our anatomy in isolation. Every piece works together as a unified whole. For lunch, we had carrot and onion soup and curried rice with mixed veggies. We carpooled over to The Big Yellow House for our second day of full-class teaching. We had two Hot and two Flow Yoga student teachers teaching today so we had our choice of two hot classes, two flow classes, or one of each. I picked one of each.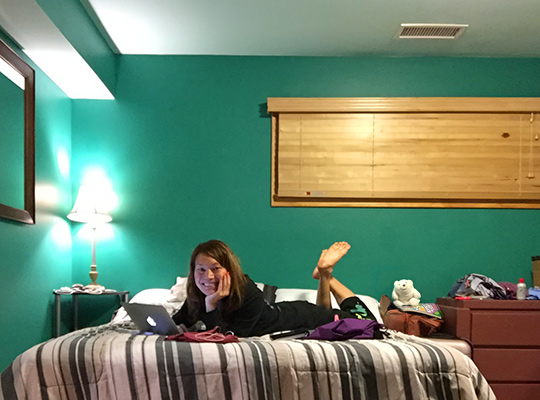 Taylor made leaps and bounds over her first few teaching clinics. She had a steady pace throughout the class and never cracked under pressure. She's a perfectionist with her dialog, so she tried to get every word out. Taylor is The Little Engine That Could. Her dedication to studying the dialog is truly inspirational. Jules taught an excellent flow class and really motivated me throughout the class. "You can do it, Clare! I'm watching you!" she said during my struggles with bicycle situps. There was a beautiful, gentle quality to the class that I really liked, but, make no mistake, it was still a challenging class, especially for someone like me with limited flow experience. After our classes, we returned home to hear feedback from Zefea and Maria on the student teachers. Zefea also taught a pregnancy yoga class that introduced us to modifications to the hot yoga postures. She showed us a book that she was preparing on these modifications. In it were pictures of her from when she was pregnant with Indira. She looked really happy and beautiful. The last chapter contains lovely pictures of Mark, Zefea, and baby Indi. Zefea said that she is still working on the final details of the book before she publishes it. For dinner, we had mushroom risotto. After dinner, Mark taught a two-hour class on the different forms of yoga, including Bhakti, Kundalini, Laya, Raja, Tantra, and more. We learned that Hatha Yoga is only one small branch of the yoga tree and that most forms of yoga do not concentrate on asana. I can't believe almost four weeks have gone by so quickly. Living with fourteen other people - all strangers - has posed many challenges, but we survived and we're all better for it. The place smells like dirty gym socks and there are all sorts of bugs to deal with partly because this house is situated in a forested area and partly because people like leaving jars of food open. Now that I'm not sleeping in the dog's bed, I don't need to take Benadryl every night like I did the first couple of weeks. I'm calling this place home now, which is interesting and odd at the same time. Using my pendulum, I discovered that Carly is my sister from a past life. This is probably why we had such good rapport from the very beginning. I gave her a little Gund bear to remember me by. Strangely, I'm the last one awake every night. My classmates all sleep by 10:30pm. I'm up until 12:30am to 1:00am. In just three more days, this entire yoga teacher training experience will be just a memory, but one of my fondest memories because I've met some great people, learned a lot of new things, and grew in every possible way each and every day.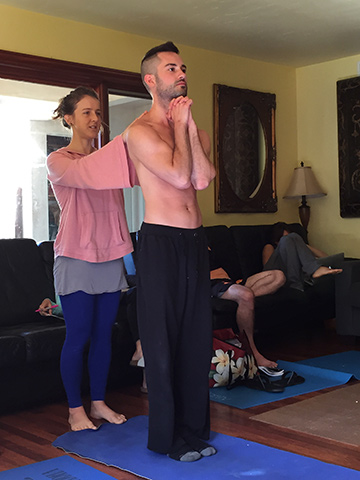 Thursday, April 2, 2015 - Day 25 - Torrey taught the final posture mechanics class. It was two hours long and focused on Pranayama and Kapalbhati breathing. She revealed to us that all of the lectures, teaching clinics, and posture mechanics classes in the nine-week Bikram training were taught in our four-week training. I wondered how that was possible even with one less Hot 90 class per day. "There are a lot less people here so the group is more intimate and things can get done faster," Torrey said. "But I thought they broke the entire class up into groups of 20 for teaching clinic," I said. "No, they had 40 people in teaching clinic and you had to sit around and wait for everyone to be done," she said. Teaching clinic was not limited to one day per posture at Bikram teacher training. Sometimes it would stretch across multiple days. "Plus, you don't get to teach an entire class or do all of the little exercises we do in posture mechanics," she revealed. Zefea added that Bikram training included two to four hours of posture mechanics for all 26 postures versus two to four hours of posture mechanics for each posture in our training. Those were startling revelations to me. I had placed the world-famous Bikram teacher training on a pedestal all this time. I felt like banging my head on the side of a table! Our full-class teaching continued at the in-house studio with Claudia teaching the entire class. Even though she taught the entire class in Italian, I felt really connected with her teaching. I deciphered what she was saying most of the time because of her hand gestures. Mark didn't feel she knew all of the dialog, since there were places in which she simply repeated the same phrase over and over. For lunch, we had a veggie and rice noodle stir-fry. We carpooled over to The Big Yellow House and completed two more student-taught classes. Three classes in one day, even if they were Hot 60 classes, is pretty grueling. Shayna and Brian did a very good job with their classes. Shayna overcame her fears of her nightmare involving me, Carly, and Brian. Brian started class in a militaristic way, but softened as the class went on. Both Shayna and Brian will be great teachers with their own styles. After our classes, we gave feedback to the student teachers and then carpooled back over to the house where Zefea taught a class on room procedures and emergencies. She gave us tips on what to do when a student faints and how to tell if a student is getting near that point. For dinner, we had potatoes in guacamole as well as a poached egg tart made with leftovers from lunch. After dinner, Mark gave a two-hour lecture on class timing and conscious communication. We did some exercises in co-listening and reflective listening. What we learned from these exercises can be applied to any situation involving effective communication between us and others.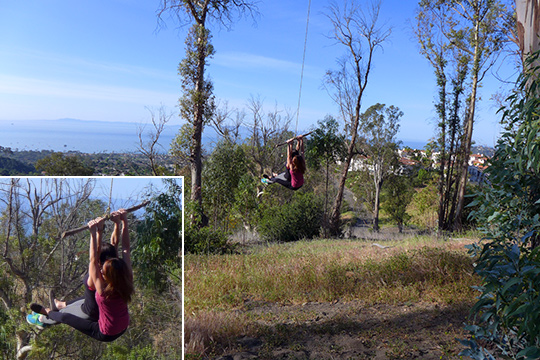 Friday, April 3, 2015 - Day 26 - This morning we went for a silent walk along a short hiking trail not far from our house. We climbed to the top of a hill and found a tree with a swing attached to it. We each took turns swinging, but I wanted to swing with someone else, so I got Taylor to swing with me. That was mega-fun! Afterwards, we sat in a circle and meditated while soaking in some rays. It was a silent walk, so we didn't speak the entire time of the hike. We each picked up a rock along the trail for the sacred stone ceremony in tomorrow's graduation. Zefea gave us a two-hour lecture on teacher guidelines and situations that may arise during teaching. We each took turns roleplaying various scenarios that could potentially occur in our teaching experiences. For lunch, we had a risotto lasagna, pizza, and lentil soup. Alex explained that before September 2014, there were no in-house chefs at teacher trainings, so everyone had to fend for themselves to get food. The gaps between lectures and meals were longer back then to accommodate travel time to and from food places. With the in-house chefs, lectures could be spaced closer together to allow for more lecture time. After lunch, we had a three-hour lecture about leaving the yoga bubble, thoughts on adding music to classes, reflecting on our growth as students and teachers, and learning about the history of evolation. Unlike Bikram, Mark and Zefea seem like people whose hearts are in the right place. We carpooled over to The Big Yellow House for a special Flow class taught by Maria and live music provided by local spiritual music artist, Jacob Duran. Maria dedicated the class to us, the evolation teacher trainees. I cried during the opening Om meditation. Maria managed to include all of the Hot 90 postures into her flow. For dinner, we had quinoa in marinara sauce, garden mushrooms with black olives, and pan-roasted potatoes and artichokes.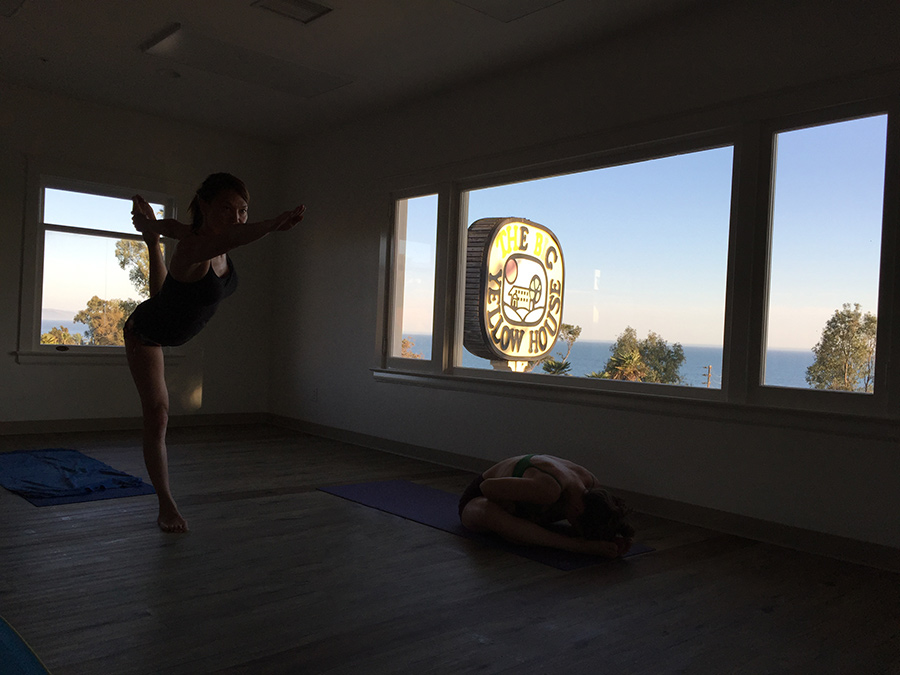 Saturday, April 4, 2015 - Day 27 - Mark and Maria taught our morning lecture by asking each of us to define, in our own words, what yoga is. After the lecture, we had a grueling two-hour class led by all of our teachers. It included the 26+2 sequence plus additional sequences and wall-walking. For lunch, we had pesto pasta. After lunch, we had our graduation ceremony, which was an incredible experience. Besides the awarding of certificates, we added our stones to the sacred stone collection and participated in an intensely emotional and spiritually healing ceremony where I bawled my eyes out because I finally felt like I was a part of a real family.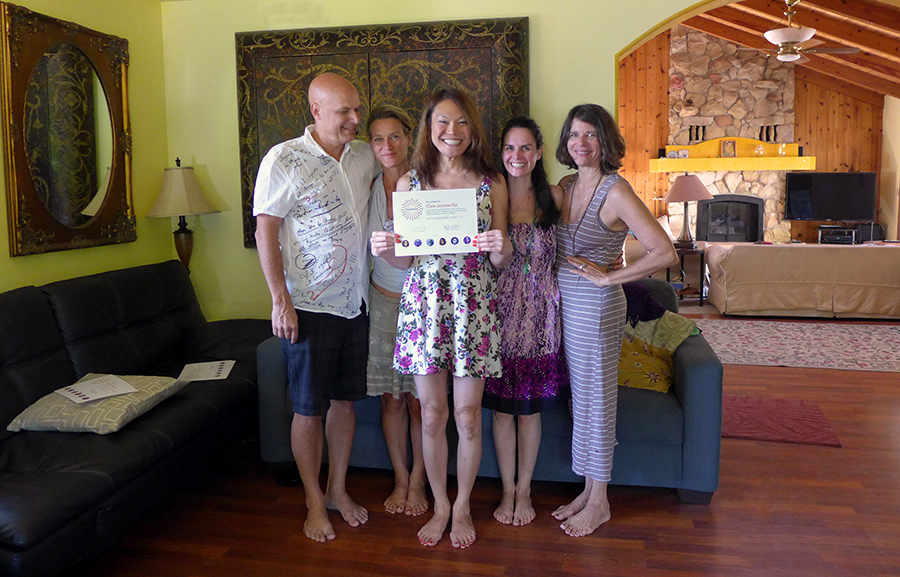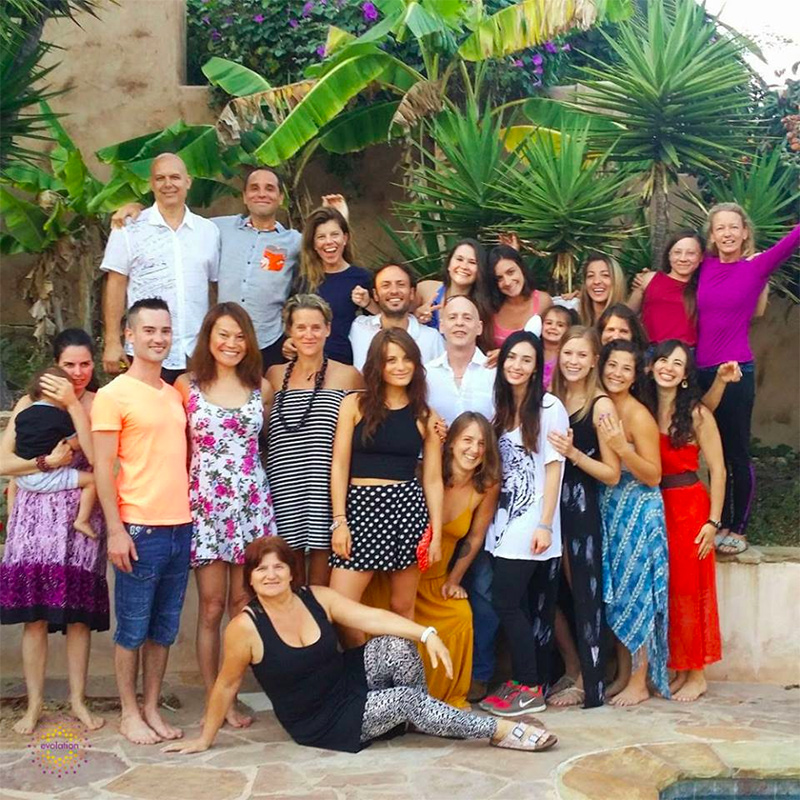 Sunday, April 5, 2015 - Day 28 - Last night's dinner at Zen Yai, Santa Barbara's "Best Thai Restaurant," was amazing. I had the much acclaimed pumpkin curry with chicken, a spicy green curry with big chunks of red peppers, potatoes, pumpkin, and basil. It was delicious. I also got to try a little of each of my friend's dishes: Vegetable Pad Thai, Poorman Noodles, and Tofu Red Curry. All were delicious. This morning we went to Jeannine's Bakery where I had the Lobster Benedict. I miss eating lobster. So good! Jeannine's makes the most perfect eggs. Carly and I hugged and kissed each other before we parted ways. "I'm going to miss you so much!" she said. "I'm going to miss you, too," I said, holding her tight. "I don't want this to end. I want to be in the yoga bubble forever," she said, bawling her eyes out, but we both knew that this was not realistic. "Now you know how I felt at yesterday's ceremony. I was thinking the same thing," I said. "I love you," she said. "I love you, too," I said. We promised to keep in touch. As I reflect upon my entire teacher training experience, I have to conclude that Mark and Zefea are the real deal. They are genuine people with good hearts and beautiful souls and it is clear to me that they love what they do and want to share their passion for yoga to as many people as possible.