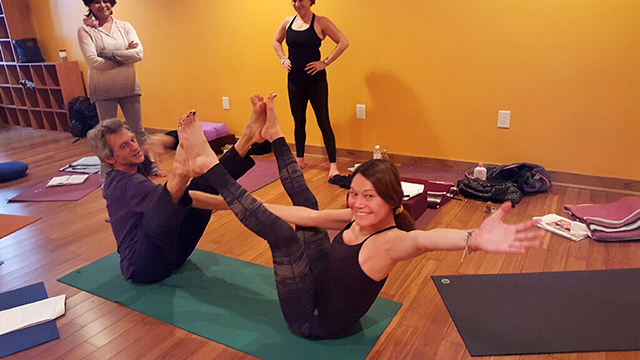 January 21, 2016 to January 24, 2016 - Meditation: Theory & Teaching with Yoganand Michael Carroll - One of my fondest memories of Evolation Yoga teacher training was the meditation classes. To my great delight, I found a meditation training course right here in Philadelphia at Wake Up Yoga, the same place where I took Corinna Benner's fantastic Yin Yoga Teacher Training course. This 34-hour training course explores the many stages and techniques of yoga meditation, including Vedanta, Sankhya, Tantra, and Tantric Hatha Yoga, and offers students a chance to practice teaching the techniques they've learned. There are also opportunities to strengthen your yoga practice with individual yoga poses as well as partner yoga poses. I've never done a Navasana (boat) pose before, so it was pretty challenging for me. The course is part of the Pranakriya School of Yoga Healing Arts and I've taken this course to fulfill the requirements of a 300-hour yoga teacher training certification. Yoganand is a master-level yoga teacher at Kripalu and a fount of yoga knowledge. He has the gift of being able to explain traditionally difficult concepts in clear, accessible terms. On the final day, we performed a ritual where we saw the Brahman in ourselves. We were all like "Whoaaa!!!" I was on an emotional high for several hours afterwards. I feel honored to have taken Yoganand's class.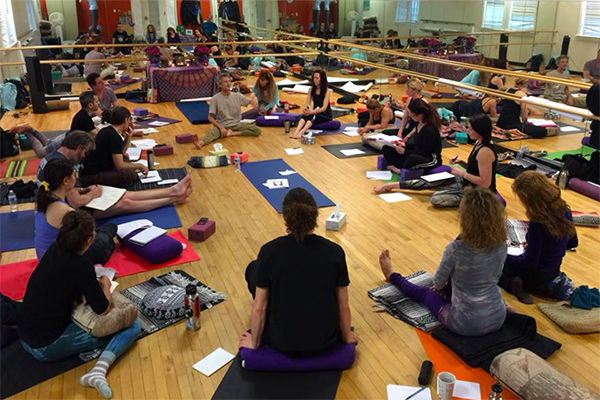 March 25, 2016 to March 27, 2016 - The Universe Inside the Body of the Yogi: A Journey Through the Chakras, Granthis, and Nadis with Yoganand Michael Carroll - I spent much of my weekend learning about chakras, granthis, and nadis as taught in the Pranakriya tradition. What was especially mindblowing, and revealing, is that chakras aren't the colored energy points along the spine as proposed by Anodea Judith and other chakra "experts." They're more like symbols that represent concepts. Chakras, in olden times, were circular fortresses that protected people against enemies and demons. Nadis were forest roads that connected the traveller from one chakra to the next. The goal of yoga is to use rituals to dissolve the connection between the sun and moon chakras and that becomes sun energy. Rituals can be simple or elaborate and involve pranayama, meditation, and asana sequences. The course is part of the Pranakriya School of Yoga Healing Arts and I've taken this course to fulfill the requirements of a 300-hour yoga teacher training certification. I learned a lot of new things in this course that challenged some of what I learned before. I can't wait to take Yoganand's Pranayama course next year!
September 23, 2016 to September 25, 2016 - Asanas for Meditative Posture 1 with Krissy Dopson - This course is part of Pranakriya's Deepening the Asana Exprience series and goes in-depth into ten postures designed for meditation. On the first day, we were introduced to the basics, including the benefits and risks of these advanced postures, definitions, and assists. We ended our day with a two-hour yoga class. On the second day, we started our morning with Yoganand's Advanced Posture Warmup Routine and jumped right into learning about Rabbit, Gate, and Half Circle postures, practiced a full yoga class, and then studied Head to Knee, Lotus, Pigeon, and Camel postures. We On the third day, we started our morning with Yoganand's Advanced Posture Warmup Routine and then learned Seated Angle posture, practiced a stretching class, and then studied Tortoise, Reclining Diamond, Simple Twist, and Wheel postures. We were given ample opportunity to practice what was taught on different training partners and Krissy was always available whenever we needed help. My classmates and teacher all thought I had great physical strength, so postures like Wheel that I have trouble with should be well within my reach. I really enjoy small classes like this because you get more one-on-one attention than in larger classes. The course is part of the Pranakriya School of Yoga Healing Arts and is the third I've taken to fulfill the requirements of a 300-hour yoga teacher training certification. I learned a lot of new techniques in this course that I could readily use in my teaching. I look forward to my next asana course with Pranakriya!
November 4, 2016 to November 6, 2016 - Advanced Skills for Hands-On Assisting and Manipulations with William Hufschmidt - This course teaches us how to effectively use words, presence, and hands-on assists to help our students learn, and hopefully repeat, the result of the assist. It builds on the primary categories of hands-on yoga assists and human anatomy and invites us to further develop their effectiveness using our eyes and hands. We received ample opportunities to both give and receive various kinds of assists and we learned how to develop listening and speaking skills that effectively and economically communicate the assists' intention. We practiced the use of gently presspoints and stabilizations in order to avoid the gross manipulations that some teachers use. In one exercise, we practiced uniting our breath with the breath of a partner, which was an emotionally outpouring experience for some. Time restrictions didn't enable us to go through every posture in the manual, but the ones we did work through were Tadasana (Mountain), Ardhachandrasana (Half Moon), Bhujangasana (Cobra), Garbasana, Sukhasana, Garudasana (Eagle), Parsvakonasa (Triangle), Down Dog, Phalakasana (Plank), and Kapotasana (Pigeon).
December 1, 2017 to December 3, 2017 - Holding Space: Developing Skills for Presence and Touch with William Hufschmidt - Healthy and effective touch has the power to encourage insight at all levels of experience and to cultivate deep presence. As yoga teachers and therapists, we use touch to communicate with our clients and students, inviting them to feel into the present moment and all that it offers physically, emotionally, and energetically. Holding space comes from an understanding of both the physical and energetic qualities of touch, as well as the powerful experiences that can result from our connection with one another. As we become more fluent holding space for our own experiences, we gain skills and confidence to hold space for others.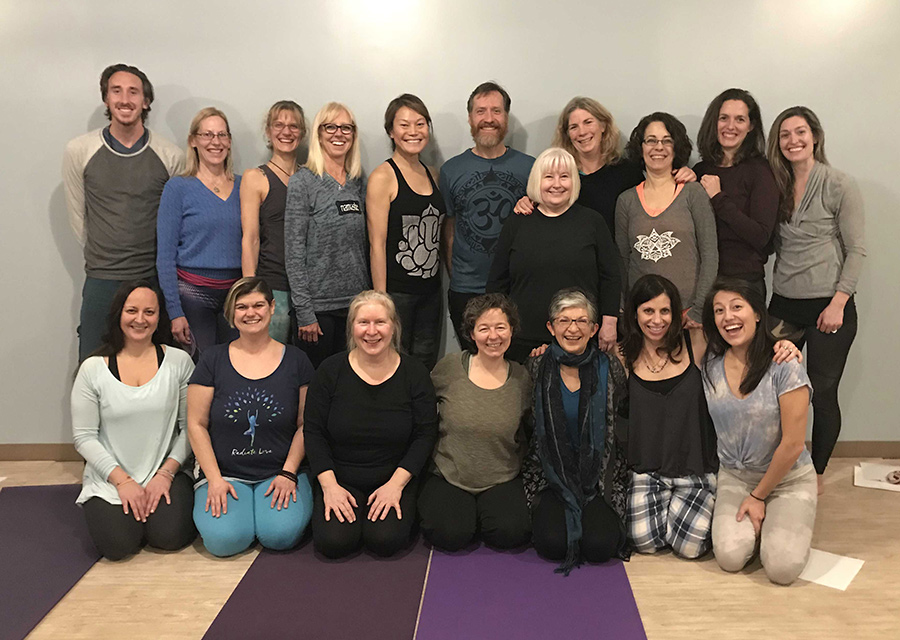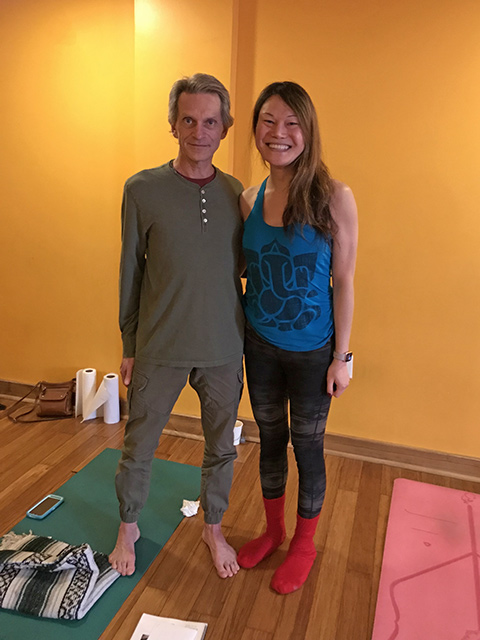 March 22, 2018 to March 25, 2018 - Pranayama: Theory & Teaching with Yoganand Michael Carroll - Pranayama is the yogic science of breath control, a powerful way to raise energy and channel it into spiritual growth and life mastery. This 34-hour training module introduces students to the techniques and philosophy of pranayama as taught in the Tantric Hatha Yoga tradition. Topics include the kriyas, such as Dirgha, Agni Sera, and Kapalabhati; pranayama categories, such as Surya Bhedana, Ujjayi, Shitali, Sitkari, Bhastrika, Bhramari, Murcha, and Pavlini, and the bandha mudra locks, such as Mula Bandha, Uddiyana Bandha, and Jalandhara Bandha. Since there were an odd number of people in class, one person had to choose Yoganand as a practice partner during the teaching exercises. Everyone seemed intimidated to pick him, so I seized the opportunity and paired up with him on several occasions to get his feedback. Highlights include doing partner yoga with him on the second day and doing Neti Kriya using a catheter to purify my nasal passageways on the third day and my two teaching practice students who said that they love my voice on the final teaching exercise. I am now halfway done with my 300-hour teacher certification!
May 18, 2018 to May 20, 2018 - Teaching Restorative Yoga with Shelbi Miles - Restorative yoga is a gentle inward form of yoga that invites participants to move towards greater balance, control and participation in their life. The participant's body is placed in yoga postures that are supported with props. The mind is invited to slow down with the use of pranayama, visualization, and mantra allowing the individual to turn inside. A restorative practice is a complement to any yoga practice or other form of exercise and perfect for almost any practitioner looking to experience a deeper state of relaxation and healing than Savasana or sleep. It is also a perfect practice for those recovering from injury or illness or anyone who experiences stress on a daily basis. In this training module, students gain practical, hands-on experience and skills to work with a wide range of populations. The program includes posture practice, pranayama, meditation, mantra, mudra, visualization, and the use of props to create a safe, comfortable, healing environment.
November 30, 2018 to December 2, 2018 - Asanas for Workout 1 with Krissy Dopson - The workout yoga class, as practiced in the Pranakriya tradition, is an advanced class for experienced students who have the awareness to protect themselves if injured. It is an energetic class designes to build energy from one posture to the next, while increasing the body's capacity to hold energy and the mind's capacity to witness. The teacher is mostly in the role of a coach. We focused on eleven postures: Balancing Half Moon, Bent-Leg Tree, Crow, Eagle, Headstand, Lateral Inclined Plane, Skygazer, Straight-Legged Runner's Stretch, Toe Stand, and Upward-Facing Dog. Krissy asked me to demonstrate Bent-Leg Tree, since I had experience with Short Man pose.
January 18, 2019 to January 22, 2019 - Anatomy for Yoga Teachers with William Hufschmidt - I initially had reservations about taking this training module earlier in my Pranakriya studies, but it looks like my fears were unfounded. Like all Pranakriya courses, it's taught in a unique way that combines yoga practice with brain dump information. The course has made a lot of anatomy textbooks more accessible to me. The yoga practices - meditations, pranayamas, Mukunda Stiles' yoga therapy sequence, and basic asanas - are designed to illustrate key principles of muscle movement. I like how William augments and integrates what we learned in his Holding Space and Skills for Hands-On Assists classes into this course to create a unified body of knowledge. On the last day of class when we were studying asanas, William asked me to demonstrate Shoulderstand. Although the class itself was fantastic, I felt the really good stuff were the wonderful one-on-one conversations I had with William and my classmates during breaks or after each day ended. I got everyone excited about the book I wrote and even assisted a classmate with trying Eight Angle for the first time. The underlying message in all Pranakriya trainings is centered around inclusion and how we can make this ancient yogic knowledge accessible to everyone, not just asana champions.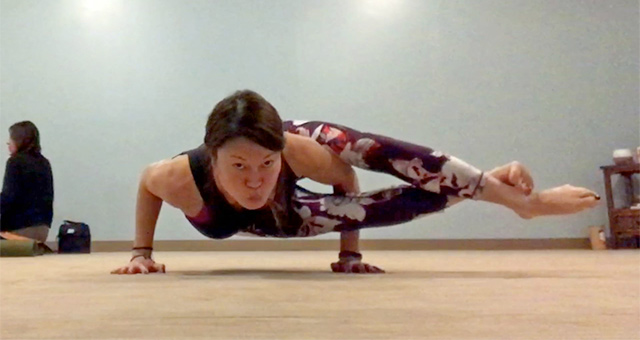 March 1, 2020 to March 6, 2020 - The Bhagavad Gita with Yoganand Michael Carroll - I arrived at the world-renowned Kripalu Center for Yoga and Health in Stockbridge, Massachusetts not without complication. I blew a tire along the way and had to get my car towed to the nearest tire shop in Elizabeth, New Jersey. It was one of those places in the barrio that had walls of used tires marked with chalk numbers on each one. The used tire that the shop replaced my flat with was not exactly the right size, but it got me to where I was going, about 175 miles away. I was happy to finally arrive at my destination, take a gentle yoga class from 4:15pm to 5:30pm, eat a delicious, sumptuous meal in the Kripalu Dining Hall, and take my first program session from 7:30pm to 9:00pm. The dorm room was sparse, but not as bad as I had envisioned. Seven of the eight bunk beds were filled. I'm glad I arrived early. I got a bottom bunk; I would've fallen off the top bunk, since I sometimes roll around in my sleep. One of my roommates admitted to snoring. I assured her that nothing could beat the audible attack I endured last week. The Kripalu campus is a massive yoga retreat center smack in the middle of grasslands, hills, and hiking trails. The main building looks like a big hotel with beautiful conference rooms and yoga studio spaces. If I had the money, I would definitely consider earning an advanced degree here, such as an 800-hour yoga therapy certificate. The building also includes a sauna, whirlpool, fitness center, and spa services. Within walking distance is a lake with a beach and several meditation areas. Wi-fi reception is terrible in the dorm room, so I had to do my Internet access in the café lounge down the hall.
At 37.5 total contact hours, my course was the most intensive of all the courses offered this week. The daily 6:30am to 8:30 program session is a two-hour yoga class. I'm an asana champion and even I found these classes - vinyasa-style with breath retention techniques, down dogs, side planks, advanced wind-removing, stretches, and twists - to be quite challenging.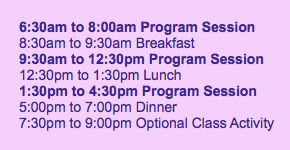 My teacher, Yoganand Michael Carroll, lived the life of a celibate monk for 15 years and was once Kripalu's head asana teacher. This man could run circles around many asana champions! The Optional Class Activities included special classes that anyone staying at Kripalu can take, including Kirtan Singing, Yoga Nidra Sleep, Kripalu YogaDance, Gentle Yoga, Tarot Card Reading, and more. There are also two or three 4:15pm yoga classes offered every weekday that I wanted to take, but my program sessions ended 15 minutes into the yoga class times, so walking into a class late would've been disrespectful. For a foodie, I have to admit that the food at Kripalu is incredible. It's quite a feat to showcase so many different flavors in each buffet meal. Examples include sesame cider glazed chicken with creamy jasmine rice and chicken pot pie for lunch and chicken cacciatore and shrimp with butternut squash and spicy cilantro pesto for dinner. The homemade soups are delicious and there is a sandwich bar with homemade bread, an Indian/Asian bar, and special options for all kinds of dietary restrictions. Chicken and fish dishes usually have a veggie equivalent and the menu changes daily. There is also a book shop associated with the café. You could actually walk your dining room meal down to the café and eat there. The book shop sells all kinds of yoga books, audio recordings, yoga gear, jewelry, apparel, and Kripalu merchandise. You could literally spend a small fortune there.
We learned The Bhagavad Gita in a very unique way, tackling a different aspect of the Gita each day and jumping around chapters to support each topic. On days one and two, we learned of the events in the Mahabharata that led to the battle described in the Gita. We were introduced to Sankhya, a set of principles that ancient people practiced, and briefly talked about Kṛṣṇa's method that was designed to lead devoted readers to the same place much faster. We dissected a lot of Sanskrit words and learned of hidden meanings in them that we would not have been able to know if we read the Gita on our own. On day three, we approached the Gita from the principles of the gunas - sattvas, rajas, tamas - and learned about each of these in great detail. We learned about the gods and the order of hierarchy of gods and how certain religious sects have it all wrong by making Kṛṣṇa the supreme godhead. Kṛṣṇa is a great god, but Viṣṇu, Śiva, and Devī are the among the principle deities. I learned that the Hare K was basically influenced by Christianity and Islam and cobbled together a composite religion that borrowed from Hindu mythology and made Kṛṣṇa the god of all gods to appeal to people who were used to monotheistic religions. On day four, we learned about how the words of The Gita are symbolic of our inner struggle to do what is right without trying to reap the fruits of our labor. We read the first two chapters of the battle. We learned that there is much more to asana than movements. There is meaning behind the asanas and the yoga of modern times is limited in that it focuses on small aspects of yoga. On day five, we continued reading about the battle and discussed our relationship with our soul. Many versions of the Gita focused on Kṛṣṇa being some external being. In this course, Kṛṣṇa is one aspect of our consciousness and if you read the Gita from the perspective of looking inward and loving your soul, it makes a lot more sense than referring to Kṛṣṇa as an external god. I came away from this course with a renewed understanding of the Gita and one that makes the most sense to me. On day six, we ended with the glorious conclusion to the book, with the lead character telling the reader that he will fulfill his duty. Overall, this is one of the best courses I've taken in the Pranakriya program. I'd definitely consider taking it again. It's also an excellent introduction to Eknath Easwaran's translation of the Gita.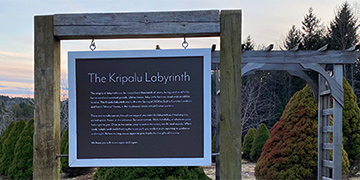 I enjoyed my time on the Kripalu campus. I walked through the world-renowned Kripalu Labyrinth and placed my tribute, a little white elephant, in the center of the labyrinth. I recorded my journey, but I'll refrain from posting it on YouTube because it would ruin the experience for some. Some find the six-minute walkthrough spiritually healing. I also took a dip in the whirlpool and roasted in the sauna. I practiced my wall-walking preparation for Jedi Fight Club at the fitness center every day. Wall-walking is what I call an OH, SH*T!!! experience, because you don't really know what surrender is until you've tried it. Ironically, I first learned about wall-walking five years ago at my first teacher training at Evolation Yoga. Our lead teacher encouraged us to practice it daily, but I had no aspirations to be an asana champion back then. I know that wall-walking will greatly improve the curvature of my thoracic spine for Fixed Firm, Fish, and Camel. The goal is to improve the beauty of my postures in time for the next round of asana competition.
Another Interpretation
There are over 1,500 interpretations of The Bhagavad Gita. Each one is different. Is it important to read each and every interpretation of The Gita? Why it is important for many of us to interpret any particular interpretation so deeply? What is the ultimate message of Lord Krishna? Many people agree that the Hare K version is misleading and biased. Here is another interpretation of the Gita, by Bhagavan Satya Sai in his book, Sai Gita, in the section, Extinction of Delusion:
Have a clear understanding of the Gita in your heart. What is the essence of the Gita's teachings? Some say that it is the path of service and action and others say that it is the path of love and devotion. Still others say that it is the path of knowledge and wisdom. But these are all partial truths. The Gita starts with a verse whose first word is dharma, which means duty or right action. The concluding verse of the Gita ends with the word 'my'. When these words are taken together they become 'my duty' or 'my work'. That summarizes the whole teaching of the Gita. It means you should perform your prescribed duty to the very limits of the human capacity for excellence and perfection, doing the work that is appropriate to your stage of life.
When you are a student study your lessons well. When you are a householder perform your work and family responsibilities properly. When you are retired perform the duties appropriate to that stage, and if you have renounced the world to engage yourself in contemplation of the reality, then stick to that path. When you follow your prescribed duty in the very best way possible, discharging your duty sincerely and conscientiously, then there will be no confusion or misery.
Arjuna had to perform his duty on the battlefield. His calling was to be a warrior and to combat evil and protect the good. But, when he saw his friends and relations arrayed on both sides of the battlefield, he forgot his strong resolve to fight for right, the fight for which he had been preparing for so long. He became full of attachments and delusion, and threw down his bow. He abandoned his duty and became miserable. Krishna taught Arjuna how to free himself from despair by adhering to his prescribed duty. Krishna taught Arjuna the truth of the immortal self, and showed him that his duty was to follow the inner promptings of the Lord, who was enshrined in his heart. When Krishna finished his teachings, he asked Arjuna, "Have your attachments and delusions disappeared?" Arjuna picked up his bow and answered, "My despair has completely vanished. All my delusion is now gone. I will do as you command!"
As long as you have delusion you will be in a state of bondage. When you suffer from delusion and infatuation, liberation is impossible. Liberation has nothing to do with worldly pleasures. It is not an air-conditioned car or a comfortable life. It is the complete destruction of delusion. It is the extinction of all worldly attachments, the incineration of all selfish desires.
From now on, do your duty to perfection and become ideals for mankind. Apply the teachings of the Gita in your daily life and be blessed with grace. Many of you are just wasting your time. Start today to reform yourself. Don't waste time. Time is God. Every day spend some time on these holy teachings and contemplate their inner meaning. Once they are understood, put them into practice. Only in this way will you be able to attain a sacred life, a life of purity and perfection, which is the mark of a true human being.
This is the most widely appreciated teaching of the Gita appreciated by all classes of people.
April 17, 2020 to April 19, 2020 - Kids Yoga: Tween to Teen with Emily Gretz - This 20-hour training module teaches adult students how to combine postures, games, imagery, and chanting to help teach kids ages 9 to 12 and teens asana, breath awareness, balance, flexibility, strength, and focus. Yogis, parents and teachers learn skills to encourage a connection with body, mind, and spirit through yoga. While every Pranakriya course is amazing, this one included numerous opportunities to exercise our creative juices and piece together ways to get kids interested in yoga. The practicum gave us the opportunity to create our own class incorporating all of the techniques we learned in the course.
June 5, 2020 to June 7, 2020 - The Client Relationship: Cultivating Intuitive Presence, Boundaries, and Ethics with Shelbi Miles - This 20-hour training module focuses on working one-on-one and in small groups of students in a safe, respectful, and clearly defined way. We explored techniques to ground ourselves, establish boundaries, expand inner awareness of both our own, as well as our students, physical, mental, and energetic bodies using asana, pranayama, and meditation. Guidance was given in accessing personal inner wisdom, cultivating objective listening techniques, and using these tools to navigate the best path toward optimal well being. We also looked at ethical issues facing yoga teachers and the importance of professional integrity and boundaries. Upon completion of this course, my 300-hour certificate was awarded, making me an RYT-500 level yoga teacher! This will not be my last course with Pranakriya, because I've found a wonderful group of people with good hearts and souls. I look forward to taking or re-taking training modules to further deepen my understanding of tantric hatha yoga.