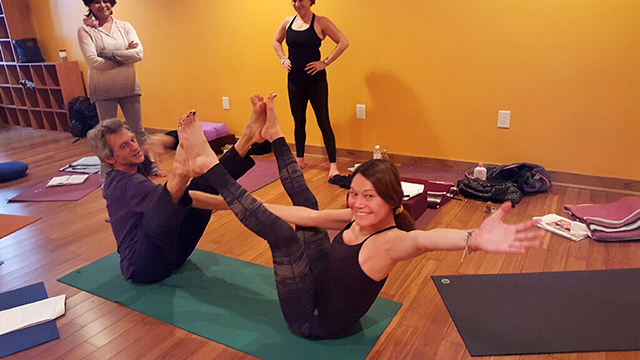 January 21, 2016 to January 24, 2016 - Meditation: Theory & Teaching with Yoganand Michael Carroll - One of my fondest memories of evolation yoga teacher training was the meditation classes. To my great delight, I found a meditation training course right here in Philadelphia at Wake Up Yoga, the same place where I took Corinna Benner's fantastic Yin Yoga Teacher Training course. This 34-hour training course explores the many stages and techniques of yoga meditation, including Vedanta, Sankhya, Tantra, and Tantric Hatha Yoga, and offers students a chance to practice teaching the techniques they've learned. There are also opportunities to strengthen your yoga practice with individual yoga poses as well as partner yoga poses. I've never done a Navasana (boat) pose before, so it was pretty challenging for me. The course is part of the Pranakriya School of Yoga Healing Arts and I've taken this course to fulfill the requirements of a 300-hour yoga teacher training certification. Yoganand is a master-level yoga teacher at Kripalu and a fount of yoga knowledge. He has the gift of being able to explain traditionally difficult concepts in clear, accessible terms. On the final day, we performed a ritual where we saw the Brahman in ourselves. We were all like "Whoaaa!!!" I was on an emotional high for several hours afterwards. I feel honored to have taken Yoganand's class.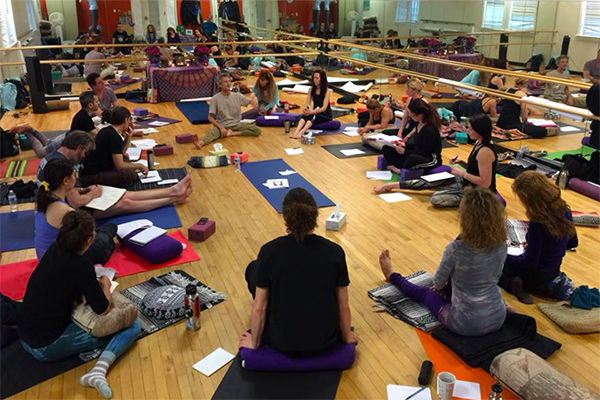 March 25, 2016 to March 27, 2016 - The Universe Inside the Body of the Yogi: A Journey Through the Chakras, Granthis, and Nadis with Yoganand Michael Carroll - I spent much of my weekend learning about chakras, granthis, and nadis as taught in the Pranakriya tradition. What was especially mindblowing, and revealing, is that chakras aren't the colored energy points along the spine as proposed by Anodea Judith and other chakra "experts." They're more like symbols that represent concepts. Chakras, in olden times, were circular fortresses that protected people against enemies and demons. Nadis were forest roads that connected the traveller from one chakra to the next. The goal of yoga is to use rituals to dissolve the connection between the sun and moon chakras and that becomes sun energy. Rituals can be simple or elaborate and involve pranayama, meditation, and asana sequences. The course is part of the Pranakriya School of Yoga Healing Arts and I've taken this course to fulfill the requirements of a 300-hour yoga teacher training certification. I learned a lot of new things in this course that challenged some of what I learned before. I can't wait to take Yoganand's Pranayama course next year!
September 23, 2016 to September 25, 2016 - Asanas for Meditative Posture 1 with Krissy Dopson - This course is part of Pranakriya's Deepening the Asana Exprience series and goes in-depth into ten postures designed for meditation. On the first day, we were introduced to the basics, including the benefits and risks of these advanced postures, definitions, and assists. We ended our day with a two-hour yoga class. On the second day, we started our morning with Yoganand's Advanced Posture Warmup Routine and jumped right into learning about Rabbit, Gate, and Half Circle postures, practiced a full yoga class, and then studied Head to Knee, Lotus, Pigeon, and Camel postures. We On the third day, we started our morning with Yoganand's Advanced Posture Warmup Routine and then learned Seated Angle posture, practiced a stretching class, and then studied Tortoise, Reclining Diamond, Simple Twist, and Wheel postures. We were given ample opportunity to practice what was taught on different training partners and Krissy was always available whenever we needed help. My classmates and teacher all thought I had great physical strength, so postures like Wheel that I have trouble with should be well within my reach. I really enjoy small classes like this because you get more one-on-one attention than in larger classes. The course is part of the Pranakriya School of Yoga Healing Arts and is the third I've taken to fulfill the requirements of a 300-hour yoga teacher training certification. I learned a lot of new techniques in this course that I could readily use in my teaching. I look forward to my next asana course with Pranakriya!
November 4, 2016 to November 6, 2016 - Advanced Skills for Hands-On Assisting and Manipulations with William Hufschmidt - This course teaches us how to effectively use words, presence, and hands-on assists to help our students learn, and hopefully repeat, the result of the assist. It builds on the primary categories of hands-on yoga assists and human anatomy and invites us to further develop their effectiveness using our eyes and hands. We received ample opportunities to both give and receive various kinds of assists and we learned how to develop listening and speaking skills that effectively and economically communicate the assists' intention. We practiced the use of gently presspoints and stabilizations in order to avoid the gross manipulations that some teachers use. In one exercise, we practiced uniting our breath with the breath of a partner, which was an emotionally outpouring experience for some. Time restrictions didn't enable us to go through every posture in the manual, but the ones we did work through were Tadasana (Mountain), Ardhachandrasana (Half Moon), Bhujangasana (Cobra), Garbasana, Sukhasana, Garudasana (Eagle), Parsvakonasa (Triangle), Down Dog, Phalakasana (Plank), and Kapotasana (Pigeon).
December 1, 2017 to December 3, 2017 - Holding Space: Developing Skills for Presence and Touch with William Hufschmidt - Healthy and effective touch has the power to encourage insight at all levels of experience and to cultivate deep presence. As yoga teachers and therapists, we use touch to communicate with our clients and students, inviting them to feel into the present moment and all that it offers physically, emotionally, and energetically. Holding space comes from an understanding of both the physical and energetic qualities of touch, as well as the powerful experiences that can result from our connection with one another. As we become more fluent holding space for our own experiences, we gain skills and confidence to hold space for others.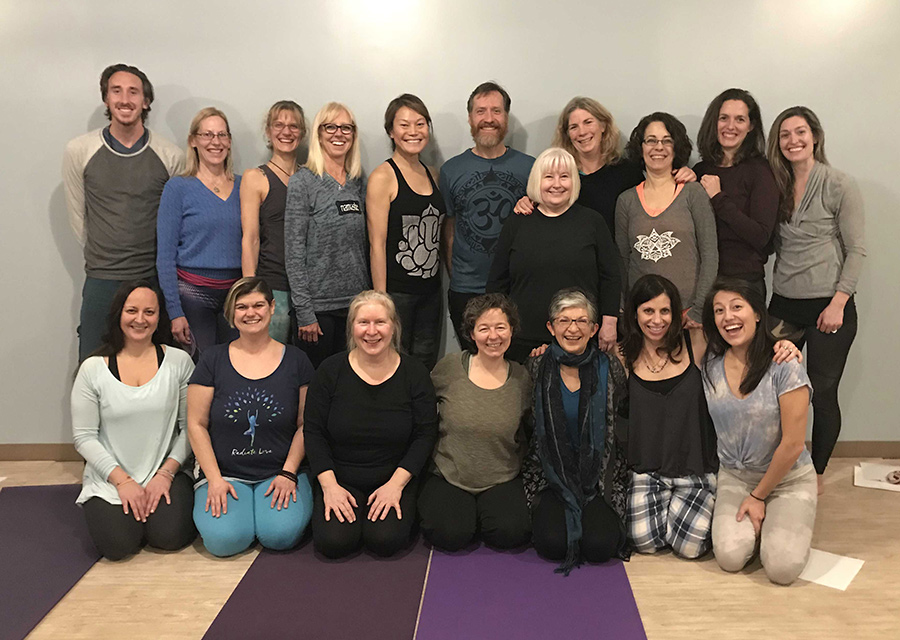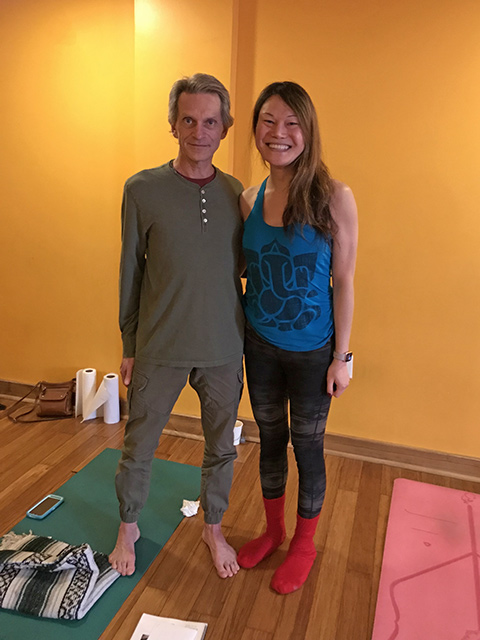 March 22, 2018 to March 25, 2018 - Pranayama: Theory & Teaching with Yoganand Michael Carroll - Pranayama is the yogic science of breath control, a powerful way to raise energy and channel it into spiritual growth and life mastery. This 34-hour training module introduces students to the techniques and philosophy of pranayama as taught in the Tantric Hatha Yoga tradition. Topics include the kriyas, such as Dirgha, Agni Sera, and Kapalabhati; pranayama categories, such as Surya Bhedana, Ujjayi, Shitali, Sitkari, Bhastrika, Bhramari, Murcha, and Pavlini, and the bandha mudra locks, such as Mula Bandha, Uddiyana Bandha, and Jalandhara Bandha. Since there were an odd number of people in class, one person had to choose Yoganand as a practice partner during the teaching exercises. Everyone seemed intimidated to pick him, so I seized the opportunity and paired up with him on several occasions to get his feedback. Highlights include doing partner yoga with him on the second day and doing Neti Kriya using a catheter to purify my nasal passageways on the third day and my two teaching practice students who said that they love my voice on the final teaching exercise. I am now halfway done with my 300-hour teacher certification!
May 18, 2018 to May 20, 2018 - Teaching Restorative Yoga with Shelbi Miles - Restorative yoga is a gentle inward form of yoga that invites participants to move towards greater balance, control and participation in their life. The participant's body is placed in yoga postures that are supported with props. The mind is invited to slow down with the use of pranayama, visualization, and mantra allowing the individual to turn inside. A restorative practice is a complement to any yoga practice or other form of exercise and perfect for almost any practitioner looking to experience a deeper state of relaxation and healing than Savasana or sleep. It is also a perfect practice for those recovering from injury or illness or anyone who experiences stress on a daily basis. In this weekend restorative yoga training created from the Tantric Hatha Yoga Teachings of Herbert Benson and Jon Kabat Zinn, participants will gain practical, hands-on experience and skills to work with a wide range of populations. The program will include posture practice, pranayama, meditation, mantra, mudra, visualization, and use of props to create a safe, comfortable, healing environment. Participants will leave the training confident in their ability to understand the philosophy and science behind restorative yoga as well as lead their students through a complete restorative yoga practice.
November 30, 2018 to December 2, 2018 - Asanas for Workout 1 with Krissy Dopson - The workout yoga class, as practiced in the Pranakriya tradition, is an advanced class for experienced students who have the awareness to protect themselves if injured. It is an energetic class designes to build energy from one posture to the next, while increasing the body's capacity to hold energy and the mind's capacity to witness. The teacher is mostly in the role of a coach. We focused on eleven postures: Balancing Half Moon, Bent-Leg Tree, Crow, Eagle, Headstand, Lateral Inclined Plane, Skygazer, Straight-Legged Runner's Stretch, Toe Stand, and Upward-Facing Dog. Krissy asked me to demonstrate Bent-Leg Tree, since I had experience with Short Man pose.
January 18, 2019 to January 22, 2019 - Anatomy for Yoga Teachers with William Hufschmidt - I initially had reservations about taking this course earlier in my Pranakriya studies, but it looks like my fears were unfounded. Like all Pranakriya courses, it's taught in a unique way that combines yoga practice with brain dump information. The course has made a lot of anatomy textbooks more accessible to me. The yoga practices - meditations, pranayamas, Mukunda Stiles' yoga therapy sequence, and basic asanas - are designed to illustrate key principles of muscle movement. I like how William augments and integrates what we learned in his Holding Space and Skills for Hands-On Assists classes into this course to create a unified body of knowledge. On the last day of class when we were studying asanas, William asked me to demonstrate Shoulderstand. Although the class itself was fantastic, I felt the really good stuff were the wonderful one-on-one conversations I had with William and my classmates during breaks or after each day ended. I got everyone excited about the book I wrote and even assisted a classmate with trying Eight Angle for the first time. The underlying message in all Pranakriya trainings is centered around inclusion and how we can make this ancient yogic knowledge accessible to everyone, not just asana champions.